A Filipina OFW has returned home after suffering for a year from her female employer in Jordan. She finally came home to the Philippines with stitches and burns all over her body, which were the result of getting beaten by her employer.
Related Post: 24 Countries Where OFWs are Banned to Work
The video news was posted by GMA in Facebook. It had gone viral and had more than 1 million views. In the video, it showed that she lost her weight significantly, her body is almost covered with bruises. And some parts of her body are now left with big unpleasant scars.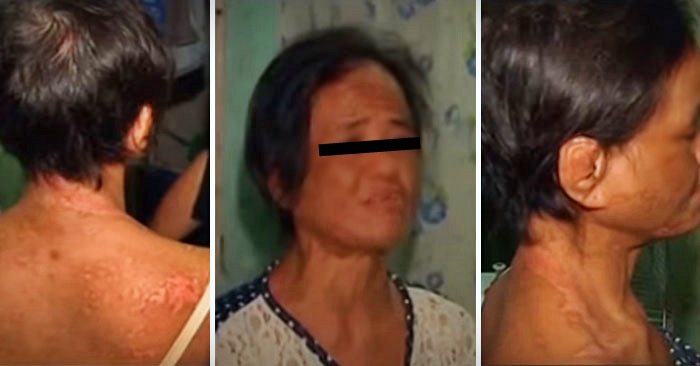 Pinay Suffers Abuse from Jordan Employer and Comes Home with Scars and Burns
The OFW was identified as Victoria, 43 years old. Based on the video, she described how she was maltreated by her female employer and even went in to details about what tools were used for beating her up. She explained the abuse of her employer started with spitting on her and then continued with blows and strikes, gradually using steel from house items like hanger, wire from the antenna, till she bleeds.
She tried asked for help from anybody, but her cellphone was confiscated and hidden. She even pleaded to go home so she could end this misery.
According to her, there was a time in November where she didn't have enough strength that she looked lifeless and was just locked inside inside a room. Luckily the male employer of Victoria arrived early and was able to rescue her. As soon as her wounds healed, the employer who saved Victoria acquired a ticket for her to return back to the Philippines.
She had filed a complaint towards her abusive employer at Overseas Workers Welfare Administration (OWWA) and was promised that she will be given proper care. Hans Cacdac (Administrator of OWWA) said that they will cover for her medical bills.
According to GMA's news report, the government had already banned sending unskilled workers or OFWs to Jordan in the year 1990 because they received reports from abuse and maltreatment from that area. After 15 years, the ban to deploy domestic helpers to Jordan was revoked by the Philippine Overseas Employment Administration (POEA).
A year or two had passed after the ban was taken aback, the government had to suspend sending Filipinos to work in Jordan as the same case of maltreatment was increasing.
Check out the video below:
If the video above does not play, you can check out the video below: