Belgium may be easily overlooked on the map, but it looms enormous, high, and mighty when it comes to the arts. This country, recognized as Europe's capital has a rich and illustrious artistic tradition that dates back to the Middle Ages and includes some of art history's most illustrious names, like Anthony van Dyck, Peter Paul Rubens, René Magritte, and Pieter Bruegel.
READ ALSO: Fighting for a Dream: Young Filipino Scholar Graduates From One of South Korea's Top Universities
Belgium's capital is home to one of Europe's most vibrant art communities. Brussels is home not to just some of the world's most spectacular art museums. International conventions and artists use it as a base of operations. Collectors and curators are always in the search of new talent and uniqueness, yet the market is competitive and difficult to break into.
So it's understandable to feel proud when you read about a Filipino artist making a name for himself in the famous Belgian art scene.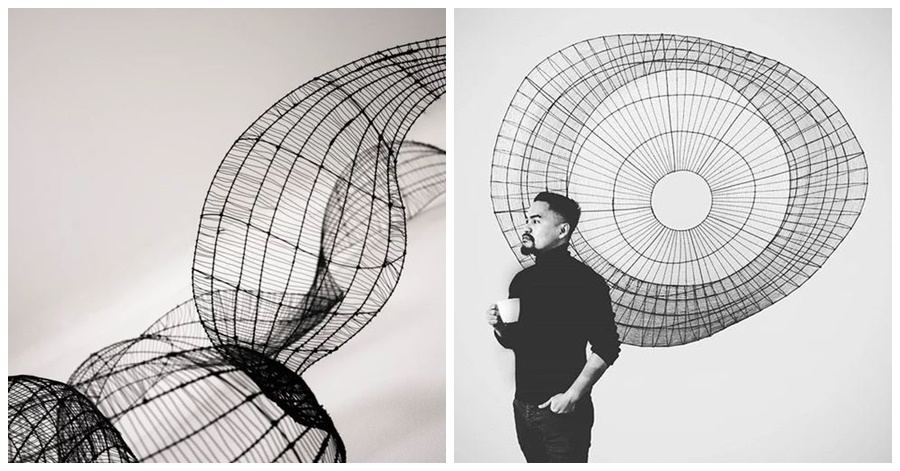 [LOOK] This Pinoy Wire Artist Started To Make Waves In The European Art And Design Industry
Racso never imagined himself as a well-known artist, yet his pieces now hang in galleries and displays throughout the world, including Amsterdam, Antwerp, Berlin, Brussels, Hamburg, London, Paris and, New York, Esquire Magazine reported.
"I was born and raised in General Santos in Mindanao, so I am really probinsyano," Racso tells Esquire Philippines. "I never had a formal schooling in the arts, to be honest."
In fact, Racso earned a culinary arts degree in 2009 and was hired as a chef by a company from Germany in 2011. He has worked for this company for five years before transitioning to a Belgian firm in 2016. He has been living in Brussels since.
He is the youngest son of a Filipino jewelry designer. His family owns and operates a jewelry store in General Santos City. His father is a jewelry designer, while his mother manages the company. Racso's creative seed began to grow after he visited his father's studio.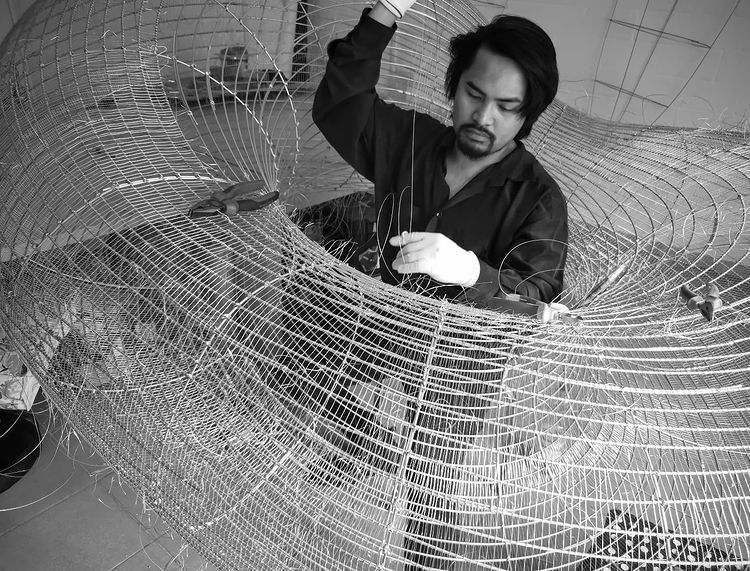 "When I was little, I grew up watching my dad crafting things with his hands. From raw gold material to jewelry. His studio has been my playground. With his tools, I would create toys as gifts for my friends, and I guess that's how I started working with my hands," Racso fondly recalled.
Racso would forget about his experiences in his father's workplace many years later. He was completely absorbed in his work as an OFW chef.
However, an occurrence at a hardware shop transported him back to his childhood in his father's studio.
"While working as a chef for a Belgian company in 2016, I found myself in a hardware store because I wanted to buy gardening tools.
"There, I saw an aisle filled with wires—mga alambre—and an image flashed in my mind taking me back to my childhood days. These are materials I used to play with and craft toys for my friends. I grabbed it and took it home, and started playing with it," Racso shared.
Racso would complete his nine-to-five work and build figures out of the wires he had purchased, which he would then publish on Instagram.
"I was new to Instagram at that time, I just posted my creations there. And then someone from New York sent me a message, asking if the alambre artwork I made were for sale."
Racso, unsure of what to say, hesitantly replied "yes."
"It was really just for fun! I wasn't planning on selling it, but I was really happy that someone wants to buy what I really love to do. That buyer from New York is my very first art collector patron."
Racso had been presented with many new opportunities as a result of that first buyer. He was introduced to galleries in New York, Connecticut, and Los Angeles by the buyer. Racso was still working as a cook at the time.
"As a chef, my routine was so regular. I start from mise en place, and end the day with it that has been my routine for years and years and years. It got so boring. With this new venture, I realized there's another world for me. After a month of shipping my sculptures to the U.S., galleries in Belgium began taking notice of me and started asking if they could also have my pieces," Racso said.
Racso was asked by a Belgian lady to pay her a visit, and so he did.
Racso thought she was going to buy one piece of art, but it turned out she was a renowned art collector, promoter, and patron in Europe and the United States. After that meeting, hundreds of Racso's designs were ordered by her.
"I wasn't expecting that. I didn't have a studio, I was just creating them in my apartment. I didn't even have staff, I was the only one doing them on my own," Racso revealed.
Racso enlisted the services of his Filipino friends to help him with logistics and packing in order to cope with the large orders.
Racso had everything opened up for him because of that Belgian lady. She engaged public relations firms to promote him in Belgian periodicals, radio shows, and television shows. Racso made a reputation for himself outside of the culinary realm by touring Europe and staging shows from Brussels to Paris.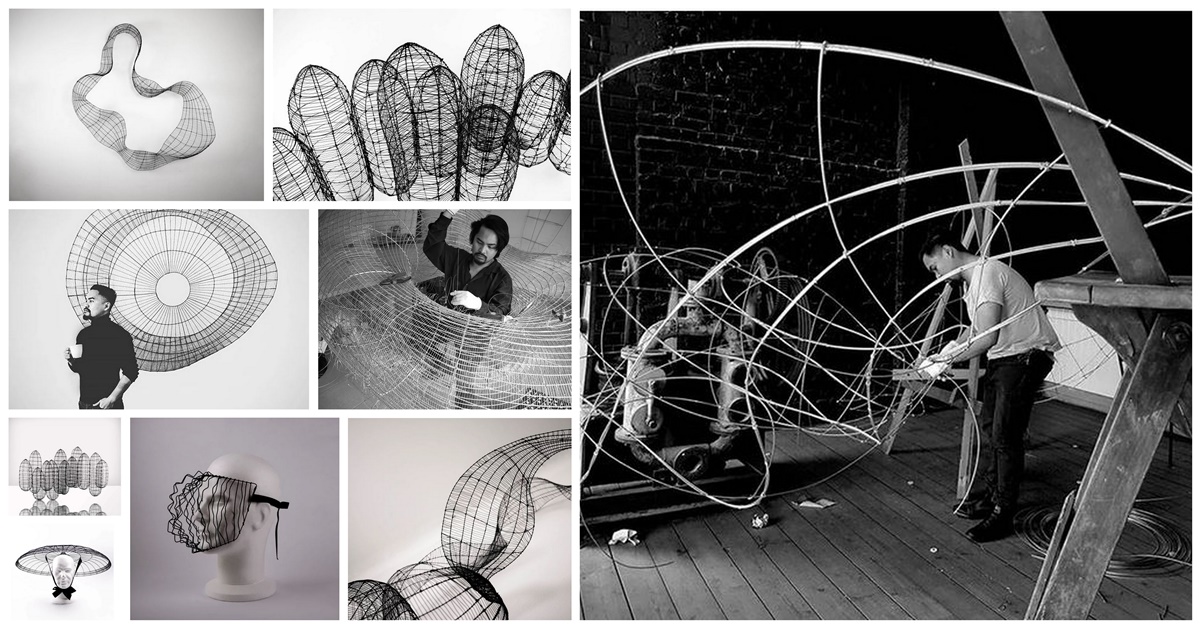 "I never expected something like this was going to be possible for someone like me. Having different projects, shows, expositions," Racso says.
Racso maintained his normal employment as a chef in a Belgian restaurant during his participation in expositions and events. But something compelled him to resign from that position.
Racism Made Racso Drop His Chef Hat And Pursue A Career In Art
"In the Philippines, we were taught that in the kitchen, teamwork is essential. That has really been my training. Even when I worked in Germany as a chef, teamwork was a culture in the kitchen. But during my work in this Belgian restaurant, they changed the management, and I experienced racism," he said.
The restaurant's cooking staff was divided into two groups: Belgians and non-Belgians.
"The other nationalities were kind of given a hard time," Racso noted.
This incident, however, pushed Racso to abandon his initial love, the culinary business, and seek an independent career as a full-time artist.
Racso was already earning three times as much as his normal work from his sideline at the time the racism incident took place. That made the decision to leave the kitchen and pursue the arts that much easier.
"The pressure was there. During those months when I was working in the kitchen, I was so down and I felt like it was something I do not want to do anymore. I got frustrated and I just had to do something."
Racso left racism behind and became his own boss.
"They are celebrating me in the art world, but in the kitchen, I was treated like… you know," he stammered.
He didn't go into detail, but his tone was one of comfort.
He would express the irony of working eight hours a day in the kitchen and then feeling like a celebrity when he visits galleries and displays where his work is displayed and battled over by collectors.
When he became too successful, though, he began to feel the strain of hundreds of orders from his customers. He first refused to recruit anyone to carry out his ideas.
"That was my first thought when I was new, I would say, 'But if I let others create this for me, that wouldn't be my artwork anymore!' Racso shared that he wold now laugh about it whenever he remembers what he thought back then.
When a design is replicated 300 to 400 times, Racso says it becomes monotonous for him, calling it "routine." As a result, he created one-of-a-kind artworks that will never be duplicated. And indeed, it became a huge success.
Galleries all across Europe became aware of his one-of-a-kind works and began bidding on them. The one-of-a-kind items command even greater prices than his mass-produced works.
Racso now has his own office and atelier in Brussels, and his exhibition calendar is full through the end of the year.
Racso's exhibit in Paris is still open as of this writing. On September 24, he opened a new exhibition in Antwerp, which will run through December 24.
His works are reminiscences of a simpler, more innocent time in his life as a child. Some of his creations are influenced by everyday objects that he finds nostalgic: A smidgeon of saging na saba His neighborhood's balete tree.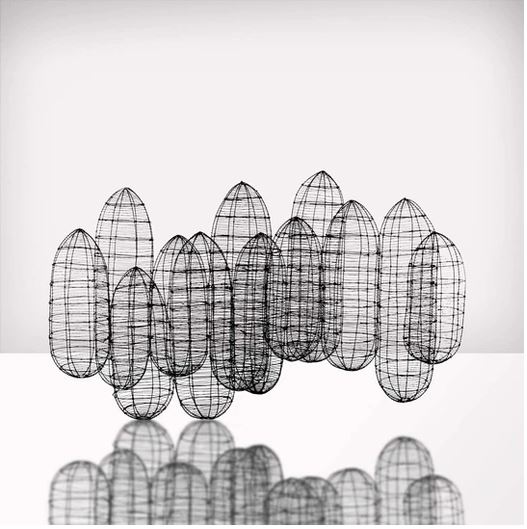 "Foreigners would never understand what saba means to Filipinos. For them, it's just banana. For us, it means something more: merienda, turon, nilaga, and many other things," he explained.
Racso has gone a long way from his days as an OFW chef. In Europe, he is now a sought-after artist whose one-of-a-kind pieces sell for thousands of dollars.
He's been commissioned to make sculptures for Tomorrowland, a well-known music festival. He's been tasked with creating large-scale installations. His art can be seen in a variety of public spaces.
Despite all of his accomplishments, Racso believes that his success is not defined by his work.
Check out some of his works in this clip posted from Racso's Instagram page:
"The biggest creation that I'm really happy about is myself. I transformed myself into something, like personality development. I never thought I could get to where I am now, that this is possible. It was hard at some point, but I noticed that whenever I pushed myself harder and struggled against my doubts, there's always something that comes after," Racso says.
"It's not about the works, but art creating something different in you."
READ NEXT: Filipino Pride | Filipino-designed App Wins First Place on NASA Space App Challenge