A Filipino-designed integrated public policy information portal that measures the impact of the coronavirus disease 2019 (Covid-19) pandemic was recently hailed as the winner of the NASA Space Apps Covid-19 Challenge.
ALSO READ: 8 Filipinos Land List of 100 Outstanding Scientists in Asia
The app was among the six global winners which demonstrated the best use of data — the solution that best makes space data accessible or leverages it to a unique application.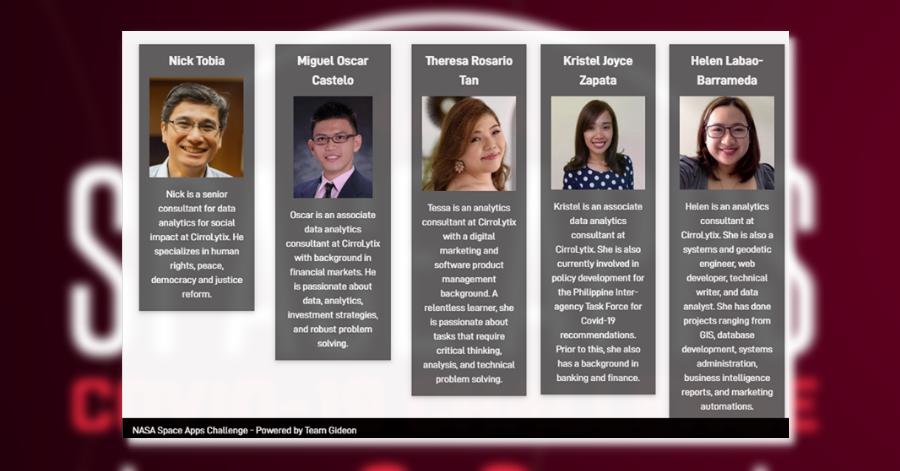 Filipinos in Tech: Pinoy App Wins NASA Space Apps Challenge
Given the name GIDEON (short for Global Impact Detection from Emitted Light, Onset of Covid-19 and Nitrogen Dioxide), the information portal integrates the use of news feeds, Google mobility data, and coronavirus cases to reveal the multidimensional impact of lockdowns and other interventions, the Manila Times reported.
The technology used by the portal utilizes night lights from the Visible Infrared Imaging Radiometer Suite and nitrogen dioxide levels from Sentinel-5P to present current impacts and forecast effects of lockdowns.
In line with this, Google's community mobility reports, global infection data from Johns Hopkins University, and nitrogen dioxide data show pollution levels produced by human activity and monitor which countries keep air quality under control as they bounce back from lockdowns and into the "new normal."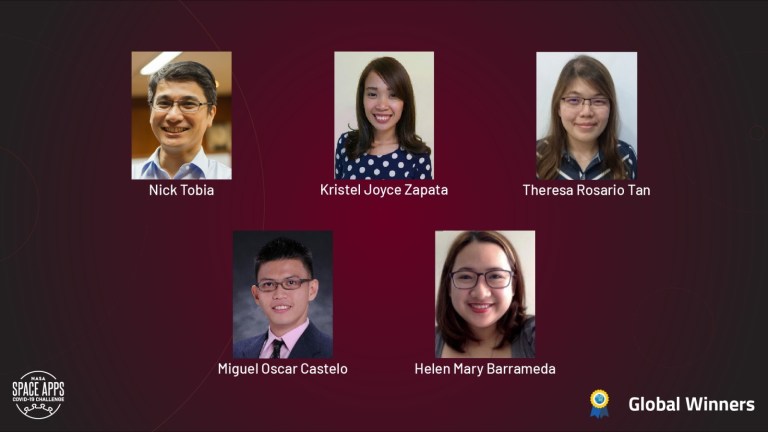 CirroLytix, a team composed of Filipino data analysts Nick Tobia, Helen Mary Barrameda, Kristel Joyce Zapata, Theresa Rosario Tan and Miguel Oscar Castelo, was hailed the overall winner of the Space Apps Covid-19 Challenge along with two other Filipino teams finishing as global finalists.
The other two entries, Snail Space, which addresses the effects of social isolation on a person's mental health, and Sentinellium, which monitors public health in relation to the prediction of developing epidemics, were designed by teams of university students from the Philippines. 
Commenting on their achievements, Trade Undersecretary for Competitiveness and Innovation Dr. Rafaelita Aldaba, said: "The use of these modern and advanced technologies will be crucial, especially as the world navigates the fourth industrial revolution."
"Using big data, cloud and AI (artificial intelligence) applications, for instance, could help us understand the severity of the disease and aid in delivering measures to mitigate its impact," she added.
On May 30 and 31, 2020, scientists, coders, entrepreneurs, designers, makers, storytellers, builders, artists, and experts in the field of data and technology, have been invited in an all-virtual, global hackathon by the United States space agency National Aeronautics and Space Administration (NASA), along with the European Space Agency, Japan Aerospace Exploration Agency, National Center for Space Studies of France and Canadian Space Agency.
Within a period of 48 hours, more than 15,000 participants from 150 countries created more than 2,000 virtual teams. 
Participants used Earth observation and other open data to propose solutions to one of the twelve challenges related to the pandemic. 
The Space Apps Covid-19 Challenge is a special edition of NASA's annual Space Apps Challenge, an international hackathon that takes place around the world and online every October. Since its launch in 2012, teams have engaged with NASA's free and open data to address real-world problems on Earth and in space.
With over 29,000 participants from 71 countries joining in last year's edition, our young Filipino scientists and changemakers have proven that our talents and abilities can compete in the global stage of science and technology. 
Congratulations to all the winners and all those who proudly represented the Philippines in this prestigious competition! We are very proud of you and your achievements!
ALSO READ: France Opens Expanded Scholarship Programs to Filipinos