The government of France has recently announced that it is expanding its scholarship program in 2020 through a partnership with the Department of Science and Technology's Science Education Institute (DOST-SEI) for Filipino professionals who would want to pursue their master's degree and doctorate abroad.
The said program aims to target Filipinos working in the academe, research, or government institutions to boost exchanges in scientific knowledge and expertise between Paris and Manila.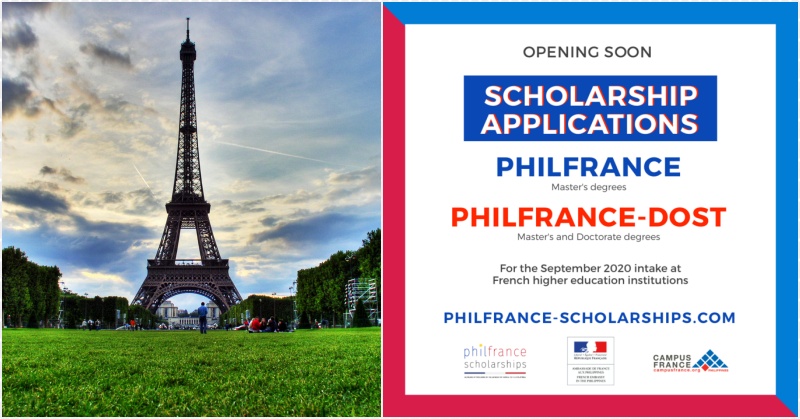 Expanded Scholarship Program to Filipinos Opened by French Gov't
The French Embassy in Manila announced on Friday (February 7) that the program would prioritize the following fields of study: agriculture, biological sciences, climate change, forestry, health, and medical research, material sciences, natural resources and environment, nuclear application on health, and veterinary sciences, as shared in a report by the Philippine News Agency. 
According to CampusFrance.org, the PhilFrance Scholarships program is a French government scholarship directed to Filipino students and professionals wishing to come to France to pursue Master's degrees in various academic disciplines.
The website also noted that beginning 2020, the Embassy of France together with the Department of Science and Technology-Science Education Institute (DOST-SEI) will introduce a new program called the PhilFrance-DOST Scholarships for Master's and Doctorate degrees in priority fields of study.
Scholarship grantees will be entitled to the following benefits:
partial tuition subsidy, 

one round-trip ticket from Manila to France, 

an exemption from visa application fees, 

a monthly allowance, 

a health care package, and 

priority access to public student accommodations for the expected length of their academic programs.
Deadline for submission of applications to the program is on March 16, 2020.
For more details and guidelines on eligibility, benefits, and requirements you may visit the PhilFrance Scholarships Program website.
Eligibility for PhilFrance Scholarships:
Filipino

 citizens who are 

residing in the Philippines

 at the time of application.

Graduates or graduating students

 of a Philippine higher education institution.
For applicants to 

Master's degree

 programs: final-year students or graduates of a Bachelor-level degree.
Important Note:
Students who, at the time of application to the PhilFrance Scholarships, have already been awarded a French government scholarship (bourse du gouvernement français – BGF) under another type of program, are ineligible, even if the previous scholarship only covered health insurance.
Meanwhile, applicants eligible for PhilFrance-DOST Scholarships must:
be a 

Filipino

 citizen;

not be more than 45 years old

 at the time of application;

be in 

good health

 condition;

hold a 

higher education diploma recognized by the Philippine government

 allowing enrollment in the host course in the French Republic

demonstrate an 

excellent academic

 level;

demonstrate the 

knowledge or expertise

 required to carry out higher studies within the host establishment in the French Republic;

pass the admission requirements

 for graduate studies in any of the public universities in France;

pass the interview

 and other screening procedures.
For those interested to apply in the above programs, you may course your application through the PhilFrance Scholarships website.
The French embassy also urged Filipinos to apply for other PhilFrance Scholarships available to both Filipino students and professionals wishing to pursue their master's degrees in France.
Since 2016, there have been already more than 50 Filipinos awarded with the PhilFrance Scholarship, enabling them to pursue graduate degrees in the French language and literature, business, public policy and international development, engineering, mathematics, marine biology, applied chemistry, environmental and ecological sciences, and public health.
ALSO READ: Saudi OFW Graduates Magna Cum Laude Through Distance Education