Malacañang on Thursday, August 20, announced that Filipino health care workers with existing contracts abroad can still leave the country for work. 
The announcement came after appeals from the Filipino nursing community to allow nurses to fly abroad for employment were expressed.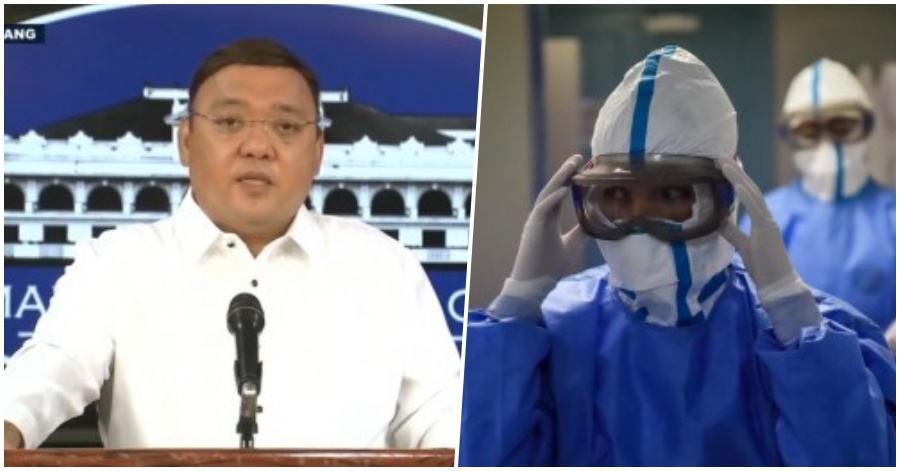 Palace: Health Professionals with Existing Contracts Abroad Still Allowed to Leave the Philippines 
As per Presidential spokesman Harry Roque Jr., the Inter-Agency Task Force for the Management of Infectious Diseases (IATF) limited the deployment of health workers abroad to those with perfected and signed overseas employment contracts (OEC) as of March 8, 2020, reported the Manila Times.
In a televised announcement, Roque clarified: "Nadesisyunan po ng IATF ngayong hapon na yung mga health professionals na mayroon na silang mga OEC issued po ng POEA at mayroon na pong verified employment contract as of March 8, 2020 ay pupuwede pong lumabas ng bansa (The IATF has decided during its meeting this afternoon that health professionals with OEC issued by the POEA [Philippine Overseas Employment Administration] and have verified employment contracts as of March 8, 2020 can leave the country)."
The Presidential spokesperson also said that health workers who are only on vacation in the Philippines are also allowed to leave the country for work.
The IATF has recently issued Resolution No. 64 on the temporary suspension of the overseas deployment of health workers during the pandemic "considering the continuing state of a public health emergency."
In line with this, the IATF has enjoined the Department of Health (DoH) and other hospitals and healthcare facilities to hire medical and allied health workers to supplement their workforce.
In April, the IATF allowed health workers with perfected and signed work contracts as of March 8 to be deployed abroad. In line with this, they were asked to sign a waiver acknowledging the risks in their overseas work before leaving the country.
At the time, the task force allowed the limited deployment of health workers in response to appeals raised by the medical community.
Meanwhile, the POEA, through a separate resolution, temporarily halted the deployment of all health care workers "until the national state emergency is lifted and until the COVID-19-related travel restrictions are lifted at the destination countries.
In line with this, negotiations of bilateral labor agreements for the government-to-government deployment of health workers have also been temporarily suspended during the health emergency.
In his remarks last Thursday though, Roque appealed to Filipino health workers to stay in the country and serve fellow Filipinos during the pandemic.
Roque said if health workers were to leave for work abroad, no one would take care of their families who will be left behind.
In lin with this, the spokesperson noted that more benefits such as hazard allowance, housing, and free testing, will be given to the country's health workers under the Bayanihan 2 proposal.
ALSO READ: Soon, Apply for a Germany Work Visa in 3 Weeks