A domestic helper working in Malaysia was abused by her employer. Her family are seeking justice and help to bring her back home to the Philippines. A news report from GMA Network mentions the situation of Joramie Torres who was already a teacher in the Philippines, but she decided to try her luck overseas.
Like many Pinoy OFWs, she tried to go abroad to provide a better life for her family. It has long been a trend for Filipinas to go and work abroad to become a domestic helper and earn more. Some get lucky, some don't. We may tend to think only about the better salary opportunities, but we should also consider the risks and dangers especially when assigned to a bad employer. Aside from understanding the risks, it is also important that we are also aware of certain rules on how to behave in that specific country.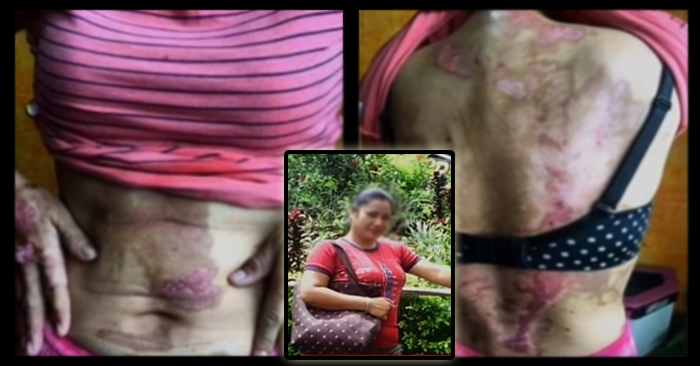 Video: Pinay OFW in Malaysia, Beaten and Burned by Employer
Aside from being beaten, Joramie has also been subject to other abuse such being poured with boiling oil and being burned with a heated pot.
Here's the video report of the said news by GMA Network's 24 Oras. Please be advised that the footage and images may be sensitive.
According to this same report from GMA News, Joramie applied in a job agency in Quezon City and was given a job in Malaysia. However, she did not last a month because she said that her employer tried to molest and rape her. She managed to escape her first employer.
She was transferred to another employer, a finance manager of an oil company. There was a time that Joramie called her family back home. They realized that her voice is so sad and sounds so tired. The family doubted her situation in Malaysia. Until they received a chat message mentioning that Joramie ran away. The family went to the agency asking about the status of Joramie but the agency denied anything about her. Joramie's relatives also tried to look for her.
The family received another message from an OFW couple who saw Joramie and tried to help her. She began to tell them what her employer did to her. "Binugbog, binuhusan ng kumukulong mantika at pinaso ng mainit na caldero sa pisngi at sa ibat-ibang bahagi ng aking katawan"– she said.
The Filipino couple brought Joramie to the shelter of the Philippine embassy in Malaysia. According to the family, they reported and sought help from the DFA in the Philippines. The DFA told them that the case is already in court. The employer who maltreated Joramie has bailed themselves for temporary freedom.
The news report shows the story of her situation and what her employer did to her which is really terrible. Nobody should be treated like this. It's good that she was able to escape from her boss before other abuses could have taken place.
Joramie`s parents are asking help from our President Duterte for justice and to bring her home safe.
News Source: GMA News