During the week when migrant Filipino workers got stranded in Hong Kong and Manila due to the temporary travel ban set in place by the Philippine government, the latter made a welcome announcement to lift the ban on Hong Kong and Macau on Tuesday (Feb 18). 
Back on February 2, the Philippine government enforced a travel ban on China, as well as on Hong Kong and Macau, which are both special administrative regions (SAR's) of China. The travel ban was imposed by the Inter-Agency Task Force for the Management of Emerging Infectious Disease as a preventive measure against the novel coronavirus, an infectious pathogen that causes the deadly respiratory disease COVID-19.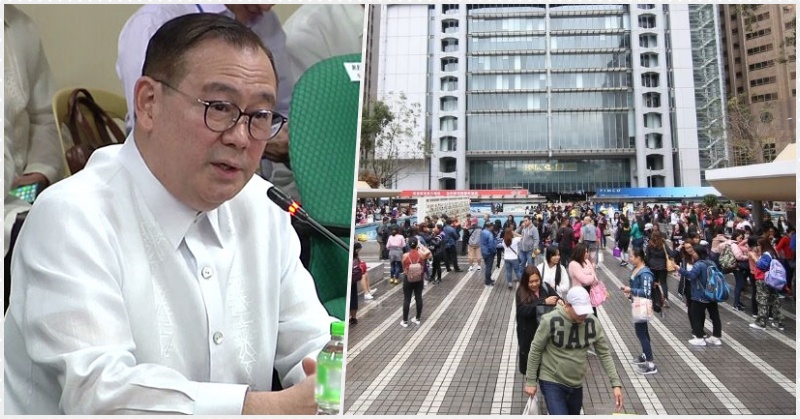 PH Gov't Lifts Travel Ban on Hong Kong, Macau 
In a tweet shared by the Department of Foreign Affairs (DFA) Undersecretary Brigido Dulay on Tuesday (February 17), shared that the Inter-Agency Task Force for the Management of Emerging Infectious Disease lifted the travel ban for overseas Filipino workers (OFWs) returning to work in the two Chinese regions.
Today, DFA Sec Locsin's advocacy has come true. OFWs returning for work in Hongkong and Macau have been exempted from the outbound travel ban by the IATF-EID, subject to certain procedural formalities. Woohoo!! @teddyboylocsin

— Dodo Dulay (@dododulay) February 18, 2020
The partial lifting of the ban was first announced through a tweet by Foreign Affairs Secretary Teodoro Locsin, Jr., and was later confirmed by Presidential Spokesman Salvador Panelo.
According to Panelo, there will be no restrictions on residents and their family members, but overseas Filipino workers (OFWs) will have to sign a declaration that they understand the risks they face in going to Hong Kong.
Despite this new travel protocol, Secretary Locsin, in a separate tweet reassured that though migrant workers will sign health waivers, this does not mean that the government will waive its obligation to take care of them wherever they are.
"We at DFA are not cowards or shirkers. They are our people and we will never ever abandon them," Locsin noted. 
However, it seems that the travel ban remains enforced on tourists.
The decision to lift the travel ban was made during a meeting of the government Inter-agency Task Force that was mandated to review the ban two weeks after the Cabinet held its first meeting on the matter back on Feb. 4.
Panelo shared the official announcement after a telephone conversation with Health Secretary Francisco Duque III.
In an interview, Panelo shared: "Secretary of Health Duque confirmed that the inter-agency task for emerging infectious disease has decided to lift the travel ban of overseas workers going to Macau and Hong Kong. And according to him, those OFWs (overseas Filipino workers) going back would have to make a written declaration that they know the risk of going back to their places of work."
He also clarified: "Those coming back from Macau and Hong Kong, the families of Filipinos who are there, can come back, and those having permanent resident [visa] holders, as well as the diplomatic corps and families."
Commenting on this development, Consul General Raly Tejada welcomed the news, and said that it was "indeed a reason to celebrate."
He also noted: "Adversity brought out the best in the community. Nakita natin ang pagkakaisa ng Filipino community (We saw how [this] united the Filipino community.)"
Tejada further explained that he was awaiting the guidelines on the lifting of the travel ban before making an official statement.
In line with this, he also commended Foreign Affairs Secretary Teodoro Locin, Jr for campaigning hard against the travel ban, and was the first to announce its lifting on Tuesday. 
ALSO READ: Philippines Lifts Travel Ban on Taiwan