As we see the number of cases increase exponentially in most parts of the world, nowhere is as gruelling and horrific as the situation in India. Under these circumstances, an overseas Filipino worker (OFW) shares what life has been like amid the looming death surrounding the country.
READ ALSO: PH's 2-Week Travel Ban on India Covers OFWs – DoH
As the number of deaths keeps piling up in the South Asian country and everyone racing against time, it's not at all surprising why some people would expect and fear a worst-case scenario.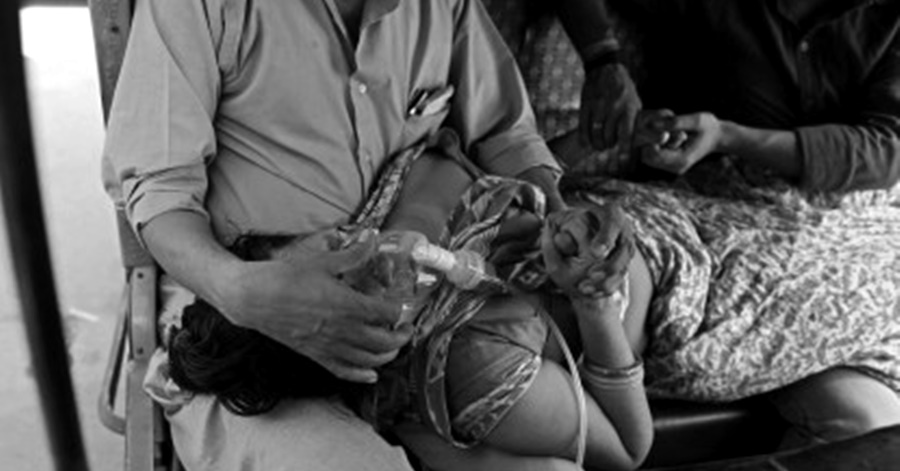 'Every Day Is A Battle For Survival': An OFW's Unimaginable Experience Amid COVID-19 Surge in India
This has been the line of thinking of Annabelle Joy Villamarin, a 42-year-old primary school principal in Gurugram City (formerly Gurgaon), near the capital Delhi as she shared her experience with the Philippine News Agency.
"Nahihirapan kami dito kasi (It is very difficult here) we're so scared and we need somebody to tell us at least that we're going to be okay, we're going to be fine," the Baguio City native, who arrived in India in 2012, shared.
Around 2,000 Filipinos live and work in India. Before Covid-19, Villamarin said that there were more than 5,000 of them, but the majority decided to go home last year.
Last week, Philippine Ambassador to India Ramon Bagatsing Jr. said two Filipinos, both female, succumbed to Covid-19 while about 20 are infected and isolated.
Villamarin lives in India with her 49-year-old husband, who hails from Tondo, Manila, and their two sons, aged 19 and 10.
She lost her father last year – not to Covid-19 – but she was not able to go back home as she anticipated the stringent protocols wouldn't have let her go through easily anyway.
"My dad passed away last year. I couldn't do anything. Parang sa utak mo parang (In your mind it seems that) you know what to do but when it actually happened we're so helpless, no one knows what to do. I'm a teacher, so I try to research, but it's not enough," Villamarin said.
On Thursday, India reported its highest daily increase of 379,275 new cases since the outbreak of the pandemic. The country has been reporting more than 300,000 new cases each day over the past week, according to Xinhua News.
Ph Situation Still Better Managed
Based on what she's been getting from the news back home, Villamarin says that the Philippines is faring so much better than they are.
At this point, residents like Anabelle feels like the help from the Indian government seems to have stopped and people are left to fend for themselves.
"Kung titingnan mo 'yung management of resources ng government sa PIlipinas, at least may tinutulong ang government dyan kahit konting pera na pwedeng gamitin. Dito talagang zero. The government does not help the people, they stopped the transportation and people started walking, ang mga tao wala na kinakain (If you will look at the management of resources in the Philippines, the government helps. Here, it's zero. The government does not help the people. They've stopped transportation. People are walking. People do not have anything to eat anymore," Villamarin explained.
At this point, Villamarin said that the only things that have been pushing them forward are prayers and messages from friends and families in the Philippines, checking on them and motivating them to remain positive and stay strong.
Stay Home At All Cost
To keep themselves safe and free of the virus plaguing the entire nation in one fell swoop, Villamarin said that they do not go out and only order whatever they need online.
Only her husband, in full protective gear, will receive the items, leave them outside under the sun, and dip everything in a container filled with soap and water.
"Kami talagang hindi kami lumalabas. We order everything through apps, even groceries. 'Pag dineliver, only one person holds the items and that would be my husband, tatanggapin niya, naka-full gear siya. Sibuyas, bawang, hinuhugasan lahat, lasang sabon na lahat ng mga kinakain namin (We do not go out. We order everything through apps, even groceries. Only one person handles the items and that would be my husband, in full gear. Onion, garlic, all are washed thoroughly. Our food already tastes like soap), but we don't care," she revealed.
For other non-food deliveries, she said they are left outdoors for two days before they touch them.
Villamarin said that she knows of just less than a hundred Filipinos who hold managerial positions, most of them in the southern part.
She also heard of 10 Filipino families who have been stranded in Delhi holding medical visas, issued to those undergoing treatment or operation.
Look Out For Each Other Even Under Unimaginable Situations
Under these circumstances, Villamarin revealed that Filipinos get in touch with each other online, including those married to Indian nationals.
"We created a chat group and we help each other through chat, like somebody would ask who has a medicine like paracetamol, or would ask what to do in a certain situation," she said.
To this, Villamarin shared that the COVID-19 situation in India has become unimaginable, which has led people to lose their sense of empathy, replacing it with anger.
"Yung mga tao dito nagkakagulo kasi maraming families ng mga namatayan dito nagwawala at sininisira nila 'yung mga facilities around the hospital kaya nakakatakot din pumunta. Umaapaw ang mga hospital. Walang emergency room (The people are panicking. Families who lost loved ones would destroy facilities around the hospital so it's scary to go out. The hospitals are overflowing. There are no emergency rooms), they close the hospital gates and people are lying just outside the gate, waiting," Villamarin said.
She added that people are dying in their homes.
"We don't know what to do. It's difficult. We're emotionally drained," she said.
The situation in India has become quite unbearable for some people to wrap their heads around. However, there's always something that we can do. Even in our small simple ways, we can try to contribute to the solution if not minimize the problem from becoming way out of hand – and really, not much has changed in the things we should be doing since all of this started – except for the introduction of the vaccines, but let's not keep our hopes too high to the point of abandoning reason in anything we do.  Wherever you may be in the world, think of how you can help others and guide them into doing the right thing for everyone's sake. If anything, now's an important time to truly get our acts together and think beyond just serving ourselves, including our political biases and individual differences.
READ NEXT:  Filipino Couple's Tragic Love Story Featured on New York Times