"I'm here live. I'm not a cat." says a lawyer from Texas during a Zoom conference meeting while having a cat filter setting on his face. This funny video went viral on YouTube as the lawyer was unable to figure out how to turn off the cat filter on his Zoom call.
The pandemic has forced many businesses, industries, and with it, professionals, to become more reliant on the use of technology than any of us could've ever imagined. And as most of us make this transition, some mishaps remind us that we are still going through this process together.
Such was the scenario at a forfeiture case hearing in the USA. The judicial court hearing was held on Zoom, with four legal professionals including a judge discussing a case when something bizarre caught the attention of the meeting participants, as well as most of the people in the US a few hours after the funny incident made its rounds across social media.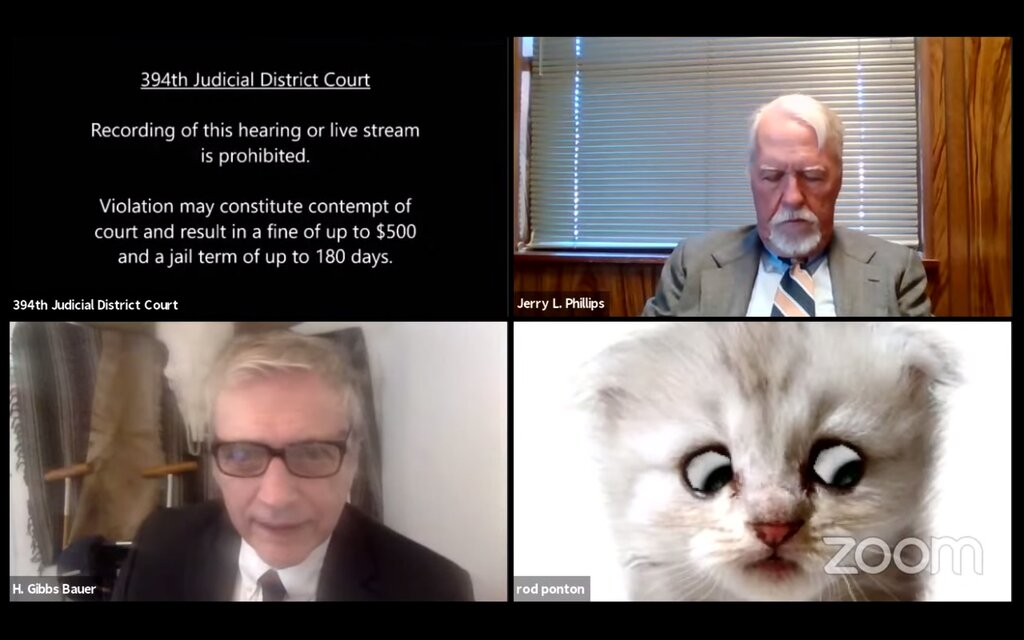 [VIDEO] Lawyer Panics Over Zoom Cat Filter in Conference Call
In the video, Rod Ponton, a county attorney in Presidio County, Texas, can be seen with a cat filter on his face and was unable to figure out how to turn off the cat filter on his Zoom call.
The result was a video immediately making rounds on social media on Tuesday, drawing laughter and concern as to whether the cat will see justice by the end of the 42-second clip. It was reminiscent of other social media classics such as Knife Kid and BBC Dad.
When asked about his reaction to the positive responses of netizens on social media Ponton said, "If I can make the country chuckle for a moment in these difficult times they're going through, I'm happy to let them do that at my expense."
Catch the adorable clip here posted by the 394th District Court of Texas/YouTube:
Indeed, even if it was only less than a minute, the funny mishap brought a smile to many people's faces. We hope this would also help you loosen up and get a much-needed mental break as we approach the weekend. Let us know what you thought about the clip. We'd love to know what you thought about it! And if this has also left a smile on your face, go ahead and share it with friends and family so they can have a small laugh, too.
READ NEXT: 20 Tips for Dealing With Stress During a Pandemic