Just like the other government agencies in the Philippines, the Land Transportation Office (LTO) has jumped into the bandwagon, joining the others in transitioning to digitized services over the Internet for its clients through the new LTO online system, the Land Transportation Management System (LTMS). Please follow the guidelines, requirements, and tips we've listed below on how you can register to the LTO online portal via LTMS website.
Also Read: Applicants to Submit Medical Certificates thru LTO Online Only
So, if you are looking to file or renew either your driver's license or your car registration, you can now just transact online with the launch of this new online portal for processing different LTO transactions. This new LTO online system is part of the agency's transition to the new normal—to help people avoid running the risk of problems resulting from a foray outdoors just because they needed to be physically present at an LTO branch.
In this guide, we'll walk you through navigating the LTO online portal to help you familiarize yourself with the agency's online services.
What is the LTMS?
The Land Transportation Management System (LTMS) is LTO's new online portal. It is a web-based management system designed to be the cornerstone of the LTO's modernization program. With the LTMS, the LTO aims to become more efficient in its service by automating most of the different transactions and bringing them closer to all the motorists in the Philippines, including those who are overseas.
What LTO Services are available through the LTMS Portal?
Considering that LTO transitioned to a web-based portal to make its services more accessible by making it available in the LTO web portal, it is just right that we clarify what these services actually are. Do note that this list of services may eventually change, but for now, the LTMS offers the following e-services:
Application and renewal for all types of licenses, including student permit
Cashless payment for driver's license processing fees
Replacement of lost/damaged license
Conversion of foreign driver's license to professional or non-professional license
Change of classification from non-professional to professional license
Request for additional restriction code or category
Revision of records
Request for Certificate of No Apprehension
Submission of position papers for contested cases of traffic violations
Motor vehicle registration
Who Can Use the LTMS Portal?
The LTMS portal was designed to cater to a wide range of people and organizations who need to transact with the LTO. These individuals and organizations include the following: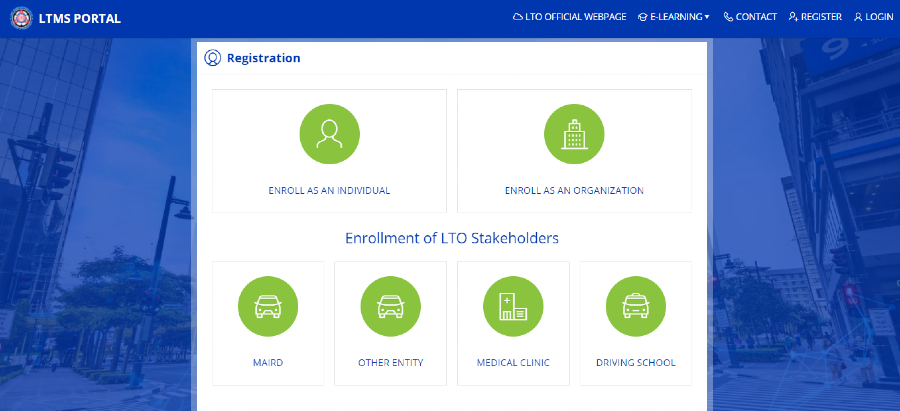 Individuals (both new applicants and existing license holders, Filipinos and alien residents)
New car owners
Existing LTO license holders
Companies (public transportation fleet managers, franchise holders, etc.)
MAIRD (manufacturers, assemblers, importers and dealers) with a fleet of heavy vehicles
Private companies with a fleet of vehicles
Delivery and logistics companies with a fleet of vehicles (both two-wheel and four-wheel units)
Medical clinics
Driving schools
Other entities (diplomats, tax-exempt individuals, returning residents under the no-dollar importation, government agencies)
What are the benefits of using the LTMS Portal?
As an online facility that will help you transact with the LTO, the multi-purpose LTMS portal can only be a good thing. If you're asking why then read on and check all the benefits and advantages that come with using the LTMS portal and transacting with LTO from the comforts of your home.
1. It translates to faster and more convenient transactions anywhere around the world.
Since the LTMS was launched on May 18, 2020, most LTO transactions were streamlined, making them significantly faster and simpler compared to doing it at the LTO offices.
Normal processes that usually take as much as four hours can be finished in less than one, provided that you have all the information and documents necessary for the transaction. Plus, it's conveniently available 24/7 on the LTMS portal.
It can be used anywhere around the world by simply accessing the LTMS portal from your computer or smartphone, uploading the requirements, setting an appointment, and paying for LTO fees online.
However, the process is not yet fully automated so to complete your transactions, you'll still need to visit the LTO branch on your appointment. Visiting your elected LTO branch is needed in processing your photo and biometrics capture, as well as in taking the driving exams (for driver's license application or renewal).
Nevertheless, the LTO plans to improve the LTMS further by forging partnerships which will accredit courier services. This initiative will drastically improve the release and delivery of the driver's licenses and license plates applied for via the online platform.
2. It's safer and it helps you avoid fraudulent fixers.
Whether it is because of the risks of getting infections or meeting fixers and scammers, doing your LTO transactions online is definitely a relatively safer way of doing it. Plus, this way is extremely convenient if you want to avoid illegally dealing with dubious personalities who promise quick, hassle-free transactions in exchange for ginormous fees.
With all kinds of threats flying around each time you take a step out of your safe space at home, going through the new LTO online system couldn't have come at a better time.
3. There's a theoretical learning platform that serves as a primer or a refresher that can improve your chance of passing the theoretical exam.
If you've tried applying for a driver's license or a student permit before, then you know that taking the theoretical exam is a non-negotiable step towards getting a license. That said, it means you have to answer 40 questions and get 30 of them correctly to get a non-professional license.
In the event that your goal is to get a professional driver's license, then you need to answer 45 questions from the theoretical exam correctly. The exam will have 60 questions.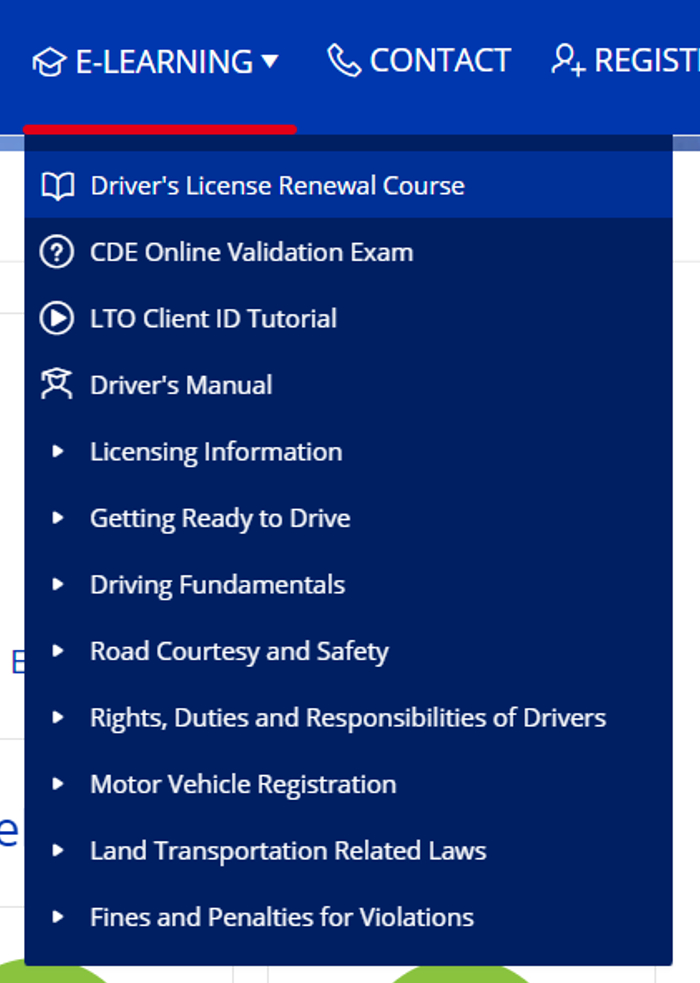 Luckily, LTO isn't about to leave their license applicants high and dry so, the portal also includes an e-learning portal with the following modules that will help you review for the theoretical exam:
Licensing Information
Getting Ready to Drive
Driving Fundamentals
Road Courtesy and Safety
Rights, Duties, and Responsibilities of Drivers
Motor Vehicle Registration
Land Transportation-Related Laws
Fines and Penalties for Violations
How to access the LTO e-learning modules?
To access the LTO e-learning modules, you will have to:
Log in to the LTMS portal.
Once logged in, click the "E-Learning" tab. You'll be presented with a drop-down menu.
Click the item that you need to review.
4. There's little to no need for stressful follow-ups.
Normally, a trip to the LTO office means you'll eventually have to follow-up with them regarding the status of the transaction. It's no easy feat as following up usually means going to an LTO satellite office or calling the LTO client services officers who usually take in a large volume of calls.
With the new LTMS portal, there is no need to do these. You simply have to log in to your account and you can already check the status of a specific transaction. It's as easy as that!
5. You can't lose any of your LTO-related credentials since they are archived in one place.
If you are always being tagged as a "scatterbrain," then you've probably experienced losing your receipts and claim stubs more often than you can remember. Though lost receipts and claim stubs can be resolved, you don't have to keep worrying about this problem when you transact via LTMS.
This is because the LTMS account has an embedded archiving facility which can store your documents, driver's licenses, recent receipts, apprehensions, and registered vehicles.
Because everything can be stored and accessed in one place via your LTMS account, you no longer need to worry about lost files or reapplying for lost licenses.
Instead, you can just log in and you'll have access to any important detail or file related to your car or LTO transaction.
6. You can save space at LTO's physical site for those who don't have access to LTMS.
By using the LTO portal, you can avoid crowding the LTO physical branches. With fewer people lining up, people who don't have the ability to access the online LTO platforms can conveniently process their transactions at the physical branches.
Plus, fewer people at LTO offices means faster transactions and less risk.
Using the LTMS
For a complete guide on how to use the LTO online portal, please see the following guide:
How to register on the LTMS portal?
Whether you're a new applicant or someone in need of registration renewal, you may enjoy these benefits, too. But first, you'll need to register and create an account on the LTMS portal.
To do so, you must:
Visit the LTO online portal by going to this link: portal.lto.gov.ph.
Click register.
Tick the box for the terms of the agreement by clicking the checkbox that says "yes, I accept."
Fill out the captcha form to prove that you are human.
Select what type of registration you would like.
For individual registrants, select "individual."
They will then ask if you have a Philippine driver's license. Select whether or not you already have a Philippine driver's license.
For those individuals who already have a license, the next step in the registration process will require the following information:
Driver's/conductor's license number,
Expiry date,
Official receipt number (or mother's maiden name if you no longer have your receipt).
For first-time Filipino applicants, you will be asked for the following information:
Your name
Birthday and sex
Mother's maiden name
For alien residents, they will first be asked to provide pertinent information including the following:
Alien Certificate of Registration (ACR) number,
Expiry date, and
Nationality
Input your mobile number and email address when the LTO portal asks for it.
The LTO will then send a verification link on your email, so make sure that the email you give is active. Click the link to activate your registration and complete your profile by supplying the rest of the information needed.
After you open the link, the portal will ask you to complete your profile by providing details like emergency contact, medical information, general information, and address.
Once done, the portal will assign you a 15-digit number that will serve as your username. You need to use this to log in to the LTMS to get access to your account, so make sure you either use the password autofill function of your device or remember it.
Upon logging in, you will be prompted to create a new password (at least eight characters long, one alphabet, one number, uppercase letters, and lowercase letters) and confirm it.
To confirm, click the Set Password for Login button.
Then, click the Login button to access your LTO online account.
Once you've created your LTMS account, you may try logging into your account and starting with your transactions.
LTO Online Driver's License Application and Renewal
Getting a driver's license online at the LTO may seem too complicated, but it's actually very simple and quick once you have all the requirements ready. If you don't believe us, then you can try following these steps:
Log in to your LTO online account through the LTMS portal.
Select "Licensing."
Read and accept the Terms of Use.
Choose your license type (student permit/driver's license).
Click "Add Medical Certificate."
Enter your medical certificate number and click Verify*.
Choose your driver's license application type (new or renewal).
Fill out the online application form.
Upload all the required documents indicated in the Document Description dropdown.
Upon clicking the Apply button, you'll see the LTO fees you'll need to pay.
Choose your preferred LTO office where you'll complete your transaction, and your appointment date and time from the available slots.
Click the Proceed to Payment button.
Select your payment method (BancNet/BPI Online/GCash/UnionBank Online)**.
Click the Proceed to Summary button.
After reviewing the transaction summary, click Finish Transaction.
Read the e-payment and appointment disclaimers.
Then, click on the Accept button.
Once done, your Order Summary and Billing information will appear.
Read and agree to the Terms and Conditions.
Then, click on your preferred payment method.
Then click the Continue button. This will redirect you to a secure third-party site where you can complete your online payment transaction.
Notes:
*If the LTO-accredited clinic failed to submit your medical certificate online to the LTO, you can't continue with your online driver's license application or renewal.
**Besides the LTO fee for your license application/renewal, you will also need to pay a convenience fee, which varies depending on the payment method you use.
How to Check Your LTO Transactions?
Your online LTO account will keep records and track all of your transactions. You can access these records at any time by following these steps:
Simply sign in to your online account through the LTMS portal.
Once logged in, click on the "Transactions" tab.
You'll then be redirected to a page where you can view all the open transactions done under your account.
How to Check Your LTO Violations
The LTO online portal also allows you to look up the status of any traffic violations you've ever had. It's quick and easy:
Sign in to your LTO online account through the LTMS portal.
Click the "Violation" tab.
You'll then be led to a page where you can view your Demerit Points, Unsettled Dues, and History of Transactions.
How to Check Your LTO Documents
For your convenience, the LTO online portal also archives all the documents you have submitted to the LTO in your account. Here's how to navigate this part of the LTO portal:
Sign in to your LTO online account through the LTMS portal.
Click the "Documents" tab.
After clicking Documents, you'll be directed to a page that lists all the documents related to your LTO transactions. Here, you'll find all the documents you submitted categorized into Licenses, Motor Vehicles, OR/CR, and No Apprehensions.
How to Update Your LTO Profile
To make sure you'll always receive alerts and notifications from the LTO, update your personal information in your account. Here's how:
Sign in to your LTO online account through the LTMS portal.
Click the "Profile" tab.
After that, you'll be directed to the page that contains your personal details. Once there, you may update your profile as you see fit.
Frequently Asked Questions (FAQs)
Some of the commonly asked questions related to LTO's LTMS are listed here.
Are the LTO online services available to all?
No. Because the LTO has just launched the LTMS, not all branches can use it for all types of transactions. The LTO is transitioning gradually, but for now online transactions are only available for processing in these 24 LTO offices.
List of LTO Offices That Process Online Transactions
Metro Manila:
Central Office-License Section
Eastwood DLRO
Ever Gotesco DLRO
Muntinlupa District Office
Quezon City Licensing Center
Luzon:
Angeles District Office
Baguio Licensing Center
Bayombong District Office
Biñan District Office
Calapan District Office
Laoag District Office
Lipa District Office
Naga District Office
San Fernando Licensing Center
Visayas:
Dumaguete District Office
Ormoc District Office
Roxas District Office
Tagbilaran District Office
Mindanao:
Butuan District Office
Davao District Office
General Santos District Office
Malaybalay District Office
Pagadian District Office
Tagum District Office
The LTO still processes walk-in transactions in all of its other branches nationwide. But, if all goes well in the pilot offices, the online system will be implemented in all of the LTO's branches nationwide.
Final Thoughts
It's no secret how time-consuming transactions at LTO branches can get. But with the new LTO portal, you don't have to queue or follow up in the branch. While the system isn't perfect yet, it's highly likely that we will be seeing improvements over time.
In the meantime, you may make do with the LTMS portal. If you have questions or need help in using this government facility portal, you may fill out the inquiry form on the LTMS portal.
For any other inquiries, you may check out the LTO website for a complete directory of their offices all over the country.