A Filipina in Riyadh, Saudi Arabia, who had lost communication with her family, is seeking help from authorities. 59-year-old household worker, Yolanda Aniban-Visitacion, posted a video on Facebook sharing her current situation.
Yolanda, in search for a better life, left Bacolod City, Negros Occidental to go to Riyadh, Saudi Arabia in 2008. After she left, she and her family lost all communication, and her recruitment agency had closed down, sparking concerns.
Her family even turned for assistance FB after she went missing. Below is one of the posts back in 2013.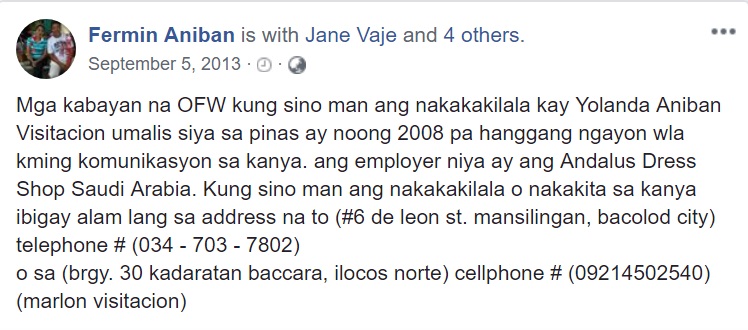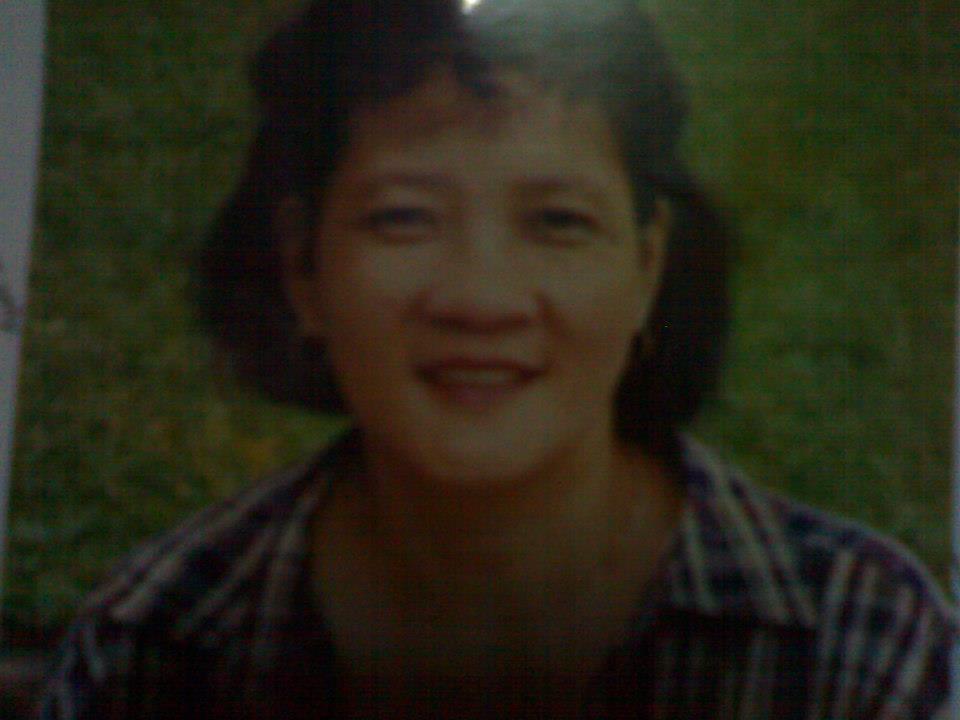 Pinay in Saudi Seeks Help on Facebook, Family Finds Her after 7 Years
Being unable to go actively looking for Yolanda had left her family hoping and praying for her safety for years, until one Facebook post gave them some hope.
Jennifer Debaja Palomo, a fellow OFW in Saudi Arabia and member of OFW Public Service and Guidance FB group, posted a video of Yolanda's plea for help.  Based on the post, the person who took the video was another OFW named Eileen who is working for a catering service company and met Yolanda when they visited the employer's house.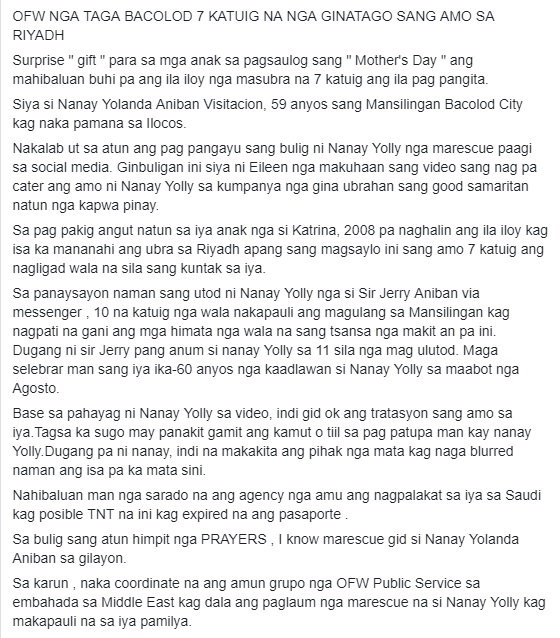 The video showed an anxious Yolanda in black hijab, as she talks about her situation. She proceeded to tell everyone that she was hired to babysit the son of the family she is working for. The boy is now in the fourth grade. According to Yolanda, her employer has been constantly maltreating her for the past seven years. She talked about her employer beating her up and looking down on her for being poor.
According to the Facebook video, when a visitor would comment on how healthy she looks, her employer would beat her up after the visitor has left the house. The worst thing, according to her, is her eye condition. One of her eyes is already almost blind and the other has started to blur significantly.
The said video had led her family in Barangay Mansilingan to seek the help of the Overseas Workers Welfare Association (OWWA) . They were assisted by a case officer from Bacolod named Rizza Mapa.
Mapa had told the family that Yolanda's case has already been endorsed to the Philippine Embassy in Riyadh, Saudi Arabia, and her location is already being tracked.
Jennifer's contact, Eileen, seems unwilling to cooperate, so the search for Yolanda's whereabouts continues.
Watch Yolanda's call for help here: