It's the new year, and it's another year for you to create a list of resolutions with the hopes of finally getting it done this year. After reflecting during the holidays, you'll realize that sometimes life gets in the way of your goals or takes you by surprise, and you did achieve them.
Also Read: How to Become an OFW and Work Abroad
However, when it comes to new year resolutions or setting a list of goals you want to achieve, planning ahead can help you set the tone for your year. If you're running out of ideas for your new year's resolutions, we have a list of what OFWs commonly say as part of their new year's resolutions!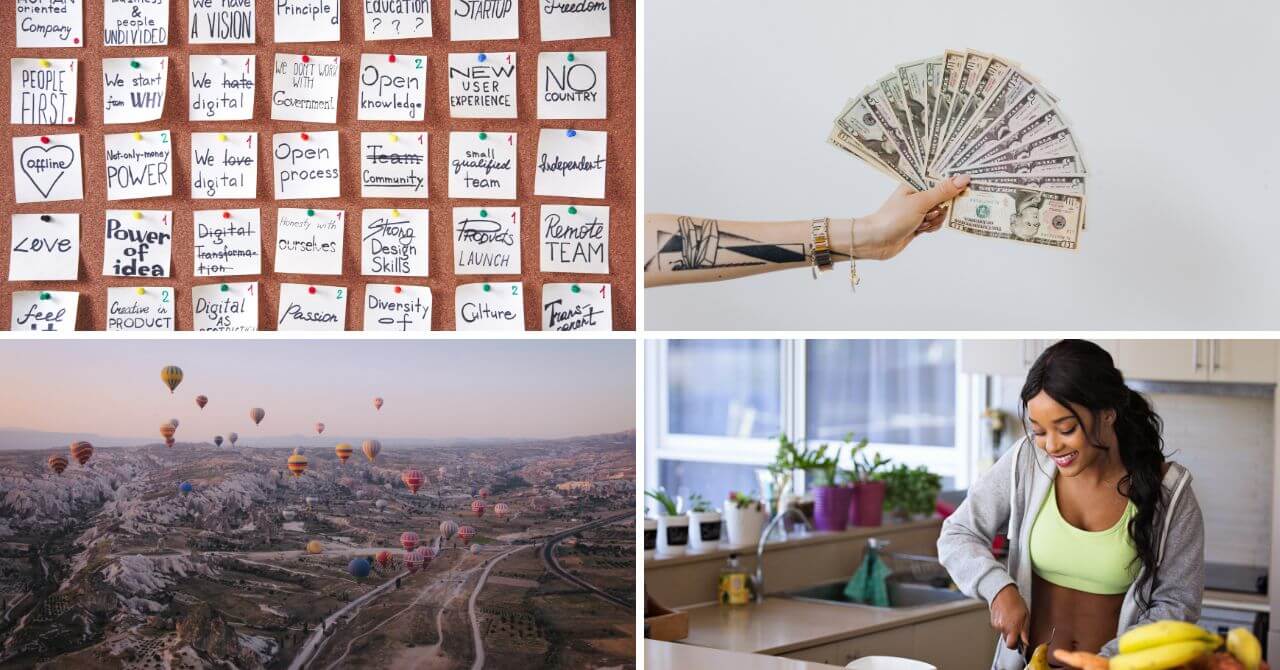 1. Healthy lifestyle
One of the most common new year resolutions of Pinoys abroad or in the Philippines is to have a healthier lifestyle. After indulging themselves with countless delicious meals during the holidays, the urge to just hit the gym or be active for the new year is natural. 
Whether it's yoga or belly dancing, everyone wants a healthier body and lifestyle since people are not getting any younger yearly. Even if you're in your 20s, you can feel a lot of body aches or mental health issues. Putting your health and well-being first at the top of your new year's resolutions list or goals is okay since it can help you be productive and have a much better lifestyle for the whole year. 
The key is to be consistent in achieving your goal of having a healthier lifestyle, whether drinking more water, exercising during work, eating less instant food, or having a regular sleeping schedule. As OFWs, it's essential to keep your physical, mental, and emotional well-being in a good state since it's not easy when you're in a foreign country, away from your loved ones, or even with your family abroad; your investment is your health.
2. Will have savings or investments
Unfortunately, many OFWs abroad don't have savings; they have to spend it for emergencies or send it to their loved ones back in the Philippines. Other OFWs want to have investments or start a business, whether in the country they currently live in or in the Philippines but need more money. 
Every year you'll see saving ideas online on how to save money with either 50 or 1000 peso bills. It is challenging to save money, especially if your salary is enough to cover your bills and rent and send money back home. Of course, you sometimes want to buy something for yourself since you've been working hard; it can be a new dress or a camera that you've been dreaming of having, and have your " I deserve this" kind of moment.
This new year, you can prioritize saving or investing your finances wisely by being financially empowered by watching Filipino financial youtubers online or being disciplined on how you spend your finances. One way to do so is by having a financial tracker, having a realistic budget, and walking away from unnecessary expenses you don't need. 
3. No longer buying unnecessary things
Speaking of not buying things you don't need, let's face it when you're abroad, one of the typical pastimes of OFWs is retail therapy. Purchasing items for your loved ones back home and filling up your balikbayan box can be really rewarding. Sometimes retail therapy can go overboard when you're splurging, whether because you're dealing with homesickness or it has become an addiction.
As part of your new year resolution, you can work on your spending habits by knowing your priorities and boundaries since, as an OFW, there is instability when it comes to jobs and visa statuses, and it's best to have extra money for rainy weather and emergencies.

4. Making time for priorities
Have you had time to reflect and know your priorities this new year? Sometimes you must pause and tune in to yourself to see what you want to do, which is challenging. If your priority is to spend more time with your family this year, then you may need to slow down on taking overtime or be present for them when you're at home.
If your priority this year is to work on your dream house in the Philippines; then it's time to focus on finding the right contractors and talking to the right people.
If your goal this year is to work on your migration plan, you need to finally get your paperwork done and work on securing your ideal IELTS score. Knowing your priority this year can help you be on track and see what areas of your life you can be productive in.
5. Resign from a toxic job or get a new job
How many times have you said you will quit since last year? Of course, it is never easy to quit if you have loans to pay or mouths to feed back home. However, if you really want to resign from a toxic job and start a new one, you need to be wise. This new year, you can give yourself a deadline and reflect on your options, especially if it doesn't hurt your visa or migration status if you resign.
If you plan to be a digital nomad freelancer, you need to plan and save money to keep yourself afloat. Starting a new career or even shifting is always challenging.
6. Travel more
Who doesn't want to travel more? Everybody wants to unwind, see new places, and enjoy life! But as OFWs, sometimes it can be challenging since there are visa restrictions to consider, a budget to see through, and traveling can be out of the question if you're always too tired from work. 
It's time to start ticking off places on your dream travel bucket list this year! There are always new opportunities for you to travel locally if international travel can be time-consuming and too expensive.
7. Cutting off toxic people
New year, new you? Cutting off people who are no longer healthy for you can be a good thing, whether it's a relative or a friend; knowing your boundaries and where you stand in people's lives is a form of self-care. As OFWs, you can be all too familiar with the crab mentality not all, but other kabayans or fellow Filipinos have abroad. You can learn the hard way on why you should steer clear of toxic people and learn to gravitate toward people who are genuine, healthy, and happy for you.
8. Will be open to new opportunities
This new year you should be open to endless possibilities and new doors of opportunities that will come your way! Sometimes it's hard to get stuck in the daily routine of work and going home, but make sure to let life take you by surprise! You should add to your new year's resolutions of trying new things or exploring other opportunities to help you grow and be better than you were before!