In order to address the rampant poverty and unemployment in the country, President Rodrigo Duterte explores new methods and legislative measures to help address this long-standing issue, which has plagued the country for many decades already.
The government's efforts in promoting education and skills training among Filipinos fall under the country's 10-point socio-economic agenda, the Philippine Development Plan (PDP) 2018-2022, and the "Ambisyon Natin 2040," a national governing body that will oversee all skills training and education programmes geared at providing job-specific skills required by both public and private entities in the country.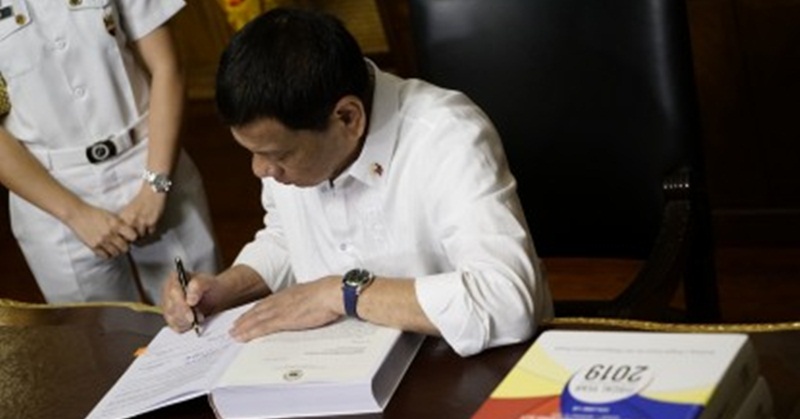 PRRD Adopts National Technical Education & Skills Development Plan
In line with this, President Rodrigo R. Duterte signed an executive order approving the National Technical Education and Skills Development Plan (NTESDP) 2018-2022, as shared in a report by the Philippine News Agency.
Executive Order No. 83, which was signed by President Duterte on June 17, but was released to the media on Thursday (June 20), officially upholds the adoption of the NTESDP 2018-2022 which envisions a vibrant and quality technical education program in the country aimed at producing employment and reducing poverty.
As per the order, "The NTESDP 2018-2022 shall serve as a blueprint of the TVET (Technical Vocational Education and Training) sector in coming up with responsive policies and implementing programs in support of the broader goals and objectives of the national government."
In the same EO, the president urged all national government agencies and local government units to adopt, disseminate, and support the NTESDP 2018-2022.
Furthermore, the he Technical Education and Skills Development Authority (TESDA) has been appointed by the president to facilitate the implementation, coordination, and monitoring of the NTESDP 2018-2022.
The Order directed the TESDA to ensure that the delivery of all skills development programs and schemes conform to the objectives of the NTESDP 2018-2022 and that all skills training and development are aligned with the Philippine Qualifications Framework and all instituted standards.
As part of its role, the TESDA is also required to submit a semi-annual report on the implementation of the NTESDP 2018-2022 to the Office of the President, through the Department of Trade and Industry.
Commenting on the new initiative, Presidential Spokesperson Salvador Panelo said, "We aim to reduce poverty from 21.6 percent in 2015 to 14 percent in 2022, which is equivalent to lifting about 6 million Filipinos out of poverty by the end of the President's term. And we will grind daily to reach this goal."
ALSO READ:  TESDA to Introduce 911 Employment Mobile App this July