The annual deployment ceiling of 5,000 new employees for medical professionals "has been reached as of date." according to a June 1 statement from POEA chief Bernard Olalia.
READ ALSO: How Much is the Salary of a Caregiver in the United States?
"The processing and issuance of overseas employment certificates and deployment of new hires for healthcare workers are hereby suspended effective immediately," Olalia said.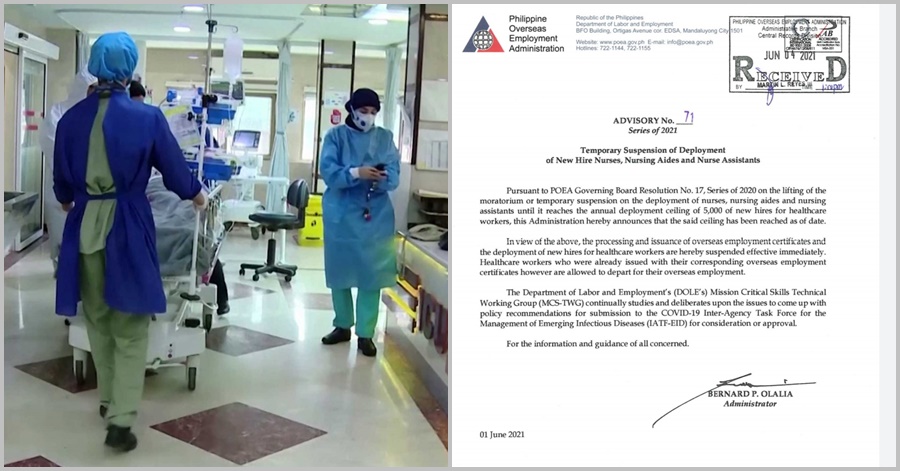 POEA Temporarily Halts Deployment of Nurses Overseas
Healthcare professionals who have already been awarded their appropriate overseas employment certificates, according to a POEA spokeswoman, are authorized to go for their overseas job, CNN Philippines reported.
The Inter-Agency Task Force on Emerging Infectious Diseases said late last year that the move was necessary because of the "national demand" for healthcare workers in the wake of the coronavirus pandemic.
POEA administrator Bernard Olalia stated in Advisory 71-2021 dated June 1, 2021, that newly hired nurses, nursing aides, and nurse assistants cannot be deployed abroad since "the annual deployment ceiling of 5,000 new hires had already been reached."
"Effective immediately, the processing and issuance of overseas employment certificates, as well as the deployment of new hires for health care workers, are hereby suspended," he stated.
However, there have been proposals to increase the number of medical staff deployed abroad from the current 5,000.
Rep. Mike Defensor of the Anakalusugan Party's list, for example, declared in January that there was "no point in restraining" them because the Philippines only offered cheap pay.
If the IATF does not repeal the decree, Defensor warns of probable exploitation from obtaining abroad employment certificates to immigration counters at the point of departure.
According to Olalia, the Labor Department's Mission Critical Skills Technical Working Group (MCS-TWG) is constantly studying and discussing the topic in order to make policy suggestions to the Inter-Agency Task Force for Emerging Infectious Diseases (IATF-EID) for consideration or approval.
The POEA administrator previously stated that it would urge the IATF to enhance the yearly 5,000 limitation on healthcare worker deployments.
READ NEXT: Soon: Work in Singapore as a Vaccinator and Earn Up to PHP 63,000 – PH Labor Official