A post on a social media website has gone viral showing an Overseas Filipino Worker sharing blessings to other OFWs in the UAE. Although we're in a difficult health situation right now, a "Pinay" OFW still manages to donate relief goods to those who are in need.
Also Read: Pinay in Riyadh Receives Blessings from Employer
Most of companies or employers have stopped their business because of the crisis. This leads to OFWs losing their jobs. And most of these Filipino workers are relying on their agencies, the Philippine government, or from their employer's human acts of kindness.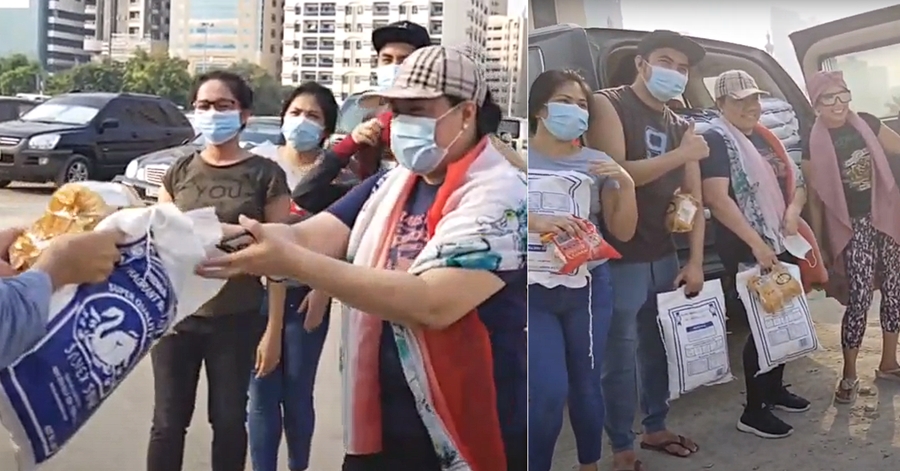 A Filipina OFW Hands Out Bags of Relief Goods and Rice
The most humane thing to do during these times of current health situation is to help one another. During this time, a Pinay OFW who is based in the UAE offers help by giving food consumption to her fellow OFWs.
According to a post on a social media website that went viral, it displayed a picture of a kind-hearted OFW and SUV packed with bags of relief goods and rice. The viral post on Facebook was uploaded by Angelie Marie Autentico. She went around the Emirates and gave something to OFWs who needed help. As a matter of fact, Angelie's first earnings on YouTube which was worth PHP 59,000 was exhausted on food packs that she handed out the families in Ajman, UAE.
Also Read: 3 Filipina Workers in Oman Seek Repatriation Help
Angelie recorded her good deed. The content of her post shows her act towards the people in need. It displayed her kindness by dispersing the relief goods near a hotel. She stated that she will focus on providing her help towards her fellow OFW to give them strength and willpower. She's worried that if they lost hope, these Filipino workers would not be able to bring to their families at home.
She reminded everybody that whatever the situation is, we just need to keep pushing and floating because we all know that this will just pass. According to Angelie, we just need to have faith and find ways to keep us alive.