Kabayan, we all know the reason why you are working hard for your family abroad. We know you want to provide for your family the best way you know. We know you chose to work abroad away from them because you want a better, more secured future for them.
Also Read: Virtual Pag-IBIG: How to Access Pag-IBIG Services Online
We know that one of your dreams is to come back home from your years of hard work to your very own house. A house that you can proudly call your own – a house you paid for with your sweat equity – a house that you will proudly transform into a home.
Which is why, mga kabayan, it is important that you know, you can now avail of a HOUSING LOAN from the Pag-IBIG Fund. You can now have a more concrete realization of your earnings from years of work abroad!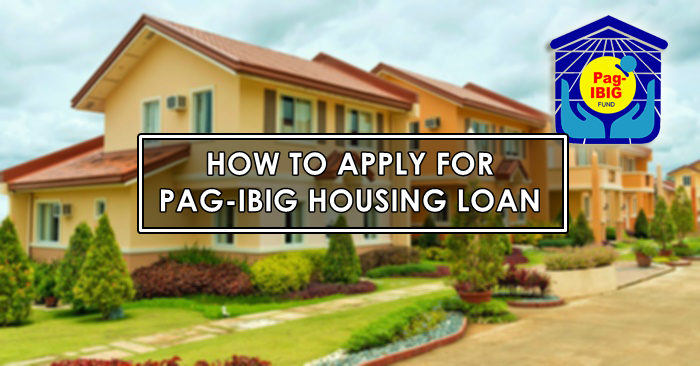 Step by Step Guide to Applying for a Pag-IBIG Housing Loan as an OFW
Here we outline some important elements and procedures in order for you to apply for a housing loan. We hope you find these information useful.
Who are Eligible?
Active Pag-IBIG member (Pag-IBIG I, Pag-IBIG II or Pinoy Overseas Program) with at least 24 months contribution.
Members with less than 24 months contribution can still avail of the housing loan, provided they pay in lump sum the needed number of contributions (both employee's and employer's shares)
Not more than 65 years old at the time of loan approval and must not be more than 70 years old at the time of the maturity.
Members who pass the credit background check.
Has no pending loan obligations with Pag-IBIG either as principal borrower or as co-maker.
Has no Pag-IBIG multipurpose loan in arrears.
If the member has pending loan obligations or arrears, must be willing to update his records by paying his balance.
How much can you avail?
The loanable amount range is from Php 100,000 to a maximum of Php 6 million. The loanable amount is based on 40% of your net disposable income and your capability to pay.
Where can we use the Housing Loan?
Buying a housing unit in a residential area (either brand-new, mortgaged or in need of improvement), a condominium unit or to refinance an existing housing loan from an accredited financial institution. You can use the loan proceeds to improve on your existing housing unit as well.
What documents do I need to prepare?
Be ready to show the following documents:
Employment Contract – In English language. Have your contract translated to English if it is in another language so the HDMF personnel can easily understand your work situation.
Original Employer's Certificate of Income – You can ask this from your employer or your human resource department. You must present the original, but if you don't have it, a photocopy can be accepted, IF it is validated by the HDMF Information Officer assigned to your country of assignation.
Pag-IBIG Home Loan Application Form with a recent ID picture attached – Completely filed up with the correct data. Picture should be taken within the last six months or so.
Membership Status Verification Slip – The HDMF Office can provide you with this upon your request.
Photocopy of your ID.
Duly Signed Authorization to Conduct Credit Background Investigation – Available in the HDMF Office as part of the documentary requirements they'll give you.
A Special Power of Attorney – You can have it authenticated by the Philippine Embassy or Consulate per your request. Bring this if it is your spouse who will be transacting on your behalf.
Health Form and Full Medical Examination – Required for borrowers over 60 years of age applying for loans of more than Php 2 million. Available in any Pag-IBIG branch or downloadable online.
Marriage Contract – If the applicant is married. From the National Statistics Authority as much as possible.
Certificate of No Marriage – For unmarried applicants at the time of application. HDMF may ask for your marriage certificate for updating of your records after you get married.
Birth certificate, proof of relationship for co-borrowers
What else do I need to prepare?
Aside from the documents above, be ready to present these to the HDMF for your processing:
Latest TCT/CCT from the Registry of Deeds (Certified True Copy is accepted)
Location plan and vicinity map
Photocopy of Tax Declaration
Latest Real Estate Tax Receipts
What else do I need to do?
After you bring these documents, you or your authorized representative, would need to undergo the following processes:
Attend a loan counseling program.
Fill up several application forms such as Housing Loan Application (HLA) and a Preliminary Loan Counseling Questionnaire (PLCQ).
If you are above 60 years old, you'll be given a medical questionnaire especially if you are availing of a loan amounting in excess of Php 2 million.
Pay a non-refundable fee of P1,000 after submitting the documents.
Wait for the HDMF Office to review your loan application. This process usually takes 20 days as it includes property valuation and credit background checks.
Wait if you will be given a Notice of Approval (NOA) or Letter of Guaranty (LOG).
Turn over the NOA or LOG to the property seller.
Pay the Capital Gains Tax at the BIR (you can pay this in 90 days). Wait for the release of your Certificate of Authorizing Registration after paying the CGT.
Pay the transfer tax.
Go to the Registry of Deeds to transfer the property title.
Get an updated tax declaration for the Assessor's Office or an Occupancy Permit for the Engineer's Office.
If you are refinancing, give the Letter of Guaranty and the Loan and Mortgage Agreement to the bank before going to the Registry of Deeds for the Annotation on the Title.
Submit the Original TCT in the name of the borrower with the mortgage annotation; the updated Real Estate Tax Receipts for the land and the property, the Deed of Absolute sale with the stamp from the RD, the new tax declaration in the name of the owner, the Occupancy Permit and the Assignment of Loan Proceeds.
Closing the Deal
Yes, the process is long and time-consuming. But to OFWs wanting to get their housing dreams realized, madali na ito basta may mapagparagdagan.  A lot of people say that having a roof above their heads is the best thing that they can possibly dream of. This dream is closer to reality with the availability of the Housing Loan.
We hope you find these information helpful as you buy your first property. Please understand that this is a house and lot and a big investment from your end so it's not that easy to apply for a house loan right away. But following the steps and tips above will help you be one step closer in achieving that goal to have your very own house and lot.