The Philippine Embassy in Japan is all geared up and ready to entertain Filipino voters for the overseas absentee voting for the national and local elections (NLE) which started on April 13, a ranking official said.
Consul General Robespierre Bolivar said the Embassy is aware of the surge in voter during the registration last year and prepared accordingly. He also said, "The Embassy expects many of our kababayan in Japan will actively participate in the elections this year."
As it is, the Embassy has surpassed the Philippine government forecasts for new voter registration in Japan by 130 percent in 2018.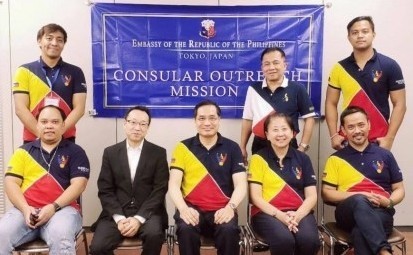 Bolivar said that the Embassy remains "very proactive and aggressive" on social media to attract high number of voter turnout.
Filipinos in Japan are supposed to cast their ballots by mail which also happens to be the best mode of absentee voting for Japan.
Bolivar said the Comelec resolved that Japan and some other countries, will use Automated Voting – a system where voters receive blank ballots by mail at their declared postal address. The envoy said and we quote:
"The postal service in Japan is very efficient, perhaps one of the best in the world. Furthermore, many of our kababayan live outside of Tokyo and Osaka and may not be able to travel to these cities just to vote."
The ballots will be accomplished, sealed and mailed back to the Embassy in Tokyo or the Consulate General in Osaka using the Comelec mailing envelopes. The ballots will then be fed into an automated counting machine in these locations and counted.
Bolivar said, "From what I understand of the process, these automated machines will also be responsible for generating the election results, which is basically the tally of how many votes each candidate got during the one-month voting period until May 13th."
Within the jurisdiction of the Embassy in Tokyo, there are a total of 39,788 voters. Of this number, 22,593 are Filipinos who registered for the first time or who transferred their registration to Japan. The Philippine Consulate General in Osaka also registered 35,385 overseas voters. At present, there are over 75,000 overseas voters based in Japan.
The voting period for overseas absentee voters will run from April 13 to May 13. When asked if there are any plans for improving the process, Bolivar had said:
"As soon as we are able to assess the conduct of the 2019 overseas voting system, we will submit to Comelec (Commission on Elections) any observations or recommendations we, or the voting public, may have."