Good news to all Philhealth members – the new Philhealth Case Rate Search Mobile App is now available to download, as announced by PhilHealth on their social media accounts.
ALSO READ: What is the Philhealth 9/12 Rule?
With the launch of the new mobile app, members can now easily check how much of their hospital bills will be covered by Philhealth. Users can also explore various medical cases along with their corresponding rates in case they find themselves needing Philhealth coverage for such conditions.
Use New Philhealth Mobile App to Check your Case Rate Online
Before the app was developed, members are usually left waiting in the dark as to how much they have to shell out for the payment of the hospital bill, and determine Philhealth's participation in the hospital bill.
This has been a long-standing issue for most members, which in effect, has even made some patients to defer or refuse confinement despite its necessity.
Generally speaking, when patients are unaware of how much their hospitalization would cost them, they worry about their expenses and decide against being admitted for proper treatment and observation.
And while Philhealth's participation will not be applied until the attending physician provides a final diagnosis, it still makes a difference to have some idea as to how much deductions can be covered by Philhealth to set proper expectations, especially in cases of emergency.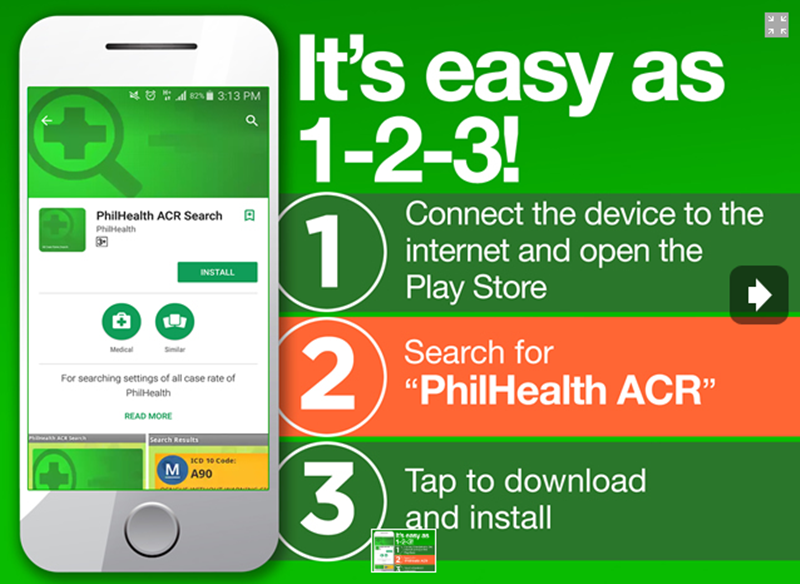 With the new Philhealth Case Rate Search Mobile App, the patient and their family will have a guideline which can help them make informed decisions as to how they can provide the best treatment and care for their loved ones, knowing that Philhealth coverage can be availed for such cases.
To get the app, you will need to download it on your smartphone over the Internet. For Android users, just go to the Play Store and search for the 'Philhealth ACR' application. Tap on the 'download' button and wait for the it to finish.
Meanwhile non-Android users can look up the app on Philhealth's official website. Download and use of the app is FREE OF CHARGE, so it is recommended for everyone to use it!