Filipinos in Cambodia, you can now head to the Philippine Embassy located in Phnom Penh to get services offered to OFWs such as renewal of passport, application of a new passport, visas, permits, birth certificate, marriage certificate, death certificated, and other services that you can get back home in the Philippines.
The Philippine Embassy serves as your government office in Cambodia. You will also find POLO within the embassy in case you need legal assistance or in times of emergencies. Whenever you need help, don't hesitate to ask for the assistance of the government so they will know that you are in a tough situation.
Also Read: Visa-Free and Visa on Arrival Upon Entry as a Philippine Passport Holder
In times of crisis and emergencies, you can get genuine help from your fellow Filipinos. The Philippine government is working through embassies to reach Filipinos who need help. It's important that you know as well where you can find the embassy. Keeping their contact information will help you throughout your stay in Cambodia.
To help you out, here we collate all the information you need about the Philippine Embassy in Phnom Penh, Cambodia including its opening hours, services offered, contact details, location, a map guide, and frequently asked questions. We hope this blog will give you what you are looking for.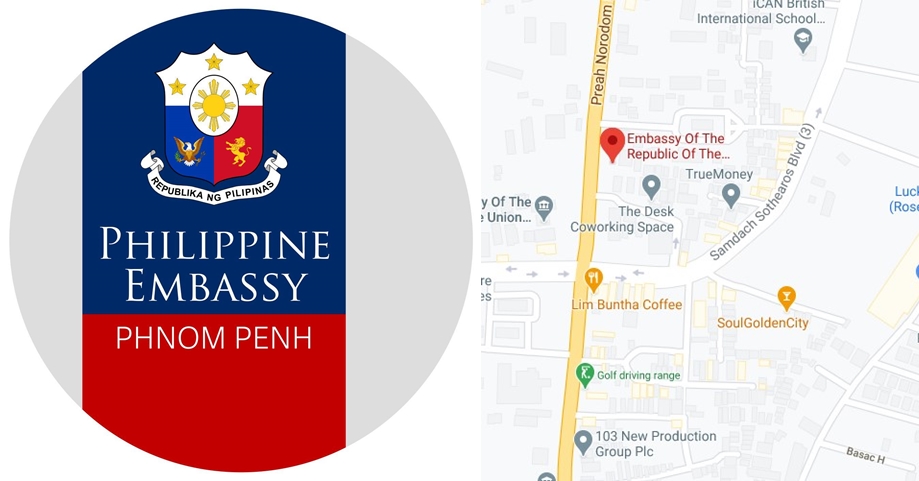 History – PH Embassy Phnom Penh
The Philippines and Cambodia connected with each other as early as the 6th century. During the Spanish colonial era, Spain and Cambodia had remarkable relations, especially during the war against the Kingdom of Siam. In the 19th century, the Philippines, Spain, and Cambodia had communication because of foreign events connecting the three countries. Filipino troops were the most involved in the events. And from 1992 to 1993, Filipinos remained as peacekeepers for the United Nations Transitional Authority in Cambodia (UNTAC).
The official diplomatic relations between the Philippine and Cambodia started in August 1957. From 1958 to 1965, the interests of the Philippine in Cambodia were managed by the Philippine Embassy in Saigon, Vietnam, and in other instances, by the Philippine Embassy in Bangkok. The first resident diplomatic mission in Cambodia happened in 1965, with the first ambassador Rogelio de la Rosa, who served the embassy from 1965 to 1971. He helped in developing close official and personal ties with King Father Norodom Sihanouk. There was an instance when the Philippine had to close its embassy in 1975 because of the defeat of the Lon Nol government. But, in 1994, the diplomatic relation was again re-established.
Services Offered
Here's the list of services offered by the Philippine Embassy in Cambodia
Consular Outreach Program
Passport

Adult New Applicant
Adult Renewal Applicant
Minor New/Renewal Applicant

Travel Document
Authenticating Documents Made Simpler by the Apostille
Civil Registry
Solemnization of Marriage
Report of Marriage
Report of Birth
Report of Death and/or Consular Mortuary Certificate
Dual Citizenship
Visa
Waiver of Exclusion Ground
Certificate of Not the Same Person
Balikbayan Program
Schedule of Consular Services and Fees
Consular Service Fees and Turnaround Time
List of Other Services

Transport of Pets
NBI Clearance
Renewal of Philippine Driver's License
Securing a J1-Waiver
PH Requirements for Medical Missions
Departure Formalities
Philippine Overseas Labor Office
Issuance of Overseas Employment Certificate
OWWA Membership Program
Employment Contract Verification and Authentication
Implementation of POEA Rules on Direct Hiring
Frequently Asked Questions
What are the documents I should bring during my passport renewal?
Here are the papers you should bring when you go to the embassy:
Original old or expired passport.
Complete passport application form.
Photocopy of your passport's data page
Photocopy of your permanent resident card, a record of landing, and work permit.
Passport processing fee
What happens if I lost my Philippine passport?
Don't worry, you can still apply for a new Philippine passport and provide the following during your application:
Police report or case certificate
Affidavit of Loss of Passport (this can be completed in the Philippine embassy but with a separate processing fee).
Birth Certificate
Marriage Certificate if applicable
A legal document showing your name, date of birth, and place of birth.
Photocopy of your lost or destroyed passport, if applicable.
Death certificate of spouse, if applicable.
Annulment/divorce, if applicable.
What are the documents needed when a minor wants to obtain a passport?
Minors who are under 18 years old can apply for their passport in the Philippine embassy. The minor and both parents should personally appear before the embassy and submit the following requirements:
Birth certificate
Report of birth form
Letter from the doctor who delivered the child attesting to the birth.
Medical record of the child from the hospital where the child was delivered, in case the doctor can't be located anymore.
Original and photocopies of the passports of the parents.
Letter of consent with the signature of both parents
Tips When Visiting the Philippine Embassy
1. Bring all the documents needed.
Bring all the documents you need when you are availing of the services of the embassy. Make sure that they are complete so that you won't have to go back home and miss your appointment.
2. Be on time during your appointment.
You should be on time whenever you have an appointment with the embassy. Avoid getting late so that the embassy won't cancel your appointment or put you in the last line.
3. Visit the official embassy website before you visit.
You should make a visit on the official website of the embassy at least once before you visit. This is to make sure that you have everything prepared and that you have read the latest announcements and news.
Opening Hours
9:00 AM – 12:00 PM, 2:00 PM – 5:00 PM
Contact Information
Embassy of the Philippines in Cambodia – Phnom Penh
Contact Person: Christopher B. Montero – Ambassador Extraordinary and Plenipotentiary
Address: No. 182 Preah Norodom Blvd., Sangkat Tonle, Bassac, Khan Chamkarmon, Phnom Penh 12301, Kingdom of Cambodia
Telephone Number: +855 23 333 303 | +855 23 222 304
Fax Number: +855 23 215 143
Mobile Hotline Number: +855 98 888 771
Email: phnompenh.pe@dfa.gov.ph | phnompenhpe@ezecom.com.kh | phnompenhpe.consular@dfa.gov.ph
Website: http://phnompenhpe.dfa.gov.ph/
Facebook Page: https://www.facebook.com/PHLinCambodia/
Google Map Location
In case you are wondering where the Philippine Embassy in Phnom Penh is located, below is a map guide for you: