36-year-old Saripada Dawood Balindong, an overseas Filipino worker in Jeddah, Saudi Arabia was formally honored by the Philippine Embassy last November 27 for rescuing an Arab who was trapped inside a car.
Balindong, who is from Pagadian City, is not just a modern day hero by virtue of being an OFW. He went above and beyond by courageously rescuing a polio victim who was trapped inside a car that was submerged in floodwater. An amateur footage of this act of heroism quickly became viral on Facebook and social media.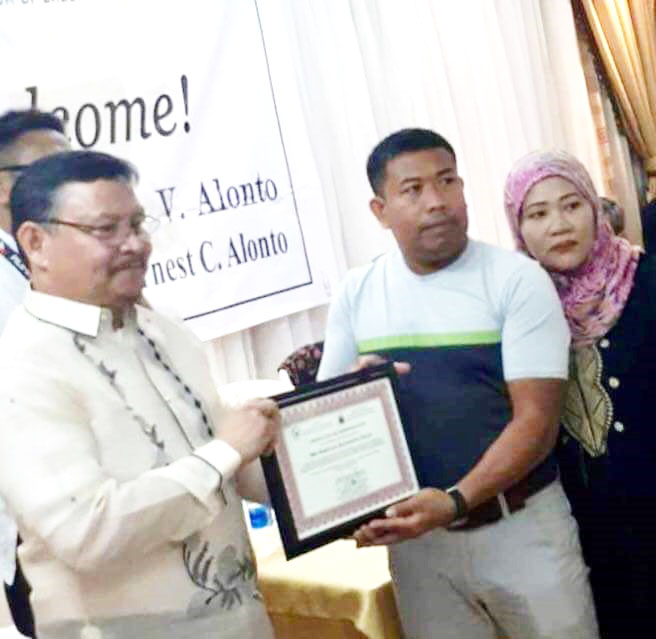 Pinoy Saves Handicapped Arab Trapped in Flood in Jeddah Saudi Arabia
The footage shows Balindong without a moment's hesitation, jumping into the water towards the trapped man and helped him put on the life vest. He later learns that the man is a polio victim so he has to carry him out to safety. Balindong told GMA News in an interview, that there were several firefighters and rescuers in the area but none would go near the car for fear of getting electrocuted. Electric cables in Saudi Arabia and placed below ground.
Ignoring the call out of several bystanders to stay put, Balindog thought it better to help the man and use his swimming skills to rescue the Arab.
"Sabi ko marunong naman ako lumangoy [so] nilangoy ko na lang lalo pa't nakita ko na umuurong na palalim ['yung sasakyan]," he told GMA News in an interview.
You can check out the full video of the rescue below:
He was unaware that he was being filmed and only in the evening of that day, when his cousin informed him, that he realized that his small act of courage meant a great deal for a lot of people as the footage became viral on social media.
Among those who noticed was the Philippine Consulate who honored him earlier this week with a plaque of appreciation and a simple ceremony. The Philippine Consulate Ambassador Adnan Alonto personally handed over the certificate and said that what Balindong did made the whole country proud.
Balindong also earned praises from Saudi nationals as well as government officials of the Kingdom. He is reportedly the first Filipino to be recognized in the Kingdom for heroism. He thanked the Consulate and the Embassy for the commendation and encouraged his fellow Filipinos abroad to not think twice to help someone in need.