Everyone, please be advised of an investment scam targeting OFWs in Saudi Arabia. An advisory was recently launched by the Philippine Overseas Employment Administration warning everyone about a new wave of investment scams specifically targeting Overseas Filipino Workers and their hard earned money. The investment involved an amount of 50,000 Php per person. So please try to really study the company where you invest.
Also Read: Saudi Arabia Do's and Dont's
This came about since one group from Saudi Arabia lodged a complaint stating that they were reportedly encouraged by the SMPII, otherwise known as Sangguniang Masang Pilipino International Incorporated, to start investing their savings in ALMASAI Finance and Investment (now known as ALMASAI Equity Holding Corporation).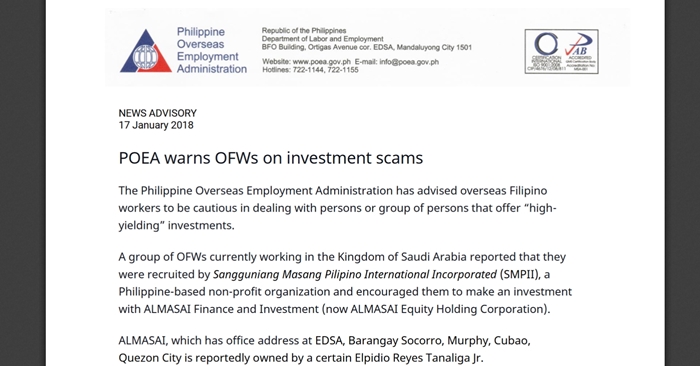 Overseas Filipino Workers Allegedly Fooled into a Bogus Investment Program
With an initial capital of 50,000 Pesos, these people would now be able to participate in the investment program which allegedly promises to grow their money by as much as five (5) percent per month. Full return of investment plus appreciation was also to be expected after twelve months in the form of post dated checks which they will be able to encash in the preferred bank.
Most victims only learned about the scam when the supposed checks issued to them started bouncing due to having insufficient funds. Despite ALMASAI Finance and Investment, having a physical office address located in Barangay Socorro, Quezon City, none of the investors are given a straight answer on what has happened to their money. Even the listed owner of the business, Elpidio Reyes Tanaliga Jr, allegedly refuses to return their phone calls. This is very alarming and should serve as warning for us all.
So to all OFWs, please be informed about this news. It truly is important for us to be extra wary when investing in business programs. Let us all be reminded of this in the future and to be careful of where we place our hard earned money.
POEA Advisory Statement on OFW Investment Scam
Below is the full statement of this said investment scam. Please read it here: