If you're a seafood enthusiast, squid is an ideal choice that delivers great taste and ease. Plus, it's surprisingly affordable! A kilo of squid typically costs much less than the same amount of mid-sized black prawns. Adobong Pusit is a delectable Filipino specialty that features squid cooked with the famous adobo method. This mouthwatering dish combines squid and its ink in a marinade of soy sauce, vinegar, garlic, onions, and tomatoes to create an explosion of flavor.
Also Read: How to Cook Filipino Oxtail Kare Kare
To make Adobong Pusit, begin by cleaning the squid thoroughly. Rinse the squid in cold water and remove any remaining dirt or debris. Cut the squid into thin rings, then set aside. The squid ink can be found in a pouch inside the squid's body cavity—simply cut open the pouch and set aside.
In a bowl, mix together equal parts soy sauce and vinegar with minced garlic, onion, and tomato. This marinade is what will give the adobo its classic flavor. In a separate bowl, mix together 1/2 cup of water with the squid ink until it forms a thick paste. Heat some oil in a pan over medium-high heat and add the squid pieces. Cook for about 2 minutes, stirring constantly to ensure even cooking.
Once the squid is cooked, add the marinade and ink mixture to the pan. Reduce heat to low and simmer for about 15 minutes, stirring occasionally. The adobo is done once the sauce thickens and coats the squid. Serve Adobong Pusit with steamed rice or garlic fried rice for a truly delicious Filipino seafood dish. Enjoy!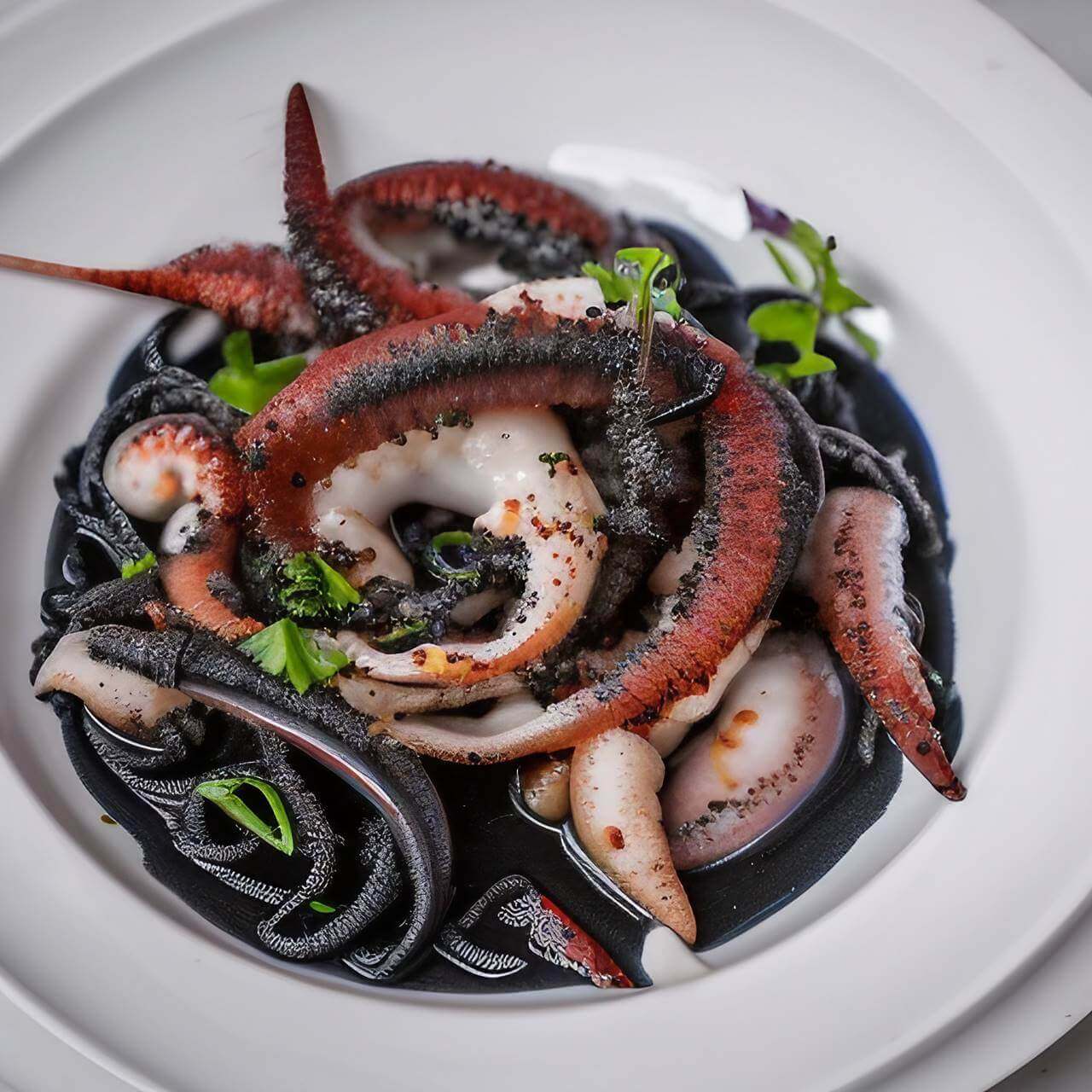 Ingredients
1 kilo Fresh Squid, reserve black ink
For this recipe, you'll need one head of garlic, finely chopped.
A quarter cup of vinegar
Add ¼ cup of Distilled Cane Vinegar to the recipe for a tangy twist!
3 tablespoon of Premium Soy Sauce
2 tablespoon Oyster Sauce
Generously season your dish with salt and freshly cracked black pepper to bring out its full flavor.
Spice up your dish with a zesty touch! Red or Green Chilies (optional).
Enhance the flavor of your favorite dishes by sautéing with coconut oil!
1 cup water
Steps to Cook Squid Adobo with Ink (Adobong Pusit)
Gently sauté garlic until it reaches a warm golden hue, taking care not to let it become too brown.
Sauté freshly-cleaned squid, reserving their ink, for three minutes.
Begin by blending together the liquid components – white vinegar, cane vinegar, soy sauce, oyster sauce and ⅓ cup of water. Simmer for 2-3 minutes until boiling then add in squid ink to complete the mixture.
*Use remaining  water when needed.
Sprinkle in salt, ground pepper and chilies (if you're feeling brave!) to give your dish that extra zing. Let everything simmer for two minutes until the ingredients are soft and tender.
Finally, as a last touch, garnish your dish to perfection and serve it up hot! Enjoy.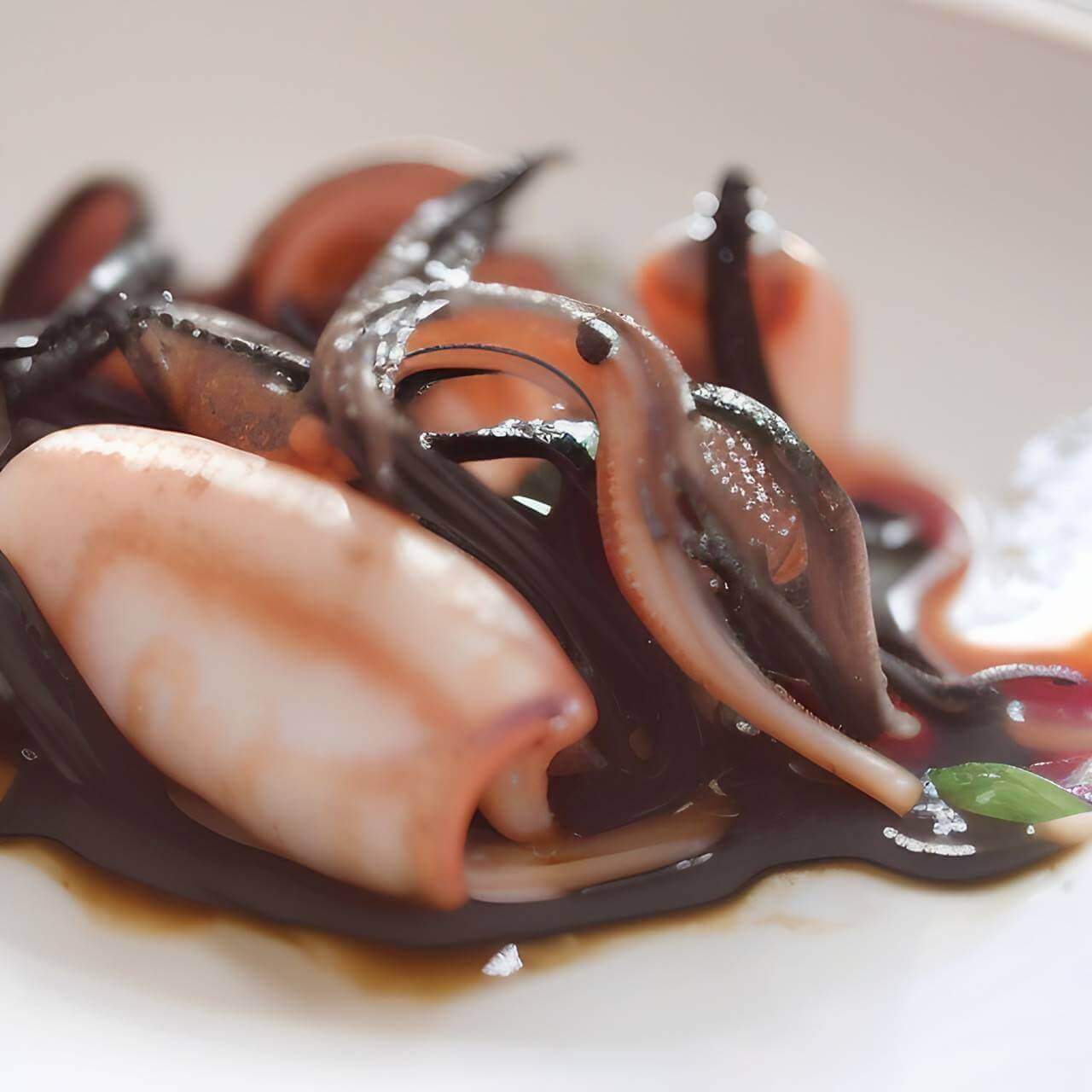 Tips
Although any squid can be used for this recipe, small to medium specimens are suggested as they will add a more robust flavor. Larger squids tend to lack the depth of taste that smaller ones bring.
Make sure to get the freshest squid possible. Look for shiny eyes and intact tentacles as signs of freshness. When cleaning the squid, be sure to remove any dirt or debris that may remain in its body cavity. It's best to use premium soy sauce and oyster sauce to bring out the flavor of this dish.
If you're looking for a tang y twist, add ¼ cup of cane vinegar to the marinade. For a richer flavor, sauté your garlic for two minutes in coconut oil before adding the squid. This will bring out the natural sweetness and aroma of the garlic.
For the best flavor and texture, choose only fresh squid of a smaller or medium size– this ensures that it will be easier to cook and more tender when enjoyed.
Select garlic that is fragrant and fresh, without any dry pieces. By doing so, your dish will be extra aromatic. As an added garnish before serving, you can sprinkle some fried minced garlic on top for even more pungent flavor!
Spice up your dish with a touch of red or green chili for an extra kick.
In removing the ink sack from the squid, take care not to break it or else the ink will spill out and stain your cooking. Finally, note that this dish can be served over steamed rice or garlic fried rice for a delicious meal any night of the week!
You can add a cornstarch to make the sauce thicker if desired. For a subtler flavor, use less squid ink in the marinade. In mixing the cornstarch , be sure to slowly add it in and mix it well with the liquid ingredients before adding them into the pan. The addition of extra water when needed will help to maintain a desired consistency without compromising on flavor. This is optional, depending on how thick or thin you would like your sauce to be. Take care not to over-stir.
With this recipe, you can rest assured that your Adobong Pusit will be a hit amongst your family and friends. You can try substituting squid for prawns to make Adobong Hipon for an equally delicious meal. Have fun and be creative with your Adobong Pusit recipe. Vary the ingredients to make it more suited to your personal tastes or dietary needs. As a general rule, stick with the classic combination of garlic, soy sauce and vinegar for a delicious traditional Filipino seafood dish.
Enjoy your Adobong Pusit with rice or even as a side dish. It is sure to be an instant hit with everyone who tries it. Garnishing with spring onions or chopped tomatoes is optional but adds another layer of flavor that can't be beat. Go ahead and give it a try!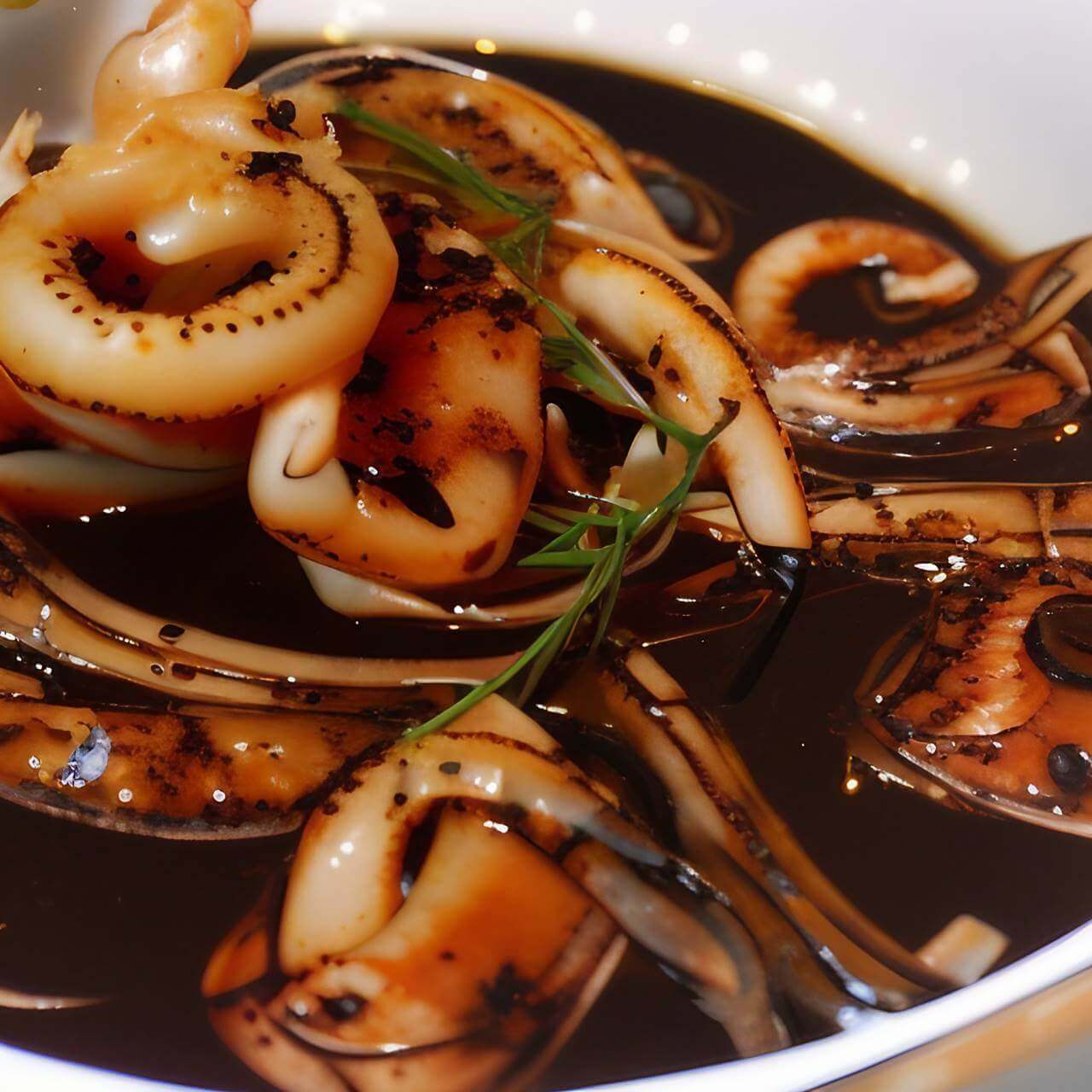 Frequently Asked Questions
1. What is the best size of squid for this recipe?
Small to medium squid are best for this recipe. The flavor and texture will be more robust.
2. How can I make my sauce thicker?
You can add a cornstarch slurry to thicken the sauce if desired. Make sure to mix it with the liquid ingredients before adding to the pan.
3. How can I make my dish spicier?
You can add red or green chili for an extra kick. This will give your Adobong Pusit a nice spicy flavor.
4. Can I substitute squid for other seafood?
Yes, you can substitute squid for prawns to make Adobong Hipon. This will create an equally delicious meal!
5. How do I store leftovers?
Leftovers should be stored in the refrigerator and eaten within 2 – 3 days. Reheat thoroughly before consuming. Enjoy!
6. Can I freeze this dish?
Yes, you can freeze Adobong Pusit. Place the cooked squid and sauce in a freezer-friendly container and store for up to 3 months. Thaw before reheating.
Summary
In conclusion, Adobong Pusit is a delicious Filipino seafood dish that can be enjoyed over steamed rice or garlic fried rice. It's easy to customize the recipe for different dietary needs and personal tastes by varying ingredients like squid ink, chili pepper and vinegar. To ensure the best flavor and texture of your finished dish, choose only fresh small to medium sized squid. With these helpful tips in mind, you should have all the information needed to make this classic Filipino favorite at home! Enjoy!