Deliciously thick, deep yellow peanut sauce envelops tender oxtail and/or ox tripe in the classic Filipino slow-cook stew known as Kare Kare. This traditional dish is often served with various vegetables for a hearty meal. Without the overpowering taste of salt, all flavors in this dish are revealed: from its savory peanut sauce to its succulent meat. To amplify these delicate notes, shrimp paste is frequently used as an accompaniment when served.
Also Read: How to Cook Filipino Pancit Bihon Guisado
To prepare this beloved dish, oxtail must be slow-cooked until tender. This can be done either in a crock pot or on the stovetop. The oxtail should simmer in enough water to cover it completely, with careful attention paid not to allow the water level to drop too low. After the oxtail has been cooked, a sauce can be prepared in a separate pot. This sauce is traditionally made with peanut butter and/or ground peanuts, onions, garlic, and shrimp paste. Once this thick sauce has been cooked through, it should be added to the oxtail and simmered for a few more minutes until everything is heated through.
For a complete meal, additional vegetables can be added to the stew as desired. Common additions include eggplant, green beans, bok choy, string beans, and okra. All of these vegetables should be cooked in the Kare kare sauce until they are tender. Once everything is cooked through, it is time to serve the dish. Kare kare is usually served with steamed rice and bagoong (shrimp paste) as a condiment.
It was not until I reached high school and started interacting with my Tagalog-speaking peers that I even heard of the term "kare kare". Now, however, having learned to cook as an adult myself, I truly appreciate how peanut butter contributes a unique depth of flavor to this classic dish. Crafting a homemade kare kare might appear to be an overwhelming task, as the braising process can easily take up to three hours of your time. But rest assured that every minute spent is worth it! This dish has something special; like chicken adobo or pork adobo, its flavor intensifies overnight and creates a truly indulgent experience.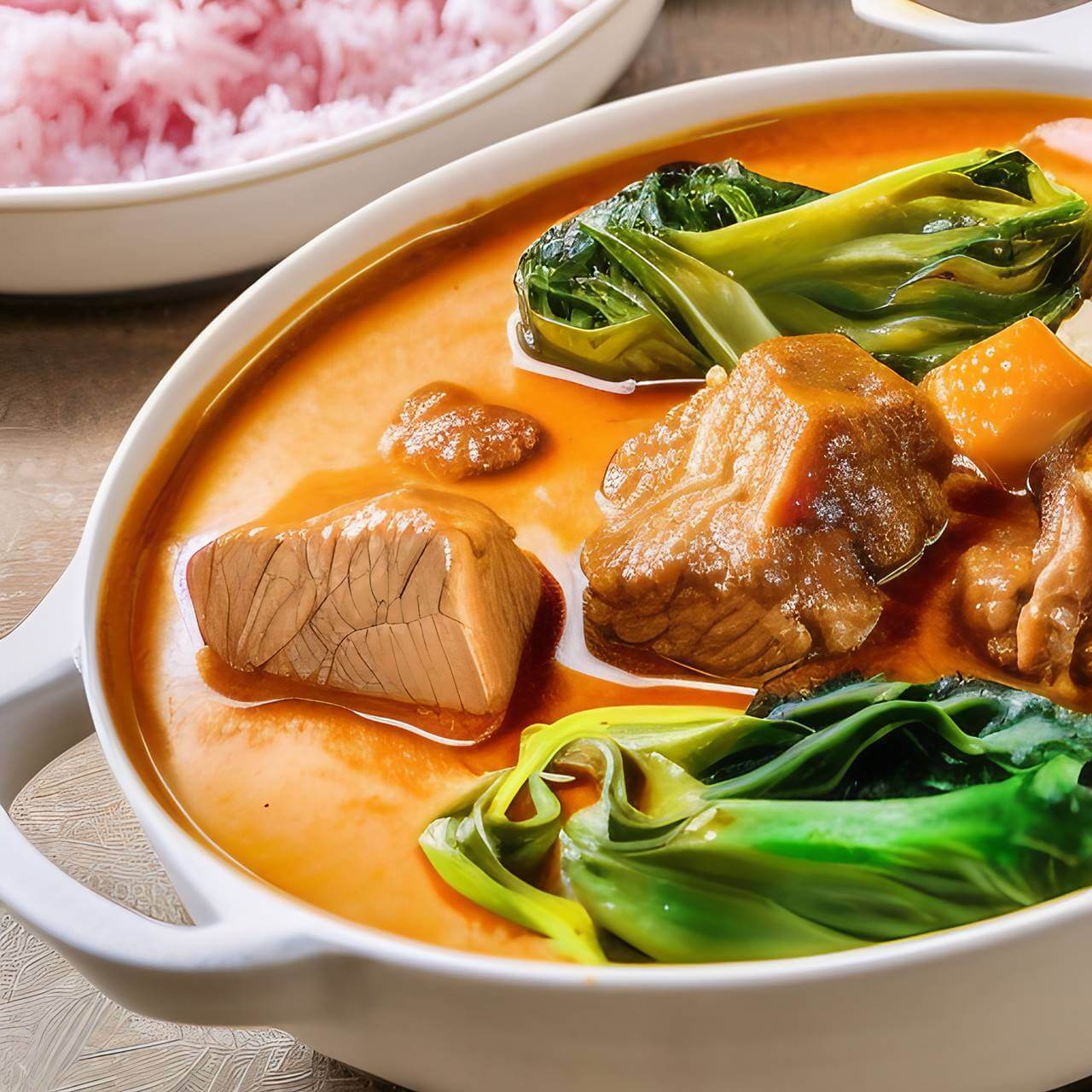 Ingredients
Cut 900 grams of oxtail into individual portions for serving.
Cut 450 grams of ox tripe into individual portions for serving.
Enjoy a refreshing 1.5 liter of water.
Two generous tablespoons of oil
Mince two cloves of garlic
Chop one medium-sized onion into small pieces.
Trim and cut 6 pieces of yard-long beans into 3-inch pieces.
To add an extra layer of flavor, consider cutting and pre-soaking one small banana heart.
Cut two medium-sized eggplants into chunks that are approximately two inches in size.
Two heaping tablespoons of annatto powder
For a less sugary flavor, use 1 cup of creamy unsweetened peanut butter.
Add a pinch of salt (optional) for additional flavor.
Add two tablespoons of sticky rice flour to your recipe.
For a delicious side, grab three medium-sized bok choy or pechay.
Steps to Cook Kare Kare
For succulent savoriness, heat oil in a pot over a medium-high flame and sauté garlic and onion until fragrant. Then add the meat for an additional minute to coax out its scrumptious flavors.
Begin by pouring water into the pot and letting it boil. Then, lower the heat to low and let simmer for 3 hours while keeping the lid on – this will allow the meat inside to become tenderized. If you need more liquid to have at least three cups of stock for your sauce later, add more water until the desired amount is reached.
Begin by preheating a skillet to medium heat. Gently toast sticky rice flour for several minutes, stirring regularly until it turns light brown. Transfer the roasted flour into a small bowl and add ¼ cup of water before setting aside your mixture.
Once the meat has softened, incorporate the yardlong beans, banana heart and eggplant into the pot. Cook until all ingredients are al dente before stirring in your peanut butter and annatto powder for a burst of flavor. If desired, season generously with salt to taste. Make sure that all traces of this nutty spread have dissolved fully once mixed throughout.
After you cook the vegetables, slowly blend in the toasted rice flour mixture and stir it thoroughly. Allow the concoction to simmer for a few minutes until its texture becomes thicker.
Finally, toss in the pechay or bok choy and switch off the stove. Portion out into a serving pot or bowl. Serve to steam hot with fluffy white rice and some shrimp paste for added flavor!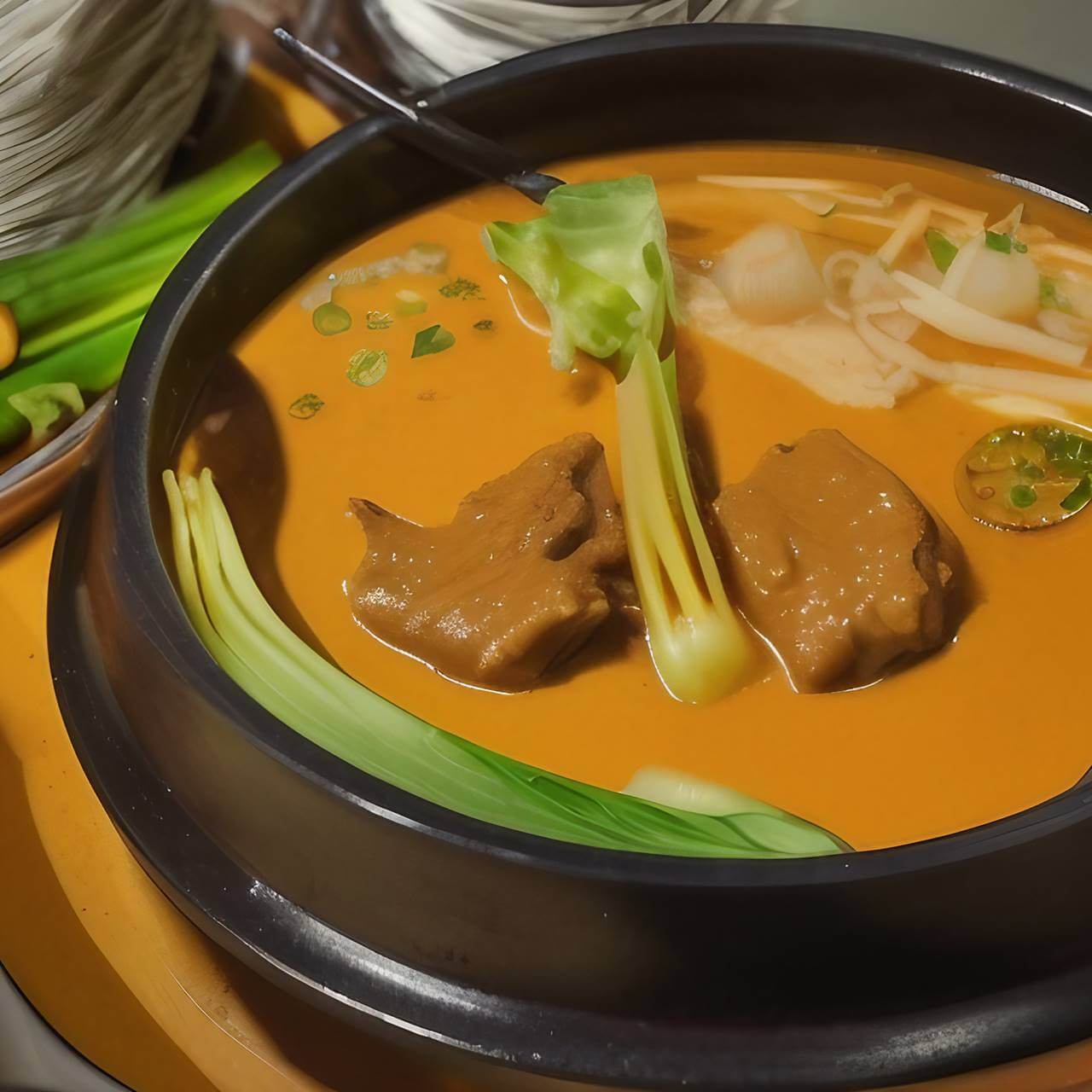 Tips
For the tastiest kare-kare, your vegetables must remain fresh and vibrant. When steaming them together, ensure each plate is topped with ample bagoong to bring out their flavor. Alternatively, you can serve an array of veggies on a separate plate along with the kare-kare for maximum visual appeal!
I opt for unsweetened or extremely minimally sweet peanut butter. Skippy Creamy Peanut Butter has been my go-to – although this isn't an advertisement, I can vouch for its velvety texture and lack of sweetness. It does contain a bit of salt, though, so if you choose to use it in your recipes skip that step! Other brands will provide the same quality result.
Ensure even cooking of your vegetables by blanching them before adding them to the stew. No need to worry if some veggies will take longer than others – simply pre-cook while braising and you're all set!
In addition to oxtail, you can also opt for pork belly, pork hocks or feet, beef chuck, beef shank, beef brisket and calves feet when creating a delectable Kare Kare dish. Mix and match to make your unique take on this savory classic! Finally, if you want to give it an extra oomph of flavor, sprinkle some freshly squeezed calamansi or lime juice over the finished dish before serving. Also, don't forget to finish off with a generous helping of bagoong – either sweet
Start up your rice cooker, you'll need plenty of fluffy white grains for this recipe.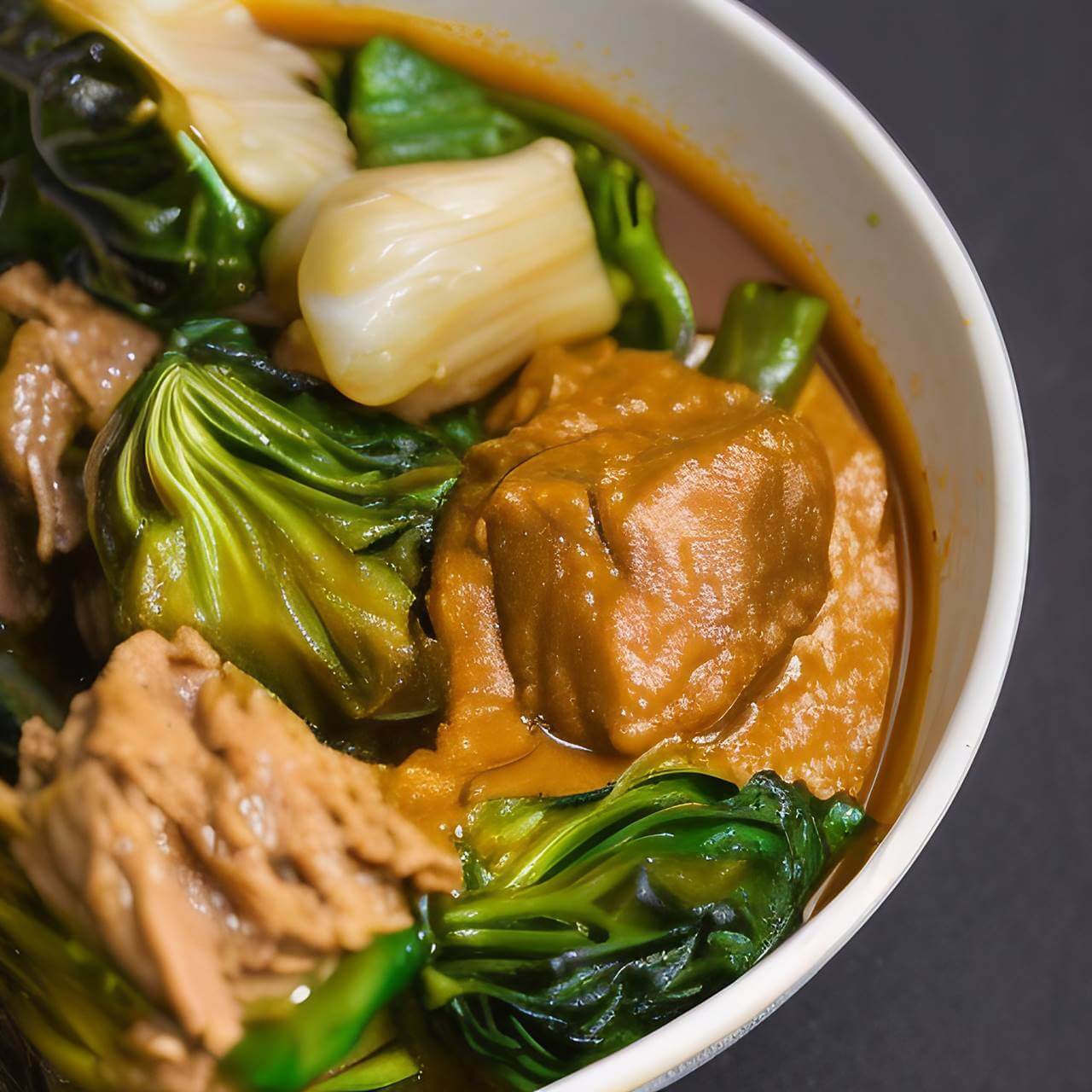 Frequently Asked Questions
1. How do I store Kare Kare?
Leftovers should be stored in an airtight container in the refrigerator for up to three days. For longer storage, you can freeze it for up to two months. Be sure to reheat properly before consuming to avoid any health risks.
2. What is the best way to serve Kare Kare?
This dish is traditionally served with fluffy white rice and a side of bagoong. You can also accompany it with other Filipino dishes, such as adobo and lumpia. For an extra punch of flavor, top it off with a generous helping of freshly squeezed calamansi or lime juice!
3. How do I prevent the Kare Kare from tasting too salty?
Be sure to rinse the shrimp paste and bagoong well before adding them to the dish. You can also substitute with less salty alternatives, such as miso paste or fish sauce. Additionally, taste your dish while it is cooking and adjust seasoning accordingly to make sure its not too overpoweringly salted.
4. How can I add more flavor to my Kare Kare?
Adding some garlic, ginger, and onions to the pot is a great way to add more depth of flavor. You can also use additional spices such as cumin and curry powder for an extra kick. Finally, if you prefer a spicier version, feel free to use chili peppers or hot sauce! The possibilities are endless!
5. What vegetables can I use in Kare Kare?
Any type of vegetable will work in Kare Kare, as long as they are cut into similar sized pieces so that they cook evenly. Popular ingredients include string beans, eggplant, okra, and bok choy. You can also add potatoes or squash for added texture. Feel free to experiment with different vegetables and find the combination that best fits your tastes!
6. Can I use any type of peanut butter for this recipe?
Yes, but be sure to choose an unsalt- or extremely minimally sweet peanut butter. Skippy Creamy Peanut Butter is my favorite because it has a smooth and creamy texture that makes for a delicious Kare Kare. If you are looking for a healthier option, you can opt for natural peanut butter which is free of added sugars or oils. Just taste the final product to make sure the flavors are balanced.
7. Is it okay to substitute the beef with other meats?
Absolutely! You can use any type of meat that you prefer, such as chicken, pork, or even seafood. Just make sure to adjust your cooking times accordingly if you are using a different type of meat. Also, feel free to mix and match different meats to create a unique and flavorful dish. Bon appetit!
8. Is it mandatory to add bagoong?
Not necessarily. Bagoong is an important part of the traditional Kare Kare recipe, but it is not essential if you are trying to avoid the added sodium. If omitting bagoong, be sure to add plenty of vegetables, herbs, and spices to make up for the saltiness. You can also substitute with miso paste or fish sauce if desired. Enjoy!
Summary
In conclusion, Kare Kare is a classic Filipino dish that can be easily made at home with simple ingredients. It's important to use unsalted or minimally sweet peanut butter for the best results and you can add plenty of vegetables, herbs, and spices to make it your own. Bagoong is traditionally added but not mandatory if you are looking to avoid sodium. Additionally, feel free to substitute with different meats such as chicken or pork – just adjust cooking times accordingly! Finally don't forget the finishing touches: freshly squeezed calamansi juice and bagoong on top! With these tips in mind, we hope you enjoy making this delicious dish right from your own kitchen. Happy cooking!