Filipino Style Pork BBQ is a remarkable gastronomic delight – thin slices of pork, marinated in the most tantalizing medley of spices and seasonings, grilled over wood charcoal and dunked into a jar with spicy vinegar to create an unforgettable flavor. Crafting this delectable Filipino Style Pork BBQ Recipe is a breeze! All you have to do is mix the marinade ingredients and pork until fully blended. Make sure to cover the bowl with cling wrap, then let it sit overnight in your fridge for optimal flavor absorption.
Also Read: How to Cook Filipino Pork Sisig
I have been an avid fan of pork BBQ since my high school and college days, frequently visiting the same stall just outside our subdivision to relish it. This passion for this scrumptious dish hasn't diminished with time; instead, I now prepare it for my family every Saturday. While traditionally, Filipino BBQ is cooked over charcoal, modern times have seen a shift towards the use of gas in both commercial and residential settings.
Filipino BBQ is characterized by its use of wet marinades that feature flavors and ingredients found only in Filipino cuisine. For instance, 7-up or Sprite are regularly used in marinades to tenderize the meat, while banana ketchup often serves as a sweetener. I have been known to utilize both of these ingredients when concocting a marinade and glaze for my culinary creations.
When it comes to cooking and savoring delicacies, BBQ and grilling in the Philippines is a beloved tradition. During my high school and college days, I was entranced by the extensive street food selection. As soon as you make a purchase, it is freshly prepared for an easy takeaway meal that not only tantalizes your taste buds but also saves you time! You could even purchase rice on the go in the form of pusô or hanging rice that is formed by weaving palm leaves into a diamond-shaped, adding rice, and steaming it. Combining Puso and BBQ skewers in a brown paper bag was the ideal meal to enjoy on the go.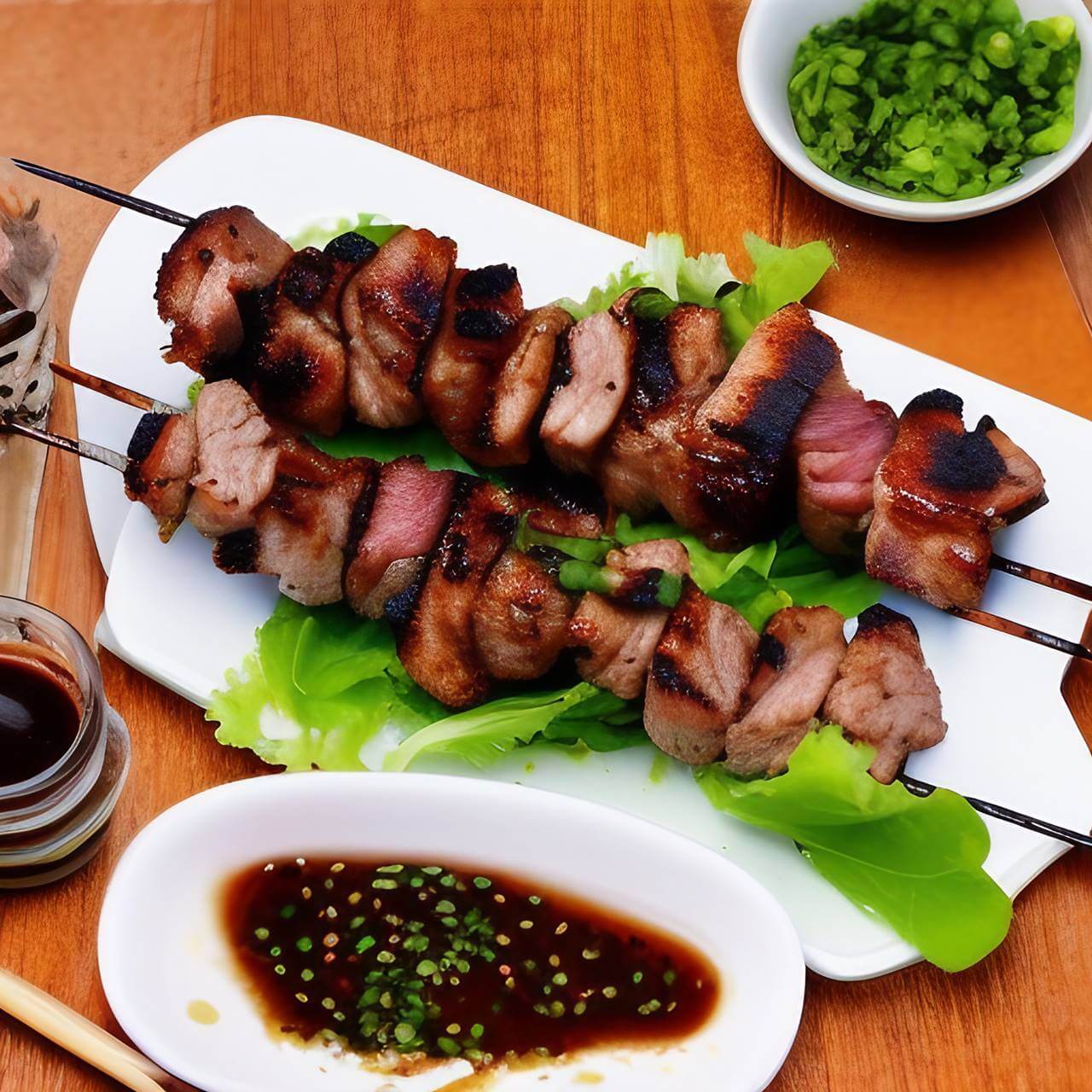 Ingredients
Slice 6 pounds of pork butt into 1-inch wide and 1/4-inch thick pieces.
Gather three cups and fill each one with 7-Up.
2 cups of soy sauce are required for this recipe.
For this recipe, you'll need two full cups of vinegar.
2 cups of savory oyster sauce
Three cups of light brown sugar-packed
Generously sprinkle 1 tablespoon of freshly ground black pepper to enhance your meal.
Generously mince 1 cup of peeled garlic for maximum flavor.
Ten of the hottest Thai chili peppers (siling labuyo), finely minced.
Stir together two cups of tangy banana ketchup to give your dish a unique, sweet-and-sour flavor.
For this recipe, you'll need a half cup of sesame oil.
Steps for the Spiced Vinegar Dip
For this recipe, you'll need one cup of white vinegar to make it complete.
To add flavor to your dish, mince and incorporate three cloves of peeled garlic.
Start by finely chopping half of a peeled onion.
For an extra kick of flavor, incorporate three finely chopped Thai chili peppers.
Add a pinch of freshly-ground pepper for an extra kick.
Add a quarter of a teaspoonful of salt.

Gently mix vinegar, garlic, onion, chili peppers, ground pepper and salt in a bowl until evenly blended.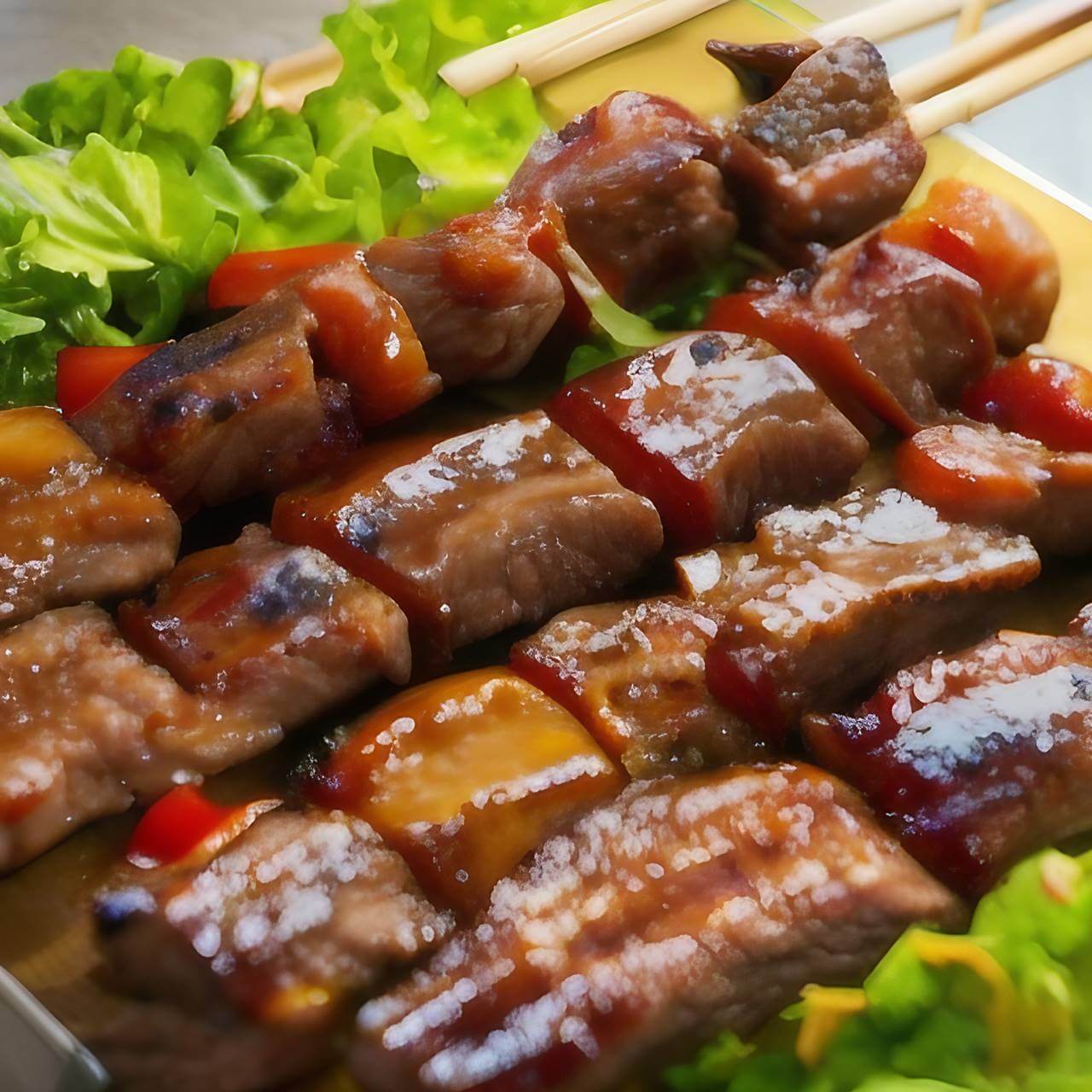 Steps in Marinating Your Barbeque
Thoroughly rinse pork strips and pat them dry for optimal results.
Gently mix in a large bowl 7-up, soy sauce, vinegar, 1 cup of oyster sauce, brown sugar for sweetness, garlic and black pepper for flavor complexity and spiciness from the chili peppers.
Massage the pork chunks to ensure uniform marination, then leave them in the refrigerator for at least 4 hours—ideally overnight—turning intermittently. This will guarantee your dish is truly flavorful!
Carefully thread 2 to 3 pieces of meat onto each skewer.
In a separate bowl, add the remaining 1 cup of oyster sauce to an equal amount of banana ketchup and sesame oil. Blend until ingredients are fully combined before setting aside.
For tender and succulent meat kebabs, grill them over hot coals for roughly 2-3 minutes on each side.
As the pork begins to lose its pink hue, liberally baste it with a tantalizing blend of oyster sauce and ketchup. As you continue grilling, make sure to turn it on each side for the meat to be cooked through completely. Once finished cooking, take off the heat and serve as is or add an extra kick by pairing it with spicy vinegar dip!
Tips
As I'm selecting pork, my preference is for the shoulder or butt cuts due to their ideal blend of lean and fatty pieces – making them wonderful choices for grilling as well as dishes like sweet and sour pork.
Cut the pork into cubes and transfer it to an air-tight container. Pour the marinade over them, ensuring all pieces of meat are fully covered in it for maximum flavor. Allow your pork cubes to soak up that delightful taste by marinating them for 6 hours in your refrigerator before cooking!
Before you fire up the grill, whip together a flavorful glaze of banana ketchup, oyster sauce, and sesame oil in a bowl. Then slather your skewers with this tasty concoction while they are cooking for an extra burst of flavor!
Before grilling, be sure to take your marinating meat out of the refrigerator and let it rest at room temperature; this will ensure they cook evenly. Additionally, you don't want them too cold when hitting the grill!
I would also recommend using charcoal for grilling as it gives that smoky flavor and texture to your pork. However, you could use gas or electricity for a quicker cooking time if desired.
How to Serve
While pork BBQ skewers are traditionally served with a side of vinegar sauce made of vinegar, garlic, salt, and pepper, I often like to eat it with Filipino pickles called atchara.
Treat yourself to a scrumptious barbecue feast kamayan style with some freshly grilled skewers, accompanied by rice, pickles, crunchy lumpia and roasted corn in foil. I promise you won't regret it! As a youngster, I found bliss in combining barbecued pork skewers with pandesal for an unforgettable sandwich experience.
Frequently Asked Questions
1. What vinegar is best for marinating Pork BBQ skewers?
Apple cider vinegar or white wine vinegar are great choices to use when marinating your pork. The acidity of the vinegar helps to tenderize and add flavor to the meat.
2. How can I make my Pork BBQ skewers extra flavorful?
Adding a mixture of chili peppers, ground pepper and salt to your marinade can give it an extra kick of flavor. Additionally, basting your pork with a blend of oyster sauce and ketchup while grilling will add even more flavor!
3. How long should I marinate my Pork BBQ skewers?
It is best to let your pork chunks marinate for at least 4 hours, but ideally overnight. The longer you marinate the meat, the more flavorful it will be when cooked.
4. Is it necessary to soak wooden skewers in water before grilling?
Yes, it is recommended that you soak the wooden skewers in water for at least 30 minutes prior to grilling. This will prevent them from burning during cooking and ensure even heat distribution.
5. What temperature should I grill my Pork BBQ skewers?
The ideal temperature for grilling pork is between 350-400°F. To ensure they are cooked through, use a meat thermometer to check the internal temperature – it should read 145°F or above.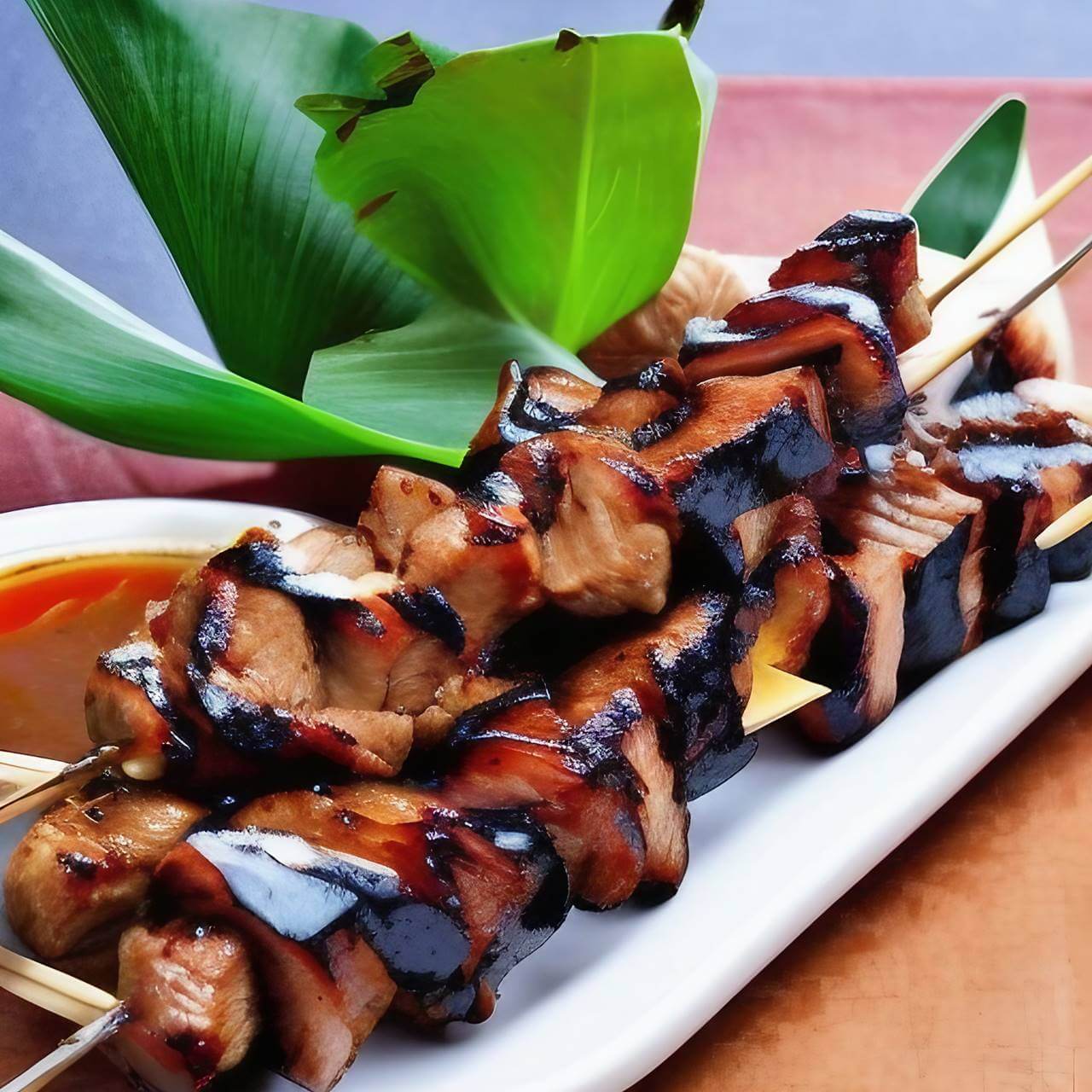 Summary
Pork BBQ skewers are a delicious and easy meal to make for any occasion. To achieve the best results when grilling these tasty treats, be sure to marinate them overnight in a flavorful blend of spices and vinegar. Use wooden skewers that have been soaked in water beforehand so they don't burn during cooking. When it comes time to grill your meat, keep an eye on the temperature – 350-400°F is ideal! Finally, top off your skewer with a tantalizing glaze made of oyster sauce and ketchup before serving with some spicy vinegar dip or Filipino pickles called atchara for extra flavor! With these tips in mind, you should now feel confident making this classic dish right from home!