Dinuguan, otherwise known as "chocolate meat", is an indulgent Filipino stew consisting of diced pork, pig's blood and a plethora of seasonings. Hearty, intensely flavored and utterly delectable when served with steamed rice or puto for midday snacks, this classic dish derives its name from the root word 'dugo' meaning "blood". A tantalizing mix of garlic, onions, chili peppers alongside vinegar creates the unique taste that has made it so popular in the Philippines cuisine.
Not only is a variety of delightful pork cuts included in traditional recipes but also ears, intestines, heart, lungs and kidneys. Pork is certainly the favorite for this type of cuisine; however, variations can be made with chicken or beef as well.
Also Read: How to Cook Filipino Authentic Cebu Lechon
Blood-based viands is not singular to Filipino cuisine as there are a lot of different countries that also have their dish using this ingredient on their sausages, soups, and stews. But Dinuguan, the Filipino version of pork blood stew is very popular and well-received in different parts of the country. This dish is traditionally cooked alongside a whole pork lechon. Since the innards of the pig to be roasted are removed and the blood is drained, so they make Dinuguan out of that.
Cubes of succulent pork, offal like lungs and intestines, kidney and heart are cooked with garlic and onions to bring out a rich flavor. The mixture is simmered in blood and vinegar until it thickens into an irresistible stew. To give the dish an extra zesty kick, long green chili peppers are added as a finishing touch! If you're not a fan of offal, have no fear!
You can still make this delicious dish with regular cuts of pork. Pork belly is always an excellent choice and was the cut I used for this particular recipe. For those who are courageous enough to try it, Pork Dinuguan or Blood Stew is a savory Filipino specialty that combines pig's blood and pork belly in an unforgettable mix of vinegar. Pork belly is the standard for this dish, yet you may substitute it with pork shoulder.
Begin by browning your chosen cut of meat before tenderizing it in a mixture of vinegar, bay leaf and pig's blood. Make sure that all traces of pig's blood are cooked through; then stir constantly as the sauce bubbles away to prevent burning or scorching.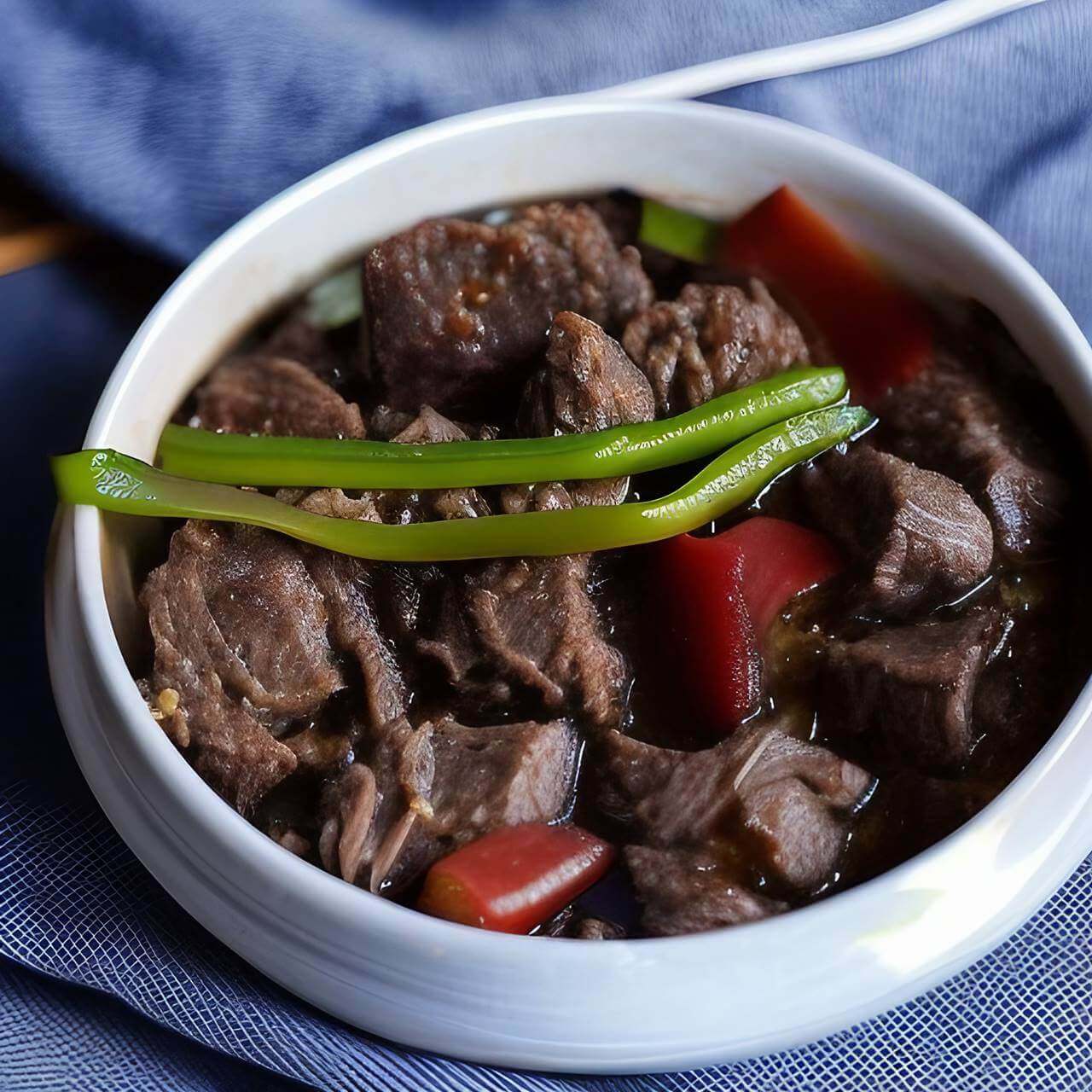 Ingredients
2 tablespoons of cooking oil
1 medium onion chopped
3 cloves garlic chopped
2 thumb size ginger minced
2 lbs. pork belly (or other cut) cut into small cubes
1 stem lemongrass cut into two
2 pieces bay leaves
1 tbsp. sugar optional
1 tbsp. fish sauce
2 cups water add more if needed
1/2 tsp salt add more if needed
2 pieces banana peppers
10 oz. pork blood
1 cup vinegar
Steps to Cook Pork Dinuguan
Heat up a cooking oil in the pan and sauté onions, garlic and ginger till aromatic. Throw the pork into it and cook until they turn light brown. Enhance your dish's flavor with ground pepper, lemongrass, bay leaves with sugar and fish sauce for that extra oomph! Stir everything together before letting it simmer for a few minutes to bring out all of its delicious flavors.
Pour in the water and gently stir. Place a lid over the pot, reduce heat to medium-low, and allow it to simmer for roughly 25 minutes – or until your meat is tender when pierced with a fork. Flavor with salt before adding banana peppers; cook for an additional few minutes.
Begin by pouring in the vinegar and letting it come to a boil without stirring. Slowly add the pork blood, making sure to stir constantly so that there are no lumps formed. If necessary, you can also add more water or salt as desired. Finally, allow the mixture to simmer on low heat while occasionally stirring for approximately 15 minutes until your sauce has thickened.
Shut off the heat and carefully pour into a serving bowl. It's time to feast! Enjoy your meal with hot steamed rice, fluffy rice cakes, or crunchy pandesal. Bon appétit!
Tips
Don't skimp on the vinegar when you're cooking up your pig blood dish; it's an essential component.
Not only does the vinegar give a delightful tartness to this meal, but it also plays an essential role in stopping any clumping of the pig's blood while you cook.
To enhance the flavor of your dish, adding at least a tablespoon of vinegar is typically considered adequate. If you would like to reduce the intensity of its taste, simply simmer it in the pot for several minutes.
Crafting an unforgettable Pork Dinuguan starts with the technique of cleaning your meat and adding just the right amount of vinegar. To optimize flavor, I suggest using vinegar to scrub innards, pork intestine, and chopped liver for this dish.
For a delightful dinuguan, it's essential to have the perfect balance of vinegar and blood. To elevate my dad's recipe even further, he added fresh calamansi juice for an invigorating citrus flavor. If you want something extra special in your dish, try adding pineapple juice too – this will give it both sweetness and tartness!
To guarantee that your ingredients, particularly the blood, remain fresh and edible, I highly recommend procuring them as soon as possible or even before sunrise.
While adding sugar is not necessary, it can help enhance the flavor of blood stew.
For this dish, I chose to utilize vinegar as the main ingredient. Nevertheless, Tamarind is also a reliable and suitable substitute that can provide additional tartness while preventing blood from clotting.
To give your dish an extra kick, add chili and ground pepper for a flavorful infusion as it simmers.
When you add vinegar, refrain from stirring it and leave the mixture uncovered for a few moments.
Before adding offal such as intestines and snouts into your pork belly dishes, be sure to rub the parts with salt to extract any grime. Subsequently, wash them thoroughly before boiling them for a few minutes before blending them.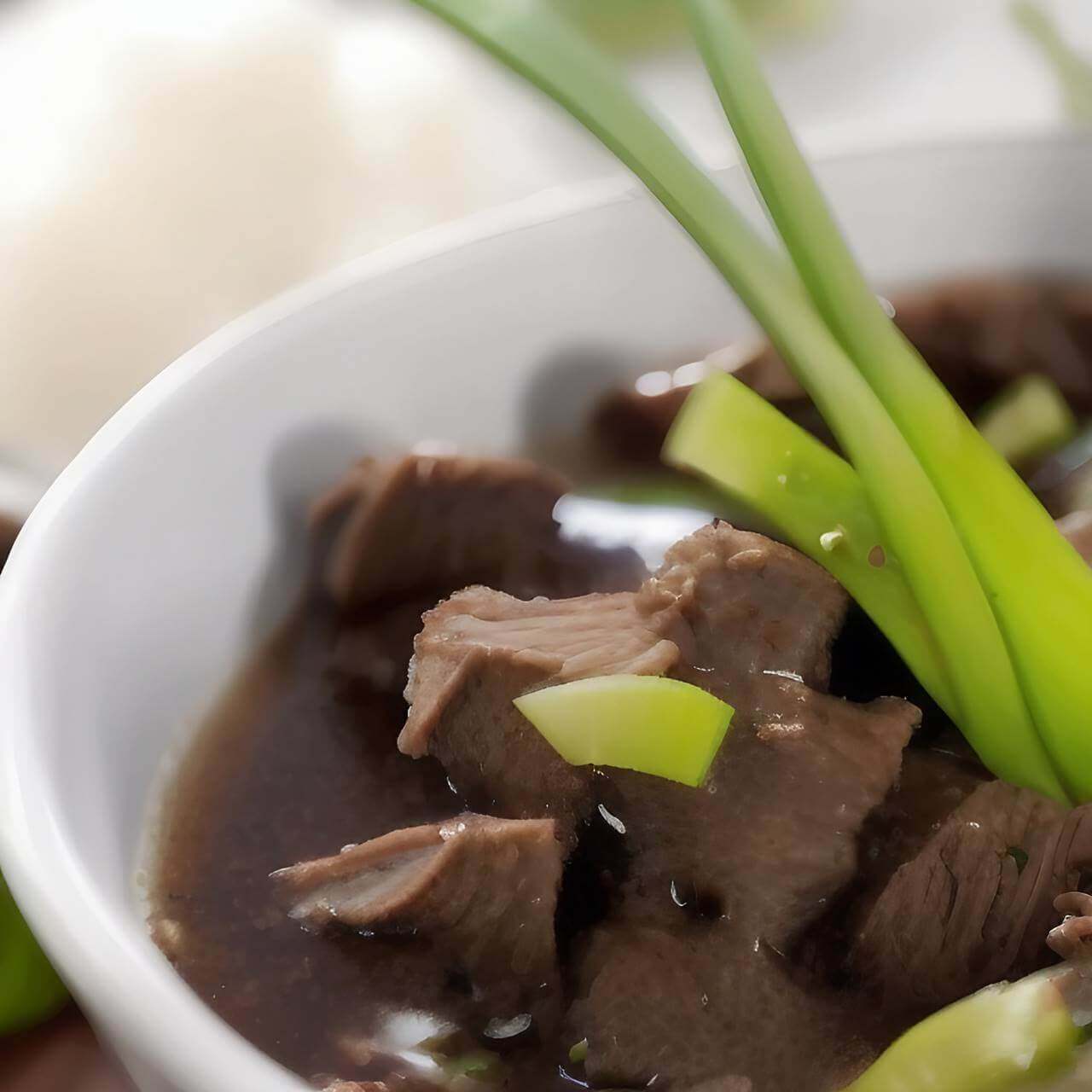 Frequently Asked Questions
1. Is Pork Dinuguan safe to eat?
Yes, it is safe to eat pork dinuguan as long as you cook and prepare the dish properly. The vinegar helps keep the blood from clotting while cooking, so make sure to include it in your recipe. Additionally, be sure to source fresh ingredients and clean them thoroughly before adding them to the dish.
2. Is there a way to make Pork Dinuguan healthier?
Yes, you can certainly make this dish healthier by replacing high-fat ingredients with leaner alternatives such as turkey or chicken instead of pork belly. Additionally, you could also opt for low-sodium soy sauce instead of regular or salt and use a vinegar with low acidity. Finally, you can replace the sugary additions such as pineapple juice with fresh fruits like apples for a natural sweetness.
3. How long does Pork Dinuguan last in the fridge?
Pork dinuguan can typically stay safe to eat in the fridge for up to five days when stored properly. To extend its shelf life, it is best to store it in an airtight container or wrap individual servings with plastic film and place them in the refrigerator. Reheat any leftovers before consuming them.
4. How do I know if my Pork Dinuguan has gone bad?
If your pork dinuguan has an odd odor or color, it may be spoiled and should not be consumed. Additionally, if the texture of the dish is slimy or sticky, it is likely no longer safe to eat. Discard any leftovers that you suspect have gone bad.
5. What makes a good Pork Dinuguan?
The key to a delicious pork dinuguan is the balance of flavors and proper cooking techniques. Be sure to add just enough vinegar and seasonings so that it does not overpower the dish, but also provides enough flavor for a rich and hearty stew. Additionally, make sure to clean your ingredients thoroughly before cooking them and use only the freshest ingredients when possible. Finally, adjust the level of heat to your preference for a truly enjoyable meal.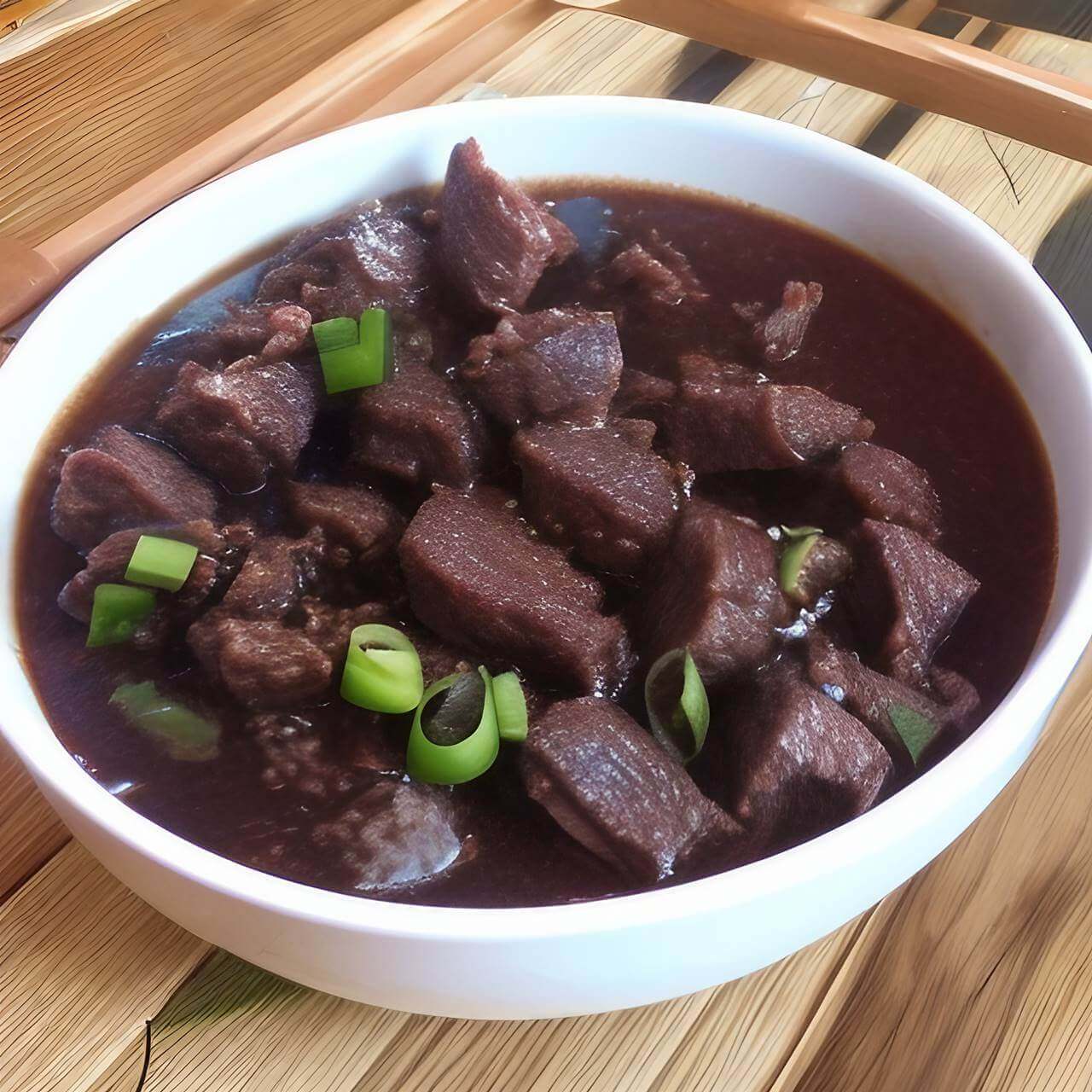 Summary
Pork dinuguan is a delicious Filipino dish that requires careful attention when preparing. To ensure your ingredients remain fresh and edible, source them as soon as possible or even before sunrise. Use vinegar or tamarind to prevent the blood from clotting while cooking and add chili peppers for an extra kick of flavor.
Additionally, you can make this dish healthier by replacing high-fat ingredients with leaner alternatives such as turkey or chicken and using low-sodium soy sauce instead of regular salt. Finally, store it properly in an airtight container in the fridge for up to five days if there are any leftovers after enjoying this hearty meal!