Chicken Curry is a traditional Filipino dish that is simple yet delicious. It's made with a combination of chicken, vegetables, and spices cooked in coconut milk. The key to making a good Filipino chicken curry is the combination of fresh and quality ingredients.
Also Read: How to Cook Filipino Pork Dinuguan
This dish always reminds me of birthday parties or holidays because it is always served during those celebrations. With its creamy richness and perfectly blended flavours, this sauce is perfect for white rice. Chicken curry is a classic Filipino dish that will tantalize your taste buds. Juicy and flavorful chicken, warm and tender potatoes and carrots, sweet bell peppers and a few spicy peppers to add a little kick to the sauce. All cooked in a flavourful curry-coconut gravy, it's sure to be a crowd favourite.
When preparing to make Filipino chicken curry, the first step is to select your meat. Chicken is the most common choice, but you can also use pork or beef. Select boneless and skinless pieces of meat for the best results. Then you'll need to select vegetables such as potatoes, carrots, bell peppers, or onions. Once all the ingredients are ready to be used, you can start cooking!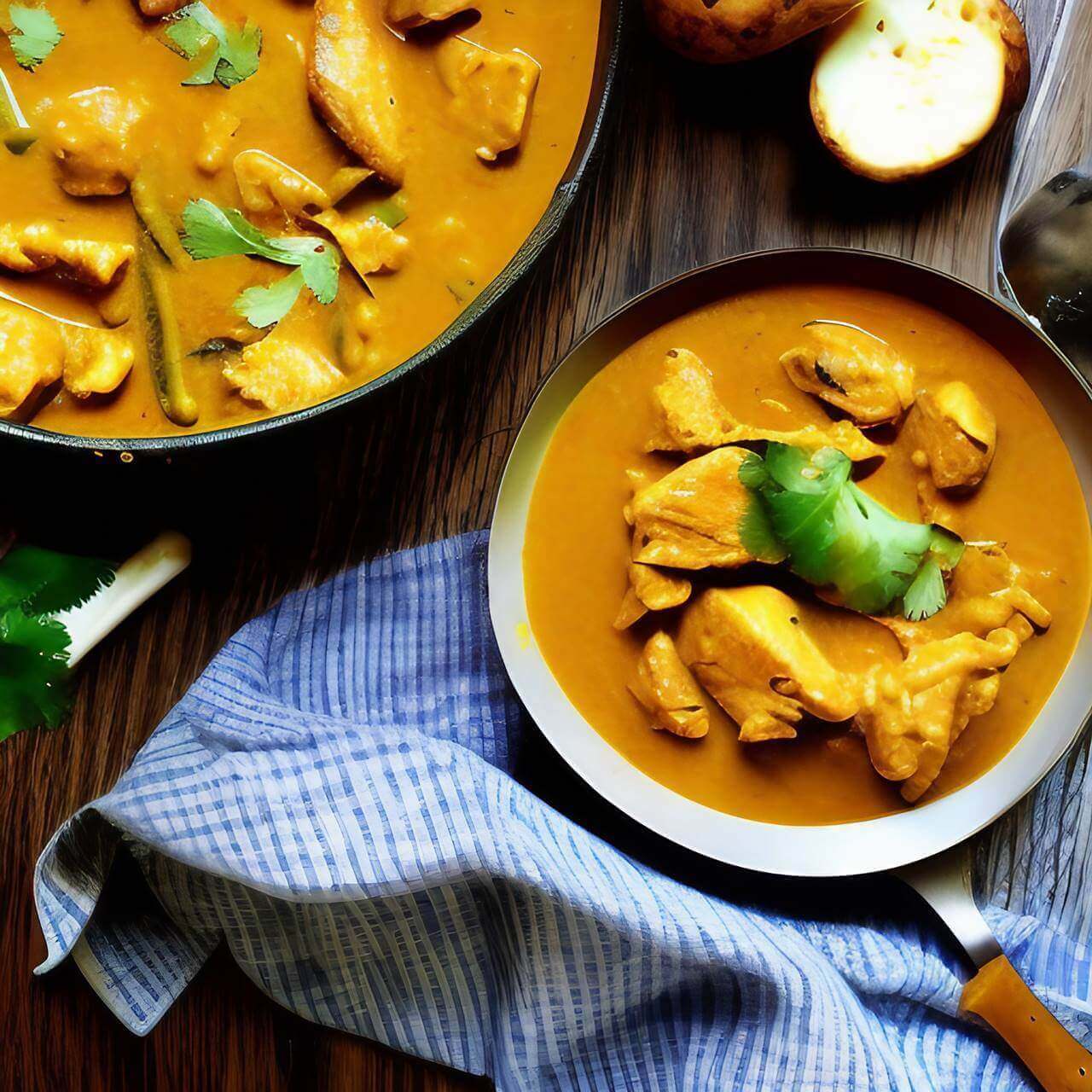 Ingredients
Three tablespoons of oil.
1 kg of chicken cut into manageable pieces
Mince 3 cloves of garlic.
Chop one medium onion into small pieces.
Two inches of ginger, minced
1 Knorr Chicken Cube
2 tablespoons of curry powder
1 pack of Coco Mama coconut milk
In a measuring cup, combine 2 cups of water.
One carrot, cubed
two potatoes, diced
salt and pepper to taste
wild chili (optional) to add an extra kick
Steps to Cook Filipino-Style Chicken Curry
Cut your chicken into cubes and season with salt and pepper.
In a large skillet or saucepan, heat some oil over medium-high heat.
Add garlic and onion until fragrant then add in chicken parts till you see that the skin turns brown. Add the Potatoes and carrots Simmer for 10 to 15 minutes.
Add the curry powder and 1 chicken broth cube to enhance the dish
The first step in making a Filipino chicken curry is to prepare the ingredients. You'll need freshly cut chicken, potatoes, carrots, onions, garlic, and ginger for this dish. It's also important to select good quality coconut milk which can be found at Asian markets or health food stores.
Tips
The key to making Filipino chicken curry is to sauté the vegetables and spices in oil before adding the coconut milk. This will bring out more flavour in your dish.
If you don't like spicy food, feel free to omit the wild chilli.
Adding a Knorr Chicken Cube adds a nice flavour to the dish.
Slowly add the coconut milk while whisking it, so that no clumps form. Once all of the milk has been added, turn down the heat to low and let simmer.
If you're looking for a more robust dish, add cauliflower or green beans to the mix.
This dish is best served over white rice.
If you're looking to make this dish healthier, substitute the coconut milk for a light version or low-fat evaporated milk.
When it comes to Filipino chicken curry, the flavour possibilities are endless! With a few simple ingredients and some spices, you can create a delicious meal that your family will love.
Frequently Asked Questions
1. How long does it take to make Filipino-style chicken curry?
It usually takes about 25 minutes to prepare and cook this dish.
2. What other types of vegetables can I add to the curry?
You can add any type of vegetable that you like such as cauliflower, green beans, or eggplant.
3. Is the dish spicy?
You can adjust the spiciness of the dish by adding more or less chlli to suit your taste. For a milder flavour, omit the chili completely.
4. What type of oil is best for cooking this dish?
Any type of light oil such as vegetable, canola, or sunflower oil will work. Avoid using olive oil as it has a low smoke point which could affect the flavour of your dish.
5. How do I store leftover Filipino chicken curry?
If you have any leftovers, make sure to let them cool down and then transfer them into an airtight container. Store the dish in the refrigerator for up to three days or freeze it for up to three months. To reheat, simply thaw and reheat in the microwave or stovetop. Enjoy!
6. Can I make Filipino chicken curry ahead of time?
Yes, you can absolutely make it ahead of time and store it in the fridge for up to three days. To reheat, simply thaw and reheat in the microwave or stovetop.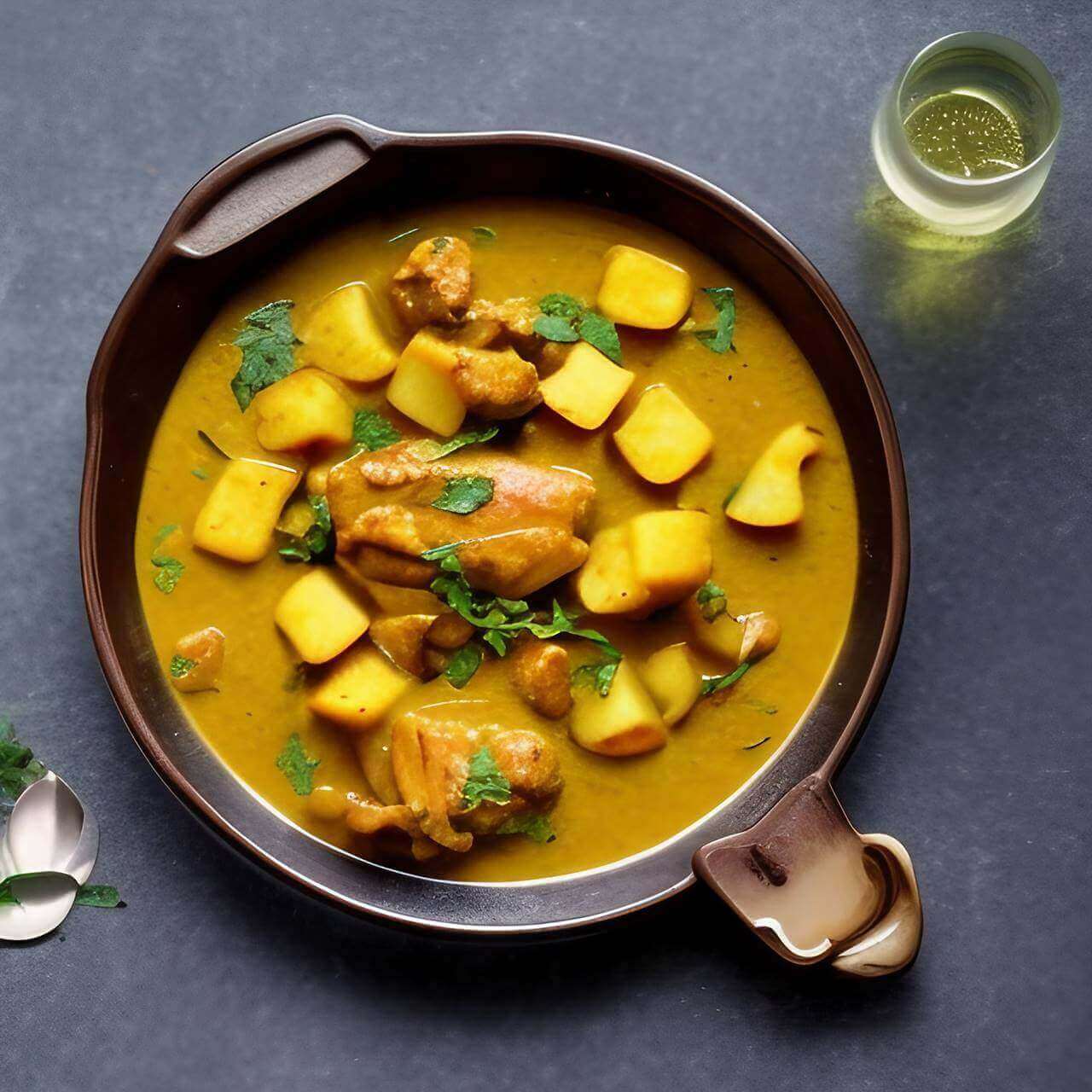 Summary
Filipino-style chicken curry is a delicious and easy dish to make. All you need are some fresh ingredients like chicken, potatoes, carrots, onions, garlic and ginger along with coconut milk for the best flavour. You can adjust the spiciness of your dish by adding more or less chilli depending on your preference. With these tips in mind, you'll be able to whip up this tasty meal in no time! Enjoy!