At birthday parties, fiestas, special occasions, and sometimes even during ordinary days — there is one pork dish that is often enjoyed by Filipinos, wherever they may be in the world. Crunchy on the outside yet juicy inside, this delicious dish is none other than… crispy pata!
Crispy pata is basically pork leg that is boiled, deep-fried, and then served with a spicy, soy sauce-vinegar dipping and atcharang papaya (pickled papaya). It is best enjoyed as ulam (viand) with a cup of hot rice, or eaten as pulutan (beer food) with a glass of cold beer!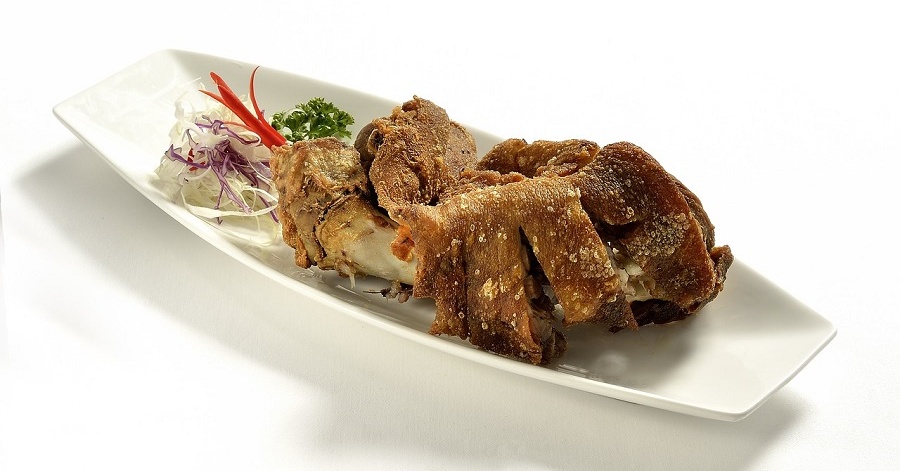 How to Cook Crispy Pata
As mentioned earlier, there are two major steps in cooking crispy pata: boiling and deep-frying. Pork leg is boiled to tenderize the meat, as well as to help make the skin "crispy" when fried (hence the name). The tenderized meat is then deep-fried until golden and crispy!
The following crispy pata recipe takes about 10 minutes to prepare and one and a half hours to cook, for a total time of one hour and 40 minutes. It makes about four servings… just enough for a small family or group of friends!
Ingredients
1 pc whole pork leg (cleaned)
6 pcs dried bay leaves
4 pcs star anise (optional)
2 tbsp whole peppercorn
6 tsp salt
2 tsp garlic powder
2 tsp ground black pepper
12 cups water
6 cups cooking oil
For the sauce:
1 cup white vinegar
1/4 cup soy sauce
4 cloves garlic (crushed and chopped)
1 pc red onion (minced)
1 tsp sugar
ground black pepper (to taste)
NOTE: To make the soy sauce-vinegar dipping, simply mix all the ingredients (soy sauce, vinegar, garlic, onion, sugar, ground black pepper) and cook in the microwave for 50 seconds.
Instructions
Boil the water in a cooking pot.
Add the dried bay leaves, star anise, whole peppercorn, and four teaspoons of salt.
Add the pork leg and simmer for about 45 to 60 minutes until tender. The meat must be tender so that it will become really crispy when fried.
Remove the pork leg from the cooking pot and set aside until it cools.
Rub the leg with the remaining salt, garlic powder, and ground black pepper. Let stand for about 15 minutes.
Heat the cooking oil in a large cooking pot.
Deep-fry the pork leg until one side becomes crispy, and then flip to cook the other side. Be careful as the oil may splatter! Consider wearing safety glasses, to be on the safe side.
Turn off the heat. Remove the crispy pata and transfer it to a serving dish.
Serve with soy sauce-vinegar dipping and atcharang papaya.
Share and enjoy the dish with your family and friends!
As an alternative, you can cook crispy pata in an oven instead. The instructions are pretty much the same, except for the deep-frying step. Keep in mind, though, that this method could take longer. You could also make deep cuts into the pork leg so that its inner parts would be cooked well. In any case, the result is the same — crispy, juicy, and delicious pata!
WATCH: Vlogger SaudiPinoy Gives Food, Bed and Pillows to Filipinos
As you can see, cooking crispy pata is actually quite easy! Just be sure to the follow the instructions and to be extra careful when you deep-fry the pork leg. For more recipes, stay tuned to this page, as we shall keep on sharing Filipino recipes that you can make at home!