Need to register your Smart or TNT SIM card? We've got you covered! This guide will discuss how Smart or TNT Sim Card registration can be done in a few easy steps.
Also Read: How to Register Globe and TM SIM Card Philippines
We'll cover all your basic questions about the Sim card registration process, particularly for those using Smart or TNT SIM cards. We'll also throw in some tips to help you go through the process much easier than the others. Let's get started.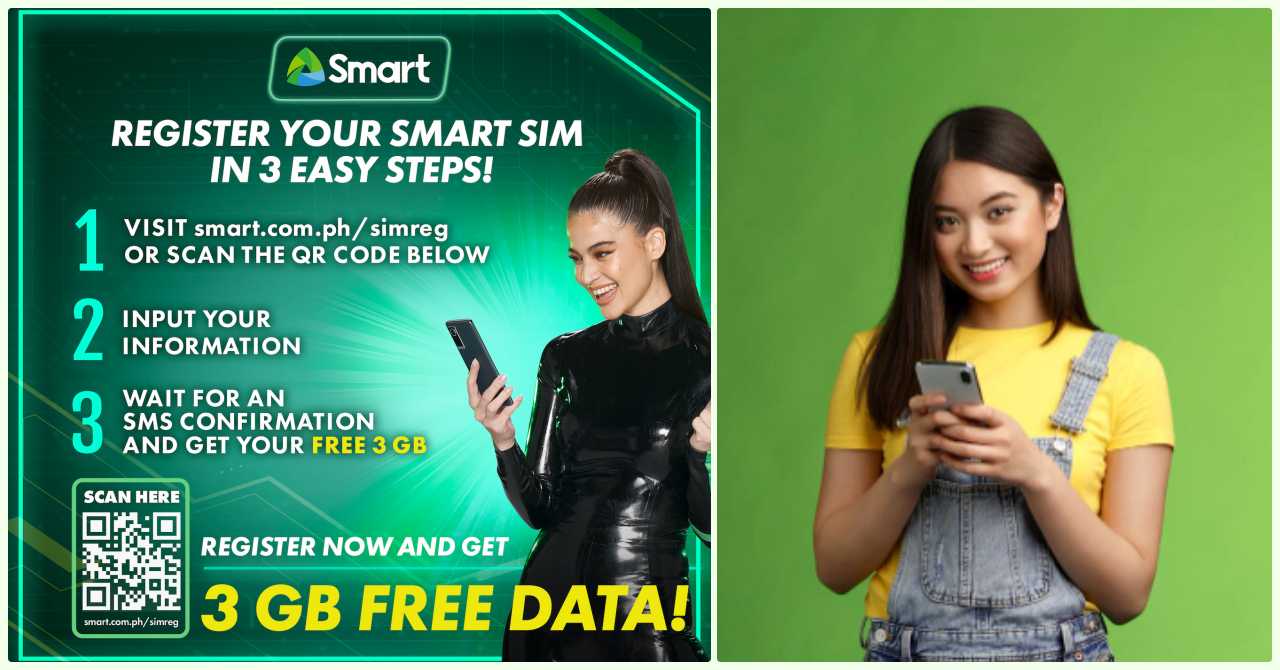 SIM Card Registration
The National Telecommunications Commission stated on December 29, 2022 that more than 3 million SIM cards had been registered with the major telcos, as mandated by the Sim Card Registration Act.
During the Laging Handa briefing, NTC Deputy Commissioner Attorney John Paulo Salvahan reported that as of December 28, 3,319,000,000 SIM cards had been registered.
Globe Telecoms received 1,769,374 registrations, DITO Telecommunity Corp. received 530,424 registrations, and Smart Communications received 1,019,207 registrations.
According to Salvahan, a high number of customers wanted to register their SIM cards with the telcos, causing traffic to back up or causing Globe to temporarily suspend service.
The DICT has already stated that carriers have two weeks to make the necessary changes to allow SIM card registration.
At the time of writing, all of the aforementioned telcos' registration portals were back online and available for registration.
However, given that the implementation phase is still in its early stages, you can expect to experience some delay in accomplishing your registration. But don't worry! As the days go by, there will be a more seamless experience you can expect as the system begins to cope with the daily traffic of users registering for their respective systems.
How the Sim Card Registration Act is Implemented
The Sim Card Registration Act requires new and old SIM cards to be electronically registered via the telecoms provider's website or any other registration facility. The law safeguards consumers from illegal conduct like fraud, smishing, and other forms of mobile and online fraud.
It will go into effect on December 27, 2022. After the law takes effect, subscribers will have 180 days to register their SIM cards or until April 26, 2023. A 120-day extension of the registration period is possible. Failure to do so will result in the SIM being deactivated automatically. The SIM can only be reactivated if the SIM Registration process is completed successfully within five (5) days following the Automatic Deactivation.
How to Register your Smart/TNT SIM Card (Step-by-Step Guide)
Step 1: Go to Smart's registration portal (https://www.smart.com.ph/simreg). Alternatively, you may scan the QR code as shown in the image below.
Step 2: Fill in the information required and upload your valid government ID
Step 3: Wait for an SMS confirmation and get 3GB FREE data.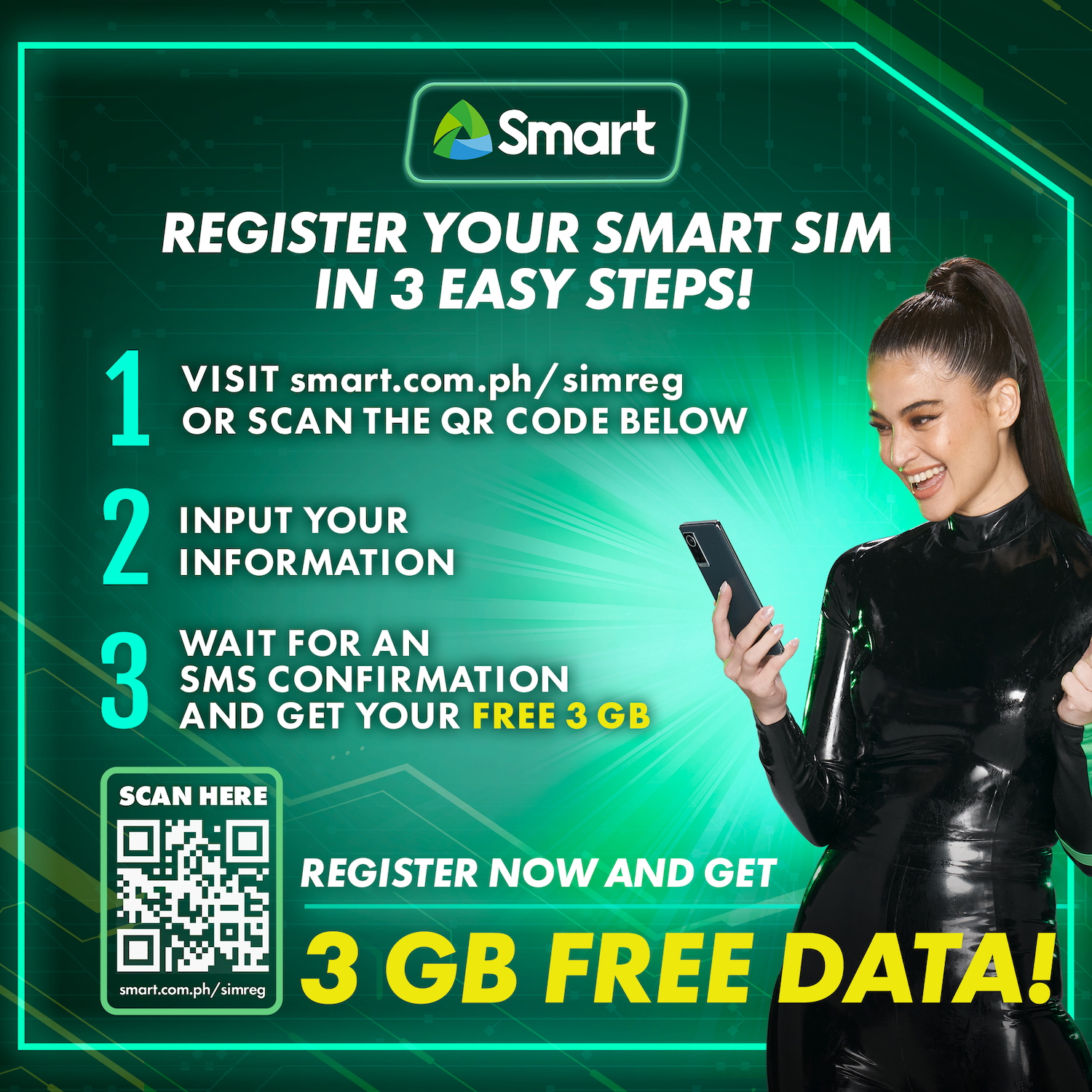 Information required for the Sim Card Registration
The following information will be collected:
Full name
Birthday
Sex
Present or official address
ID and ID number
A liveness check or selfie photo will be required for validation
Businesses or organizations will be required to provide the following:
Business name
Business address
Full name of authorized signatory
List of Government IDs You Can Use
Passport;
Philippine Identification;
Social Security System ID;
Government Service Insurance System E-Card;
Driver's License;
National Bureau of Investigation Clearance;
Police Clearance;
Firearms' License to Own and Posses ID;
Professional Regulation Commission ID;
Integrated Bar of the Philippines ID;
Overseas Workers Welfare Administration ID;
Bureau of Internal Revenue ID;
Voter's ID;
Citizen's Card;
Unified Multi-purpose Identification Card;
Person with Disabilities Card; or 17. Other valid government-issued ID with a Photo
Video: Simcard Registration Tutorial | Smart Talk n Text Globe Tm
Is it your first time registering your SIM card? Then this video can help you do just that. In this video, the vlogger talks about registering your Smart/TNT and Globe Sim cards. Find out the benefits and get some tips in order to accomplish this task by watching this video!
Once you've watched it completely, we recommend you try out the process so you won't miss a step from the instructions they've outlined in the content. And if you don't get it the first time, rely on the old saying, "if at first you don't succeed, try and try again."
Frequently Asked Questions
1. Why do I need to register my SIM?
The SIM Registration Law seeks to protect users from various crimes, including terrorism, financial fraud, and defamation. It also aims to prevent people from engaging in illegal online activities.
For the longest time, many mobile phone users have been complaining about getting calls from scammers and fraudsters, who often use their personal information to extort money. With the SIM Registration Law in place, it's easier for the police and other authorities to track criminals and hold them accountable for their actions. This is one of the main reasons why President Bong-bong Marcos introduced the SIM Registration Law. It also helps to protect mobile phone users from identity theft and other crimes that involve the misuse of personal information.
2. Who should register their SIM?
Before a telco operator may activate newly purchased SIM cards, they must first be registered. The completed Subscriber Application Form and submitted documentation for new Smart Postpaid clients will serve as their SIM card registration.
Existing subscribers must register their SIM cards within the prescribed deadline. Existing Smart Postpaid users' previously submitted information, data, documents, and correctly signed Subscriber Application Form will be used to register their SIM card. Smart will notify all Postpaid users and ask their confirmation of the information and data previously supplied to Smart when subscribing to the relevant service/s.
3. When can I start to register my SIM?
Beginning December 27, 2022, all existing users must register their SIM card with their current telecommunications service provider, as required by law.
Existing customers must register their SIM cards within 30 days of the act's introduction. If the existing SIM card is not registered within the set time range, it will be deactivated automatically.
Customers must now register newly purchased Prepaid SIM cards before the telco operator can activate the SIM.
Postpaid users' SIM Registration requirements are already covered by the information and documentation provided during the application process. Existing subscribers will just have to reconfirm their subscription.
4. Where can I register my SIM if I'ma Smart/tNT user?
SIM card registration is available at smart.com.ph/simreg. You can also register your SIM card through any of the Smart channels listed below:
Smart Retailers
Call *888 from a Smart/TNT phone or (02)8888-1111 from a landline.
Smart Facebook Messenger
GigaLife Application
Whichever method you opt to choose, the key is to be sure that you have the correct information and documentation.
5. I'm SMART/ TNT post-paid customer. How do I register?
For a Postpaid SIM, you can register by texting YES to 5858.
The newly rolled out law primarily targets millions of pre-paid SIM card users as these can easily be purchased in the market, and so are often used for other purposes such as fraud and identity theft.
6. What should I do if my SIM gets stolen, broken or lost?
You must immediately notify your current telecommunications provider of any lost or stolen SIM cards.
If your SIM card is damaged, you can replace it at any Smart Store while keeping your number.
The sale of stolen SIM cards is illegal under the law.
Reporting your lost SIM allows telecom providers to block the number so that it can no longer be used by anyone else.
7. Can I still reactivate my SIM, which was deactivated for failing to register within the deadline prescribed by law?
You can reactivate your SIM card if you enroll within five days after its deactivation.
But to avoid this, we recommend you comply with the law as soon as possible and register your SIM card. You may also use a valid ID card or passport to register, or enroll at any Smart Store branch nationwide.
Doing so will not only protect your data and privacy right away, but also prevent you from having your SIM card deactivated.
8. Are minors (below 18 yrs old) allowed to purchase a SIM?
Yes, minors are allowed to buy SIM cards. On the other hand, children are not entitled to register their SIM card in their own name. These SIM cards must be registered in the minor's parent or legal guardian's name.
Final Thoughts
So there you have it! Filipinos can be confident that their data would be protected and their privacy will be respected under the new SIM Card Registration Act. This new law will also aid in the recovery of lost or stolen phones and the prevention of SIM card fraud.
Do you think registering your Smart and TNT SIM card is useful for personal or professional purposes? Please leave a comment below to let us know what you think!
As always, we hope you learned something new and will share this post with your friends and family. Thank you for taking the time to read this!
READ NEXT: 30 Ways to Protect Your Online Data in the Philippines