In a recent move that has been welcomed by both lawmakers and telcos, President Ferdinand "Bongbong" Marcos Jr. signed into law the SIM Card Registration Act, the first legislative measure enacted in his presidency.
The SIM Card Registration Act, or Republic Act 11934, will require all SIM card users to register their personal information with telecommunications companies or telcos. This requirement can be made available upon the request of a court or other law enforcement agencies.
Lawmakers have been pushing for the measure following the recent spreading of spam text messages that led to scams and the hacking of several subscribers' personal accounts. In this guide, we share everything you need to know about the SIM Card Registration Act and how it can help you protect your information online. Keep on reading.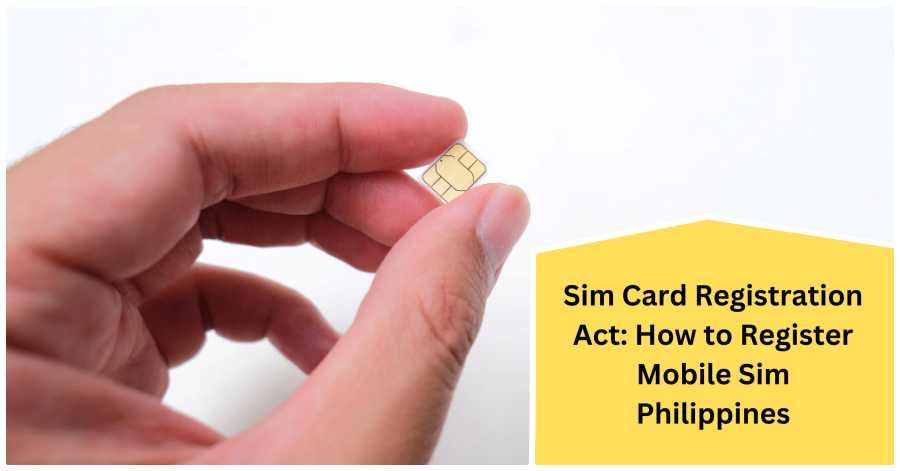 What is the Mandatory Sim Card Registration Bill in the Philippines?
The SIM Card Registration Act, also known as the Subscriber Identity Module (SIM) Registration Act, was signed into law by President Bongbong Marcos Jr. on October 10th. This is an important step towards protecting the privacy of Filipino subscribers and preventing fraud. The SIM Card Registration Act aims to enhance consumer protection and crack down on illegal activities such as spamming, phishing scams, identity theft and credit card fraud by requiring all mobile phone users to register their SIM cards with the National Telecommunications Commission (NTC).
The new legislation requires all end-users to register their SIM Cards with a Public Telecommunications Entity (PTE) as a prerequisite to activation. The law was enacted in response to an increase in text scams and other crimes perpetrated via text messages in the Philippines.
Such issues have led to the loss of billions of pesos for both consumers and businesses. The law requires that all SIM Cards be registered with their Public Telecommunications Entity (PTE) within three days of activation or purchase. Upon registration, the user will receive a unique identification number that can be used to identify them in cases where their phone is stolen or lost.
When to Register SIM Cards
The proposed SIM Card Registration Act requires that all prepaid SIM card users register with their respective telecommunication providers within 120 days of the law's enactment. Existing prepaid SIM cards will have 180 days to register with their respective telecommunication providers after the law goes into effect. A valid written request to DICT can also result in an extension of 120 days.
However, SIM Card registration will not begin until telecom providers can create a registration portal where subscribers can upload their information and requirements.
The act will become effective fifteen (15) days after the law is published in the Official Gazette or a general circulation newspaper. Furthermore, within 60 days of the act's enactment, various agencies must establish monitoring and proper implementation guidelines.
Phone numbers will be deactivated if users fail to register within the time frame specified; while new SIM cards will be activated only after registering with a PTE.
Benefits of Sim Card Registration
There's no doubt that the benefits of Sim Card Registration are numerous. First and foremost, it will help the government fight against terrorism, crime, and other illegal activities.
With access to your personal data, authorities can easily track down criminals and prevent them from committing any more crimes. This is especially important in countries such as ours, where mobile phone users often use prepaid SIM cards without registering their details with service providers or telecom companies. Here are the rest of its important benefits:
Telcos and direct sellers of SIM cards will only sell cards to people with valid photo ID, ensuring that the SIM card will belong to the said individual.
Any information registered to subscribers must be maintained as confidential unless permission is granted in writing by the subscriber.
Minors who register their SIM cards will have the names of a parent or guardian listed as consenting parties on the forms.
Telcos will have to submit verified lists of their dealers nationwide, and the National Telecommunications Commission will make them update these lists quarterly.
Penalties & Fines for Sim Card Violators
The SIM Card Registration Law prohibits any disclosure of information obtained in the registration process except in compliance with any law obligating it in accordance with the Data Privacy Act, upon court order or with the subscriber's written consent.
If a Public Telecommunications Entity (PTE) breaches confidentiality, they will face a fine not exceeding P300,000 for their first offense; not more than P500,000 for their second offense; and not more than P1 million for every subsequent offense.
Furthermore, any breach of confidentiality among all involved parties will warrant a fine of P 500,000 to P4 million.
Providing false information or fake IDs, spoofing a registered SIM or selling stolen SIM will be penalized with 6 months to 2 years of jail time and a fine of up to P300,000.
Requirements
In order to register a SIM card, you must first present a copy of your valid government-issued ID with a photo during the registration process. You may also show a National Bureau of Investigation clearance or a birth certificate certified by the Philippine Statistics Authority.
The PTEs have provided an electronic registration form that subscribers can fill out electronically via a platform or website provided by their telecom provider. The process is not difficult, but it does require some time and patience since it requires subscribers to wait for their telco provider to launch a registration platform through which they can register their SIM cards.
For Minors:
The SIM card of a minor must be registered in the name of her parent or guardian, provided that this adult gives their consent and registers the card.
For Foreign Nationals/Tourists:
Foreign nationals who are visiting the Philippines may register for local SIM cards if they meet the following requirements:
Tourists staying in the Philippines for less than 30 days must fill out the SIM registration form with their full name, passport number, and present their passport and proof of address in the Philippines.
Those staying for more than 30 days as workers or students must fill out the SIM registration form and present their passport, proof of address in the Philippines, Alien Certificate of Registration or ACRI-Card issued by the Bureau of Immigration (BI), and Alien Employment Permit issued by the Department of Labor and Employment (DOLE), or school registration and identification card.
For Juridical Entities and Corporations:
All juridical entities must present a certificate of registration, and if they are corporations, their designated representatives have to have special powers of attorney to register SIM cards.
The registration form should include an attestation by the SIM card user that they are submitting true and correct documentation.
Qualifications
All Philippine residents are eligible to register for a SIM card. To qualify, you must meet the requirements set for the category you belong to. These include minors, foreign nationals, and juridical entities and corporations.
How to Register Sim Card in the Philippines
The registration of existing SIM card holders will be done through the registration portals provided by public telecommunications entity (PTE), assuming that one already exists.
Meanwhile, new SIM card holders must present a valid government ID to an authorized SIM vendor in order to register a new SIM card. They must also fill out a form with their personal and SIM card information.
How to Register with a Smart or TNT Sim Card
Before registering the SIM card with Smart/TNT, make sure you own it and have access to its serial number and phone number. The following are the steps you should take:
Smart SIM card users must have either a Smart SIM card or a TNT SIM card. You can purchase one via your local Smart telecom provider or a local reseller.
To register, access the SIM card registration portal and enter your personal information.
You must upload a valid photo identification to the registration portal. Ensure that it is current.
Confirm all details and then click the submit button.
The telecom provider will confirm your personal information and sim card registration.
Congratulations, your SIM card has been registered to your account!
How to Register with a Globe or TM Sim Card
Existing and new Globe/TM customers must provide proof that they are the legal owners of the SIM card they wish to register. Registration requires a cell phone number as well as the serial number of the device. You may proceed as follows:
Globe SIM card customers must have either a Globe or a TM SIM card. You can get one through your nearest Globe provider or local reseller.
Go to the SIM card registration portal and fill in your personal details.
Valid photo identification must be uploaded to the registration portal. Check that it is up to date.
Confirm all information before clicking the submit button.
Your personal details and sim card registration will be confirmed by the telecom provider
That's it! Your SIM card has been successfully added to your account.
Video: Mga dapat malaman sa SIM Card Registration Law | Stand For Truth
Here's a video update on the newly signed SIM Card Registration Law that will be implemented before the year's end. What are the things you should know about this law? Are you concerned about your privacy being compromised? Are you worried that police officers might use your SIM card information to track down your location? What do you think of this new law?
Frequently Asked Questions
1. Is SIM card registration compulsory in the Philippines?
The new law will require users to furnish full names and identity documents before buying a SIM card, in order to prevent criminals from concealing their identities.
2. Are SIM card registrations confidential?
Any information in the SIM card registration is confidential unless the subscriber grants permission for access.
3. Where will the SIM Card registration take place?
The registration will be at the point of sale, meaning that a SIM card cannot be sold to someone who refuses to provide the required personal information.
4. Will this also affect both existing postpaid and prepaid phone subscribers?
Yes, all existing postpaid and prepaid mobile phone subscribers will have to register their SIM cards within six months or 180 days of the effectivity of the law to avoid deactivation.
5. What happens if I will fail to register my SIM card?
SIM cards not registered within this time frame will be automatically deactivated, and it can only be reactivated after registering in accordance with the law.
6. What information will I be required to provide according to the law?
A provision in the law requires people to use their real names and phone numbers when creating social media accounts. This is to prevent people from using fake names and numbers to create accounts, which can be used for criminal activities.
7. What are the possible drawbacks to this new law?
In other countries with similar laws, state surveillance has become an issue. For example, Peru, Brazil and Mexico have adopted regulations for telcos that compel these companies to collect and identify mobile user information which could then be used by law enforcement officials.
8. What are offenses punishable under RA 11934?
The failure or refusal to register a cellphone SIM card is considered a crime under RA 11934. Other offenses include the use of fake or fictitious IDs or information in the registration process, the sale of a stolen SIM card, and the transfer or sale of a card without the required registration. Breach of confidentiality is also a violation.
Those who break the law face heavy fines of up to P4 million.
9. What is the role of the National ID in the SIM Card Registration law?
The Philippine National ID System (Philsys) is a national database that will collect and store every Filipino citizen's name, birthdates and bar codes. The Philsys was originally slated to be implemented by March 2021 but has since been delayed for an as-yet-undetermined length of time.
Local telecommunications companies (telcos), however, have called for the ramping up of the national ID system's rollout and more time to prepare for the law's implementation.
"Our position has been clear from the beginning, a national ID system must be in place to ensure the safe and successful implementation of this new law," Globe Telecom Inc. general counsel Froilan Castelo said in a statement on Monday.
Summary
With the passing of the Sim Card Registration Bill into law, Filipinos have to be more vigilant with their SIM cards. They should also exercise caution when dealing with unauthorized sellers who may use the card for illegal purposes. This law will certainly help in curbing crime, but it's up to everyone to make sure that they follow it.
As society becomes more digitally connected, it's important to be aware of laws that govern what we do online. It's also important to ensure you know the rules yourself so you don't get into trouble when you use the internet. If you're not sure how to stay safe online, check out our guide on how to protect your data and privacy on social media.
We hope that you have found this article helpful. If you have any questions or comments, please let us know in the comment section below.