In a recent move that has been welcomed by both lawmakers and telcos, President Ferdinand "Bongbong" Marcos Jr. signed into law the SIM Card Registration Act, the first legislative measure enacted in his presidency. You can register or your Globe or TM sim, Smart or TNT sim, or DITO sim Philippine cards conveniently in this guide we've written below.
Telecommunication service providers or telcos will be required to register the personal information of all SIM card users under the new SIM Card Registration Act (Republic Act 11934). This obligation may be imposed by a court or other law enforcement agencies upon request.
In light of the increasing incidence of spam text messages leading to scams and personal account hacking, legislators have been advocating for a new measure. This measure is known as the SIM Card Registration Act, which aims to provide internet users with enhanced protection for their personal information. In this guide, we will delve into all the crucial details about the act and its potential benefits in safeguarding your online data. Continue reading to find out more.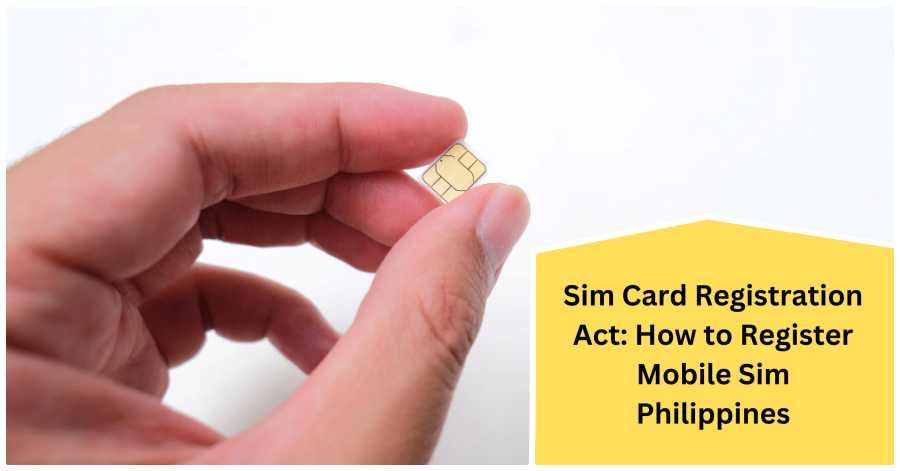 Recently, a bill mandating the registration of SIM cards in the Philippines was signed by President Bongbong Marcos. This legislation is designed to safeguard the privacy of consumers' data and combat fraudulent activities. The mandatory registration of SIM cards is a crucial measure towards enhancing consumer protection.
Under this law, all SIM cards must be registered with a public telecommunication enterprise (PTE) prior to activation. The enactment of this legislation was prompted by the growing prevalence of text scams and other illicit activities in the country. Upon activation, users will be issued an identification number, which will serve as their unique identifier in the event that their phones are lost or stolen. The primary objective of this new law is to uphold subscribers' privacy and prevent unlawful activities.
Overall, the mandatory SIM card registration bill in the Philippines is a necessary step towards safeguarding the interests of consumers and combatting fraudulent activities.
Timeline for Registering SIM Cards
In accordance with new legislation, all users with prepaid SIM cards are required to register their cards within 120 days of the legislation's enactment. Additionally, existing cards will need to be renewed within 180 days, although extensions may be granted if requested through the DICT.
It is important to note that registration for SIM cards will not commence until providers have established a registration portal that allows their customers to submit their information. The legislation will take effect 15 days after its publication in either the Official Gazette or a newspaper. Within 60 days of implementation, various agencies will be required to develop guidelines and monitoring procedures.
Users who fail to register their numbers within the specified period will have their SIM cards deactivated. Furthermore, the activation of new SIM cards is to proceed once users have registered with a PTE.
Benefits of Sim Card Registration
There's no doubt that the benefits of Sim Card Registration are numerous. First and foremost, it will help the government fight against terrorism, crime, and other illegal activities.
With access to your personal data, authorities can easily track down criminals and prevent them from committing any more crimes. This is especially important in countries such as ours, where mobile phone users often use prepaid SIM cards without registering their details with service providers or telecom companies. Here are the rest of its important benefits:
Telcos and direct sellers of SIM cards must only sell cards to people with valid photo ID, ensuring that the SIM card will belong to the said individual.
Any information registered to subscribers must be maintained as confidential unless permission is granted in writing by the subscriber.
Minors who register their SIM cards must have the names of a parent or guardian listed as consenting parties on the forms.
Telcos will have to submit verified lists of their dealers nationwide, and the National Telecommunications Commission will make them update these lists quarterly.
Penalties & Fines for Sim Card Violators
The confidentiality of information collected during the registration process of a SIM card is paramount and protected by law. Only with explicit consent from the subscriber may this information be disclosed. Public telecommunications entities (PTEs) must abide by this law, and any violation may result in substantial fines. For the initial offense, PTEs may face a fine of up to P300,000, while for the second offense, the fine may be up to P500,000. For subsequent offenses, PTEs may be fined up to P1 million. In addition, individuals involved in such violations may face fines of up to P4 million.
It is important to note that fraudulent identification or falsifying information during the registration process is illegal and may result in serious consequences. Registering a cellphone number with a stolen card, for example, may lead to a prison sentence of up to two years and a fine of P300,000. It is also prohibited to sell or transfer a stolen SIM card. All individuals and entities are required to comply with these laws to ensure the protection of personal information and prevent unlawful activities.
Requirements
In order to begin the process of registering your SIM card, it is required that you provide a valid ID  issued by the government with a photograph as evidence of your identity. Furthermore, you have the choice to present a clearance from the National Bureau of Investigation or an authenticated birth certificate from the Philippine Statistics Authority.
Telco companies have created an electronic registration form that subscribers can fill out via a website or platform. The registration process is not overly complicated, but it may require some time and patience as subscribers wait for their telecom provider to launch a registration platform where they can register their SIM cards.
For Minors:
The card should be registered under the name of the minor's parent or guardian.
For Foreign Nationals/Tourists:
If you're a foreign traveler in the Philippines, you can still acquire a local SIM card. Here's what you need to know:
Complete and submit the SIM registration form. This form requires your name and proof of address.
If you plan on staying in the Philippines for more than 30 days, you'll also need to submit additional documents along with the registration form.
For those staying in the country for an extended period, you'll need to submit your passport, an Alien Certificate for Registration, and an employment permit.
By following these steps, you'll be able to acquire a local SIM card as a foreign traveler in the Philippines.
For Juridical Entities and Corporations:
All juridical entities must present a certificate of registration, and if they are corporations, their designated representatives have to have special powers of attorney to register SIM cards.
The registration form should include an attestation by the SIM card user that they are submitting true and correct documentation.
Qualifications
All Philippine residents are eligible to register for a SIM card. To qualify, you must meet the requirements set for the category you belong to. These include minors, foreign nationals, and juridical entities and corporations.
Registering Your Sim Card Philippines
Existing SIM card holders can register for the new network through the portal of a public telecommunications company.
New SIM card holders need to present a valid government-issued ID to an authorized vendor to register their card. Moreover, they must fill out a form with their card information and personal details.
How to Register with a Smart or TNT Sim Card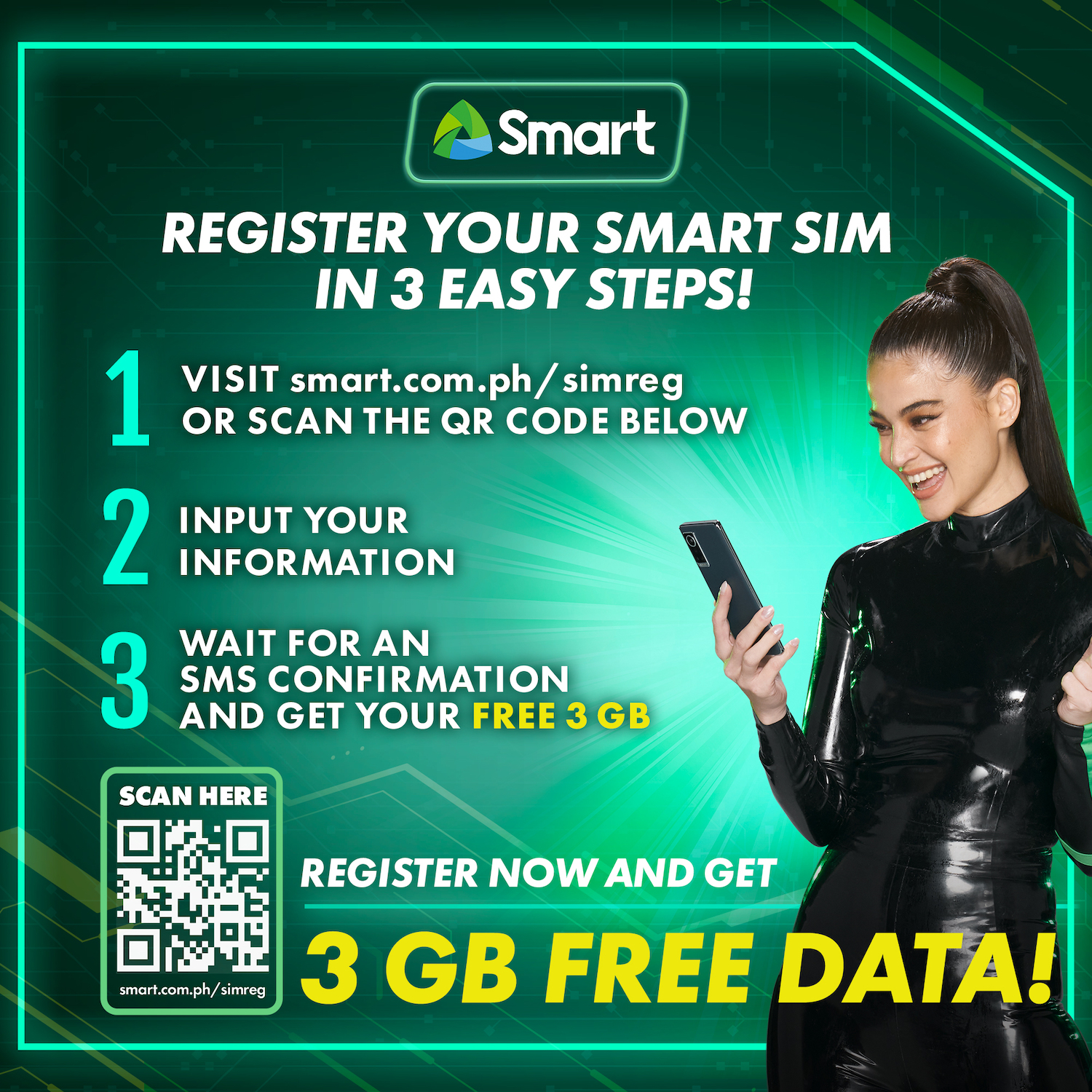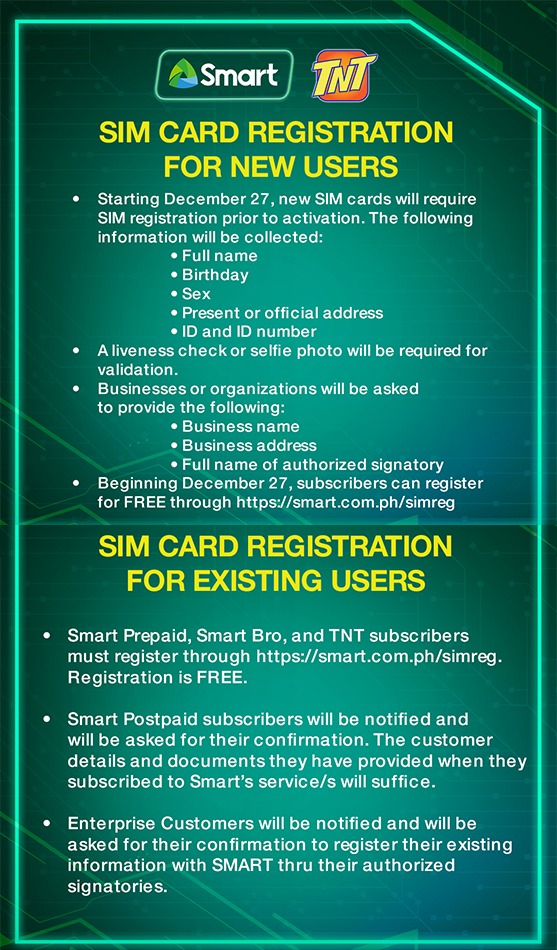 Before registering your Smart/TNT SIM card, ensure that you own it and have access to its serial and phone number. Here are the steps to register your SIM card:
Make sure you have a Smart SIM card or a TNT SIM card. You can purchase one from your local Smart telecom provider or a reseller.
Access the portal for the SIM card registration (smart.com.ph/simreg) and provide your personal information.
Upload a valid photo identification to the registration portal. Make sure that the identification is current.
Confirm all details and click the submit button.
The telecom provider will verify your personal information and SIM card registration.
Congratulations! Your SIM card has been registered to your account.
By following these steps, you can register your Smart/TNT SIM card with ease.
How to Register with a Globe or TM Sim Card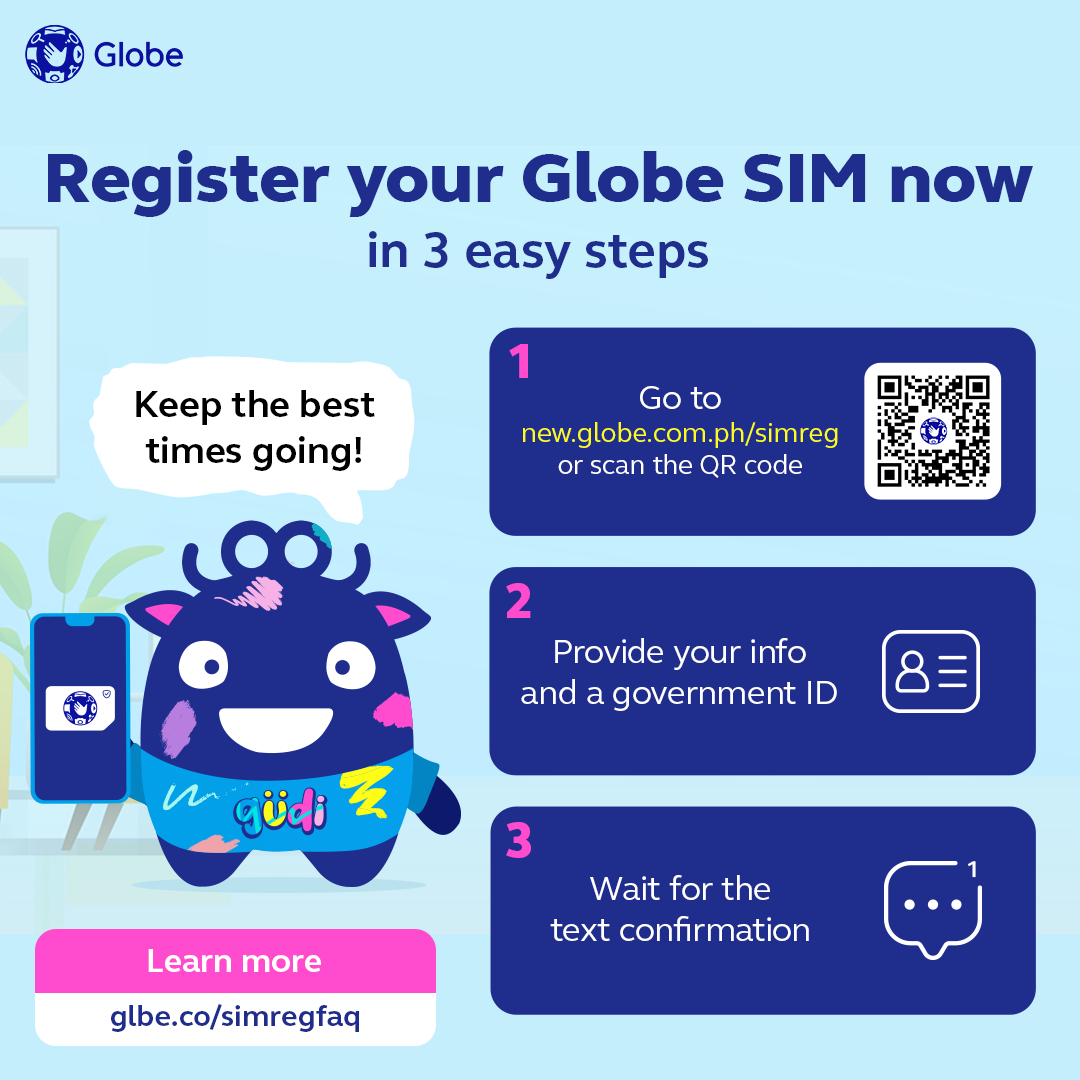 Existing and new Globe/TM customers must provide proof that they are the legal owners of the SIM card they wish to register. Registration requires a cell phone number as well as the serial number of the device. You may proceed as follows:
Globe SIM card customers must have either a Globe or a TM SIM card. You can get one through your nearest Globe provider or local reseller.
Go to the SIM card registration portal (new.globe.com.ph/simreg) and fill in your personal details.
Valid photo identification must be uploaded to the registration portal. Check that it is up to date.
Confirm all information before clicking the submit button.
Your personal details and sim card registration will be confirmed by the telecom provider
That's it! Your SIM card has been successfully added to your account.
Registering your Globe Postpaid SIM
At the moment, prepaid SIM users are the priority for the SIM card registration. However, Globe post-paid SIM card users can follow these steps to register:
Go to the SIM registration page. Click "Register" after entering your 10-digit mobile phone number (example: 9171234567).
If you are qualified to register, there will be a One-Time Pin (OTP) code that will be sent to you through text message.
To register, type the 6-digit OTP on the webpage. The OTP will be invalid after five minutes. You can proceed with registration after your OTP has been verified.
Fill up all mandatory fields: The following information is required: name, birthday, gender, and address.
Take a photo selfie and choose the government-issued identity you want to submit. Click "attach" to upload your government ID.
Mark the box to accept Globe's Privacy Notice and other important terms. Choose "Submit" to finish the registration.
When registration is complete, there will be a reference transaction number that should appear on the screen. Make sure to keep it because this is your proof that you have successfully registered.
Registration Guide: Globe at Home Prepaid WiFi SIM
For those who subscribe to Globe's Home Prepaid WiFi SIM, you also need to register your SIM card via Globe's registration portal. Here are the steps you need to take:
For existing Globe at Home WiFi users:
Connect to your Wi-Fi router.
Go to: https://www.new.globe.com.ph/simreg/
Type in your Globe (mobile) number then click register.
Wait for the One-time PIN to be sent to your modem inbox.
To get to your modem inbox, follow these steps:

Open a new browser.
Go to this link: http://192.168.254.254/
Then find your username and password located on your modem.

Log in using the username and password to go to your modem inbox
Click "SMS" to see the one-time PIN (OTP) message.
Go b+ack to the registration portal, then enter the OTP.
Fill out the form, making sure that all the information provided is correct.
Take a selfie then upload it along with one (1) government ID.
Tick the checkboxes that apply to you. Note: You don't have to check all boxes, so read carefully to find out what only applies to you. Then click submit.
Once your reference number comes up, this means you're already registered!
Meanwhile, for new subscribers, you need to follow the instructions in your device's manual on how to connect to your modem. After this, you may follow the steps for existing users, as outlined above.
How to Register with your DITO Sim Card
+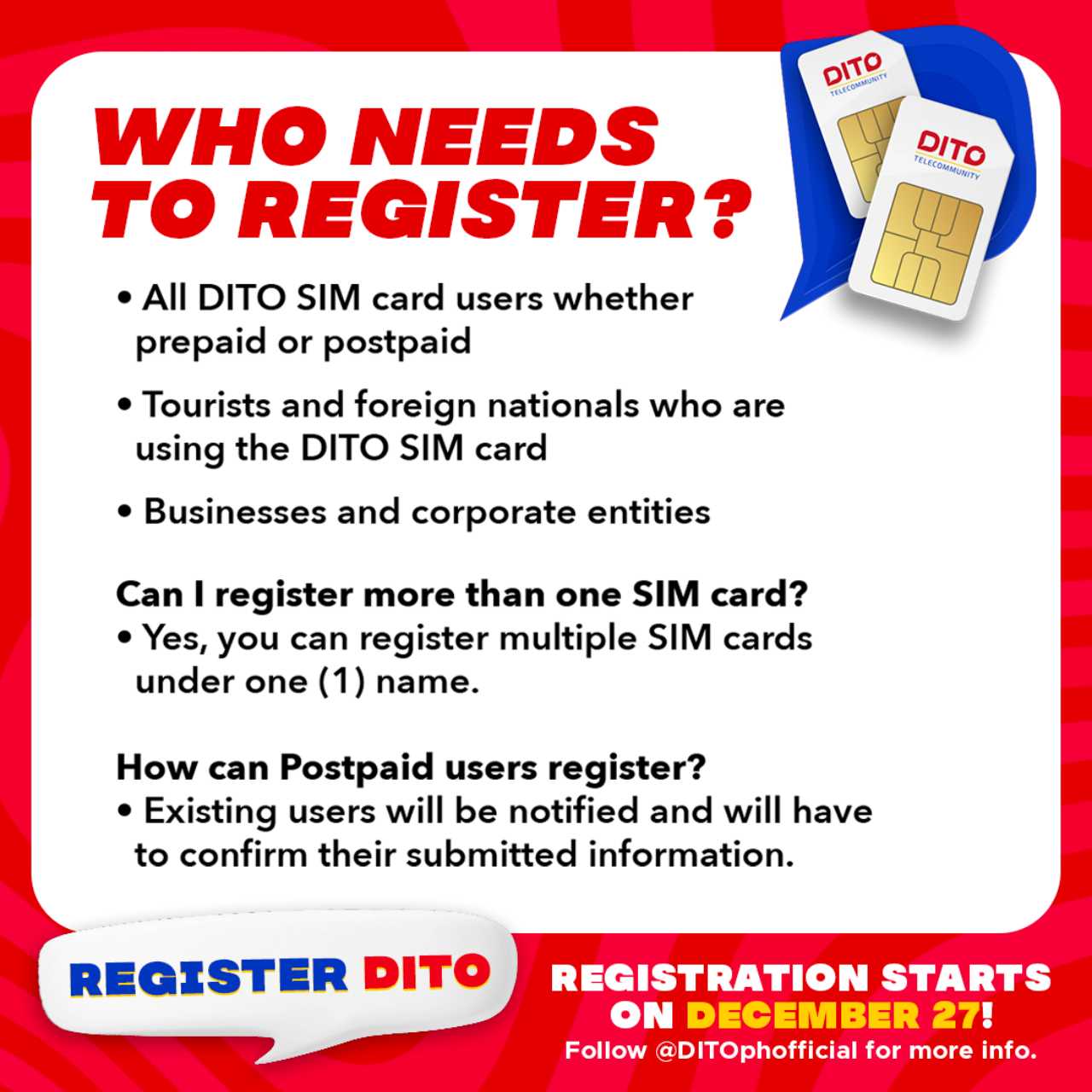 ++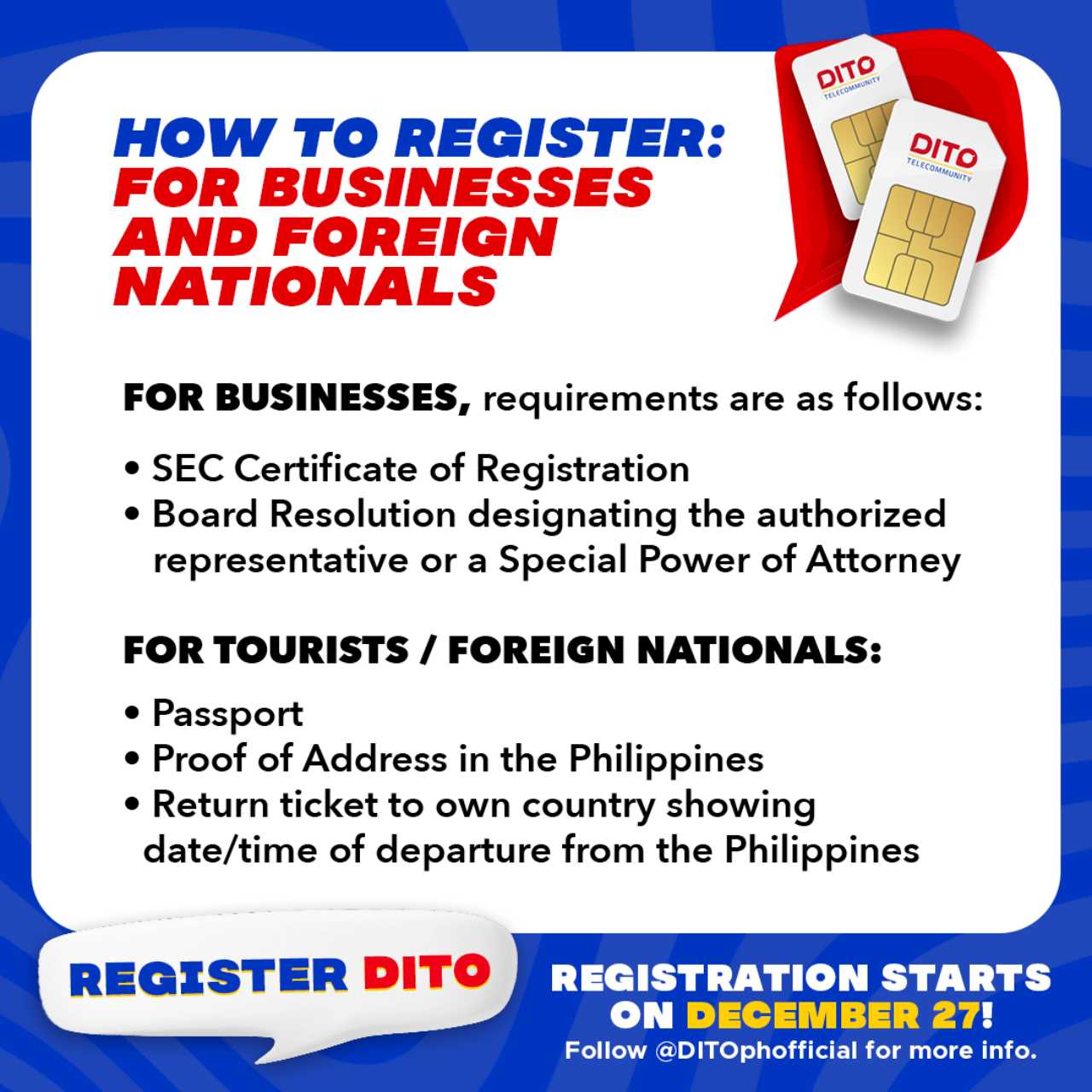 ++ automatically. They may only be reactivated once they have been registered in compliance with the law.
6. What information will I be required to provide according to the law?
The law maintains that people should use their given (legal) names and phone numbers when creating accounts on social media and similar websites. This is to prevent people from using fake names and numbers to create their profiles on these platforms, which can be used for criminal activities.
7. What are the possible drawbacks to this new law?
State surveillance has become a concern in other countries that have comparable laws. Peru, Brazil, and Mexico, for instance, have implemented regulations for telecommunications companies that mandate the collection and identification of mobile user information, which can subsequently be utilized by law enforcement officials.
8. Which actions are subject to punishment under RA 11934?
RA 11934 categorizes the failure or rejection to register a cellphone SIM card as a criminal act. The registration process must not involve the use of forged or fictional identities or information, the selling of stolen SIM cards, or the transfer or sale of a card without complying with the necessary registration. Additionally, infringing on confidentiality constitutes a breach of the law.
9. What is the role of the National ID in the SIM Card Registration law?
The Philippine National ID System (Philsys) is a national database that will collect and store every Filipino citizen's name, birthdates and bar codes. The Philsys was originally slated to be implemented by March 2021 but has since been delayed for an as-yet-undetermined length of time.
Local telecommunications companies, also known as telcos, are advocating for an acceleration of the national ID system's implementation and additional preparation time to comply with the law.
According to Froilan Castelo, the general counsel for Globe Telecom Inc., their stance on this issue has been unambiguous from the start. They firmly believe that a national ID system is essential to guarantee the smooth and secure implementation of this new law. Castelo made this statement on Monday.
Summary
With the passing of the Sim Card Registration Bill into law, Filipinos have to be more careful with the use and access to their SIM cards. They should also be more prudent when dealing with illegal sellers who may use their cards for unauthorized purposes. This law will certainly help in curbing crime, but it's up to everyone to make sure that they follow it.
As society becomes more digitally connected, it's important to be aware of laws that govern what we do online. It's also important to ensure you know the rules yourself so you don't get into trouble when you use the internet. If you're not sure how to stay safe online, check out our guide on how to protect your data and privacy on social media.
We hope that you have found this article helpful. If you have any questions or comments, please comment in the section below. We'd love to hear from you!