The Department of Science and Technology (DOST) is the country's premier science and technology governing body with the mandate of providing central direction, leadership, and coordination of scientific and technological development activities. There are many DOST branch offices in each region and province in the Philippines. Please be guided on the list of DOST locations in the country. below.
Also Read: How to Apply DSWD Pantawid Pamilyang Pilipino Program (4Ps)
As an executive agency, DOST is in charge of formulating and implementing policies, programs, and projects to support national development in the fields of science and technology.
The DOST was not always a full cabinet. It has a long history of existence but it only became a full-fledged agency in 1987. Since then, the department has been serving the Filipinos, by finding ways to innovate and expand and extend their services to more people. In an aim to popularize and promote science and the DOST projects, programs and services, they put up regional, provincial, and satellite offices in the regions. In this article, we listed all the DOST regional and provincial offices and their complete and updated contact information.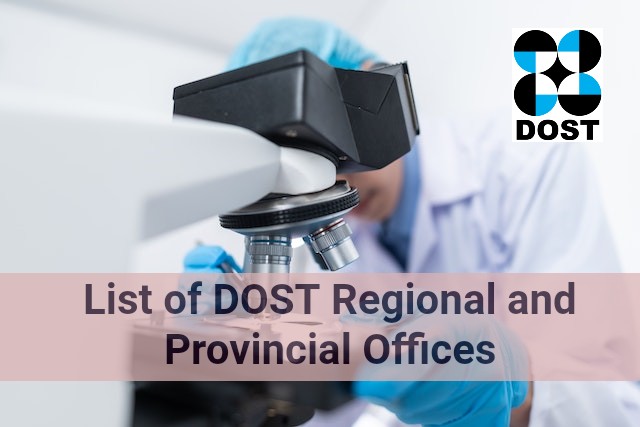 DOST Regional and Provincial Offices in the Philippines
Here's the complete and updated list of DOST Regional and Provincial Offices in the Philippines.
DOST National Capital Region (NCR)
DOST NCR Regional Office
Office Address: DOST-NCR Regional Office, General Santos Avenue, Bicutan, Taguig City
Contact No.: (+632) 8519-8702
Email Address: records@ncr.dost.gov.ph
Official Website: http://ncr.dost.gov.ph
DOST Clustered Area Science and Technology Office CAMANAVA (Caloocan, Malabon, Valenzuela, Navotas)
Office Address: Gov. Pascual Ave, cor A. Reyes St,
Malabon, Metro Manila
Tel. No.: +632 8519-8702 local 5001
Email Address: camanava@ncr.dost.gov.ph
DOST Clustered Area Science and Technology Office MUNTAPARLAS (Muntinlupa, Taguig, Pateros, Paranaque, Las Pinas)
Office Address: Muntinlupa City Technical Institute, 2F, San Guillermo St., Brgy. Putatan, Muntinlupa
Tel. No.: +632 8519-8702 local 2001
Email Address: muntaparlas@ncr.dost.gov.ph
DOST-Clustered Area Science and Technology Office PAMAMARISAN (Pasig, Mandaluyong, Marikina, San Juan)
Office Address: Room 2005, Main Academic Building, Rizal Technological University, Boni Ave, Mandaluyong
Tel. No.: +632 8519-8702 local 3001
Email Address: pamamarisan@ncr.dost.gov.ph
DOST-Clustered Area Science and Technology Office PAMAMAZON (Pasay, Makati, Manila, Quezon City)
Office Address: Philippine Science High School, Agham Rd, Diliman, Quezon City, Metro Manila
Tel. No.: +632 8519-8702 local 4001
Email Address: pamamazon@ncr.dost.gov.ph 
DOST Cordillera Administrative Region (CAR)
DOST CAR Regional Office
Office Address: BSU Cmpd., Km. 6, La Trinidad, Benguet 2601
Telefax No.: (074) 422-2214 | Tel. No.: (074) 422-0979
Email Address: records@car.dost.gov.ph
Official Website: http://car.dost.gov.ph/
CAR Provincial Science & Technology Office/Center (PSTO/PSTC)
DOST Abra
Office Address: Calaba, Bangued, Abra
Contact Person: Engr. Ralf B. Sapi-il, Provincial Science and Technology Director
Contact No.: (974) 614-3709
Email Address: pstc-abra@car.dost.gov.ph
DOST Apayao
Office Address: Apayao Prov'l Capitol Compound, Luna, Apayao
Contact Person: Engr. Debbie Glynn V. Manangkil, Provincial Science and Technology Director
Contact No.: 0977-855-7087
Email Address: pstc-apayao@car.dost.gov.ph
DOST Benguet
Office Address: BSU Cmpd., Km. 6, La Trinidad, Benguet
Contact Person: Dr. Sheila Marie S. Claver, Provincial Science and Technology Director
Contact No.: 0917-818-81-75
Email Address: pstc-benguet@car.dost.gov.ph
DOST Ifugao
Office Address: IFSU MAin Campus, Nayon, Lamut, Ifugao
Contact Person: Engr. Genna B. Jallorina, Provincial Science and Technology Director
Contact No.: 0977-830-0042
Email Address: pstc-ifugao@car.dost.gov.ph
DOST Kalinga
Office Address: Hilltop, Bulanao, Tabuk City, Kalinga
Contact Person: Ms. Dexy M. Catacutan, Officer-in-charge, Provincial Science and Technology Director
Contact No.: (074) 627-5165
Email Address: pstc-kalinga@car.dost.gov.ph
DOST Mountain Province
Office Address: Sac-angan, Upper Caluttit, Bontoc, Mt. Province
Contact Person: Mr. Alfonso K. Berto, Provincial Science and Technology Director
Contact No.: 0917-657-0081
Email Address: pstc-mtprovince@car.dost.gov.ph
DOST Region I
DOST Regional Office No. I
Office Address: DMMMSU-MLUC Campus, City of San Fernando, La Union 2500 Philippines
Contact Person: Dr. Armando Q. Ganal, Regional Director
Tel. No.: (072) 888-3399
Fax: (072) 888-3399
Mobile: 0917 840-8695 (Globe) | 0998 962-0232 (Smart)
Email Address: aqganal@region1.dost.gov.ph
Official Website: http://region1.dost.gov.ph
Region I Provincial Science & Technology Office/Center (PSTO/PSTC)
DOST Ilocos Norte
Office Address: Batac, Ilocos Norte, Philippines
Contact Person: Mr. Benjamin S. Mercado, Jr., Provincial Director
Tel. No.: (077) 670-1815
DOST Ilocos Sur
Office Address: Vigan City, Ilocos Sur, Philippines
Contact Person: Engr. Jordan L. Abad, Officer-in-Charge
Tel. No.: (077) 722-3347
DOST La Union
Office Address: San Fernando City, La Union, Philippines
Contact Person: Mr. Jonathan M. Viernes, Provincial Director
Tel. No.: (072) 242-0663
DOST Pangasinan
Office Address: Lingayen, Pangasinan, Philippines
Contact Person: Engr. Arnold C. Santos, Provincial Director
Tel. No.: (075) 529-1764
DOST Urdaneta
Office Address: Urdaneta City, Pangasinan, Philippines
Contact Person: Ms. Jennifer C. Fernandez, Officer-in-Charge
Tel. No.: (075) 632-4530
DOST Region II
DOST Regional Office No. II
Office Address: Dalan na Paccurofon, corner Matunung St., Regional Government Center, Carig Sur, Tuguegarao City, Cagayan 3500 Philippines
Contact Person: Ms. Virginia G. Bilgera, Regional Director
Tel. No.: ORD – (078) 396-0763 / FOS 396-0720 / TOS (396)-0546
Official Website: http://region2.dost.gov.ph
Region II Provincial Science & Technology Office/Center (PSTO/PSTC)
DOST Cagayan
Office Address: DOST 02 Compound, Regional Government Center, Carig Sur, Tuguegarao City, Cagayan
Contact Person: Engr. Sylvia T. Lacambra, Provincial S&T Director – Cagayan
Contact No(s): (078) 377 2360 / 0967 700 3254
Email Address: pstc.cagayan@gmail.com
DOST Isabela
Office Address: Sinabbaran Road, ISU Compound, San Fabian, Echague, Isabela
Contact Person: Mr. Lucio G. Calimag, Provincial S&T Director
Contact No: 0916 636 7727
Email Address: dostpstcisabela02@gmail.com
DOST Quirino
Office Address: DOST Building, Quirino State College, Diffun, Quirino
Contact Person: Engr. Rocela Angelica B. Gorospe, Provincial S&T Director
Contact No(s).: 0916-636-7727
DOST Nueva Vizcaya
Office Address: Nueva Vizcaya State University – Bayombong Campus, Bayombong, Nueva Vizcaya
Contact No: 0917 899 2145
Email Address: dostnuevavizcaya@yahoo.com.ph
DOST Batanes
Office Address: National Road, San Antonio, Basco, Batanes
Contact Person: Ms. Nora T. Garcia, Provincial S&T Director – Batanes
Contact No.: 0927 839 0265
Email Address: dost.pstc.batanes@gmail.com
DOST Region III
DOST Regional Office No. III
Office Address: Diosdado Macapagal Government Center, Maimpis, City of San Fernando, Pampanga 2000 Philippines
Contact Person: Mr. Julius Caesar V. Sicat, PHD, CESO III, Regional Director
Tel. No.: 0917-822-7563
Email Address: records@ro3.dost.gov.ph
Official Website : https://region3.dost.gov.ph/
Region III Provincial Science & Technology Office/Center (PSTO/PSTC)
PSTO Aurora
Office Address: Baler Legislative Building, Baler, Aurora
Contact Person: Ms. Maricel M. Sicat, Provincial Science And Technology Director
Globe: 0917-820-7581
Telephone No.: (042) 724-6603
Email Address: pstoaurora@ro3.dost.gov.ph
PSTO Bataan
Office Address: Capitol Compound, City of Balanga, Bataan
Contact Person: Ms. Catalina D. Cruz, Provincial Science And Technology Director
Globe: 0917-822-1599
Telephone No.: (047) 633-5015
Email Address: dost3_bat@yahoo.com.ph
PSTO Bulacan
Office Address: Bulacan State University, Main Campus, MacArthur Highway, Malolos, Bulacan
Contact Person: Ms. Angelita Q. Parungao, Provincial Science And Technology Director
Globe: 0917-822-1785
Telephone No.: (044) 791-5255
Email Address: dost.bulacan@yahoo.com.ph
PSTO Nueva Ecija
Office Address: DOST Compound, Central Luzon State University (CLSU), Science City of Muñoz, Nueva Ecija
Contact Person: Ms. Leidi Mel B. Sicat, Provincial Science And Technology Director
Globe: 0917-822-2849
Email Address: pstonuevaecija@ro3.dost.gov.ph
PSTO Pampanga
Office Address: Capitol Compound, City of San Fernando, Pampanga
Contact Person: Ms. Mary Michelle M. Quiambao, Provincial Science And Technology Director
Globe: 0917-822-2568
Telephone No.: (045) 961-0967
Email Address: pstopampanga@ro3.dost.gov.ph
PSTO – Tarlac
Office Address: Tarlac State University (TSU), Romulo Blvd., Tarlac City
Contact Person: Ms. Karen Y. Dañez, Provincial Science And Technology Director
Globe: 0917-822-2852
Telephone No.: (045) 491-4028
Email Address: pstotarlac@ro3.dost.gov.ph
PSTO – Zambales
Office Address: Main Office: Rm. 306 Olongapo City Hall, Rizal Avenue, West Bajac-bajac, Olongapo City
Satellite Office: 35-A National Highway, Lower Kalaklan, Olongapo City
Contact Person: Ms. Bernardita D. Montevirgen, Provincial Science And Technology Director
Globe: 0917-822-5928
Telephone No.: (047) 223-7560
Email Address: pstc.zambales@yahoo.com
DOST Region IV-A (CALABARZON)
DOST Regional Office No. IV-A
Office Address: Regional Science and Technology Center, Jamboree Rd, Los Baños, Laguna
Contact Person: Ms. Emelita P. Bagsit, Regional Director IV DOST CALABARZON
Tel. No.: (049) 536 4997
Official Website : http://region4a.dost.gov.ph
Region IV-A Provincial Science & Technology Office/Center (PSTO/PSTC)
DOST Cavite
Office Address: Provincial Capitol Building, Brgy. Luciano, Trece Martires City, Cavite 4109 Cavite Philippines
Tel. No.: +63 46 419- 2311
Email Address: ask@cavite.gov.ph
DOST Batangas
Office Address: Provincial Engineer's Office Compound, Kumintang Ilaya, Batangas City, Batangas 4200 Philippines
Tel. No.: (Smart) 09989881774, (Globe) 09176303377
Telefax PSTC Office: (043) 723-61-15
RVCL: (043) 425-40-41
DOST Laguna
Office Address: Brgy. Del Remedio, San Pablo City, Philippines
Email Address: laguna@ro4a.dost.gov.ph
DOST Rizal
Office Address: University Of Rizal System, DOST Bldg., Marigman St., Brgy. San Roque, Antipolo City, Antipolo, Philippines
Tel. No.: (+63) (2) 691 5949
Email Address: pstcriz@dost.gov.ph
DOST Quezon
Office Address: 2/F, Mseuf Building, Granja Corner Enverga Streets, Lucena City 4300 quezon
Tel. No.: (+63) (42) 710 6232
Email Address: pstcque@dost.gov.ph
DOST Region IV-B (MIMAROPA)
DOST Regional Office No. IV-B
Office Address: 4/F DOST-PTRI Building, Gen. Santos Avenue, Bicutan, Taguig City
Contact Person: Ms. Ma. Josefina P. Abilay, Regional Director
Tele No.: (02) 837-2071 loc 2092 or 2093
Telefax No.: (02) 837-3755
Email Address: official@mimaropa.dost.gov.ph
Official Website: https://region4b.dost.gov.ph
Region IV-B Provincial Science & Technology Office/Center (PSTO/PSTC)
DOST PSTC Occidental Mindoro
Office Address: Blessings 1 Bldg., F.Y. Manalo Avenue, Barangay Pag-asa, San Jose, Occidental Mindoro
Contact Person: Ms. Maria Ethelwilda G. Coronacion, Provincial S&T Director
Tel. No.: (043) 457-0796
CP no. 0920-969-6224
Email Address: pstc.occimindoro@mimaropa.dost.gov.ph
DOST PSTC Oriental Mindoro
Office Address: 2/F HM Center Building, J.P. Rizal St., Camilmil, Calapan City, Oriental Mindoro
Contact Person: Mr. Jesse M. Pine, Provincial S&T Director
Telefax No.: (043) 288-6791
Tel. No.: (043) 288-6791, Smart: 09088668929
Email Address: pstc.ormindoro@mimaropa.dost.gov.ph
DOST PSTC Marinduque
Office Address: PSTC Building, PEO Capitol Compound, Bangbangalon, Boac, Marinduque
Contact Person: Ms. Bernardo T. Caringal, Provincial S&T Director
Telefax No.: (042) 332-0302
Smart:09501413310
Globe:09457059747
Email Address: pstc.marinduque@mimaropa.dost.gov.ph
DOST PSTC Romblon
Office Address: JP Laurel St., Brgy. Tabing-dagat, Odiongan, Romblon 5505
Contact Person: Ms. Marcelina V. Servañez, Provincial S&T Director
Smart: 09989844385
Globe: 09778368162
Telefax No.: (042) 567-2488
Email Address: pstc.romblon@mimaropa.dost.gov.ph
DOST PSTC-Palawan
Office Address: PSTO-Palawan Office, Government Center, Brgy. Sta. Monica, Puerto Princesa City, Palawan
Contact Person: Engr. Pacifico T. Sariego III, Provincial S&T Director
Tel. No.: (048) 433-0489
Smart: 0908-813-2610
Globe: 0917-884-4332
Email Address: pstc.palawan@mimaropa.dost.gov.ph
DOST Region V
DOST Regional Office No. V
Office Address: Regional Center Site, Rawis Legazpi City Albay 4500 Republic of the Philippines
Rommel R. Serrano, Regional Director
Tel. No.: (052) 7420911
Email Address: dost.ro5.ord@gmail.com
http://region5.dost.gov.ph
Region V Provincial Science & Technology Office/Center (PSTO/PSTC)
DOST Albay
Office Address: Regional Government Center, Tiwi Coastal Road, Legazpi City, 4500 Albay
Tel. No.: (052) 820 5385
DOST Camarines Norte
Office Address: Camarines Norte State College, Daet, 4600, Camarines Norte, F. Pimentel Ave, Daet, Camarines Norte
Tel. No.: (054) 440 0980
Email Address: dost_camarinesnorte@yahoo.com.ph
DOST Camarines Sur
Office Address: 2/F Bicol Science Centrum, J. Miranda Avenue, Concepcion Pequeña, Naga City, 4400, Camarines Sur
Tel. No.: (054) 811 2466
Email Address: Camsur@ro5.dost.gov.ph
DOST Sorsogon
Office Address: Sorsogon State College, Sorsogon City, 4700 Sorsogon
Tel. No.: 0917 732 5553
Email Address: dostpstcsorsogon@gmail.com
DOST Catanduanes
Office Address: Provincial Science And Technology Center, Barangay Santa Cruz, Virac 4800 Catanduanes
Tel. No.: +63528111640
DOST Masbate
Office Address: Espinosa Apartment, Mabini Street, Masbate City, 5400, Masbate
Tel. No.: (056) 333 2642
Email Address: Masbate@ro5.dost.gov.ph
DOST Region VI
DOST Regional Office No. VI
Office Address: Magsaysay Village, La Paz, Iloilo City, Iloilo 5000
Tel. No.: (033) 330-1565, (033) 320-0907, (033) 508-6739 (Globelines)
Fax No.: (033) 320-0908
Email Address: ord@ro6.dost.gov.ph
Official Website : http://region6.dost.gov.ph
Region VI Provincial Science & Technology Office/Center (PSTO/PSTC)
DOST Aklan
Office Address: Capitol Compound, Kalibo, Aklan, Kalibo
Tel. No.: (036) 268-5685
DOST Antique
Office Address: Binirayan Sports Complex, San Jose de Buenavista, Antique, San Jose de Buenavista
Tel. No.: (036) 540-8026
DOST Capiz
Office Address: Capiz State University (CAPSU)-Roxas Compound, Fuentes Drive, Hemingway Street, Roxas City, Capiz
Tel. No.: (033) 522-1044
DOST Guimaras
Office Address: PSHS Research Center, Alaguisoc, Jordan, Guimaras, Jordan
Tel. No.: 0917-309-4323
DOST Iloilo
Office Address: La Paz, Iloilo City, 5000 Iloilo
Tel. No.: (033) 508-7183
DOST Negros Occidental
Office Address: Cottage Rd, Bacolod, 6100 Negros Occidental
Tel. No.: (034) 435-9175
DOST Region VII
DOST Regional Office No. VII
Office Address: Gov. M. Cuenco Ave, Cebu City, 6000 Cebu
Contact Person: Engr. Jesus F. Zamora, Jr. , Regional Director
Tel. No.: (032) 2548269 / 5204830
Email Address: jesusjr.zamora@region7.dost.gov.ph
Official Website : http://region7.dost.gov.ph
Region VII Provincial Science & Technology Office/Center (PSTO/PSTC)
PSTC Cebu
Office Address: Gov. M. Cuenco Ave, Cebu City, 6000 Cebu
Contact Person: Engr. Juan Edgar C. Ororio, Officer-In-Charge
Tel. No.: (032) 2548269 / 5204830
Email Address: juanedgar.orosio@region7.dost.gov.ph
PSTC Bohol
Office Address: Lino Chatto Drive, Tagbilaran City, 6300 Bohol
Contact Person: Ms. Vina R. Antopina, Provincial S & T Director
Telefax No.: (038) 412-3620; 501-7070
Email Address: vina.antopina@region7.dost.gov.ph
PSTC Negros Oriental
Office Address: 24 Yakal Street, Daro, Dumaguete City, Negros Oriental
Contact Person: Atty. Gilbert R. Arbon, Provincial S & T Director
Telefax No.: (035) 225-4551; 421-2100
Email Address: gilbert.arbon@region7.dost.gov.ph
PSTC Siquijor
Office Address: Baluarte St, Siquijor
Contact Person: Engr. Mario E. dela Peña , Provincial S & T Director
Telefax No.: (035) 480-9018; 344-2008
Email Address: mario.delapena@region7.dost.gov.ph
DOST Region VIII
DOST Regional Office No. VIII
Office Address:Government Center, Candahug, Palo, Leyte, Philippines
Mobile Phone: (0917) 304-3335
Tel. No.: (053) 888-4203, (053) – 323-6356 & 323-7066
Tele/Fax (053) – 323-7110, 323-7111 & 323-6036
Email Address: records@region8.dost.gov.ph
Official Website: http://region8.dost.gov.ph
Also Read: How to Apply for the DOST 2020 Scholarship Programme
Region VIII Provincial Science & Technology Office/Center (PSTO/PSTC)
PSTC Biliran
Office Address: NSU Compound, Caibiran Cross, Country Road, Naval, Biliran
Tel. No.: (053) 507-9527, (053) 500-9347
Email Address: rdignos@hotmail.com
PSTC Southern Leyte
Office Address: Capitol Site, Asuncion, Maasin, Southern Leyte.
Tele/Fax Number: (+63 53) 381 3990, (053) 802-5984
Email Address: pstcsoleytedost@gmail.com
PSTC Samar
Office Address: SSU Compound, Catbalogan City;
Tel. No.: (055) 251-6286
PSTC Eastern Samar
Office Address: ESSU- Main Compound, Borongan Eastern Samar;
Contact Person: Mr. Arnaldo T. Amosco, Jr., PSTD
Tel. No.: 09185159990
PSTC Northern Samar
Office Address: UEP Compound, Catarman N. Samar; Contact Person: Ms. Veronica A. Laguitan, PSTD
Tel. No.: 09981925726
DOST Region IX
DOST Regional Office No. IX
Office Address: (Main Office) 2nd Flr. Limbo Bldg., Sanson St. cor. Roxas St., Barangay San Francisco, Pagadian City
(Office of the Regional Director) Pettit Barracks, Barangay Zone IV, Zamboanga City
Contact Person: Dir. Martin A. Wee, Regional Director
Tel. No.: (062) 947-3894, (062) 991-1024
Fax: (062) 992-1114
Email Address: ord@ro9.dost.gov.ph/martin.wee@ro9.dost.gov.ph
Official Website : http://region9.dost.gov.ph
Region IX Provincial Science & Technology Office/Center (PSTO/PSTC)
PSTO Zamboanga del Sur
Office Address: 1st Flr. Limbo Bldg., Sanson St. cor. Roxas St., Barangay San Francisco, Pagadian City
Contact Person: Engr. Gerardo F. Parot, Provincial S&T Director
Tel. No.: (062) 925-1838
Fax. (062) 925-1838
Email Address: gerardo.parot@ro9.dost.gov.ph
PSTO Zamboanga del Norte
Office Address: Upper Turno, Dipolog City
Contact Person: Mr. Nuhman M. Aljani, Provincial S&T Director,
Tel. No.: (065) 908-0117
Fax. (065) 212-2244
Email Address: nuhman.aljani@ro9.dost.gov.ph
PSTO Zamboanga Sibugay
Office Address: 2nd Floor Faundo Bldg., National Highway, Poblacion, Ipil, Zamboanga Sibugay
Contact Person: Ms. Jennifer A. Pidor, Provincial S&T Director
Tel. No.: (062) 955-0825
Fax. (062) 955-0825
Email Address: jennifer.pidor@ro9.dost.gov.ph
DOST Region X
DOST Regional Office No. X
Office Address: J.V. Serina St., Carmen, Cagayan de Oro City 9000 Philippines
Contact Person: Mr. Alfonso P. Alamban, Regional Director
Tel. No.: (088) 858-3931 TO 33
Fax: (088) 858-3931 to 33
Email Address: ord@region10.dost.gov.ph, dostreg10@yahoo.com, Al.alamban@gmail.com
Official Website : http://region10.dost.gov.ph
Region X Provincial Science & Technology Office/Center (PSTO/PSTC)
PSTC Bukidnon
Office Address: Vicente Neri, Capitol Grounds, Malaybalay, Bukidnon
Contact Person: Mr. Virgilio M. Fuentes, Provincial S&T Director
Tel. No.: (+63) (088) 813-5463
PSTC Camiguin
Office Address: Capitol Compound, Mambajao, Camiguin
Contact Person: Mr. Miriam A. Dela Plaza, Provincial S&T Director
Tel. No.: (+63) (088) 387-0039, 09176773334
PSTC Lanao del Norte
Office Address: MSU – IIT Campus, Tibanga, Iligan City
Contact Person: Engr. Ferdinand A. Soliven, Provincial S&T Director
Tel. No.: (+63) (063) 222-2980, 09176773335
PSTC Misamis Oriental
Office Address: Luna St., Cagayan de Oro City
Contact Person: Engr. Junelyn – Louvena B. Ruiz, Provincial S&T Director
Tel. No.: (+63) (088) 880-3627, 09176773336
PTSC Misamis Occidental
Office Address: Independence – Calapini Sts., Oroquieta City
Contact Person: Ms. Eufresnie Anne Simbajon, Provincial S&T Director
Tel. No.: (+63) (063) 531-1332, 09176773331
DOST Region XI
DOST Regional Office No. XI
Office Address: Davao City Science And Technology Center, 12 Friendship cor. Dumanlas Rds., Bajada, Davao City
Tel. No.: (082) 227-1313
Fax: (082) 221-5428
Email Address: ord@region11.dost.gov.ph, cstc.davao@region11.dost.gov.ph
Official Website : http://region11.dost.gov.ph
Region XI City and Provincial Science & Technology Office/Center (PSTO/PSTC)
Davao De Oro Provincial Science And Technology Center
Office Address: G. Echavez Ave., Purok 10, Poblacion, Nabunturan, Compostela Valley
Tel. No.: (084) 817-0016
Email Address: pstc.davaodeoro@region11.dost.gov.ph
Davao Del Norte Provincial Science And Technology Center
Office Address: University of Southeastern Philippines, Apokon, Tagum City
Tel. No.: (084) 216-2415
Email Address: pstc.davaodelnorte@region11.dost.gov.ph
Davao Del Sur Provincial Science And Technology Center
Office Address: GF, Luayon Real Estate and Construction Bldg., Gloria St., Ch 10, Brgy. Aplaya, Digos City, Davao del Sur, 8000
Tel. No.: (082) 553-3469 / 333-0233
Email Address: pstc.davaodelsur@region11.dost.gov.ph
Davao Oriental Provincial Science And Technology Center
Office Address: 4 Valles Bldg., Sto. Niño Street, City of Mati, Davao Oriental
Tel. No.: (087) 388 4085
Email Address:: pstc.davaooriental@region11.dost.gov.ph
Davao Occidental Provincial Science And Technology Center
SPAMAST Mini Gym bldg, Malita, davao Occidental
Tel. No.: (+63) 932-613-3274 / (+63) 916-594-8045
Email Address: pstc.davaooccidental@region11.dost.gov.ph
DOST Region XII
DOST Regional Office No. XII
Office Address: Philippine National Halal Laboratory and Science Center, Brgy. Paraiso, Koronadal City
Contact Person: Engr. Sammy P. Malawan, CESE, Regional Director
Tel. No.: (083) 826-0114
Email Address: sammymalawan@region12.dost.gov.ph
Official Website: http://region12.dost.gov.ph
Region XII Provincial Science & Technology Office/Center (PSTO/PSTC)
DOST Cotabato Provincial Office
Office Address: 2nd Floor Esperanza Bldg, Quezon Blvd, 9400 Kidapawan City
Contact Person: Mr. Michael T. Mayo, Provincial Director
Tel. No: (064) 577-5174, (083) 826-0119
Hotline Numbers: 0953-431-7822 (Globe/TM)
0951-849-0880 (Smart/TnT)
TeleFax No.: (064) 521-1674
Email Address: CotabatoProvince@region12.dost.gov.ph
DOST Sultan Kudarat Provincial Office
Office Address: Unit 1-b Ground Floor, Mervic Commercial Bldg. (Lamdam Annex), Ledesma St, Ext., Poblacion, Tacurong City
Contact Person: Ms. Zenaida D. Guiano, Provincial Director
Tel. No.: (064) 271 2844
Mobile No. : (+63) 09088122629
Email Address: pstc.sk@region12.dost.gov.ph
DOST Provincial Science and Technology Center – South Cotabato
Office Address: Door 4, ACEPAL Building, Alunan Avenue, Koronadal City
Contact Person: Engr. Mohammad Naif Z. Abdulazis, Acting Provincial Director
Tel. No. : (083) 228-2342
Email Address: pstc_southcot@region12.dost.gov.ph
DOST Provincial Science and Technology Center–Sarangani Province and General Santos City
Office Address: Barangay Hall Compound, Calumpang, General Santos City 9500
Contact Person: For. Nabil Hadji Yassin, Acting Provincial Director
Email Address: pstc_sargen@region12.dost.gov.ph
Tel /Fax No. : (083) 554-7997
Also Read: Filipino Scholar Joins Russia's Elite Space Program
DOST CARAGA Region
DOST Regional Office – CARAGA Region
Office Address: CSU Campus, Ampayon Butuan City
Contact Person: Engr. Noel M. Ajoc, OIC-Regional Director
Tel. No.:(085) 342-9053
Fax No.:(085) 342-5684
Email Address: noel.ajoc@caraga.dost.gov.ph, dost13@caraga.dost.gov.ph
Official Website: https://caraga.dost.gov.ph
CARAGA Provincial Science & Technology Office/Center (PSTO/PSTC)
PSTC Agusan Del Norte
Office Address: CSU Campus, Ampayon, Butuan City
Contact Person: Ms. Meriam B. Bouquia, Provincial S&T Director
Tele/Fax No.:(085) 342-6225
Email Address: pstc.adn@caraga.dost.gov.ph
PSTC Agusan Del Sur
Office Address: Government Center Patin-ay, Prosperidad Agusan del Sur
Contact Person: Engr. Andrea J. Cabonita, Ph.D., Provincial S&T Director
Tele/Fax No.:(085) 343-7194
Email Address: dost.ads@caraga.dost.gov.ph
PSTC Surigao Del Norte
Office Address: 3/F Ricardo Bldg., In front of PCI Bank cor. San Nicolas-Magallanes Streets Surigao City
Contact Person: Ms. Mariel P. Makinano, Provincial S&T Director
Tele/Fax No.: (086) 826-5392
Email Address: pstc.sdn@caraga.dost.gov.ph
PSTC Surigao Del Sur
Office Address: SDSSU Main Campus Tandag, Surigao del Sur
Contact Person: Ms. Caressa Leanne V. Lim, Provincial S&T Director
Tele/Fax No.:(086) 214-3400
Email Address: pstc.sds@caraga.dost.gov.ph
PSTC Dinagat Islands
Office Address: San Jose, Dinagat Islands
Contact Person: Mr. Roberto Zandro J. Olaguer, Provincial S&T Director
Email Address: pstc.pdi@caraga.dost.gov.ph
DOST Bangsamoro Autonomous Region in Muslim Mindanao (BARMM)
Ministry of Science and Technology – Bangsamoro Autonomous Region in Muslim Mindanao (DOST Regional Office)
Office Address: BARMM Complex, Cotabato City
Tel. No.: (064) 421 8183
Email Address: most@bangsamoro.gov.ph
Official Website: http://armm.dost.gov.ph
Also Read: GOOD NEWS: DOST to Launch First-Ever Cure to Dengue