Are you a chef looking to work in Australia? One way to do it is to get hired through a working visa that allows companies in Australia to import chefs from other countries. While this limits your number of work years, there are many opportunities to extend that or even get a permanent residence.
Also Read: How Much is the Salary of Nurses in Australia?
Working as a chef in Australia means being a part of a busy culinary landscape while getting paid a lucrative salary. Your career and knowledge in this art will definitely grow, and having this experience in your resume will surely make you a sought-after chef if you choose to work elsewhere, practically anywhere, around the world.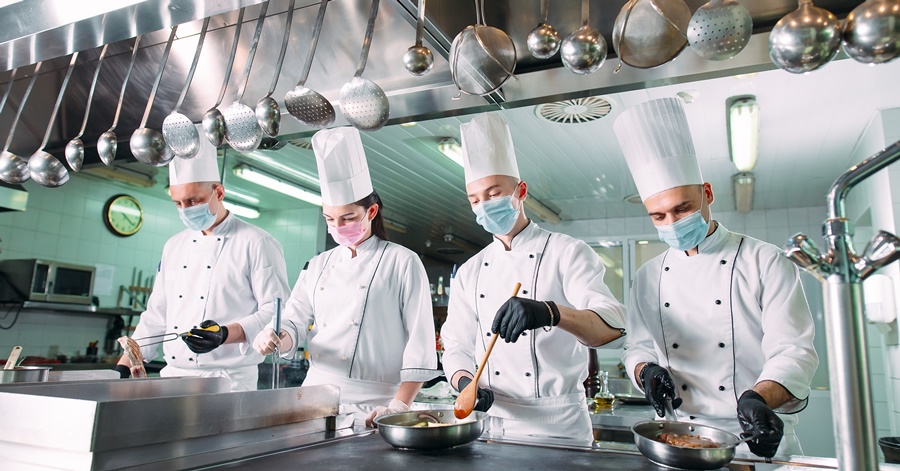 Disclaimer: The information posted here is based on the personal experiences shared by the OFW in the video below. Please let this post serve as a guide only. If you have specific questions, you may ask the OFW by commenting on their video on their accounts.
Everything You Need to Know About Being a Chef in Australia
The information presented below is from a Filipino chef based in Australia Kim Solejon. You can watch the full video below:
How to be a Chef in Australia
There's not a direct, single path to becoming a chef in Australia. Everybody has different experiences and skillsets, and one cannot discount the fact that many professionals, in general, end up with their jobs coming from a non-traditional route.
That being said, this article features the path taken by the vlogger in the video above, and this is probably the most likely path you need to take in order to pursue your culinary dream job. Here are some of the steps you can take in order to be a Chef in Australia:
Have the right bachelor's degree
Get a professional diploma
Have an internship abroad, if possible
Get work experience
Apply for a job in Australia through a local agency in the Philippines
In order to be a chef anywhere, you most likely need to have the proper college education. For the vlogger, she mentioned that she is a graduate of Bachelor of Science in International Hospitality and Management major in Cruise and Operations and Culinary Arts at the Lyceum of the Philippines University. She graduated from this four-year course last 2013.
After that, she studied again, getting a Professional Diploma in Culinary Arts at Global Academy. As a result, for educational background, she has both a Bachelor's Degree and a Professional Diploma.
She's had several jobs after graduating from college. She started work for a catering company. That's where she learned about preparing for events and other basic aspects of being in a catering business.
After this experience, she got a contract with Nutri-Asia. Here she experienced how to become a product demo chef. As a product demo chef, one of your tasks is to tour around malls and groceries, and in fact, it was one of her more lucrative jobs. She was able to save money to study at Global Academy.
The vlogger mentioned that she applied in Australia through an agency in the Philippines. In her opinion, if you want to go and work in Australia, it's better to have a local agency because they tend to have tie-ups with other agencies in Australia. This setup can definitely help you find and land a job easier in the country.
After graduating from Global Academy, her initial plan was to go back to the US where she had her internship. But eventually, her mind opened up to the possibility of going to Australia to work as a chef, and that's where she currently is.
Salary of a Chef in Australia
When she started as a chef back in 2016 under the 457 working visa, the minimum salary for chefs at that time is 54,000 Australian dollars per year. In Philippine pesos, this is equivalent to around PHP 1.97 million per year, or around PHP 165,000 per month.
Since that is the minimum, you can definitely earn higher than that. This now depends on the company that hired you. The law requires companies to pay the chefs they hire overseas to earn at least this amount of money annually.
This amount is just the gross salary, though. Tax is around 20 percent of your income.
Every year, the salary gets higher. However, this is coupled with the fact that the cost of living increases as well.
Cost of Living in Australia
The cost of living in Australia depends on where you are based. The vlogger mentioned that she lives in Mosman, which is near Sydney. She decided to live where her workplace is, just like most of her workmates, ensuring that she's just a walking distance away from it. In fact, she said that it actually takes her just 8 minutes to go to the restaurant.
By staying near her workplace, she avoids:
Having to ride a bus to work
Buying a car just to go to work
Having said that, Mosman is known to be one of the most expensive suburbs. As a consequence, the apartment rents are quite pricey.
When it comes to accommodation, you have the following choices:
Shared house – a house owner rents their rooms. Usually, there are around 5 to 6 rooms in a house. This is priced at around 200 to 250 AUD per week. That's equivalent to a price range of 7,300 to 9,100 pesos per week.
Apartment – a one-bedroom or two-bedroom apartment ranges from 400 to 600 AUD per week. That is equivalent to 15,300 to 21,900 pesos per week.
The vlogger mentioned that she is now renting a two-bedroom apartment because she is with her sister. She pays around 600 AUD per week.
This apartment has a living room, a kitchen, a bathroom, and a great view of the nearby beach. Another great thing about living here is, as mentioned above, it's just a walking distance away from her work. She does plan on staying in her own house someday, though.
She also has workmates that live far away. They have to drive or catch a bus or train. It usually takes them around an hour to go to work, and that's something the vlogger doesn't want, even if the rent is probably cheaper outside Mosman.
Working Hours of a chef in Australia
It's a common thing to have a double shift as a chef. That means she is working both day and night. At first, she was working from 7 AM to 11 PM. Back in 2017, she would work 60 to 72 hours per week.
This was really hard for her, and actually, she used the word brutal. Sometimes, she says, she couldn't feel her body anymore. That also meant she really didn't enjoy her first year in Sydney because all her hours are consumed by work.
Eventually, though, the working hours of chefs in Australia are slowly being reduced. Nowadays, she is now working 45 to 50 hours a week.
Work Experience
For her internship, the vlogger mentioned that she was able to work for a company in the US. Back in 2015, she had an internship in Hyatt Regency of Atlanta, Georgia for one year. She tapped the services of an agency as well for this experience since again, that truly made her application process easier. All she needed to do is submit the necessary documents, and even for that, the agency helped her prepare.
An agency will also help in terms of informing you of missing documents you need to submit. That's a great burden removed from your mind, and for a price, your application experience will be way less stressful and a lot more seamless and smooth flowing.
inHow to Get a Chef Job to Australia
When she had her internship back in the US, she initially thought that was her eventual destination; to work in the USA. In fact, this was always on her mind back then. However, she later found out that there are many opportunities in Australia. This encouraged her to apply.
Her working journey in Australia wasn't that easy at all. It was really difficult at first because of the long working hours she had to endure. It was difficult for her to stand for so long because of her scoliosis as well.
Still, she was thankful for that experience because it made her stronger. Now that her workload is nowhere near as difficult, she perceives it as so much easier, and she can accept extended hours wholeheartedly because she's had that training at the start.
Cost of Applying in a Philippine Agency for a Job in Australia
In terms of finding the right agency, she recommends the following steps:
Search for reputable agencies online
Go to agency offices personally if you can
Compare various agencies and try to determine which one works best for you
The estimated cost of the services of an agency going to Australia, according to the vlogger is around PHP 200,000 to PHP 280,000. It's actually not that expensive when compared to what you will be earning once you get a job in Australia.
The 457 Work Visa
The 457 working visa that was mentioned in this video is a visa that allows employers to sponsor immigrant workers. These workers are then allowed to work for 4 years in skilled work, and they can even let their family members get in Australia as well. These family members can even study or work during their stay in the country.
Challenges of Working Abroad
The most challenging thing is being away from your parents. In her case, she has very supportive parents that allow her to do whatever she wants. Every time she goes home, she sees that they are getting older. She is exploring the world and spreading her wings but at the cost of spending time with her parents.
Having said that, she still thinks she is fortunate to be an OFW in this generation, where smartphones are highly accessible and the internet connects her to her family instantly through video calls and social media. She still feels that she's with her family.
Another good thing about working in Australia is that there is a 2 or 3-hour difference in the Philippines.
Tips on how to be motivated
She's been through a lot of struggles. When she was having her internship in the US, it was difficult for her as well since it's her first time being away from home.
She shares the following tip to stay motivated:
Think about why you are where you are in the first place.
Try not to give up
Reward yourself
Think about what your initial goals were and how you felt when you were still dreaming about being in the place you currently are now.
She keeps repeating these thoughts in her head. It wasn't her plan to stay long in Australia. Her plan was to gain experience in Europe, like France or Spain. However, there was an opportunity to become a permanent resident in Australia, so that's why she stayed.
It never crossed her mind to give up. To her, too many questions and doubts about your future arise if you give up the OFW job you started. She also thinks that she fails her parents if she gives up. So for her, giving up is not an option.
She used to get really exhausted from work, plus she didn't know how to rest. She doesn't even reward herself, and was really just focusing on saving money. Enjoying life was far from her priorities back then. She would rather spend for her sister and her loved ones.
After some time, she finally learned how to work hard and look forward to the weekend or days off. It is definitely important to learn how to enjoy and reward yourself, and this can go a long way into staying motivated to work.
Benefits of Being a Permanent Resident
As a permanent resident, you get to have a lot of benefits or entitlements. These include:
Staying in Australia for as long as you want
Working and studying in Australia
Enrolling in Medicare, the national health scheme of the country
Buying property through bank loans
Sponsoring relatives so they can be permanent residents as well
Being a citizen of Australia if qualified
Working in New Zealand
There are limitations though. There are things only citizens can do or have which permanent residents cannot. These include the following:
Only Australian citizens can have an Australian passport
Only citizens can vote during the government elections
Only citizens can have access to student loans
Only citizens can join the Defense Force
Only citizens can get an ongoing job in the government
Citizens don't need a valid travel facility to go in and out of the country
There you have it. I hope you learned a lot about being a chef in Australia. As the vlogger mentioned, it's not easy at first, but things will get better, and the rewards definitely outweigh the negatives.