Now that some parts of the world has reopened its borders to international travellers, including our overseas Filipino workers (OFWs), there's much discussion as to what needs to be secured, presented, and verified – at least in the Philippines – to allow our kababayan to return to and travel for work abroad.
In line with this, Information and Communications Technology Undersecretary Emmanuel Caintic, clarified to the members of the House of Representatives on Friday (August 27), that the proposed VaxCertPH will not replace the BOQ's yellow card as proof of vaccination against COVID-19 for international travel purposes.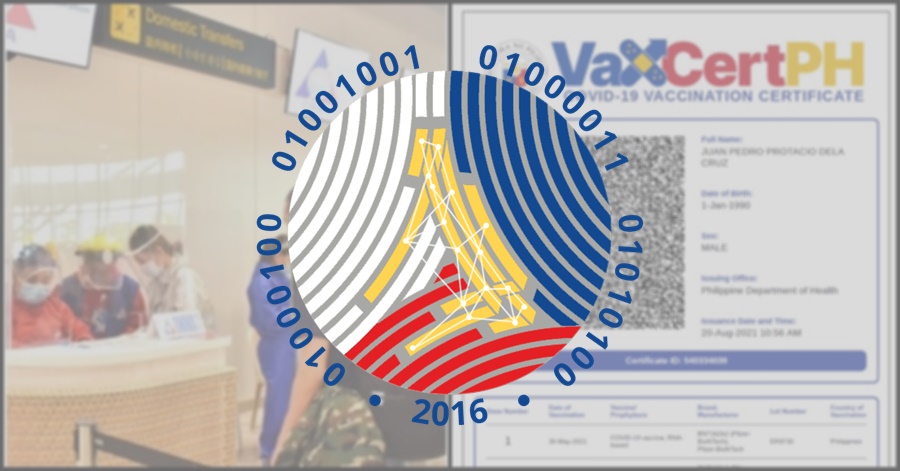 VaxCertPh Not to Replace BOC 'Yellow Card' – DICT
The Department of Information and Communications (DICT) made this clarification as they gave a 'first look' at the proposed vaccine certificate, ABS CBN News reported.
"What is the difference between VaxCertPH and the yellow card? It was mentioned by the Asec (assistant secretary) of the DFA na yellow card is already internationally recognized and ang kailangan lang talaga is depende sa country," Nueva Ecija 1st District Rep. Estrelita Suansing asked.
To this, the ICT undersecretary explained that the certificate will be used by seafarers as proof of vaccination against COVID-19 and other diseases before travel.
Suansing further probed: "If yellow card is already recognized internationally bakit meron pang VaxCertPH (why do we need VaxCertPH)? Is VaxCertPH a support to yellow card? Ano ito, mawawala na ang yellow card (will it replace the yellow card)?"
Caintic responded that the World Health Organization was the one that had instituted the yellow card in 196 nations.
Despite this, there is more information needed in certificates than what is currently provided in the yellow cards; hence, the need for a new document.
"Ang kumplikado po kasi sa COVID-19 mas kailangan 'yan ng datos na 1st dose, 2nd dose, anong brand, kailan tinurok, may mga dagdag na mga variances… kung kaya ang WHO gumawa sila ng bagong standard. Kailangan siya maging digital, kailangan simple lang, mava-validate mo digitally kung valid ba ito (What's more complicated with COVID-19 is that there's other information required for verification, such as the dates for the first and second dose, the brand of the drug, when it was administered, since there are new variants – this is why the WHO has established a new standard. These [certificates] have to be digital, simple, and easily verifiable digitally)," Caintic said.
The undersecretary added that the Philippines, due to this initiative, has become one of the earliest adaptors of the digital certification system for COVID-19.
Suansing responded by urging her fellow lawmakers to make a call to make the yellow card, which currently costs P370, free of charge.
"May bayad ang yellow card sa BOQ. I'm really looking forward doon sa libre sana (There's a fee for the BOQ yellow card. I'm looking for it to be free of charge.)," she said.
Caintic noted that both certifications will have to be used for now. And those that do not need to get certifications for non-COVID-19 vaccines can just request the digital VaxCertPh.
READ NEXT: