Since travel restrictions have been easing up for most parts of the world, many OFWs may be wondering how to apply for a yellow card for OFWs. This is important because an international certificate of vaccination (ICV) or more commonly known as the "yellow card" is an important travel document issued by the Bureau of Quarantine. This document will certify your vaccination status and eligibility for travel, specifically overseas.
Also Read: How to Register in One Health Pass Philippines Online – Philippine Travel Pass
Many OFWs have been stuck in the country, unable to return to their employers abroad for months or even more. But now, with more people getting vaccinated and the daily new cases becoming more manageable in the country, OFWs are given the chance once more to apply for overseas travel.
With this, one of the most important documents you'll need to secure is a yellow card. If this is your first time applying for one, then keep reading until the end of this guide.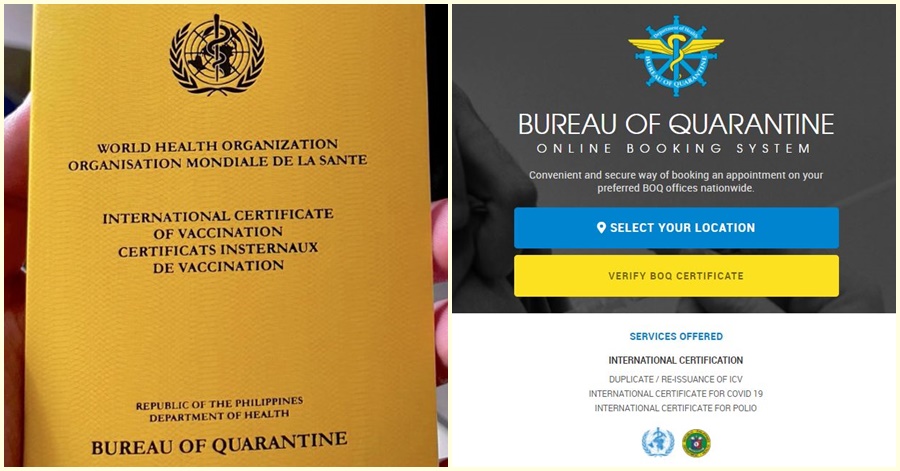 What is a Yellow Card for OFW?
The Yellow Card is a common term for the "International Certificate of Vaccination" issued by the Philippines the Bureau of Quarantine (BoQ). The Yellow Card for OFW is a document that records a person's vaccinations that are required for travel abroad. It is recognized by World Health Organization member states.
The Bureau of Quarantine is a division of the Department of Health of the Philippines. It is set up to handle the issuing of yellow cards to international travelers.
As per the Philippine Overseas Employment Administration (POEA), OFWs must secure this document in order to travel to countries that require them. As of this writing, a total of 196 member countries of the World Health Organization (WHO) require an ICV yellow card for inbound travelers, including overseas Filipino workers.
Thus, there is a high chance that your destination country will require you to present a yellow card, so make sure that you know the steps or process of applying for one.
What are the Benefits of having a Yellow Card?
Aside from the necessity of this document for international travel purposes, an ICV yellow card offers other benefits for holders, too. Having this document means you have an internationally recognized document certifying the validity and status of your vaccinations, including against the dreaded COVID-19, which is still prevalent in other parts of the world.
Also, to ensure accessibility and convenience of travel, the ICV has a digital version, which you can request from the issuing agency. Another benefit is that the certificate is valid for at least one (1) year, depending on when you received your vaccination.
In reality, this is more than just getting a card. Being able to do this will prove that your body has the proper resources and defenses against viral infections. It will also benefit you and your loved ones. Being able to do this will allow you to avoid getting sick and getting others around you infected, as well.
What are the Yellow Card Requirements?
To secure a yellow card from the BOQ (in the Philippines), you need to present the following documents:
Confirmed and paid appointment schedule
Vaccination card issued by the recognized vaccination establishment.
Valid Passport
How to Apply for Yellow Card for OFWs in Philippines (Step by Step Registration Guide)
The ICV Yellow Card is the sole record that you need to have when traveling abroad. It is recognized by the World Health Organization (WHO) and its participating member countries.
In addition, the National COVID-19 Vaccination Operations Center (NVOC) has issued certain guidelines regarding the application of yellow card.
As per Advisory No. 101 of the Philippine Overseas Employment Administration, the yellow card is only issued to outbound travelers who have been fully vaccinated.
Before you apply for a yellow card, make sure that you ask about the requirements for the country of destination that you're going to.
Once you've inquired about the ICV requirement of your travel destination, here are the steps you'll need to accomplish:
Step 1: Setting an Appointment.
To set an appointment, go to https://icv.boq.ph and enter your personal details and the date and location of your choice.
You will need to enter your personal information and details about your vaccinations in order to complete the appointment.
After submitting this information, you will be able to generate a reference number that will be used when paying for the vaccinations.
Step 2: Payment
To confirm your slot, you need to pay through the BOQ's Pisopay partner network. This can be done in any of the agency's partner payment facilities, such as LBC branches or 7/11 stores nationwide.
If you decide to pay electronically, you can either use Paymaya or GCASH services.
Aside from using a credit or debit card, you can also pay through online banking, such as BancNet, BPI, and Security Bank.
Step 3: Reporting at your Scheduled Appointment
Once the booking is confirmed, all you need to do is present the necessary documents and payment receipt on your appointment date. Be sure to arrive on schedule. Otherwise, your appointment might be revoked, and you'll have to re-do the process from the start.
Step 4: Printing a Yellow Card
Once you finish the application process, you can claim the printed certificate from the BOQ personnel.
How to Set up Online Appointment for Yellow Card for OFW
Did you know that setting an appointment for the yellow card can be done online? This is to ensure that the process can be done conveniently and hassle-free, even for those who live far away from the metro.
For a COVID-19 ICV (yellow card), you need to visit https://icv.boq.ph/ to book an appointment.
Input your personal info and vaccination record, and other supporting files or photos. After completing this step, you will be issued a reference number that you'll need to pay to secure a booking appointment at the BOQ.
Video: Getting a Yellow Card or ICV at Bureau of Quarantine in the Philippines 2022
Here's a short video providing an overview of the ICV yellow card issued by the BOQ. In this video, you will find the eligibility, qualifications, requirements, and step-by-step process in applying for this document this 2022. This will greatly help you better understand the process of securing a yellow card as conveniently and quickly as possible.
The vlogger of Bubuyog's World also shared that the reason she applied for this document is for travel purposes. So, this is not only required of OFWs but even those who wish to fly abroad anytime soon. The process is quite simple, so remember to bookmark this guide for easy reference.
Frequently Asked Questions (FAQs)
1. Who Can Get an ICV?
Currently, only those individuals who are fully vaccinated can get an ICV from BOQ.
2. Where Can I Get an ICV?
You can schedule an appointment at any of the following offices and satellite locations.
BOQ Metro Manila

BOQ Port Area, Manila
BOQ SM Mall of Asia Satellite Office
BOQ Robinsons Place Manila Satellite Office
BOQ SM North Edsa Satellite Office (issuance of COVID-19 ICV only)
BOQ Eastwood Satellite Office
BOQ Mc Kinley Satellite Office
BOQ Resorts World Manila Satellite Office

BOQ Luzon

BOQ Batangas
BOQ Subic
BOQ La Union
BOQ Laoag
BOQ Palawan
BOQ Tabaco

BOQ Visayas

BOQ Bacolod
BOQ Cebu
BOQ Iloilo
BOQ Kalibo

BOQ Mindanao

BOQ Cagayan de Oro
BOQ Davao
BOQ General Santos
3. How Much is an ICV?
The cost for requesting an ICV for COVID-19 is P300 + convenience fee. Special discounts are also given to senior citizens and persons with disability. You can also pay for the service through various means online.
4. How Do I Pay for the Yellow Card?
You can pay for your order in cash or through electronic payment methods, with service fees ranging from P40 to P70. These options can be made available to you through your third party or online payment partners.
Cash Payment Partners – Pay cash via LBC, 7Eleven, Cebuana Lhuiller, Family Mart, etc.
E-Money Payment Partners – Pay via GCash, Cliqq, and PayMaya
5. What to Bring on your Day of Appointment?
Bring your valid ID, passport, and vaccination card. These must be uploaded to the system and must be presented on the day of your appointment.
6. What if I can't get an appointment at the BOQ?
You can also check their website to see if they have any available slots. Usually, they get filled up fast. But if your travel date is approaching, then you can get in touch with them and ask for expedited processing.
7. How to expedite your BOQ appointment?
This can only be availed by international travellers leaving within seven to 10 days. Here are five steps you should do:
Enroll in the BOQ online booking system.
Request for expedited application to expedite@boq.ph with your reference number and confirmed flight date as the email subject. (e.g. PPBGOQ123456789 – MM/DD/YYYY)
Include your confirmed flight information in your email.
Wait for confirmation within 24 to 48 hours.
Go to your assigned BOQ office and present your confirmed email appointment.
8. What is the Yellow Card Express Lane?
For overseas Filipino workers wanting to receive an ICV, the Bureau of Quarantine will now give them a fast lane.
According to Roberto Salvador, BOQ Deputy Director, the new policy aims to make it easier for overseas workers to get their ICVs.
To be eligible for the special queue, an overseas worker must provide his or her work certificate and travel confirmation. The Philippines Overseas Employment Administration (POEA) issues an OEC for people who want to work in other countries.
Due to the increasing number of Filipinos applying for ICVs, the agency established a dedicated lane for those applying for for ICVs as proof of adequate vaccination against the new coronavirus disease (Covid-19).
9. What is the VaxCert Portal PH?
Through the VaxCertPH app, the government is already working on a consolidated list of local vaccination certificates.
The VaxCertPH certificates are expected to be accepted internationally due to their conformance with the WHO's guidelines.
In the future, Salvador stated that the ICV would be included in the system. This new system will unify various types of vaccine cards across the country.
10. What's in the VaxCert Digital Portal?
VaxCertPH is a secure database that contains the patient's personal information, including their lot number and location.
It coordinates with the VIMS database to ensure that all local government units have the correct information on their vaccines.
A recent incident in which hundreds of Filipino workers were denied entry to Hong Kong due to their vaccinations has prompted calls for a universal vaccination system.
Officials in Hong Kong stated that the cards that were issued by different local governments in the Philippines were not allowed to enter the territory.
VaxCert PH is a digital certificate that provides a secure and quick way to get vaccination and swab test result certificates. It differs from the COVID-19 test result certificates that are usually used for travel.
Additional Notes
Wear proper clothing as you would when going to any government agency (no slippers, sando, spaghetti straps, etc.)
You may request to expedite the release of your ICV if you will be leaving abroad within 7 to 10 days.
If the information provided is incorrect, the system may result in the payment being forfeited.
If you fail to attend an appointment, the payment will be forfeited. However, if the reason for not attending is medical, you can still email helpdesk.clinic@quarantine.doh.gov.ph and attach the medical certificate proving your condition.
Individuals with medical conditions that prevent them from attending their scheduled appointment can now get an authorized representative to collect their ICV.
However, in order to be considered an authorized person, the individual must have a valid ID and authorization letter for each person they will represent (they can represent up to two). They must also show proof of their client's condition, such as a medical certificate.
Final Thoughts
The process for applying for an ICV yellow card is fairly straightforward. With this guide on hand, you will have everything you need to know about this process. After reading this guide, we hope that you can easily get an ICV or a certificate of Vaccination when you're going to be working or traveling abroad. Also, make sure to keep in mind the useful notes presented here and share it with others who might need this information in the future. Keep safe kabayan, and have a safe trip!
READ NEXT: VaxCertPh Not to Replace BOC's 'Yellow Card'
Contact Information
Bureau of Quarantine
Address: 25th St, Port Area, Manila, 1000 Metro Manila, Philippines
Tel No: (02) 8527 4678
Website: https://quarantine.doh.gov.ph/
Google Map Location
Here is the map guide of the Bureau of Quarantine: