The Philippines has strict rules regarding the arrival of Overseas Filipino Workers (OFWs). Under the newest regulations released by the Inter-Agency Task Force for Emerging and Infectious Diseases (IATF-EID) via Resolution 159, which was dated 27 January 2022 and 157-B dated 10 February 2022, a new entry process for OFWs arriving at Manila's Ninoy Aquino International Airport (NAIA) requires them to go through different stages of quarantine and tests before they can successfully enter the country.
There are also other guidelines to follow upon arrival and right before they go home. Once these requirements are met, arriving OFWs can finally return to their families in peace and joy, knowing that they will be in good condition and won't be causing trouble to their loved ones due to exposure to the COVID-19 virus elsewhere.
This guide will go through all the requirements specific to OFWs arriving via airports. Here, we listed all you need to know about the requirements, testing, and quarantine protocols in the Philippines, along with the places where they can stay, before going back home to their families. However, before we go through all that, it is important to note who we refer to when saying OFW.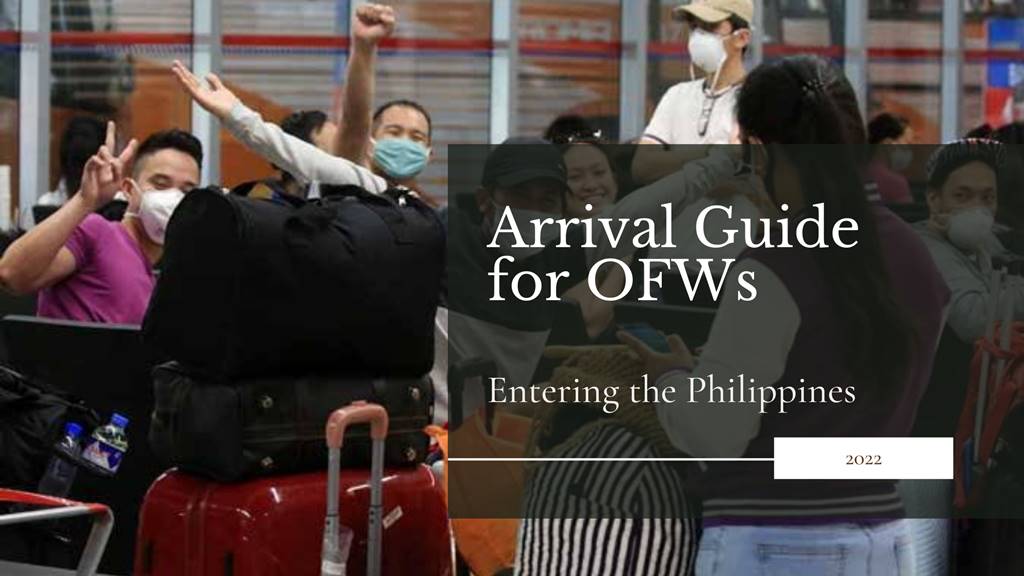 Who are considered as Overseas Filipino Workers (OFWs)?
Not all Filipinos who leave the country are considered OFWs. To help avoid confusion and provide more accurate information regarding the latest rules and requirements for when they fly in to enter the Philippines, let us define who this guide is written for, the OFWs, as defined by the Commission on Filipinos Overseas (CFO).
According to the CFO, there are several types of migrant Filipinos:
Overseas Filipinos (OF)
Overseas Filipinos (OF) is the generic term encompassing all Filipino migrants, whether permanent, temporary, legal, unauthorized or irregular.
Permanent Migrants
Filipinos abroad with no jobs—non-resident Filipino citizens and those whose stay does not depend on work contracts are called permanent migrants. Under this category are Filipino immigrants and legal permanent residents abroad, Filipino spouses of foreign nationals, Filipinos naturalized in their host country, Filipino dual citizens, and their descendants.
Irregular Migrants
Filipinos who are not adequately documented or those without valid residence or work permits may be overstaying their visa, otherwise known as TnTs (tago ng tago), make up this irregular migrant category.
Temporary Migrants
Along with the OFWs, other temporary migrants include land-based and sea-based Filipino workers, intracompany transferees, students, trainees, entrepreneurs, business people, traders, and others whose stay abroad is six months or more, and their accompanying dependents.
Overseas Filipino Workers (OFWs)
Overseas Filipino Workers (OFWs) are generally used to refer to Filipino migrant workers or those workers with Filipino citizenship residing in another country for a limited or temporary period of work, often on a contract. The original term was Overseas Contract Worker (OCW), and they make up a subset of the OFs categorized as temporary migrants. Note that the operative words here are "temporary," "work," and "contract." That said, only those Filipinos who are working under a limited-period contract abroad are bonafide OFWs.
There are two categories of OFWs:
(1) the land-based OFWs; and
(2) the sea-based OFWs (or seafarers)
However, do note that other than the bonafide migrant workers, families traveling together with at least one OFW will be collectively tagged as OFWs and would therefore follow the same procedures to enter the Philippines.
What are the procedures for returning OFWs who wish to enter the country?
Before proceeding with all the details, it is essential to note the general arrival and quarantine requirements and protocol for OFWs arriving in the Philippines. That said, we listed some tips that will help you prepare for your arrival in the Philippines.
Pre-flight
Please familiarize yourself with the testing and quarantine protocols since it constantly changes.
Make a habit of checking travel advisories and policies that may otherwise change your entire trip, depending on your vaccination status. Details are as follows:
The protocols may vary depending on their vaccination status.
As OFWs are categorized as international passengers, then there are specific requirements that they must follow, regardless of their port of entry and their final destination. To avoid problems, make sure to check your first PH arrival airport before booking the facility.
Because travel requirements change all the time, OFWs planning to come home to the Philippines are advised to check with the consular office closest to them before planning and even booking a flight home.
For more information on the different consular offices worldwide, you may check this List of DFA Consular Offices for Document Authentication.
All travelers must register to the Bureau of Quarantine (BOQ) e-Health Declaration Card (e-HDC), including children, at least three days before the departure date. To do this,

Declare your personal information, actual health status, and travel history by accurately filling out all required fields, including the Health Declaration Form (e-HDC).
Please do not forget to save a copy of your unique transaction number and your QR code upon completing the forms, as it will be required upon check-in. Failure to present the One Health Pass (OHP) QR code may result in the non-acceptance to the flight.
The BOQ will then decide on the number of quarantine days, depending on your declared profile and documents.
Download the TRAZE App; a contact tracing app considered a MUST-HAVE when using Philippine airports. To use it,

Download the app.
Then, sign up for an account.
The airline staff will check this app upon check-in.
Get an RT-PCR test within 48 hours before departure as a negative RT-PCR test result is mandatory.
Before your flight, you will need to visit the One Health Pass (OHP)website again, and you'll be asked if you are currently at the Airport of Departure or if you are Departing today for the Philippines?" Simply select YES.
Then proceed to the following steps.
Upon check-in
Sign the Declaration and Waiver Form, which will prove that you are healthy and fit to travel.
In-flight
During the flight, take the idle time to accomplish the following documents:

Arrival Card
Bureau of Customs Form
OWWA Care Slip
Make sure to double-check that the copy of your One Health Pass QR code is available.
You will be required to present it to the relevant authorities upon arrival. Please refer to the pre-flight reminders if you do not have them yet.
Upon arrival
A briefing will be conducted by the airline staff and the Philippine Coast Guard, and arriving OFWs are required to attend that upon arriving in the country.
Upon deplaning, fully vaccinated and unvaccinated passengers must go separately.

For fully vaccinated OFW passengers, you must proceed to gate number 2
For unvaccinated, partially vaccinated, and passengers with connecting flights, you must proceed to gate number 3.

Temperature Check
Upon deplaning, all travelers are required to undergo a temperature check.
Validation and Verification
Each passenger will be required to present the BOQ One Health Pass QR Code and their proof of vaccination (if vaccinated) to the dedicated Bureau of Quarantine (BOQ) representative for re-verification at the Department of Transportation One-Stop-Shop (OSS).
Sea-based OFWs, in particular, need to head to the Validation and Verification desk, where personnel shall confirm their registration.
On the other hand, land-based OFWs may skip the validation and verification process.

For fully vaccinated passengers: Proceed to Immigration Check for your clearance.
For unvaccinated and those who are partially vaccinated OFWs: Proceed to the hotel verification booth.
All travelers must go through an Immigration inspection, submit their accomplished Arrival Card, and proceed to the next step.
Claim your bags at the designated carousel and clear them with Customs Check.
Clear Customs inspection and submit the Bureau of Customs Form.
After finishing with the Customs, OFWs must proceed to the respective desks based on their previously held type of jobs.
For land-based OFWs: Proceed to the Overseas Workers Welfare Association (OWWA) desk, present your One Health Pass (OHP) QR code and hand over the OWWA Project Care slip.
Proceed to the Maritime Industry Authority (MARINA) desk for sea-based OFWs.
Hotel and Transportation Desk
Once done, you can then proceed to these hotel and transportation desks for your quarantine hotel assignment and transportation to your hotel. There, you will need to:
Present your vaccine card and certificate.
Hotel coordinators shall verify your hotel booking and assist you in your reservation if you have not made one yet.
You will also need to make arrangements for your transportation service to your assigned hotel.
If you have not pre-arranged any means for hotel transfer, you can check for the available accredited taxis. A sticker will then be placed at the back of your passport upon verification.
Once done, you may proceed as follows:

For fully vaccinated passengers: You may go straight to your hotel or go straight home.
Leave the terminal and wait for your shuttle/bus to get to your assigned hotel for quarantine for unvaccinated and partially vaccinated passengers.
At the Quarantine Hotel
For unvaccinated or partially vaccinated passengers or those who are required to undergo facility-based quarantine, check-in at the hotel and wait for the schedule of your RT-PCR test.

Please be reminded that the scheduled tests may be postponed for the next day or at a much later date if any unforeseen circumstances (e.g., typhoons, flash floods, strikes, a shift in stricter community quarantine status, etc.) occur.
Day 1 starts on the arrival date.
Suppose you develop any COVID-19 symptoms (e.g., dry cough, shortness of breath, loss of taste or smell, etc.) at any point before your scheduled swab test. In that case, you must inform the hotel so a medical staff or BBOQ officer can assess and check up on you immediately.
The Philippine government will shoulder your accommodation and food during your stay at the quarantine hotel.
The OFWs' governing agency will pay additional hotel fees due to required extensions.

Note that facility-based quarantine is no longer required for fully vaccinated passengers.
Going Home
Wait for the test results and proceed accordingly. To follow up on your test results, you may get in touch with OWWA or your respective LMAs.

If you test positive, the BOQ will take charge and transfer you to a designated hospital for better medical treatments.
If you test negative, your test result and quarantine certificate will be released within 24 hours from your swab schedule.

If you tested negative, you would check out when your negative result is released.
You will then have to present your test result to the assigned quarantine personnel at your hotel for clearance.
If you need a hard copy of your clearance certificate, printing services should be available at your hotel.

Once you are cleared, you may reach out to your relatives so they can pick you up and bring you back home.

If you are a Land-Based OFW, you may coordinate with OWWA or simply use the OWWA Uwian Na portal to get assistance for your transportation needs towards your final point of arrival or your home.
If you are a Sea-Based OFW, then you may coordinate with your Local Manning Agency (LMA), so they can assist you with further transportation needs after your final point of arrival.

You may then complete your home quarantine or self-isolation under the monitoring of your LGU and Barangay Health Emergency Response Teams (BHERT).
Things to Remember:
For those with Negative RT-PCR Test
Fully Vaccinated OFWs:

Must bring the negative RT-PCR test result taken within 48 hours before departure from the country of origin
Proof of Vaccination
No facility-based quarantine is required
Self-monitor for any tell-tale symptom of COVID-19 until the 7th day from arrival
Note that fully vaccinated Filipino Nationals shall not be included in the arrival quota set by the Department of Transportation (DOTR) and the One-Stop-Shop (OSS) desk.
For Unvaccinated, Partially Vaccinated, and Undocumented OFWs

Negative RT-PCR test results that were taken within 48 hours before leaving the country of origin
Facility-based quarantine is required until the release of the negative results
5th-day swab testing
Self-monitor for any sign or symptom of COVID-19 until after the 14th day from arrival
Unvaccinated Children or Minors

Children who are under the age of 12 or those who cannot be vaccinated must:

follow the quarantine protocols of the parents or the adult or guardian traveling with them.
They shall follow the classification and procedures based on their vaccination status.

OFW parents can accompany the minor during their facility-based quarantine.
For Fully Recovered OFWs with Positive RT-PCR Pre-Departure Test Results
Positive RT-PCR test result taken within 48 hours before departure from the country of origin
Medical certificate from a licensed doctor proving that the traveler:

has either an asymptomatic, mild, moderate, severe, or critical case of COVID-19
has completed the mandatory isolation period
is no longer infectious; and
has been allowed free movement or travel

A positive RT-PCR test was taken 10-30 days before departure from the country of origin.
Frequently Asked Questions (FAQs)
Are seafarers considered OFW?
Yes. Like land-based workers abroad, seafarers are considered OFWs as long as they are registered with the Philippine Overseas Employment Administration (POEA).
To do so, the seaman must
Are you an OFW If you are a permanent resident?
No. OFWs are, by definition, temporary migrants. On the other hand, permanent migrants, including immigrants, dual citizenship holders, or legal permanent residents abroad, whose stay does not depend on work contracts are migrants. Still, they can only be tagged as Overseas Filipinos.
Are all temporary migrants considered as OFWs?
No. Although many temporary migrants are considered OFWs by definition, some aren't. Those regarded as temporary migrants who are Non-OFWs include students, trainees, entrepreneurs, business people and their dependents overseas for at least six months.
What are the acceptable proof of vaccination?
The Bureau of Quarantine (BOQ), the Department of Transportation – One-Stop-Shop (DOTr-OSS) and the Bureau of Immigration (BOI) are all directed to recognize only the following proofs of vaccination thus approved by the IATF.
World Health Organization International Certificate of Vaccination and Prophylaxis (WHO ICV)
(1) For travelers from countries/territories who have NOT accepted VaxCertPH under a reciprocal agreement must be able to present WHO ICVW.
(2) HO ICV application procedure for may vary from country to country.
To apply for the WHO ICV, you may reach out to a local health care provider or the national health ministry office.
(3) International Filipino travelers (outbound PH) who are fully vaccinated against COVID-19 but are required by the country of destination/principal/employer to present a proof of COVID-19 vaccination may:
– Request for an International Certificate of Vaccination (ICV) from the Bureau of Quarantine (BOQ). To book an appointment, go to www.icv.boq.ph. For more information, contact the BOQ hotline: (632) 5318-7500 loc. 121.
For Filipino nationals vaccinated in the Philippines
(1) National or state digital certificate of the country/foreign government which has accepted VaxCertPH under a reciprocal arrangement
For travelers from countries/territories that accept VaxCertPH and whose vaccine certificates are acceptable in the PH; or
Other proofs of vaccination permitted by the IATF
Need more help?
In case you have other unanswered questions or you need further assistance, you may reach to either the Department of Transportation (DOTr) or the Bureau of Quarantine (BOQ) via at the following:
Bureau of Quarantine
(032) 494-7000 local 7688 to 7690
boq@gmcac.ph
Department of Transportation
(02) 8790-8300 or
(02) 8726-4925
Now that's all there is to know about the airport arrival process for OFWs entering the country. While the flow is generally similar, there are a few differences at specific points, depending on what type of passenger you belong to. RT-PCR test results also factor into the process, along with your vaccination status.
Did you find this guide helpful? Share your thoughts with us in the comment box below!