Did you know that the National COVID-19 Vaccination Operations Center has issued Advisory 55-A? This provides interim guidelines for the issuance of the International Certificate of Vaccination (ICV) also referred to as the 'yellow card' for travelers. The ICV is a World Health Organization (WHO) official immunization report (WHO). It is a type of medical passport that is recognized internationally as a travel document and may be necessary for admission into some countries where there are higher health concerns for travelers.
This document will be used until the Certificate of Vaccination Record portal is fully operational, according to the advisory. The ICV can be availed of by Filipino travellers who have been fully vaccinated locally but will be soon flying out to countries that require proof of vaccination.
Do note, however, that the ICV is NOT a requirement when traveling abroad from the Philippines. In the same manner, not all countries accept an ICV. You may apply for one if your destination country requires it. That said, you need to check the entry requirements of your country of destination.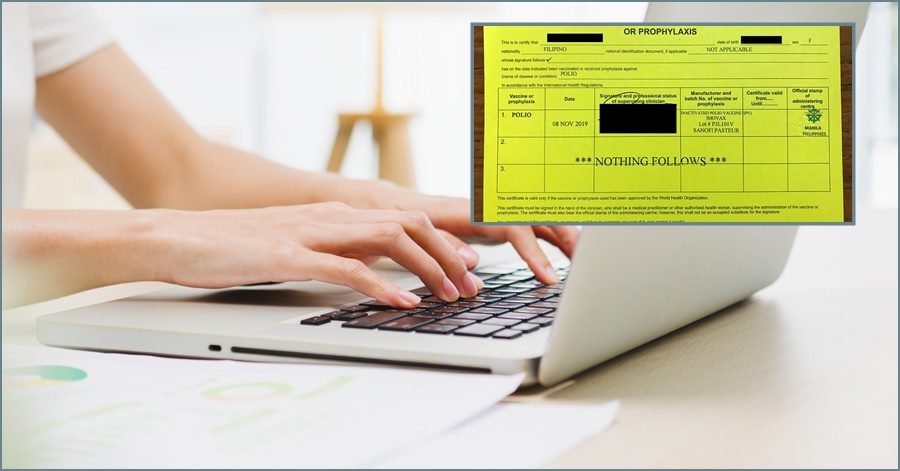 Here's a Guide to Everything Related to the International Certificate of Vaccination (ICV) or "Yellow Card"
If you're an inbound traveler who got completely vaccinated in the Philippines, you can utilize a BOQ-issued ICV as proof of vaccination to reduce the length of time you have to stay in the hotel quarantine. According to the guideline, the original or hard copy of an LGU/hospital-issued vaccination card or an LGU-issued immunization certificate can also be presented.
You can submit your vaccination card or ICV issued by the "green country" where you were vaccinated when you arrive in the Philippines if you were vaccinated outside the country. There may be additional restrictions or needs to meet.
To know how to set an appointment to get an ICV from the BOQ, be sure to read the rest of this guide.
Where to Get an ICV in the Philippines (BOQ Offices):
BOQ Main Office
BOQ Mall of Asia Satellite Office
Cebu Quarantine Station
Requirements
Before setting an appointment with the BOQ, make sure that you have the following documents:
a copy of your valid ID, and
your vaccine certificate (front and back)
How to Schedule a BOQ Appointment for ICV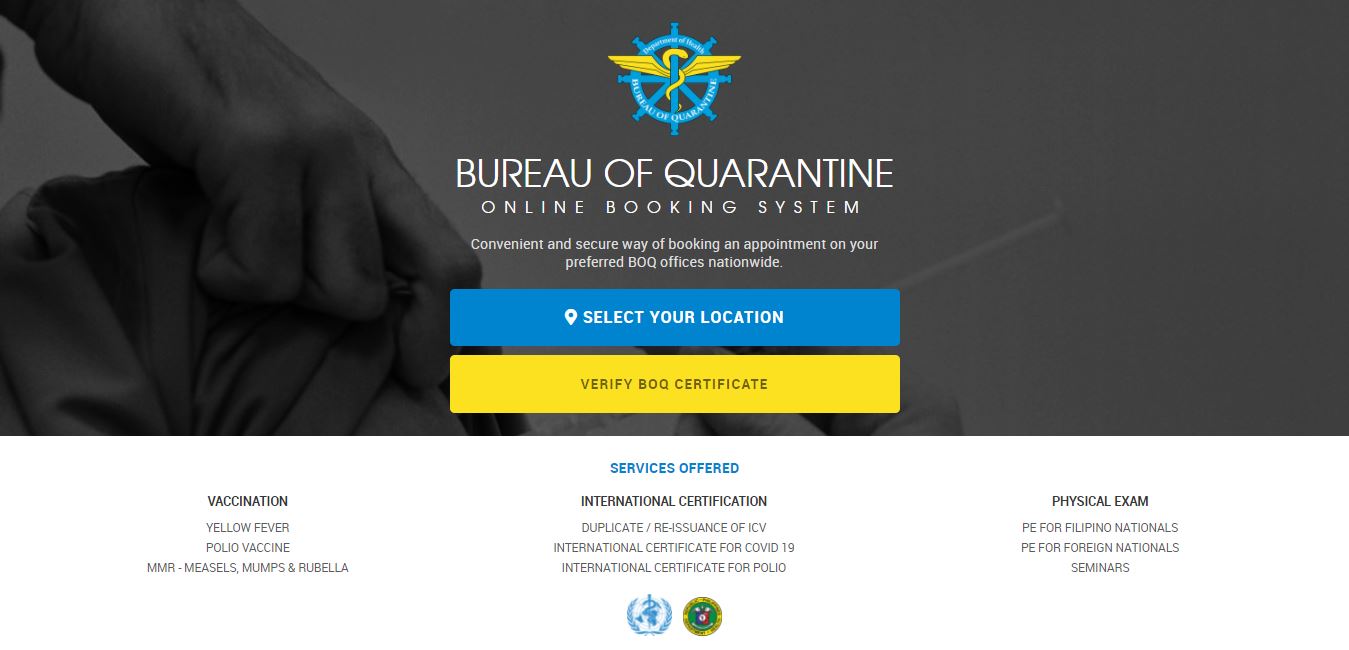 Scheduling an appointment via the BOQ Online Booking System is now convenient and secure for anyone who may need to get a certificate of vaccination for various purposes. Here are the steps to apply for one for a COVID-ICV: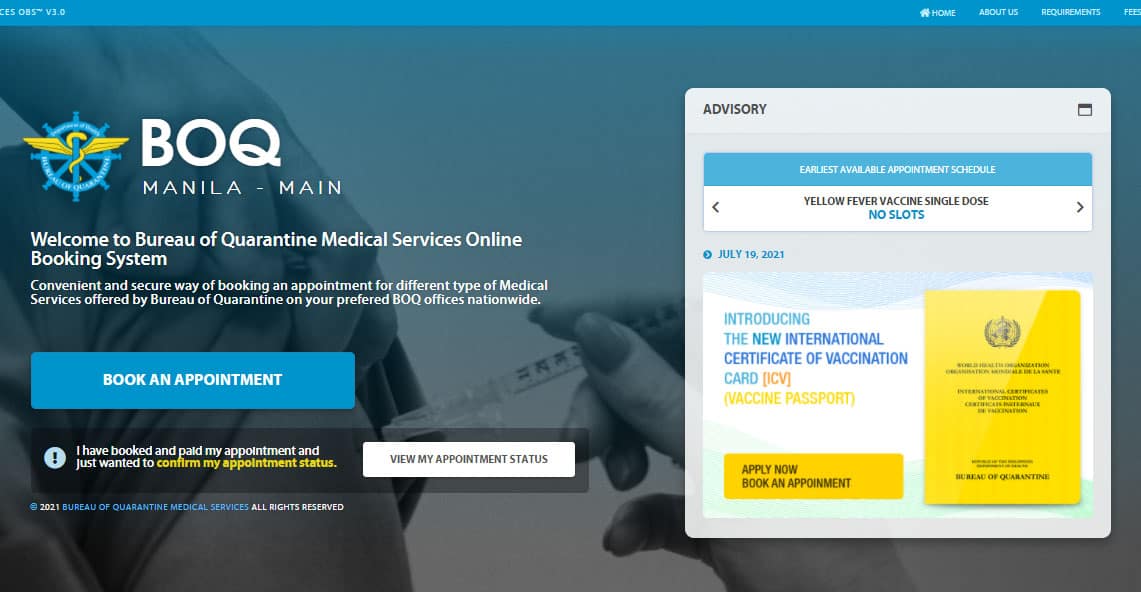 2. Choose the location where you'll receive your certificate.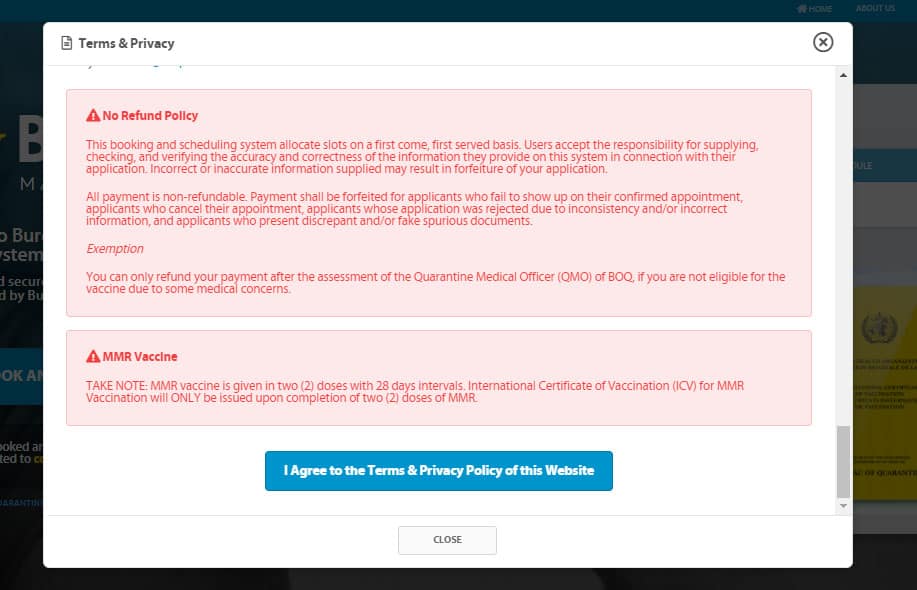 To make an appointment, click the BOOK AN APPOINTMENT option. A privacy and conditions notice will appear on the screen. After reading the policy, click the button that says, "I Agree to the Terms & Privacy Policy of this Website."
3. Provide your e-mail address.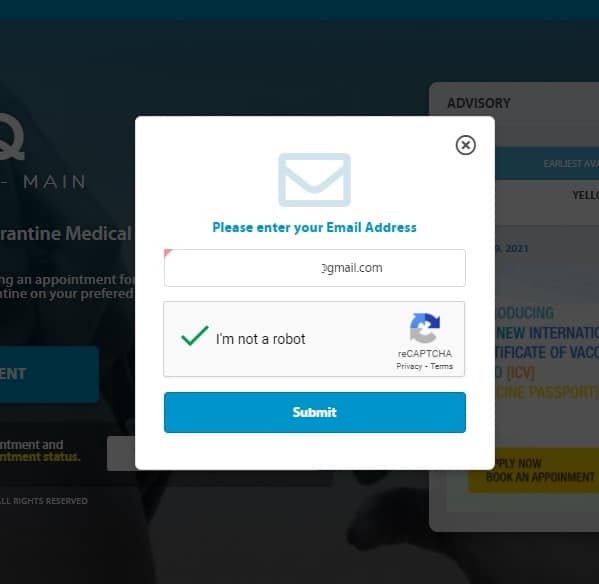 Make sure you use a valid email address to which you have access. Then click SUBMIT after checking the CAPTCHA box.
4. Select the BOQ Service you require.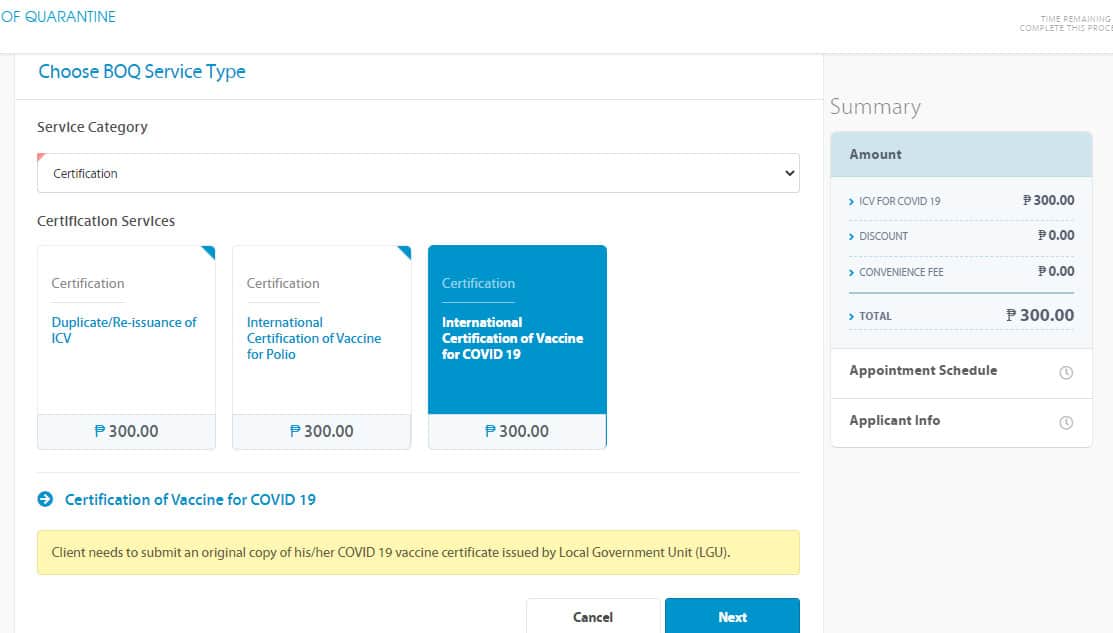 Select CERTIFICATION from the drop-down menu. Then select INTERNATIONAL CERTIFICATION OF VACCINE FOR COVID-19 and then select NEXT.
5. Choose an appointment date for your schedule.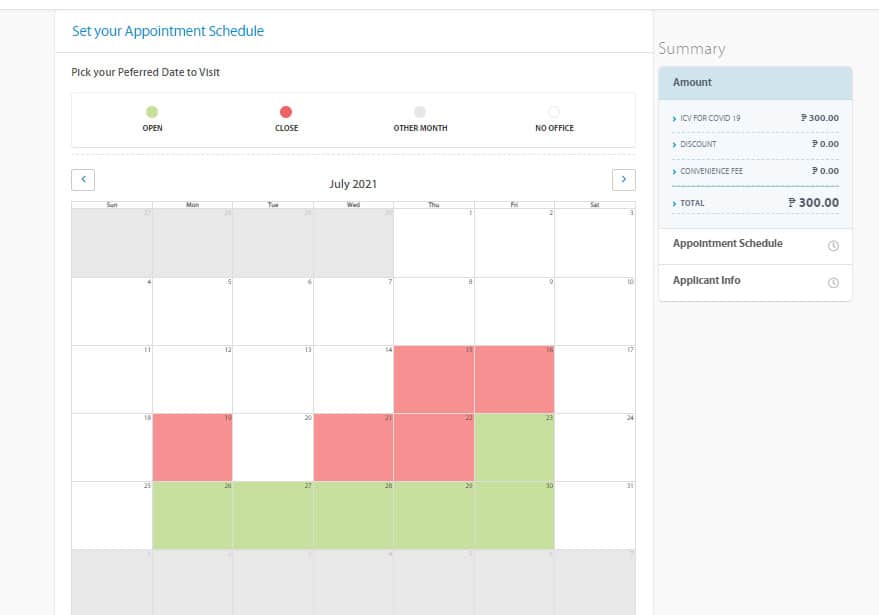 Choose a time for your appointment. The dates shown with a red asterisk are fully booked, while the dates marked with a green asterisk are open.
Choose a time after you've decided on a date. In each schedule, you'll also see the number of available slots.
6. Fill in the essential information on the form.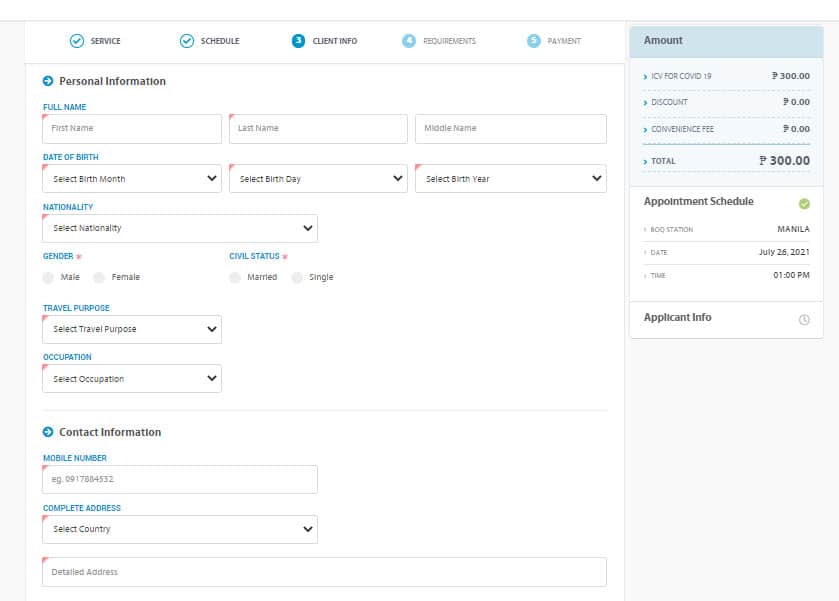 You will be required to give personal information as well as contact information. Click NEXT when you're finished.
7. Submit the requirements.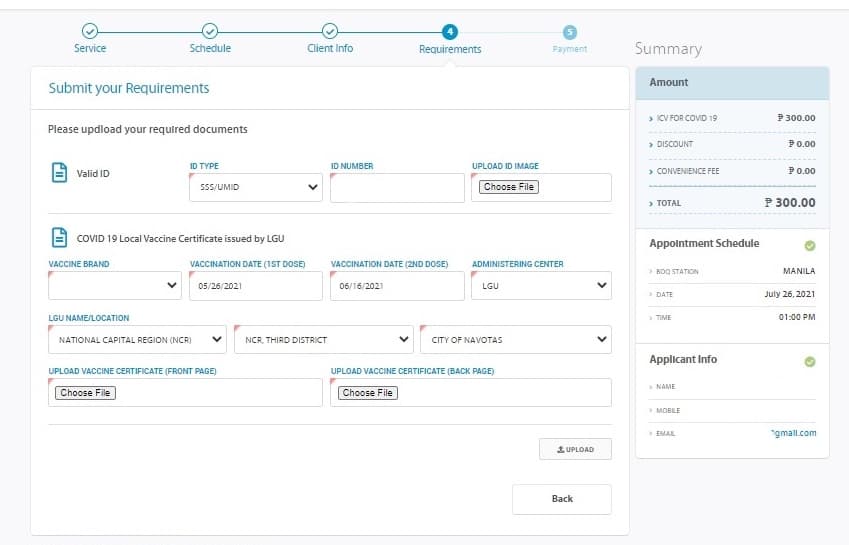 Enter your ID number and upload a photo of your valid ID. Then, fill in your vaccination information and attach a copy of your immunization certificate (front and back). Then press UPLOAD. Click NEXT after you've uploaded your documents.
8. Settle your payment.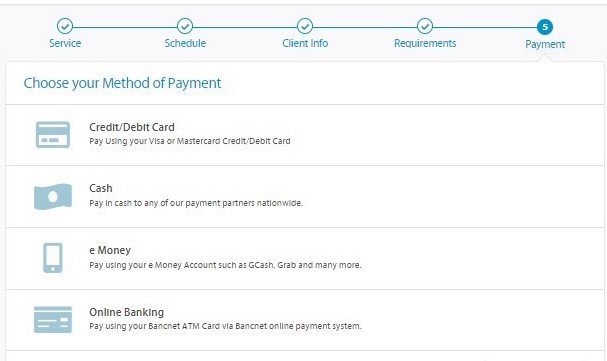 Payments can be made in a variety of ways. Choose how you'd like to pay for your certification and follow the on-screen instructions. It's worth noting that there's a convenience fee on top of the P300 certification fee. The fee varies depending on whatever payment option you use, however the majority of them are P70. The following are the payment options:
Debit/Credit Card
Cash through different payment centers like 7 Eleven, LBC, Family Mart, and Cebuana Lhuiller
E-Money (I.e. GCash, PayMaya, and Cliqq)
Online Banking
9. Save your reference number.
You will receive a receipt with a reference number after you have completed the payment. Keep track of your reference number. You can also save a copy of your receipt to your computer.
That concludes our discussion. On the BOQ Online Booking System website, select VIEW MY APPOINTMENT STATUS and enter your reference number and birthdate to check the status of your appointment.
FREQUENTLY ASKED QUESTIONS (FAQs)
1. Is ICV required for local travel?
No, just a few countries require the International Certificate of Vaccination. Many local destinations still require an RT-PCR test as of this writing.
2. Is there a fee for ICV?
There's a P300 fee plus a convenience fee, which varies depending on the payment method. After you've scheduled an appointment online, you'll need to pay for it.
3. Can I still change my schedule after setting an appointment?
No, after you've scheduled an appointment online, you won't be able to change it. Payment is also non-refundable, and if you do not show up for your scheduled appointment, you will lose your payment.
Summary
Thanks to the new online booking system of the BOQ, applying for an ICV is now easier than ever. With this guide on hand, you can easily book an appointment to claim your ICV at the issuance center. You just need to follow the requirements and step-by-step process, and you should have no problem setting your plans for travel abroad where this document is needed.
Also, since the ICV is not a travel requirement, be sure to check with your destination country if they require this document. Otherwise, you can share this guide with your friends and family who might need to know about this document. Safe travels!
READ NEXT:  How to Become an OFW and Work Abroad