The job market for nurses in the Philippines has been a long-standing problem. It has become hard for other governments not to notice the mismatch of Filipino talents versus the jobs available in the country.  And with it, several countries in the Middle East, the Americas, and Europe have already opened their doors to welcome Filipino nurses. They are given the role to man their hospital wards and healthcare clinics and facilities.
Also Read: Filipino Nurse Monthly Salary in Germany
However, one country saw this opportunity way back before the pandemic hit – Germany. And in line with this, they came up with a long-term program to acquire nursing personnel from countries with an oversupply of it, such as the Philippines, through a program known as the 'Triple Win Project'.
This guide will give you an overview of what the project is all about, what it means for Filipino nurses, and basically how it works. So if you're interested to know more about this topic, make sure to read until the end of this guide. Who knows, you might be the next candidate who'll be on their way to building a fantastic career in Germany!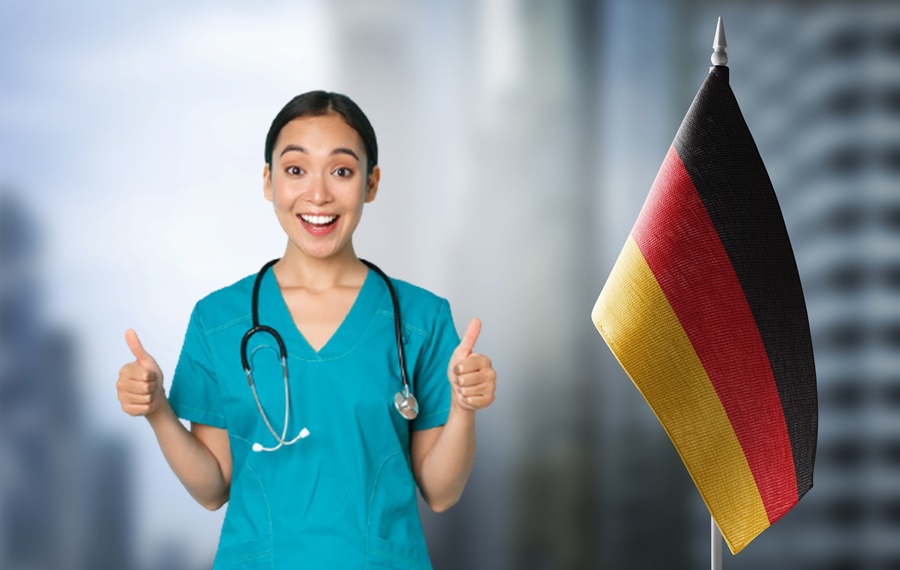 Nurses on the Spotlight: Get to Know about Germany's 'Triple Win Project'
Before we go right into the various facets of the program, let's give a bit of context first.
The nursing sector in Germany is already facing the effects of a substantial nurse shortage. Currently, the number of vacancies on the job market outnumbers the number of qualified job applicants. Experts estimate that by 2025, the nursing profession will require 150,000 more nurses. In the medium and long run, demographic changes in the country will worsen this situation.
Seeing how this situation can easily become a problem that could go out of hand, the German government partnered with various employers in the healthcare sector. It came up with the Triple Win Project back in 2013. This creates a sustainable process of recruiting qualified nurses from three identified countries: Bosnia and Herzegovina, the Philippines, and Tunisia.
Employment agencies in partner countries will spearhead the project. The project aims to (1) alleviate the nursing shortage in Germany, (2) reduce unemployment in the nurses' countries of origin, and (3) allow migrants' remittances and the transfer of know-how to contribute to the development in the countries of origin.
PROJECT OVERVIEW
The BA's International Placement Services (ZAV) and the German International Cooperation Agency (GIZ) have collaborated to deploy competent nurses to German companies. The migration of healthcare personnel from participating nations who can demonstrate a suitable level of training opens up a wide range of prospects for all parties concerned. This results in a three-fold benefit ('triple win'):
The pressure on labor markets in the countries of origin is reduced.
Remittances from migrants provide a boost to development in their home nations.
In Germany, the scarcity of nurses will be addressed.
Nurses will be able to boost their prospects by migrating in this manner. The project works with employment agencies in the partner nations and ZAV to identify nurses and give them language and professional training before placing them in jobs. It helps them in their home country and when they arrive in Germany and throughout their stay.
With its international field organization, GIZ supports the process by promoting the nurses' German language abilities, preparing for the placement, and supporting their integration once they arrive in Germany. GIZ also coordinates the process of recognizing foreign-acquired qualifications. ZAV, the project's other contributor, is in charge of the placement of candidates.
Moreover, only countries with a surplus of well-trained nurses work with 'Triple Win.' "We base our work on the World Health Organization's worldwide code of practice on the international recruitment of health personnel," says Sonja Luciano of the GIZ. This prevents a brain drain and scarcity of healthcare staff in countries involved in supplying professionals to Germany.
READ NEXT: Filipino Nurse Monthly Salary in Germany
WHO ARE ELIGIBLE FOR THE PROGRAM?
Nurses who meet the following criteria are eligible to apply:
Citizens of the Republic of the Philippines
Their primary place of residence is the Republic of the Philippines
Can provide certificates of their completed nurse's training (four years of professional education; Bachelor of Science in Nursing (BSN.)
Must have an active Philippine Nursing License
Must have a minimum of two years of professional experience as a nurse in hospitals, rehabilitation centres and care institutions.
Preferably have prior knowledge of the German language (technical vocabulary and everyday language – ideally Level B1 of the European Framework of Reference for Languages).
Note: Nursing assistants, midwives, and physiotherapists are not eligible for the program.
Working in Germany requires Level B1 of the European Framework of Reference for Languages. The program funds relevant courses to acquire this language level based on past expertise.
HOW AND WHERE TO APPLY
Each year, the Triple Win Project has up to four application and selection rounds. In an advertisement, the Philippine Overseas Employment Administration (POEA) announces the dates of the selection rounds. Interested nurses should only apply through the POEA.
Requirements
Cover letter and curriculum vitae, with a coloured passport photo if possible, written in English and German, covering information about training and professional abilities and experience.
High School Diploma (notarized copy)
Diploma of nursing (notarized copy)
Board Certificate from the Professional Regulation Commission
Certificate/s of employment from former employer/s (notarized copy)
Certificate of German language skills (if available)
Copy of valid NBI Clearance
Copy of passport
APPLICATION PROCESS
Publication of the announcement
Application and Pre-selection
Selection Process
Language and Professional Preparation
Placement
Labour-market Approval and Visa Application
Departure to Germany
Integration Support in Germany
VIDEO: WORKING AS A NURSE IN GERMANY VIA THE TRIPLE WIN PROJECT
Working as a nurse is certainly no walk in the park. But imagine the long hours at work, sleepless nights, rotating shifts, coupled with taking extra language classes in the day, living on your own, without much knowledge of life in a foreign land. A nightmare, you think? Here's what one of the program beneficiaries, Nurse Neil, who's in her 2nd year working as a nurse in Germany actually thinks of the experience.
As you can expect, a lot of the adjustments happen upon arrival in the country. And to say the least, this is the most challenging part of the entire experience. It's no different from what many OFWs experience during their first few years working abroad, really. But eventually, things do get much better and easier because you get used to the way of life in your new country of residence.
FREQUENTLY ASKED QUESTIONS (FAQs)
1. What is the procedure for selecting candidates?
With the assistance of GIZ, the Philippine Overseas Employment Administration (POEA) evaluates the applicant's formal requirements. It organizes the selection interviews in Manila and potentially other cities.
All applicants must participate in a selection interview, which will be conducted in German. ZAV and POEA have agreed that all applicants must participate in a selection interview. Interviews with ZAV officials are held up to four times a year during the selection process. The interviews are usually 30 minutes long. The interview aims to use personal selection in the Philippines to determine an applicant's personal, professional, and language-related qualifications.
If the selection interview goes well, the applicants commit to taking part in the project and, in the case of successful placement, to completing the procedure for their occupational certification in Germany. They then complete an application form, which acts as the basis for the hiring process, along with proof of qualifications.
2. What do the professional and German language preparation entail?
A language competency exam is administered (at no cost to the participants) as part of the selection process. Participants in the project are then given a strategy for qualifying for and preparing for their assignment in Germany (language course and nursing skills course).
Language course
Objective: Certificate of German skills (at least B1)
Participation in a language course including a nursing module, if the applicant's language skills do not meet the required B1 standard.
Duration: depends on prior knowledge
The project covers: cost of proficiency tests, part costs of language courses (depending on prior knowledge), and the final examination B1.
Nursing skills preparation
Objective of the course: to facilitate professional integration in German hospitals by conveying specific practical nursing skills.
Nursing schedules (concept, procedure, construction, documentation), methodology (goal orientation)
information on occupations (tasks, responsibility for implementation/application/nursing care laws as a basis),
differences in the training systems (ratio: natural sciences – medicine – social sciences)
career prospects (university degree in nursing science, departments, leadership positions, teaching positions, etc.)
intercultural issues.
Duration: 4 days
Note: A test is given at the end of the course.
Orientation training
Objective: to convey to nurses the approaches and knowledge they need (living and working in Germany) for their independent orientation in Germany.
Background information on Germany: the country, people and culture;
administrative requirements and processes;
an overview of the emigration process;
a 'timetable' for the first steps in Germany;
presentation of an information kit with information about the specific region.
Duration: 1 day
Note: The project will pay for your lodging and meals during the preparation period (in part or in full, depending on place of residence).
3. How does a German employer place candidates?
The POEA delivers the written applications of selected applicants to ZAV, along with their formal commitments to engage in the project, their declarations of consent to participate in the German nurse recognition procedure, and their application forms. Certificates of attendance in nursing preparation courses and proof of German competence (at least B1) are required for placement. ZAV matches applicants with firms in Germany with acceptable employment openings and keeps applicants updated on their placement status through POEA.
Employers may call candidates by phone, Skype, or video conference to confirm their fitness for a position at their hospital. Suppose an employer intends to employ the applicant. In that case, the applicant will get the employment contract via ZAV/POEA, along with the certificate of permission, once ZAV verifies receipt of the placement fee from the business and GIZ certifies that it has received its remuneration.
4. What is the procedure for obtaining a visa and a residence permit in Germany?
Employees from the Philippines require a residence title for particular purposes, which expressly allows the bearer to work in the Federal Republic of Germany (visa/residence permit) for admission and residency.
Candidates can apply for a visa to work in Germany with the help of the POEA at the German Embassy in Manila after receiving the consent certificate from the ZAV and the signed employment contract. GIZ assists with visa applications and immigrating to Germany.
To find out more about the visa application process in Germany, you may visit the official website of the German Embassy in Manila by clicking this link.
5. What is the duration of my residency permit?
Nurses are originally issued a one-year residence permit that is linked to their work permit.
A two-year extension of the labor work permit is feasible if the nurse can show that he or she is currently employed with a contract that meets his or her qualifications and that his or her nursing credentials are recognized in Germany. The nurse can apply for a permanent residence visa after living lawfully in Germany for five years.
6. Am I allowed to bring my family with me eventually?
The applicant's family may accompany them if certain conditions are met, such as the availability of appropriate income and housing. The Foreigners' Registration Authority (Ausländerbehörde) in the applicant's place of residence in Germany, where more information is available, makes this decision. In general, spouses or children accompanying a resident permit holder must apply for a visa from a recognized German diplomatic office before entry into the country.
7. What kind of support does the German government provide successful candidates?
GIZ provides integration consultants that assist and accompany applicants through the integration process utilizing a pre-determined workshop structure at some point within the first three months of their arrival. This format is linked to employers and allows employers and nurses to work together during the critical early integration phase.
CONTACT INFO
Complete applications must be sent to:
Counter Triple Win
Government Placement Branch, Ground Floor,cPOEA, Blas F. Ople Building, Ortigas Ave. corner EDSA, Mandaluyong City
The addresses of the Philippine Overseas Employment Administration's branches can be found on the POEA website: www.poea.gov.ph.
For further information, you may send an email to triplewin.poea@yahoo.com.
FINAL THOUGHTS
The Triple Win Project is definitely a good program established by the German and Philippine governments to provide employment opportunities to the numerous nursing professionals who find it difficult to land a job in other countries or even in the country. By keeping posted on the announcements by the POEA every year, and through the information presented in this guide, you can increase your chances of landing your dream job as a nurse in Germany. Just make sure to be physically, mentally, and emotionally ready for the challenges this may entail.