It has been quite the news when the Philippine government announced late last year that it was planning to establish a dedicated department exclusive for overseas Filipino workers (OFWs). 
And while this has yet to materialize anytime soon, understanding the cause and logic behind this decision should also be on the table for discussion. For one, several threats to the safety and welfare of OFWs and their communities in various parts of the world have surfaced, and with that, the number of OFWs also plays an important factor in all of this.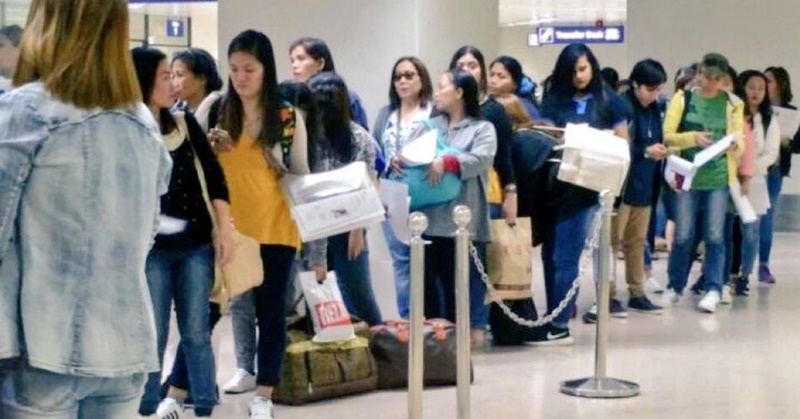 How many Filipinos are there in the Middle East?
In this post, we will share an update from the Department of Foreign Affairs as to the current number of OFWs in the Middle East and North Africa (MENA), from which a significant number of Filipinos go to for work.
In a survey released by the Philippine Statistics Agency (PSA) back in 2015, the top work destinations for OFWs are the USA, Saudi Arabia, Canada, and the UAE. Other preferred countries include Malaysia, Australia, Qatar, Japan, the United Kingdom, and Kuwait.
But if we look at this list closely, we would learn that many OFWs find it attractive to work in the Middle East, with at least four countries in the region having been cited above.
So, the question remains, how many exactly are the OFWs out there right now? An infographic recently shared by the DFA reveals the following statistics for the population of OFWs in the Middle East and North Africa (MENA) region as of January 2020.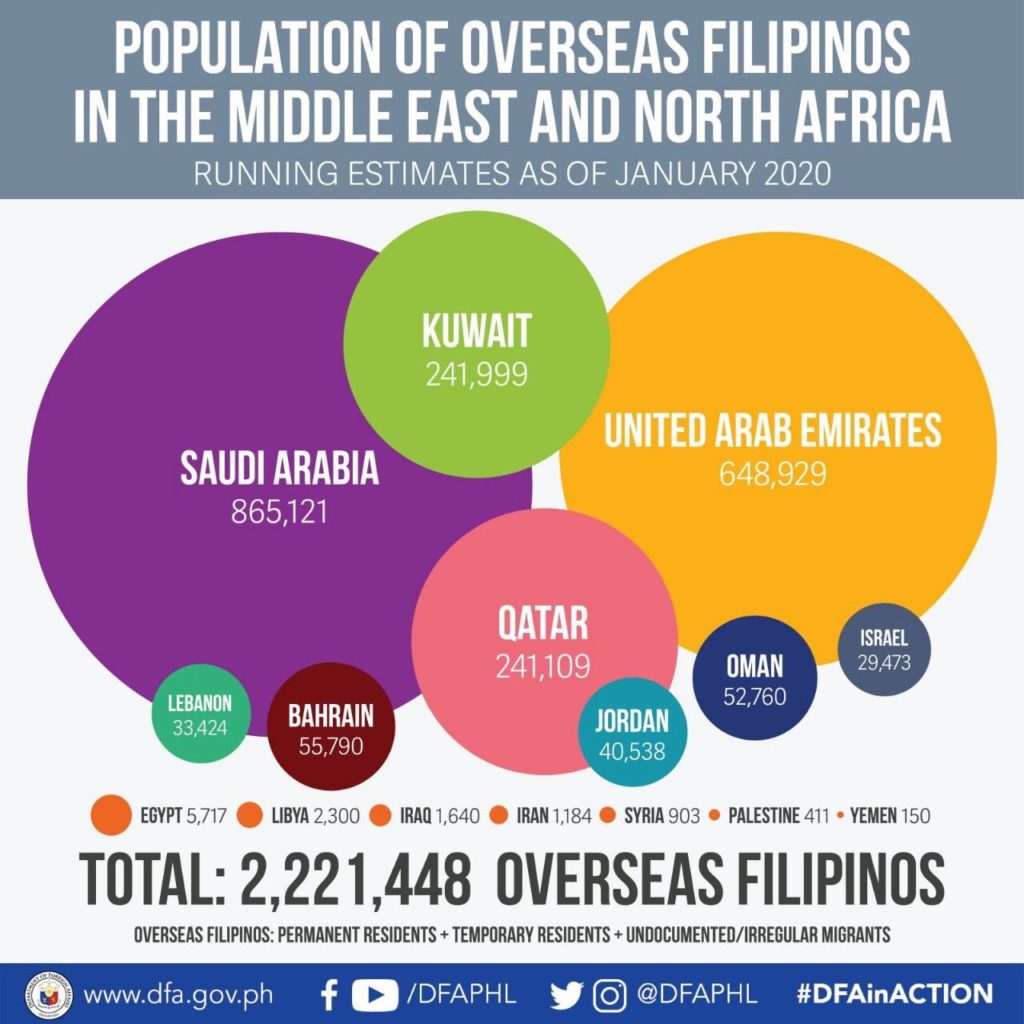 Saudi Arabia: 865,121
United Arab Emirates: 648,929
Kuwait: 241,999
Qatar: 241,109
Bahrain: 55,790
Oman: 52,760
Jordan: 40,538
Lebanon: 33,424
Israel: 29,473
Looking at the chart, it's easy to see that Saudi Arabia and the UAE take the top spots for the most preferred work destinations of OFWs in the MENA region. 
But interestingly, Kuwait, which had been labeled as the worst expat destination by some websites in recent years still took the third spot. 
Despite the series of deployment bans imposed on the Gulf State, Filipinos still choose to work in Kuwait because of the higher pay and benefits offered to workers there including their non-tax rule. 
Despite this, the Philippine government, in its recent announcement of a deployment ban to Kuwait still hopes to establish better relations with the country once the proposed memorandum of understanding (MOU) has been fully honored and upheld in the country, and after justice has been served for the death of Jeanelyn Villavende.
As we know, there is no perfect work destination, but for as long as there are poverty and inequality in job opportunities in the Philippines, the deployment of OFWs will remain a trend for a long time.