President Rodrigo Roa Duterte had promised many things to the Filipino people. One of the most vigorously pursued of President Duterte's campaign promises in 2016 was the creation of a dedicated department that will cater only to Overseas Filipino Workers (OFWs) and/or Overseas Filipinos, and their families.  This year, in July 2019, the President revived this promise by giving an urgent directive to the Department of Labor and Employment (DOLE) for the new department to be created "to protect migrant workers from illegal recruitment" before the year ends.
Challenges and issues plague the directive, as did most of Duterte's projects, but some senators responded to the president's call by coming forward with  bills that are now being reviewed. Assistant Professor of the Department of Political Science of Ateneo de Manila University Carmel Abao, shared that Ellene Sana, Executive Director of Center for Migrant Advocacy – Philippines (CMA) said about 34 bills with varied elaborateness and naming system were submitted and seven of them had been "filed in Senate." Susan Ople published on Business Mirror that three of the senators who came forward to advocate the department were Senators Cynthia Villar, Imee Marcos, and Christopher "Bong" Go.
Duterte had said, "Apurahin ko 'yang Department of OFW. Bawal na ang recruitment sa abroad… sa labas. So, under the supervision of government at walang horrendous charges. By December… buong Pilipinas 'to." Given the time-frame of the president's directive, the proposals have been addressed and has now reached a point where it is being discussed.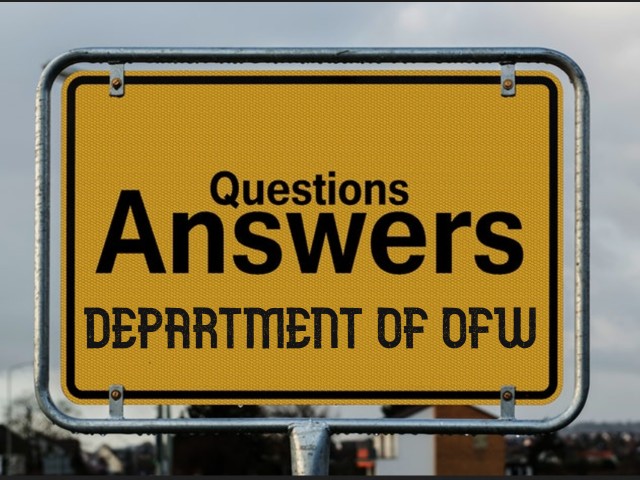 In an attempt to understand the need for this new dedicated department for the migrant workers, we rounded up the best reasons behind its creation and we came up with these five:
1. It will be dedicated and focused on OFW plights.
"I think given the size of population of Filipino workers overseas, it might be advantageous to have a separate agency because it will give the DOLE (Department of Labor and Employment) the chance to focus on the problem and challenges of our local workers," Susan "Toots" Ople, head of the Blas F. Ople Policy Center and Training Institute (Ople Center) had said. As an organization that specializes in labor migration, Ople is very interested in the framework promised by the president so they can "weigh in and share their recommendations" as a stakeholder.
ACTS CIS Party List Representative Niña Taburan who also attended the aforementioned RTD said, "it was high time" that a department "dedicated to our modern day heroes" was created. According to Taburan, the Department of Labor and Employment (DOLE) "can only do so much because its responsibility is very broad" and covering for both "local and overseas workers" may be too much because "it has limited resources."
2. It will streamline and consolidate overlapping functions and budget.
With several departments, namely Philippine Overseas Employment Administration (POEA), Overseas Workers Welfare Administration (OWWA), Department of Foreign Affairs – Office of the Undersecretary for Migrant Workers Affairs (DFA-OUMWA), Commission on Filipino Overseas, and International Labor Affairs Bureau taking care of OFW concerns, overlapping functions and budgetary redundancies cannot be avoided. To resolve it, a dedicated department where OFW concerns will be addressed should consolidate the functions of all these departments in one single agency.
3. It will be easier to address the persistent OFW woes regarding illegal recruiters and labor malpractices.
With the President's order to ban recruitment of OFWs abroad and to put Philippine-based recruitment agencies under strict government regulation, it is with hope that there would be increased protection for OFWs resulting in lower number of cases involving those victimized by illegal recruiters.
One of the authors of a bill filed in senate, Senator Bong Go had said, "The President wants OFWs to avoid illegal recruiters. Many of their victims have approached us. This has to stop."
House Majority Leader Martin Romualdez said, "Despite the existence of agencies to protect Filipinos abroad, numerous problems and challenges confront OFWs and their families: illegal recruitment, employer abuse, sexual abuse, inadequate benefits, inefficient and ineffective delivery of services to OFWs, lack of representation of the OFW interests in the agencies that are supposed to protect and promote their rights."
He also stated that their support in the immediate creation of an OFW department stems from their desire for the government to "establish an agency that would manage, harmonize, and strengthen existing policies and programs to address the needs of foreign Filipino employment."
4. It will create a "one stop shop" for OFWs and avoid confusion regarding their "home" agency.
Balanga, Bataan Bishop Ruperto Santos of the Catholic Bishops' Conference of the Philippines-Episcopal Commission on Migrants and Itinerant People (CBCP-ECMI) had said the directive will create a "one-stop shop" home to OFWs and save the would-be OFWs from going to several government offices in different locations to process their applications and documentary requirements.
House Speaker Alan Peter Cayetano said that a dedicated Department of OFW will mean that "there's only one department that you will go to, although they will coordinate with the other agencies."
5. Failure will be easy to track and accountability will be firmly established.
Cayetano had said that this directive will mean that "Meron kang (you have) one person in the Cabinet." With the accountability firmly established at the Cabinet level, and a secretary devoted solely to maintaining and implementing policies, plans, and programs for migrant Filipino, everything from data collection and analysis to implementation will be purpose-driven and in line with the blueprint of National Economic and Development Authority's (NEDA) AmBisyon Natin 2040 project.
Cayetano also added that it would mean that there would be one person who can be held accountable.
"Meron maho-hold accountable ang Presidente na isang tao lang (there will be only one person that the President will hold accountable)," he said.