Philippine President Rodrigo Duterte delivered his fourth State of the Nation Address (SONA) on Monday, July 22. Among other things, he cited the importance of creating a government department that focuses on the needs of overseas Filipino workers (OFWs) around the world.
ALSO READ: Duterte Inks Law on Deployment of Social Welfare Attachés to Foreign Posts
The President is currently halfway through his six-year term in office. If you've missed his latest speech, don't worry because we are here to present the highlights of his fourth SONA.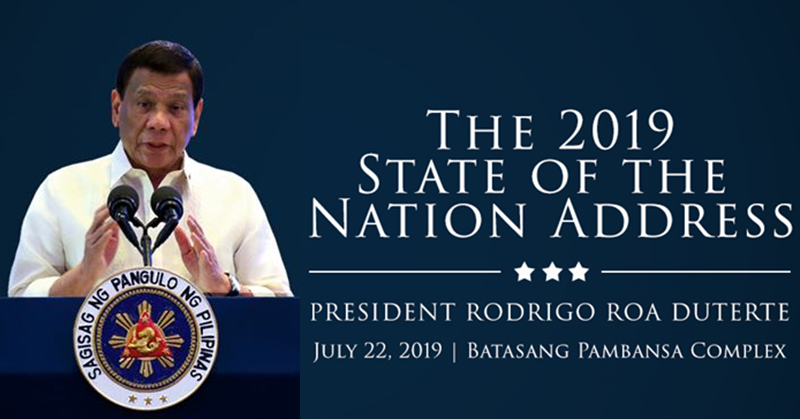 Highlights of Pres. Duterte's Latest SONA
President Duterte's fourth SONA began at exactly 5:15 pm and lasted for about one hour and 33 minutes. During his speech, he highlighted several policies that the administration will be focusing on for his remaining three years in office, Inquirer.net reported.
War Against Drugs & Corruption
The President reaffirmed his determination to keep on pursuing the war against drugs. "I will end my term fighting," he stated. He also noted that the drug problem would not be resolved unless we eliminate corruption, which allows "this social monster [drugs] to survive."
Simplification of Transactions
President Duterte tasked the following agencies to simplify their transactions with citizens: Bureau of Internal Revenue (BIR), Land Registration Authority (LRA), Land Transportation Office (LTO), Pag-IBIG Fund, and Social Security System (SSS).
Bills Pushed & Proposed
Notably, the President urged the Philippine Congress to focus on the following:
Creation of a National Academy of Sports for high school students;
Revival of the mandatory Reserve Officers' Training Corps (ROTC);
Re-imposition of death penalty on crimes related to drugs and plunder;
Passing of the Trabaho Bill, the second tranche of his proposed tax system overhaul.
Creation of the Department of OFWs, which would address the concerns of Filipino workers abroad;
Creation of a law that would require commercial establishment across the country to close by midnight;
Approval of the National Defense Act as well as the Uniformed Separation and Retirement Pension Bill;
Passing of the bill to create the Department of Water Resources and Water Regulatory Commission;
Creation of the Department of Disaster Resilience, which would focus on disaster and climate change resilience plans and programs; and
Passing of a new Salary Standardization Law (SSL), which would increase the pay of government workers, including public hospital nurses and public school teachers.
Likewise, President Duterte has also called for the postponement of the May 2020 Barangay Elections to October 2022.
Manila Bay Clean-up
As part of the government's drive to restore Manila Bay, the President mentioned that informal settlers in the area would be relocated. He also warned polluters to "shape up," or else "I'm going to dismantle your building or just simply burn it down."
Wasted Medical Funds
President Duterte also expressed disappointment with the government's medical funds that were wasted on ghost claims. This was in reference to the recent scam involving the Philippine Health Insurance Corp. and the "ghost dialysis claims" of fictitious patients.
Suspension of Mayors
During his speech, the President called on Interior Secretary Eduardo Año to suspend mayors who do not follow the order to reclaim public roads that had been used for private purposes.
West Philippine Sea Issue
President Duterte assured everyone that he would be asserting the country's rights over the West Philippine Sea "in due time." He also defended his verbal agreement with Chinese President Xi Jinping to allow Chinese fishermen to trawl in the Philippines' exclusive economic zone (EEZ) — noting that the Permanent Court of Arbitration ruling stated that "the Philippines may enter in a fishing agreement with other states."
Praise for BOC & PAGCOR
The President praised the Bureau of Customs (BOC) for collecting PHP 585 billion last year. Similarly, he recognized the Philippine Amusement and Gaming Corp. (PAGCOR) for collecting billions of pesos in revenue.
Here is a replay of President Duterte's latest SONA, shared by the Presidential Communications Operations Office (PCOO):
ALSO READ: Duterte Signs 4-Year Technical Education & Skills Dev't Plan
With only three more years until the end of his term, it looks like President Duterte is still keen on pursuing greater developments for the country and the Filipino people. Meanwhile, here is a list of OFW programs introduced by the current administration, for your reference.