UPDATE: As of December 1, 2022, the new arrival card registration system for travelers to the Philippines is now called eTravel Registration. Please check out our guide on how to process it here – How to Process eTravel Card Registration Philippines
So please do not use One Health Pass or the eArrival Card system anymore. You should apply and register via eTravel Registration.
Note: One Health Pass has been replaced with eArrival Card Philippines. Please check the details about it here – How to Apply eArrival Card Philippines
All international passengers arriving in the Philippines, be advised that it is mandatory to register in the One Health Pass online. This applies to OFWs, non-OFWs, and Foreign Nationals – meaning all Philippine-bound passengers arriving from abroad, whatever your nationality or profession, you should apply for the One Health Pass registration to get a QR code and present it to authorities. Below are the details on the requirements and step-by-step procedure of this OHP process.
With more overseas Filipinos returning to the country due to the rise in COVID cases worldwide, authorities in the Philippines are looking for ways to accommodate them as quickly and conveniently as possible. One way they do this is through the One Health Pass Registration. Haven't heard of it? Well, it's about time you get yourself familiar with this system implemented by the Bureau of Quarantine (BOQ).
The BOQ confirmed that beginning September 1, airports and entry points in the country will implement the use of One Health Pass for travellers and returning Filipinos. If you belong to any of these identified groups targeted to use the new app, then make sure to read the rest of this guide.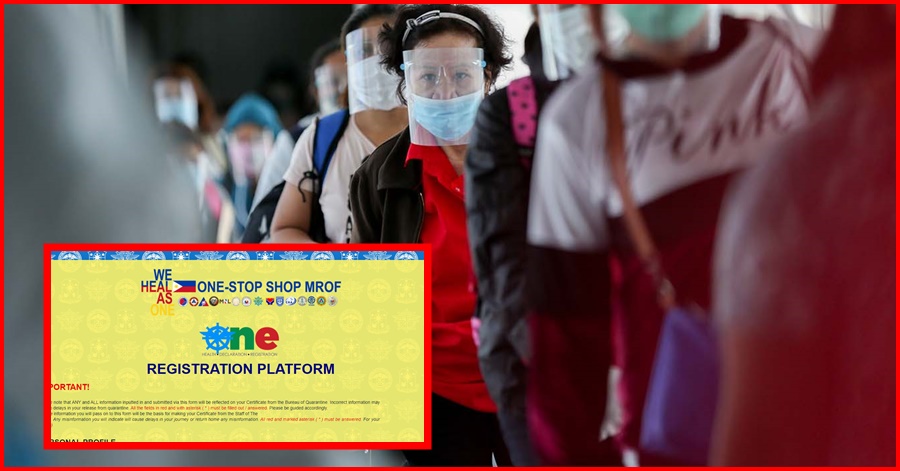 Access OneHealthPass COM PH Website – OneHealthPass.COM.PH
The Philippines, as do most countries in the world, now aim to create a system that would streamline the travel protocols, system, as well as documents, to ensure the safety of everyone coming in and going out of the country, which includes our overseas Filipino workers (OFWs).
Be advised that the official website for this new registration system can be located in this link – onehealthpass.com.ph
WARNING: Be careful of fraudulent websites and fake pages that may represent the One Health Pass from the Philippine Bureau of Quarantine (BOQ). This is a new system and it is strictly required for all arriving travelers from international flights to present their One Health Pass QR Code prior to boarding their flights to the Philippines. So please make sure to transact only to the official website.
What is One Health Pass Philippines?
One Health Pass is an online system that streamlines all processes and gathering of data required for those travelling to and from the Philippines. It has been on pilot testing since mid-August and is fully implemented nationwide that started in September.
Requirements
The online system is mainly used for data gathering purposes, so you would need to provide accurate and critical information related to your health and personal background, as your data would then be transmitted to the local government, where you would be going back.
To accomplish this task, you would need to go online and fill out the health declaration and registration form at   https://www.onehealthpass.com.ph/e-HDC/. You also need to present your travel documents at the airport, such as your passport, plane ticket, and vaccination card (a screenshot will do). So keep these things on hand for your departure and upon arrival.
Qualifications
According to the Bureau of Quarantine (BOQ), all travellers (Filipinos and Foreigners) arriving in Philippine airports will be subject to this new system starting September 1, 2021. So whether for work or travel, sea- or land-based, all Filipinos planning to leave or return to the country must sign up on this system to ensure a smooth travel experience.
Features and Benefits
With the implementation of the One Health Pass system, travellers would no longer need to accomplish a lot of paperwork, thus shortening their stay and waiting time at the airport's holding area. This limits their exposure to others in the vicinity, keeping them safe from contracting the virus, especially for those who will be coming back home to their families.
This digital platform is convenient to use because you will only need an internet connection, which is also provided at the airport (free). And you can access it wherever you may be, whether you're on mobile, in transit, or even before boarding the plane back home.
Seamless tracking, monitoring, and record-keeping: The system also ensures that all your information will be stored safely in a cloud, which can be easily transmitted to your LGU, so you will no longer have to redo any of the processes, especially involving data-gathering, verification by BOQ, and confirmation. You can simply focus on keeping yourself safe (during quarantine) and return home to your families with peace of mind.
The same goes for outgoing Filipinos who will be returning to their work abroad. This process can lessen the hassle of going back and forth with your agencies, to ensure that all of your records have been properly collected. You can simply focus on keeping yourself healthy during quarantine, in preparation for your return to work.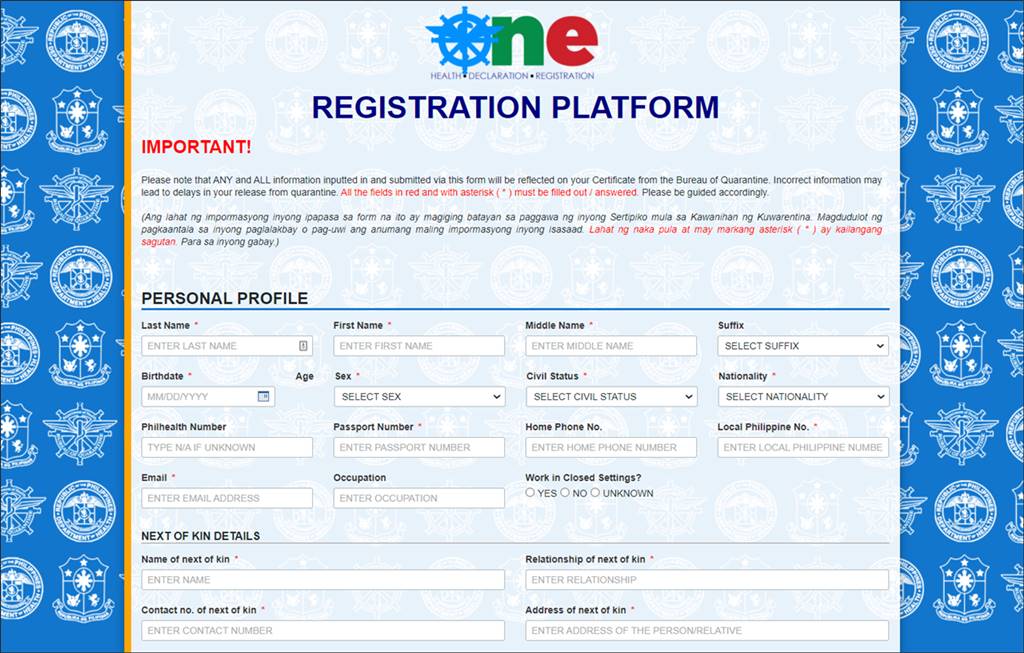 Guide to One Health Pass Registration Process Online (7 Steps)
Please note that this One Health Pass is a requirement to ALL passengers arriving in the Philippines. Whether you are an OFW, a non-OFW, a foreign national, you MUST register in this system. Below is a guide on how to apply for the One Health Pass and get your QR code:
Before Departure
Step 1: Travelers arriving in the country may log in to the One Health Pass portal (https://www.onehealthpass.com.ph/e-HDC/), and get a transaction number at least three (3) days before their trip to the Philippines.
Important: Non-OFWs and foreign nationals must have a pre-booked accredited Quarantine Hotel for ten days. To know which ones you can book at, you may visit www.onehealthpass.com.ph/quarantinehotels/ to get the list of accredited hotels. OFWs will be sponsored by OWWA.  
Step 2: Once your record has been accepted in the system, take a screenshot of your QR code. You need to present this at the airport upon your arrival in the Philippines. Thus, it's best to register before you arrive in the country to ensure seamless processing.
Step 3: Within 24 hours or before you board your flight, you will need to fill out a health declaration checklist.
At the Airport
Step 4: Upon arrival, present your OHP personal QR code for arrival and hotel assignment. You will then be instructed to attend an orientation facilitated by an immigration officer before you will be given an immigration clearance and head over to the quarantine hotel.
Step 5: Proceed to the Bureau of Immigration for arrival clearance then to the baggage claims and customs inspection.
* The One Health Pass System will then notify your local government unit that you have completed your quarantine period and you have been cleared for travel abroad.
Step 6: Take the accredited or arranged transport service.
Step 7: After you finish your quarantine period, you will be given your COVID-19 test result as well as your quarantine certificate.
Airport Taxi: Non-OFW and foreigners
OWWA Bus: OFW Land-based
LMA: OFW sea-based (seafarers)
Video: Guide to OneHealthPass QR Code for Travel to the Philippines
Here is a short instructional guide on how you can properly fill out the Registration and Health Declaration checklist via the One Health Pass. Take note of the asterisked (*) fields so you would be able to provide all the necessary and accurate information required by the system. Also, it's important to distinguish if you are an OFW or a vacationing overseas Filipino because your hotel/quarantine facility will be determined and assigned by OWWA.
In line with this, here's a friendly reminder for OFWs to always keep their OWWA member status ACTIVE because one of the benefits you can get during this time is the support and assistance for your accommodation and supplies during your quarantine period in the Philippines.
Video: How to Fill Out the Online Platform for One Health Pass
Here is a video post from the Philippine Bureau of Quarantine about One Health Pass and the mandatory procedure to sign up for this Health Declaration Registration Platform
Post from Department of Foreign Affairs Philippines
Here is a post from the DFA Philippines about the announcement of the One Health pass as a requirement for all passengers, whether Filipino or foreign national.
This one Health Pass is intended as your Health Declaration and Quarantine Registration. Make sure to have the OHP QR Code!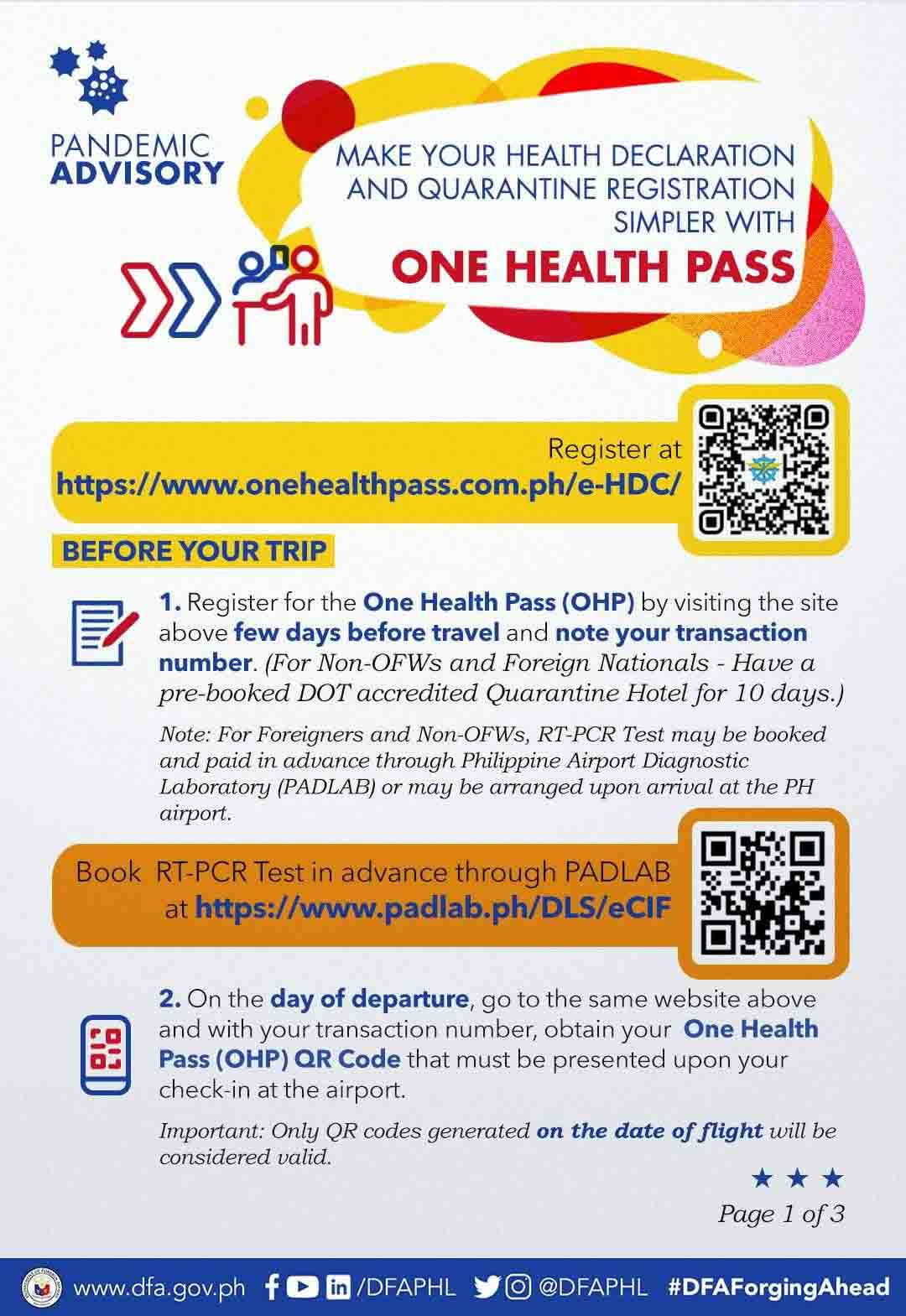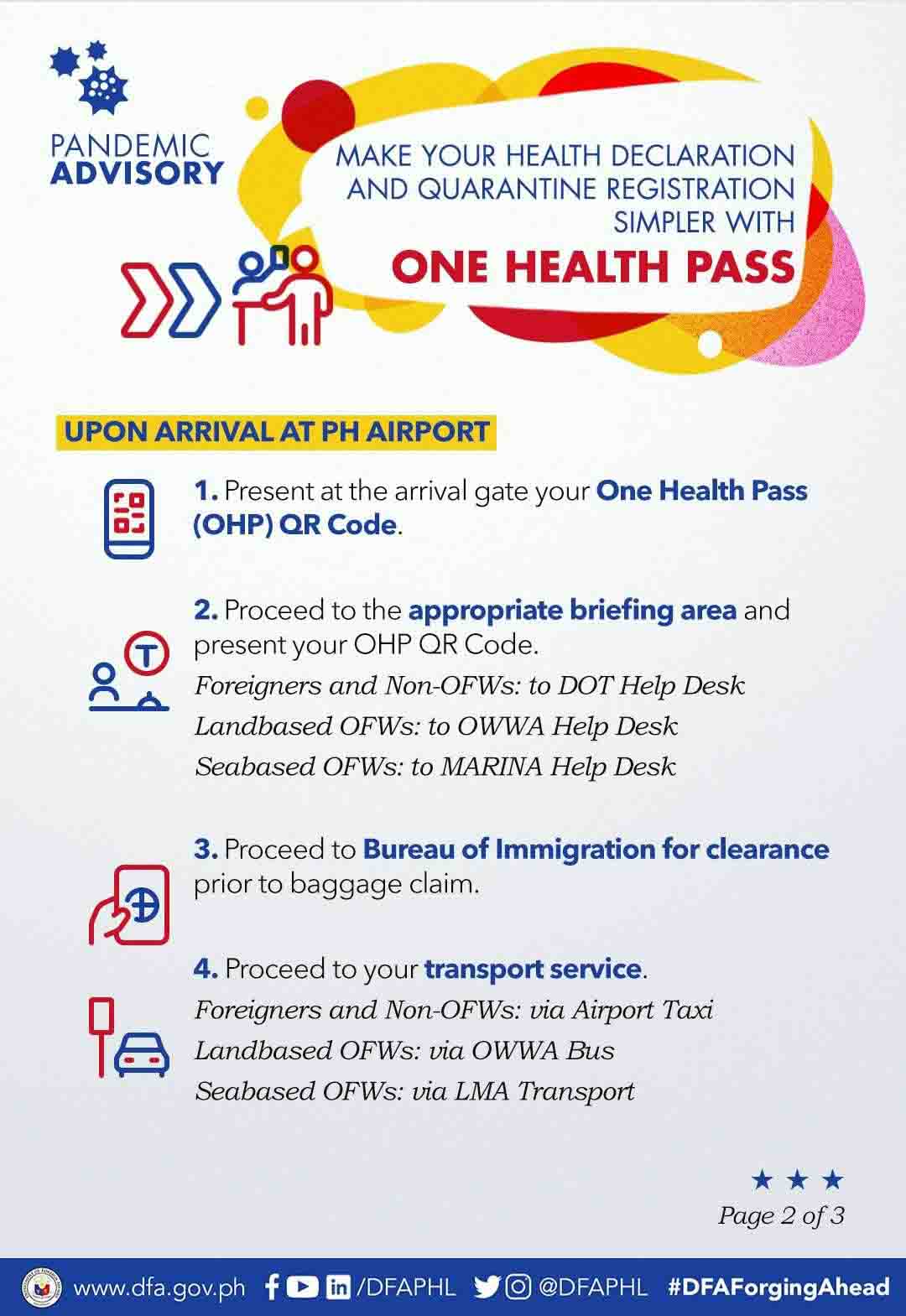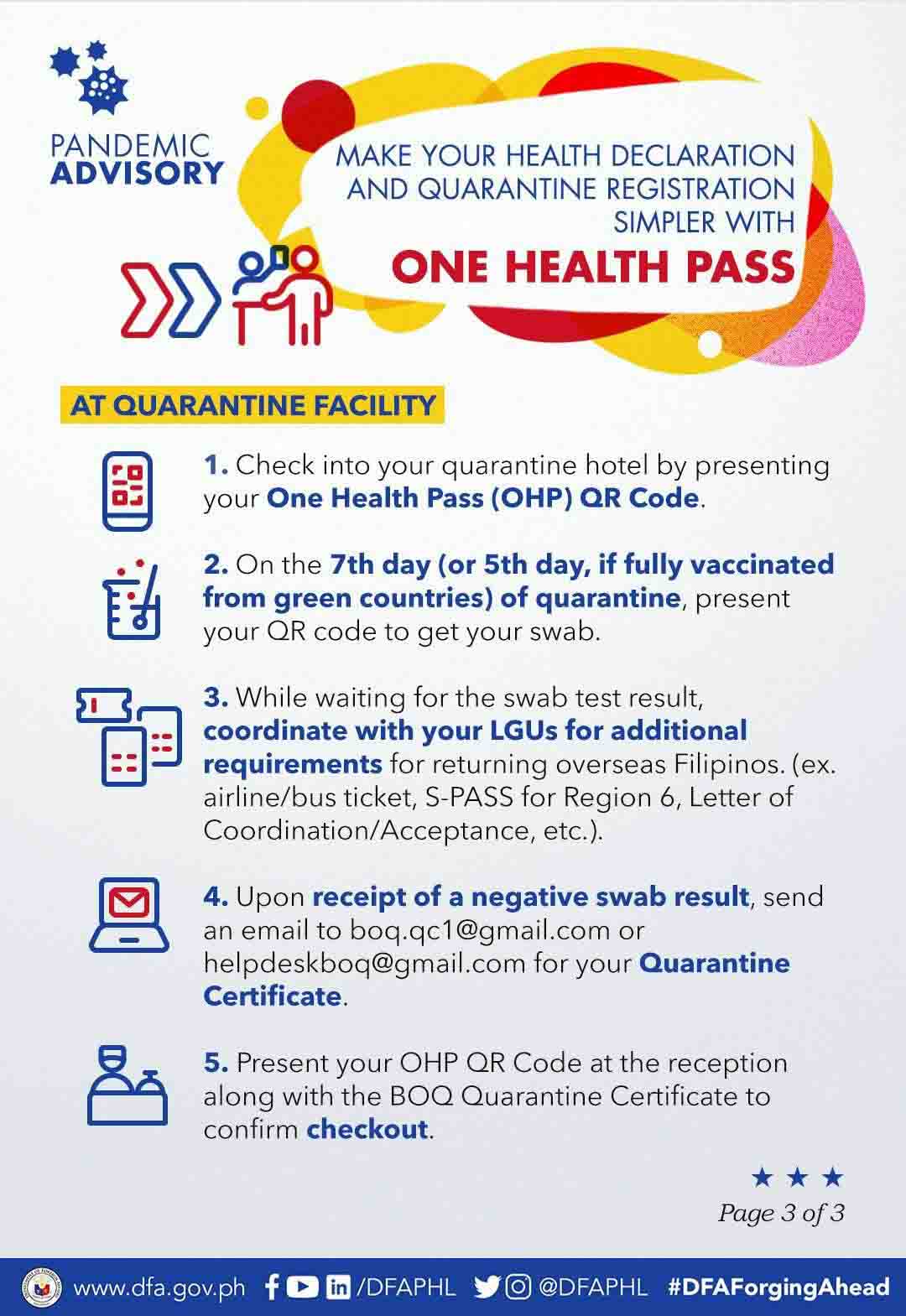 Frequently Asked Questions
Here are some common questions and answers about the OneHealthPass Philippines registration. Please be guided accordingly:
1. Do I need to pay for anything to register in the OneHealthPass system?
No, you do not need to pay to register on the system. You will only need to provide information online and submit your data for record-keeping, tracking, and monitoring purposes at the national and local level throughout your journey back or upon exit from the country.
Therefore, you need to provide recent and accurate information regarding your work, health, and status as an OFW/Filipino citizen.
2. When do I need to accomplish this registration on the system?
Ideally, you can do this before boarding your flight. However, three days before your scheduled flight, you can already sign up in the system. The latest you can accomplish this is upon arrival at the airport. The health declaration form must be accomplished at least 24 hours before your flight.
Be sure to bring a copy of your vaccination certificate issued from the place you're travelling from. A screenshot of the physical or digital copy of the certificate will do.
3. Do I still need to present any documents at the airport upon arrival?
Yes, usual documents such as passports, plane tickets, and now your vaccine certificate need to be presented at the airport upon arrival. It's important that you fill out the registration as well as the health declaration form on the One Health Pass website so that you won't have to take much longer staying at the airport, because you may still accomplish these forms upon arrival – better do it early and in the safety of your home (up to three days before your arrival in the Philippines).
4. Do I need to download an app to register in the One Health Pass?
The One Health Pass is an online system, where you can input all of your personal, travel, as well as health information, including your vaccination status. All of this information will be stored in the system which can be accessed by authorities at the airport as well as those who will receive you in your hometown or local government unit.
5. I am not an OFW, but a vacationing Filipino national. Do I still need to register in the system?
Yes, the form in the system must be accomplished by all travellers who are entering or leaving the Philippines, whether for work or other purposes. OFWs must be careful to indicate this in the form because the OWWA will designate a quarantine facility/hotel for them to stay in.
All other travellers must indicate in their form that they are traveling to the Philippines on their own accord and will shoulder the expenses this might entail as per local government requirements.
6. I am NOT an OFW, but a foreign national. Am I exempt from registering in One Health Pass?
No. According to the latest reports, ALL passengers arriving in the Philippines is required to fill out the One Health Pass registration. Whether you are a Filipino or a foreigner, and you are entering the Philippines, you must also register.
7. How do I get the One Health Pass QR Code?
You will get the QR code once you have successfully registered in the One Health Pass. You can use the QR code easily when presenting it to authorities upon arrival in the Philippines.
Summary
There's been a lot of changes as to the requirements for inbound and outbound travels lately, so it's important that you remain updated as to what you need to secure for your travel, especially if it is for work. There are many countries that now allow entry of Filipinos to their borders for work, such as Hong Kong, Kuwait, and other countries in the Middle East.
While this is good news, there are still numerous requirements you must accomplish to ensure a smooth exit from the Philippines and entry into these countries. Be sure to stay updated with all these things.
Contact Information
One-Stop Shop Hotline Numbers
Mobile: 0917-876-8573 | 0917-802-2224 | 0906-592-1157
Telephone: (+63 2) 8877-1109 loc. 3079 | (+63 2) 8823-0669
Coast Guard Public Affairs Office
Address: 139 25th Street, Port Area, Manila 108, Philippines
Mobile: 0927-560-7729
Bureau of Quarantine
Address: 25th and A.C, Delgado St, Port Area, Manila, 1018 Metro Manila
Email: boq.qc1@gmail.com | boqrepatriation@gmail.com
READ NEXT: Here's What You Need to Know About the International Certificate of Vaccination (ICV) or "Yellow Card"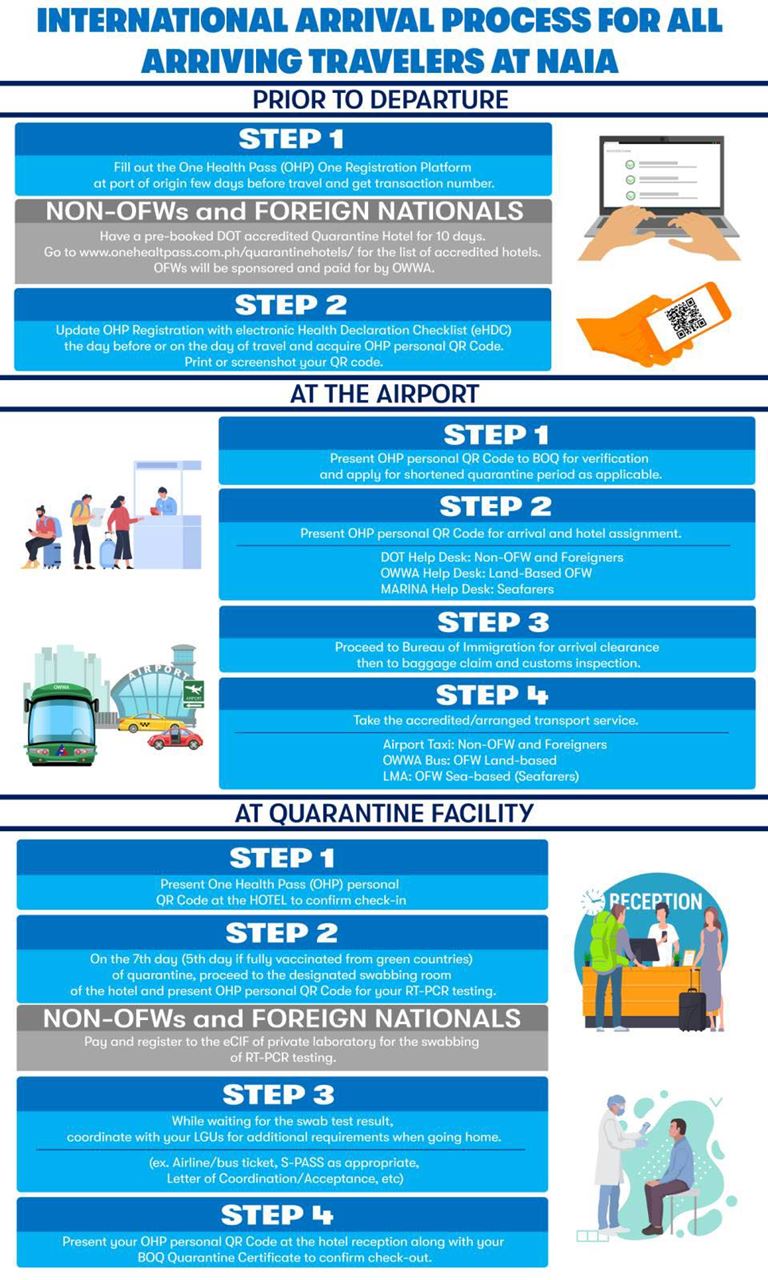 Disclaimer: As this is a new system, please be advised that the One Health Pass information shared here may change without prior notice. Please follow the Department of Foreign Affairs, Bureau of Quarantine, airline companies, for latest updates on the process of entry to the Philippines.