Ask any Filipino if they have a family member working as a nurse, whether in the Philippines or elsewhere. They'd all give you a certain 'yes'. But look at how they say it; were they happy? Proud? Unaffected? This is important to note because not all Filipino nurses get their dream jobs at the hospital or maybe in a prestigious specialized area. Some work in clinics. You might even know a Filipino nurse working at a nursing home in the US.
There's nothing wrong with working in these places. Nurses still perform their primary role, and that is to provide nursing care and medical treatment to their patients, but there are certain care procedures and management that makes this a special area.  In this featured post we will look at the routine of Filipino nurses working at a home in the US.
Disclaimer: This post is for information-sharing only. If you have specific questions and concerns regarding the content posted by our featured vlogger, you may contact them directly through their YouTube channel. If you find this kind of content interesting, don't hesitate to follow and subscribe to their channel so you'll get notified of the latest videos and updates from them. 
[A Day in the Life Of] Filipino Nurse Working At Nursing Home in the US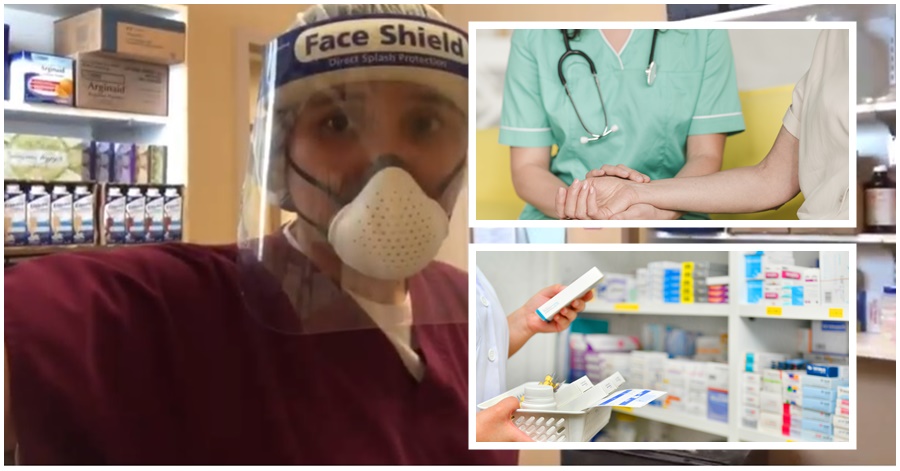 Our featured overseas Filipino is Szarina. She works with her partner in a nursing home in the US. There's a high demand for Filipino nurses in the US and other parts of the world because more people are getting older, and for cultural reasons, the elderly in Western countries are placed in nursing homes or commonly referred to as a 'home'.
Did you know that a large part of healthcare services in the US go to nursing homes? According to the Center for Disease Control and Prevention (CDC), there are about 15,600 nursing homes in America. These facilities account for 1.7 million licensed beds, occupied by 1.4 million patients. That's a lot of patients!
READ ALSO: Demand for Filipino Nurses Abroad Doubled During Pandemic – POEA
Do note that the majority of these patients stay in these facilities for an average of at least 835 days (2.28 years). Around 50% to 70%  of these patients are over the age of 65 years, so you can expect that some of these patients might need less or more supervision than others. That's because as people age, not only do their health decline but also their level of independence – that's something you need to think about before you decide to work in this special area of nursing.
Basically, living in a nursing home is like staying in a hospital, but with everything you need to carry out your daily activities as though you're in your home. So you can imagine that there will be several pieces of medical equipment and facilities you'd normally find in a hospital, inside a nursing home facility. Add this to the services of the nursing professionals, monthly rates in nursing homes can go as high as 8,800 USD (national average).
So you can imagine the kind of care and medical attention these patients require from the staff. As a care provider, you need to be there for your patients whenever they need your help. This can be as simple as feeding them, helping them get dressed, giving their medications, and having their vitals checked.
7 Tips for Working in a Nursing Home in America
So now that you pretty much have an idea as to what is expected of healthcare providers in a nursing home, here are some of the tips to keep in mind for your daily work routine as a nurse in a care facility:
Perform your rounds: This is when the outgoing nurse endorses or reports significant data they've gathered during their shift. This includes patient status (nursing assessment), pending concerns, new orders, and other essential notes for you to carry out your shift effectively. With these in mind, be sure to pay attention, ask relevant questions, clarify concerns, and verify the information. If you keep these things in mind, you're halfway ready for the battle that is your 12-hour shift.
Count your narcotics (controlled substances). As mentioned, these care facilities are complete with supplies you would normally find in a hospital. These include drugs (pain medications, anesthetics, etc). So to monitor and prevent incidents of abuse, healthcare staff do this 'narcotics check' usually during endorsement, where you counter-check the record vs what you have on stock.
Check vitals, sugar before giving meds. Yes, this is basic but is an essential part of your assessment. With this information, you can make educated decisions concerning your care, such as diet, activity, and drug management for the rest of your shift, you can also report significant findings requiring immediate attention from other team members, such as resident doctors, nurse practitioners, and so on.
Manage patients (behavior-based). So you have the knowledge and skills required for the proper care of your patients, but how you deliver care is an entirely different thing. This entails clinical experience, observation, interpersonal skills as well as therapeutic communication. Remember, being a nurse is not all about knowledge and skills, you also need the heart of one to be one in practice.
Document important events – legal documents. One crucial aspect of your job as a nurse in the US is documenting information at work. Whatever you do, make sure to document it in your nurse's chart or the patients' records. This might just save your life when you get into a legal battle.
Be a team player – learn to always respect your patients as well as colleagues. Yes, there is such a thing as scope of work in nursing practice, but sometimes you'll find yourself needing to go beyond your call of duty. You will find out later on that part of your job as a nurse is to be a team player. This goes beyond roles as this will also apply to you dealing with other nationalities, professionals, families, personalities, and so on.
Observe infection control measures. Infection control has always been the standard in any healthcare facility. However, this has been highlighted even more in this time of the pandemic. Remember most of the patients you'll handle will have compromised or weakened immunity. And so, always use PPE when handling your patients. This applies before you go to work, during, and then after your shift.
Most of the things our resource vlogger shared in her video are essentials in the practice. But if you're someone who's working in the same field but from a different location, knowing these things can be reassuring that not much of the practice in your workplace is any different in nursing homes in the US. Then you can decide, whether to make this transition working there or perhaps somewhere else.
SUMMARY:
There is a high demand for nurses in the US because of the nation's ageing population and demand for in-house or long-term care for patients.
Nursing homes are specialized healthcare areas, catering to a widely elderly patient population. These patients can be independent as they can be to requiring assistance for even the most common activities of daily living.
Patient care varies from one individual to another that's why nurses work round-the-clock, typically on 12-hour shifts. This also means that you need to know who your patients are, what they need, and how you can best assist them. It's quite tricky, but it is part of a nurse's job.
A nurse's job can be routine and mechanical, but there's a great emphasis on one's interpersonal and communication skills, since you will be dealing with various patient behaviours – some clinical while others pathological, so critical thinking is important.
Never neglect the basics. Simple practices such as assessing the patient routinely, documenting your work, and practicing infection control can go a long way if you want to succeed in your career as a nurse in the US or anywhere in the world, for that matter.
Catch the full video here:
Final Thoughts
Nurses are an essential part of the healthcare team. They have specific roles to fill and can work independently or within a team. They are versatile enough to work in different care settings, whether in a hospital, clinic, or a nursing care facility. And while much of the work they do is routine, there is also a great deal of critical thinking and proactiveness needed for them to be successful in their role. Nurses are not only required to possess the right knowledge and skills, but also the heart to provide proper care for all of their patients at any time of the day they are needed.
The Big Question
There's no question that nurses sacrifice a lot. So on top of the rigorous requirements, the homesickness, and challenging workplace during this pandemic, do you think you have what it takes to work as a nurse in a nursing care facility in the US? Let us know what you think by leaving a comment in the section below. We'd like to hear from you!
READ NEXT: Germany 'Triple Win Project' for Philippine Nurses – What You Need to Know