Now that travel has become much more relaxed since the start of the pandemic, people are again interested in packing their bags and flying off to places that they have always dreamed of. However, there are still some requirements that travelers need to comply with. Recently, the Philippine government has imposed the need for an eTravel Registration, which is an update to the OneHealth Pass. That being said, before you plan your travel back to the country anytime soon, be sure to learn more about this recent travel requirement update.
In this post, we will talk about the eTravel card, how you can get one, and its benefits. If you're ready to learn more, don't change tabs and keep on reading!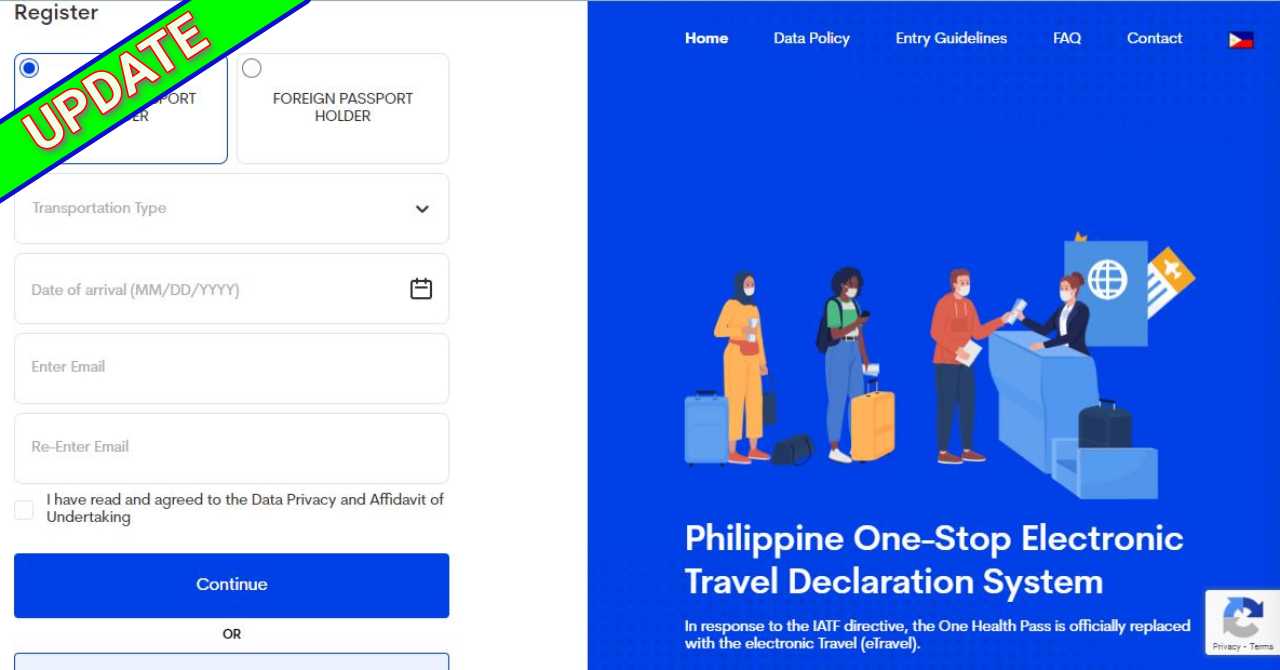 What is eTravel Registration?
The eArrival card functioned as an online health declaration and contact tracing platform, facilitating the transit of foreign passengers from their country of origin to their destination's Local Government Unit (LGU) in the Philippines.
Beginning December 1, 2022, the Philippine government replaced the eArrival card with a new e-Travel registration. The goal of e-Travel registration will be similar to that of the eArrival card, but it will require less information, be easier to complete, and have an intuitive interface. The former eArrival card registration page will be available and approved just during a brief transition period.
Benefits of eTravel Card Registration
There are many benefits to registering your e-Travel card. First and foremost, it will make your travel experience easier. Upon arrival at the airport in the Philippines, you will no longer have to fill out an immigration form or queue up at a desk. Instead, you simply hand over your passport and receipt for payment of fees (if any). Read on to learn more about how you can benefit from registering your e-Travel card.
Convenience
The eTravel registration is incredibly convenient for both travelers and travel authorities.
This saves time and effort, allowing travelers to relax during the trip instead of worrying about the registration process. Additionally, travel authorities can quickly and easily access traveler health information, allowing them to provide more efficient assistance.
Cost Savings
The eTravel registration can also help to save money. By eliminating the need for paper forms and manual data entry, eTravel registration reduces administrative costs associated with registering travelers.
Additionally, eTravel registration can help reduce medical care costs by streamlining the registration process and allowing the medical staff at travel entry/exit points to focus on providing the necessary assistance and guidance to passengers instead of worrying about paperwork.
Improved Accuracy
The eTravel registration also helps to improve accuracy. By eliminating manual data entry, online health travel registration reduces the chance of errors in patient information.
Additionally, the eTravel registration allows for real-time updates to traveler information, ensuring that travel authorities have access to the most up-to-date information. This helps to ensure that travelers receive the best possible support and guidance on their journey.
Increased Security
The eTravel registration also offers increased security for both travelers and local authorities. Using secure encryption technology, eTravel registration ensures that patient information is kept safe and secure.
Additionally, online health travel registration allows healthcare providers to access patient information without worrying about unauthorized access or data breaches.
Streamlined Communication
Online health travel registration also helps to streamline communication between travelers and travel authorities. By allowing travelers to provide their medical information easily and coordinate with travel authorities, eTravel registration helps to ensure that travelers receive timely response and guidance from travel authorities.
Additionally, the eTravel registration allows travel authorities to quickly and easily communicate with travelers, helping to ensure that they receive timely updates on their health status.
Entry Guidelines
As per IATF Resolution No. 2, travelers should be aware of the various requirements when it comes to entering the Philippines. Here are the entry guidelines for those traveling to the Philippines. This information is taken from etravel.gov.ph:
A. FULLY VACCINATED (Filipino and Foreign Travelers)
– No pre-departure COVID-19 Test requirement – At least fourteen (14) days before departure from the country of origin/port of embarkation, you must have received the second dose of a two-dose series or a single dose of COVID-19 vaccine.
B. UNVACCINATED or PARTIALLY VACCINATED (Filipino and Foreign Travelers)
1. Travelers aged 15 and up must present a remotely supervised/laboratory-based Rapid Antigen Test administered and certified by a healthcare professional in a healthcare facility, laboratory, clinic, or other similar establishment taken 24 hours prior to departure from the country of origin/first port of embarkation in a continuous travel to the Philippines, excluding layovers.
2. Adults (15 and older) who fail a pre-departure test must submit to a laboratory-based Antigen Test UPON ARRIVAL at the airport.
3. Children under 15 years old who are not being vaccinated for any reason must meet their parents' or guardian's requirements. They must also follow the recommendations above.
NOTE: Any inbound traveler, whether Filipino or Foreign national, who shall test positive for COVID-19 through rapid antigen test shall be subjected to the latest prevailing quarantine and isolation protocols of the DOH.
Who should apply for an eTravel Card?
The Inter-Agency Task Force for the Management of Emerging Infectious Diseases (IATF-EID) has mandated that all travelers entering the country complete an eTravel registration.
eTravel Card registration
eTravel is an online platform and information system that is web-based and responsive to mobile devices. To utilize eTravel, all you need is a mobile device such as a smartphone or tablet, a laptop, or a desktop computer. You can access the eTravel platform via the web browser on your mobile device or personal computer.
When to register
Individual eTravel registration applications must be submitted a minimum of 72 hours before an inbound traveler enters the Philippines. This requirement applies to all inbound travelers, regardless of nationality or place of origin, including infants and children.
It is extremely important that the eTravel registration form be completed in its entirety since you will be asked to produce proof of registration in order to board the aircraft.
Process for eTravel Card Registration
Registering on the eTravel platform is simple. Here are a few steps you can follow:
Step 1: Go to the eTravel registration website.
Step 2: Choose either "Philippine passport holder" or "Foreign passport holder" based on your nationality.
Step 3: Enter your trip details and email address, then hit "Continue."
Step 4: Fill out your registration form by providing your personal information and signing a health declaration form.
That's it! Simple, right? After you have successfully registered for the eTravel Card, your QR Code will be sent to you. You can download or take a snapshot of this QR Code before exiting or closing the eTravel application or website. You will then be required to present this code to the airline representative before boarding the plane.
Green QR Code
Once you have submitted all required information and files, the eTravel system will generate a Green QR Code for you. When you are given a Green QR Code and your online registration information and associated documents are authenticated, you will be able to use the airport's "Express Lane," where your Green QR Code will be scanned and tagged with your arrival date and time. There could be no additional interviews or document submissions.
Red QR Code
If you are lacking prerequisites, you will be issued a Red QR Code and will be interrogated by Bureau of Quarantine (BOQ) workers upon arrival at the airport to manually verify and determine if you are required to undergo facility-based quarantine and RT-PCR Testing.
Cost for eTravel Card
Unlike other travel registration sites, eTravel does not require a payment method. It is free of charge, and you can register without any form of payment. Be wary of websites that claim to be legitimate, but require payment in order to operate.
Video: UPDATED E-TRAVEL REGISTRATION STEP BY STEP GUIDE | ETRAVEL REFERENCE NUMBER | ETRAVEL PHILIPPINES
If you're looking for an easy way to stay up-to-date on all the latest e-travel registration steps, then watch this new video about the updated e-travel registration process.
This video will answer some of your most urgent questions about the process, giving you the tools and knowledge you need to ensure a stress-free travel experience.
Frequently Asked Questions:
Following the IATF directive, eTravel will be replaced by a new website featuring a health declaration checklist. The public will be informed about the new link once it is deployed. Meantime, here are some FAQs regarding the eTravel registration system:
1. What is the purpose of the eTravel?
The eTravel platform allows international travelers to easily and securely declare their health information and contact tracing details while they're in the Philippines. It's also for the country's government to have a database of all individuals entering the country who have been diagnosed with a specific disease.
All foreign and local travelers, including children and infants, should register for the eTravel platform before they travel to the Philippines.
2. What is DOH?
The Department of Health is the country's primary health agency. It is responsible for providing comprehensive public health services. It also regulates the activities of various providers of health care.
3. What is BOQ?
The BOQ, which is regarded as one of the government's oldest agencies, is responsible for ensuring the security of the Philippines against the spread of infectious diseases and other public health emergencies.
4. What is IATF?
The IATF-EID is composed of various agencies and departments of the Philippines. In January 2020, it was tasked with addressing the growing outbreak of COVID-19 in Wuhan, China.
On March 9, 2020, President Duterte ordered the formation of the IATF-EID to address the growing number of COVID-19 cases in the country. The IATF-EID is composed of the following executive departments and agencies:
Chair: Department of Health Co-Chair: Department of National Defense Members: Department of Agriculture; Department of Budget and Management; Department of Education; Department of Finance; Department of Foreign Affairs; Department of Information and Communications Technology; Department of the Interior and Local Government; Department of Justice; Department of Labor and Employment; Department of Migrant Workers; Department of Public Works and Highways; Department of Science and Technology; Department of Social Welfare and Development; Department of the Interior and Local Government; Department of Tourism; Department of Trade and Industry; Department of Transportation; Office of the Executive Secretary; Office of the Press Secretary; Presidential Management Staff; Office of the Special Assistant to the President; Commission on Higher Education; Technical Education and Skills Development Authority; National Economic and Development Authority; Office of the Chief Presidential Legal Counsel; and Civil Service Commission.
5. What are the Entry Requirements in the Philippines?
You must first register with eTravel and show proof of your registration when you're at the airport or on your way to the Philippines.
In accordance with IATF Resolution 168, effective May 30, 2022, all international travelers who are planning on visiting the Philippines are hereby exempted from having to undergo a facility-based quarantine and are only required to present a negative test result if certain conditions are met.
6. What does Fully Vaccinated mean?
Travelers who are fully vaccinated against COVID-19 are referred to as F-Vocinated. They have had a second dose of the vaccine or a single dose of the vaccine more than 14 days before they leave for their destination.
7. What does Booster mean?
The booster shot is a type of immunization that is administered to a population that has completed a series of vaccinations.
8. Why do I need to register to the eTravel?
On September 1, 2021, all incoming travelers in the Philippines are required to use the e-Travel registration system to confirm their details. This is according to IATF Resolution 135.
9. Do I need to pay for the registration of eTravel?
The eTravel registration process is free of charge, and does not require a payment via online. Be aware of fraudulent or fake websites that claim to have the necessary payment details.
10. Do I need to download and APP to use the eTravel?
The eTravel is a web-based platform that is mobile-friendly. It can be accessed through a smartphone or tablet or a computer. You can open it using a browser that's compatible with mobile devices.
11. Do I need an internet connection to use the eTravel?
eTravel is an online platform that can only be used if you have a stable internet connection. It is recommended to use it while you have such a connection.
12. Can I register few days before the flight (before I travel)?
You can only register for eTravel within three days prior to your trip to the Philippines. Those who have already submitted their proof of registration must present it at the airport. Their recent health condition must also be declared within 72 hours before they can board the plane.
13. Is all information asked in the eTravel relevant to Health Declaration Checklist requirement?
Some of the questions that were added to the system were designed to help the authorities determine which category you should be in, based on the requirements of the IATF. This will allow you to easily navigate through the various categories and be assisted by the health border authorities.
14. What is eHDC?
The Electronic Health Declaration Card is a type of card that's used by all travelers in the Philippines to present their health information to BOQ. This form was previously filled out manually by the travelers. With the eTravel, instead of using a yellow paper form, you will receive a QR Code form after your registration has been successful.
15. What is the difference between the Green QR Code and Red QR Code of eTravel?
The eTravel system will issue a Greeb QR Code if your submission of the necessary information and attachments is complete and compliant with the IATF's latest entry protocols.
On the other hand, if you have any missing requirements, you will be issued a Reg QR Code upon reaching the airport. A BOQ representative will then check if you have to undergo RT-PCR or quarantine testing.
16. What do I need to do after I register?
Before you can exit or close the eTravel application or webiste, take a quick look at your QR Code. This will allow the airline representative to confirm that you are a legitimate user and allow you to board the plane. You must then present this code to the BOQ Quarantine officials upon reaching the Philippines.
17. What happens if I have a QR Code issued upon successful registration with eTravel?
Upon registering for eTravel, you will automatically be considered for the express lane upon your airport or seaport arrival.
This means that the Quarantine Officer no longer has to show other documents to you. However, they still check and verify the data that you have submitted to the BOQ in case there are discrepancies or incorrect information. If you have submitted documents that are incomplete or incorrect, such as the COVID-19 test or vaccination, you may still be required to go through a manual verification procedure at the airport.
18. What happens if I have a Red QR Code issued upon successful registration with eTravel?
Upon being verified by the Quarantine Officers, you will be asked to provide them with specific documents in order to determine if you are following the entry protocol of the Philippine Government.
19. What is "Express Lane"?
The eTravel process has been designed to make it easier for international travelers to comply with the health protocol requirements of the country they are visiting.
Through the express lane, you can easily identify and confirm your arrival date and time by scanning and tagging your Green QR Code. This feature eliminates the need for you to submit any documents and allows you to leave the airport without further interviews.
20. What is Manual Process?
Travelers with a Red QR Code may be required to undergo a manual process to confirm their health protocol compliance upon entering the Philippines. This step can also be performed upon submission of documents or information.
21. Does it automatically mean that I will be quarantined if I am manually processed upon arrival by BOQ?
If BOQ verifies that you are in compliance with the entry requirements, then you will not need to go through a facility-based quarantine.
22. Can I print my eTravel personal QR code instead of screenshot?
You can print this document for presentation at the airport or seaport of origin or upon your arrival in the Philippines. Just make sure to take a quick Screenshot or download the eTravel app to save your personal QR code.
23. I lost the screenshot of my personal QR Code, what do I do?
You can retrieve your QR Code and other personal details by logging in to the eTravel website. To do so, go to the website's main page and click on the "My Profile" tab. You can also enter your details, such as your birthdate and reference number.
23. I lost my transaction number; how can I open my profile?
Follow the instructions below to try and find your transaction number. If it's still valid, you can proceed to your account and receive your email address.
24. I made a mistake. Can I still edit my information after I have successfully registered?
If you have not been verified, processed, and tagged as you were when you entered the eTravel by the border health authorities, you can still change some of your details in the website's "Open My Profile" section.
However, you will not be able to edit the data that you have collected since you have arrived due to the quarantine officer's strict requirements. The data that you have collected includes your arrival date, address, and other personal information.
Final Thoughts
In conclusion, eTravel Card Registration Philippines is a simple and convenient way for travelers to access the services they need. With the proper documents and a few clicks, travelers can take advantage of the many benefits of the eTravel Card. It is a great way to save time and money and make the most out of your travels. With the eTravel Card, travelers can experience a hassle-free journey to any destination in the Philippines. So, why wait? Get your eTravel Card today and book that trip home!
READ NEXT: 9 Mobile Apps OFWs Need to Stay Safe and Healthy