Overseas Filipino Workers (OFWs) are typically the breadwinners of their families back home. While they are so used to sacrificing some privileges to ensure that their family gets the best of everything, it doesn't hurt to take advantage of modern technologies to ease some of the pain of being separated away. 
Also Read: How to Renew Membership in OWWA Mobile App
In fact, with the direction that technological development is moving into, it is perhaps more unusual for OFWs not to adapt and use mobile apps. From entertainment to parenting, and even communications, the development of more mobile apps and lower-priced smartphones plus the advent of cheaper mobile data bundles really just call for OFWs to step up their relational connections to friends and families online by downloading any or all of these apps and hopefully, making their OFW journey just a little bit more bearable.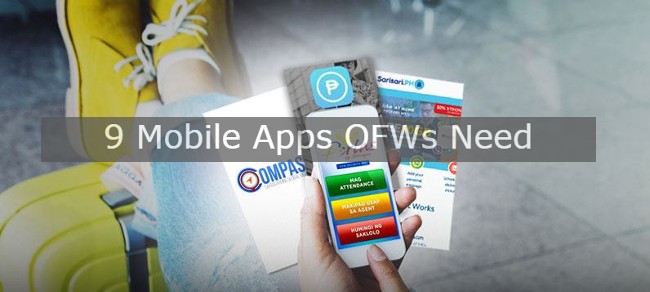 Useful Mobile Apps for OFWs
To help the hardworking OFWs stay sane and connected to their families back home, we rounded up some of the best mobile apps, which will be valuable and helpful to them, regardless of where they are. 
OFW Watch
This mobile app is a product of an initiative between two partners from the private sector and the Philippine government—the Department of Labor and Employment (DOLE) and the Overseas Workers Welfare Administration (OWWA). It was an all-in-one app pioneered by former OFW, Myrna Padilla, to help OFWs with everything they'll ever need using mobile phones and social networking technology.
It comes with several exciting features, including:
Emergency SOS button: An SOS button that generates either one or all of the following responses: 

An immediate call back to confirm the situation.

An immediately targeted broadcasting of your SOS message and location to the concerned embassy, DOLE, and attached agencies, volunteers, and community support groups nearby. 

Real-time broadcasting and monitoring of the SOS status until its final resolution.

Non-emergency reporting function: A reporting function for cases of abuse, missing OFWs, or corruption.
Connecting Filipinos function: Offers features that allow OFWs to connect and be together.

Alerts – users get notified if another Filipino is using the app nearby.

Find others – geo-location data connects you with other nearby OFWs, ex-pats, and community groups. The profiles of users who are close by will include a link to their public social media accounts to encourage connections between both parties.

Check-in functions – This mobile app feature allows the integration of Google Places. That said, it identifies popular or safe locations for Filipinos, including comments and reviews from other Filipinos who have been around.

Groups – locate, create, and join local Filipino associations and groups.

Ask a Question: A place where OFWs can ask any question filled with knowledgeable staff and numerous community volunteers to monitor and deliver prompt answers. Here, OFWs can ask about anything under the sun—from how to make chicken soup to how to renew your passport—and get an answer. 
OFW Work Journal: This work journal is where an OFW can record their work conditions, both in the past and present.

A DOLE and OWWA-supported journal where OFWs can record their work conditions. 

These Work Journals can be monitored remotely both by OWWA and POLO. The monitoring may cover posts, photos, and videos posted by the OFW in response to specific questions posted by either an OWWA or a POLO staff member.

Resources Library: Other resources would make life easier and more productive for every OFW.

Directories of all Philippine Embassies, Consulates, OWWA, and POLO offices. Each listing contains detailed information, including Google maps, hotlines, fax numbers, email addresses, directions, and contact names.

FAQs: hundreds of answers. Frequently asked questions from OWWA, POEA, and DFA. 

Programs: Access to programs and mini-website, including currency converter, simple translator, language lessons, tips, and much, much more.
CompassPH
Launched in November 2017 by CompassionatePH Tech, this mobile app is an OFW's one-stop-shop platform for loan applications, remittances, online prepaid loads, and other services. It comes with an SOS button and community features and is dedicated to safeguarding Filipino migrant workers abroad.
Developed in partnership with Philippine government agencies, CompassPH offers assistance to OFWs with support from various organizations, including Filipino Domestic Workers Association in the UK, Migrante International, Mission for Migrant Workers in Hongkong, and National Alliance for Filipino Concerns in the US.
Some of the main features of CompassPH include:
SOS – Emergency Response: This feature allows distressed OFWs, migrant workers, their families, and friends to alert the Compass community if they need urgent assistance.
Community Feature: Reserved for critical but not life-threatening cases, it allows users to: 

Ask questions, and share thoughts and opinions with trusted people and organizations. 

Help OFWs, migrant workers, their families, and friends better understand how to avail of public services, dismemberment benefits, scholarships, disability and death benefits,

Learn more about the latest information on the newest Development/Training programs  

OFW Services: This feature allows users to conduct transactions related to:

Remittances

Loans

Sending of load, groceries, gift certificates, tuition payment, etc.
Also Read: 13 Best OFW Loans in the Philippines (Banks and Government Agencies)
Abizo OFW
Developed by Galileo Software in partnership with the Department of Migrant Workers (DMW), formerly Philippine Overseas Employment Administration (POEA), to support OFWs, this mobile app enables real-time monitoring globally via mobile and social networking technology. 
The Abizo App is designed to be an innovative solution that will allow the government to monitor and facilitate the management of Overseas Filipino Workers (OFWs) activities from anywhere in the world. Intending to develop further, later on, the developers of this mobile app currently offer the following features:
Connecting Filipinos: With this feature, the app allows the government to monitor the OFW, regardless of which country they enter or exit. This covers monitoring of the OFWs:

Departure from the Philippines

Arrival from the Host Country

Departure from the Host Country 

Arrival in the Philippines

OFW Registration Update: This feature allows the app user to update their contact information in the Philippines. At the same time, it provides for their continuous monitoring during their stay abroad or foreign employment period. 
Reporting Concerns: Like the other OFW mobile app, the Abizo OFW app also features a pilot red SOS button that allows OFWs to communicate and request assistance.
OWWA Mobile App
The OWWA mobile app is a productivity application developed by the Overseas Workers Welfare Association (OWWA) to make OWWA programs and services available to their members' networks worldwide. 
Through the app, OWWA members can pay their biannual membership fees, avail of loans, acquire TESDA scholarship, and avail of livelihood and entrepreneurship seminars and other reintegration programs upon their return. They may also use the app to check their employment contract information, membership status, payment history, and member beneficiaries and learn and avail of OWWA services related to disability, dismemberment, and death benefits, seafarers upgrading program, skills for employment scholarship program, information technology training program, and OFW Enterprise Development and Loan program.
The OWWA mobile app also includes their contact details, hotline numbers, email address, and regional office address.
In essence, the OWWA mobile app is a handy tool for OFWs to:
Access their OWWA profile.

Check their latest employment contract.

Verify the status of their OWWA membership.

Renew OWWA membership.

Pay for OWWA membership fee.

Access their transaction history.

Check FAQs and Important OWWA details and contact information.

View their passport
Also Read: How to Renew Membership in OWWA Mobile App
Lingkod Bayan App
Lingkod Bayan app is the first free business app created by Script Republic. This mobile app is designed to help OFWs and other Filipinos by consolidating all online government services in one place. 
With this mobile app, you can do away with long queues and save time, money, and energy by availing services offered by the Department of Foreign Affairs (DFA), Philippine Statistics Authority (PSA), National Bureau of Investigation (NBI), PhilHealth, Philippine National Police (PNP), Bureau of Internal Revenue (BIR), Commission on Election (COMELEC), Land Transportation Office (LTO), Government Service Insurance System (GSIS), Department of Trade and Industry (DTI), Civil Service Commission (CSC), Department of Health (DOH), and Bureau of Quarantine (BOQ).
Through the Lingkod Bayan app, you can access the following: 
BOQ Online Scheduling System

VaxCertPH

DFA Passport Appointment for application and renewal

PSA Serbilis: Request your PSA Birth Certificate and deliver it to your door

NBI Clearance Appointment for application and renewal

My PhilHealth Portal: Access your Membership, Benefits, Contributions, Collections, and Accreditations

Police Clearance Appointment for application and renewal

BIR eServices: eReg, eFPS, eBIRForms, ePay, eTSPCert and others

COMELEC Precinct Finder

LTO Pass: Personal Appointment & Scheduling System

eGSIS MO: Membership Records and Statement of Loans and Contributions

POEA Online Services for OFWs

DTI Business Name Registration System

CSE Result Generation System
Kumusta Kabayan 
Kumusta kabayan is a health & fitness app from GCMH. Originally named Step-by-Step, the app was developed by the World Health Organization (WHO) in 2018 to help people worldwide, OFW or otherwise, who are experiencing difficult emotions, low mood, and stress. 
It was designed as a voluntary research project on a support program accessible via a smartphone app or a website. It was not developed to replace actual treatment or medical intervention. Instead, it's meant to be a more accessible support system for OFWs who find it hard to cope with the stress and mental challenges that they are experiencing.
Also Read: Hotline for Mental Health Crises Intervention Launched
Our Family Wizard
Our Family Wizard is a co-parenting tool and mobile app designed to help families stay in the loop regardless of distance. It's a paid app developed in 2001. Still, it's pretty valuable, especially regarding resolving conflicts related to managing parenting time calendars, budget tracking, family data storage, secure messaging, and actual co-parenting communications. Though it works so well for divorced couples, it is also quite effective for parents and children separated by distance, much like the setup between OFWs and their families.
Some of the most appealing features of this mobile app include:
 Calendar

View your parenting schedule per month

Propose parenting time trades via the built-in Trade/Swap™ function of the app

Share events and assign pick-up or drop-off duties as needed.

Incorporate special schedule arrangements for holidays.

Journal

Verify presence and location during parenting time exchanges via the GPS Check-in function

Capture memories and parenting observations with the Moments feature

Tag locations and add photos to the Journal feature.

Read private journal entries as well as entries shared by your co-parent.

Message Board

Send secure messages to your co-parent, children, 3rd parties, and practitioners, as needed.

Get time-stamps on messages upon sending and when first viewed.

Use ToneMeter™ to identify and flag emotionally-charged messages, which you can then adjust before sending*

Expense Log

Document expenses and reimbursement requests, and payments

Create custom categories so you may break down shared expenses as needed

Upload and document receipts for each expense request.

Make payments for expenses, reimbursements, and child support, via OFWpay™**

Info Bank

Easily organize medical records, clothing size details, school schedules, and much more in a secure location.

Access the MyFiles feature to upload, view, and manage your private and shared documents.

Protected Child Access

Free, limited-access accounts for children make it easy to keep everyone aware of any or all family plans.

Offers the ability to view Calendars, create Journals, and send and receive messages between family members

Protect or restrict access to parent-specific content, including but not limited to messages between parents, the budget logs, and other information on the Info Bank

Additional Features

Use Fingerprint Authentication or set up a quick-access PIN for convenient access when logging back into the mobile app.

Get push notifications about a new activity, or manage your email/text notification settings within the mobile app.

Free third-party accounts give other family members the right amount of access to view family plans.
*ToneMeter™ is an optional add-on tool optimized for English (US).
** To use OFWpay™, you must have a valid checking or savings account in the USA.
OFW Teleseries
OFW Teleseries is an entertainment app from Pinoy Inc. It was designed to help OFWs combat the homesickness and loneliness of living and working so far from home by providing entertainment in the form of classic TV and drama shows and series many Filipinos enjoy back home. 
OFW Radio
OFW Radio is a radio streaming app that lets you listen to all the radio stations around the Philippines. From AM to FM radio stations, this app enables OFWs to bring home and culture a little bit closer, doing wonders to their emotions while living in a far-off place. 
As one of the frontrunners of communication and information sharing in the Philippines, radios remain one of the primary sources of news and the most pervasive, persuasive, and credible medium of information dissemination in the country, reaching 85 to 90 percent of the Filipino population. Despite the arrival of newer technology, radios remain the medium of choice for the Filipino masses as the programming content and format remain so diversified that there is always something that suits the taste of every sector—from homemakers, students, business people or entrepreneurs, music enthusiast (from pop music to rock and revivals), religious, farmer, and sports enthusiast, among others.
That said, the OFW Radio mobile app offers the following features to OFWs who can't do away with at least two to three hours of radio time, regardless of their location:
All Online Radio Stations

FM 

AM

Luzon Visayas Mindanao Radio STATION

Cool Design

Sleep Mode

Regularly add new radio stations
Their radio stations list include:
AM Radio Stations

Bombo Radyo Iloilo DYFM 837 kHz

Bombo Radyo Dagupan DZWN 1125 Khz

Bombo Radyo Baguio DZWX 1035 KHZ

    

Bombo Radyo Cauayan DZNC 801 Khz

   

Bombo Radyo Vigan DZVV 603 KHz

Bombo Radyo Laoag DZVR 711 KHz

Bombo Radyo La Union DZSO 720 Khz 

Bombo Radyo Legazpi DZLG 927 Khz

UNTY Radio 1350 AM

Radio Pilipinas Manila

Radyo Pilipinas 2 918

Radyo La Verdad 1350 khz

DWIZ 882 AM
FM Radio Stations

iFM Bacolod

100.5 Sweet FM Bacolod

Bacolod City DYMG 103.1 MHZ

Star FM Iloilo DYRF 99.5 MHz

Yes FM Manila DWYS 101.1 MHz

iFM Dagupan DWON 104.7 MHz

Star FM Dagupan DWHY 100.7 Mhz

Wish FM 107.5

Love Radio Tacloban DYTM

Star Radio Catbalogan

VSU Radio DYDC 104.7

Like Radio Guihulngan DYJL

Yes! the Best Dumaguete DYYD

Like Radio

90.5 DYRL

Monster Radio BT 105.9 DYBT

Retro Cebu 103.5 FM DYCD

Easy Rock Cebu DYTC

Y101 Cebu

DYIO

WRocK Cebu 96.3 Lite DYRK

Yes! The Best Cebu DYHR

89.9 MemoRieS FM Cebu DYKI

Kumbati Like Radio San Carlos

Love Radio Roxas DYML

Win Radio 107.9 Iloilo

Yes! the Best 911 Boracay

Boracay Beach Radio

97.3 DYKP

Radio Waves of the pacific 107.7 FM
Online Radio Stations

Wish FM 107.5

Atlantis Radio Philippines

One Direction FM

Radio One FM

CLRKHITFM

  

Double A Fire FM

United Nation FM

Broadcast Radio FM

Pinoy Heart Radio

Forever 99.9 FM

89.7 Wow fm

29.9 Kiss FM

Pinoy Arabia FM

97.9 Home Radio

101.1 Ldrfm Radio

OPM Radio

103.9 Dumarao Musika FM

101.6 HomeRadio

V81 Radio

OFW fm Radio

Pinoy Juan Radio

Kolokoy entertainment radio

CHOI 98,1 Radio X

Hello Radio

Buzz Pinoy Radio

Strong Arm Radio

HeyFM

Gami Radio

Tee Radio

MyDream Radio

Pinoy DJ Radio

MOR 101.5 Bacolod
Foreign Radio Stations

CHOI 98,1 Radio X

Hello Radio
Podcasts

Barangay Love Stories

ABC Radio ADELAIDE

ABC Radio SYDNEY

Calibread Radio OC
This list may not be as exhaustive as we originally intended but if you are an OFW, it would be in your best interest to look into the apps that we have listed above to see how it can help you cope with the struggles of working so far away from your comfort zone and your families and friends.
Also Read: Common Health Problems Among Overseas Filipino Workers (OFWs) Abroad
However, in the event that we missed any app that you think deserves a spot in this list, please feel free to share it with us in the comment section below!