Planning more travels in the coming year and beyond? As of this writing, one of the requirements set by the Philippine government is presenting a digital copy of one's VaxCertPH vaccine certificate. This will serve as proof of vaccination with the prescribed shots for local and international travel.
In this guide, we'll share some of the basic information you need to request a digital vaccine certificate through the VaxCertPH portal. If you're trying to find out how to get your VaxCertPH vaccine certificate, here's what you need to do: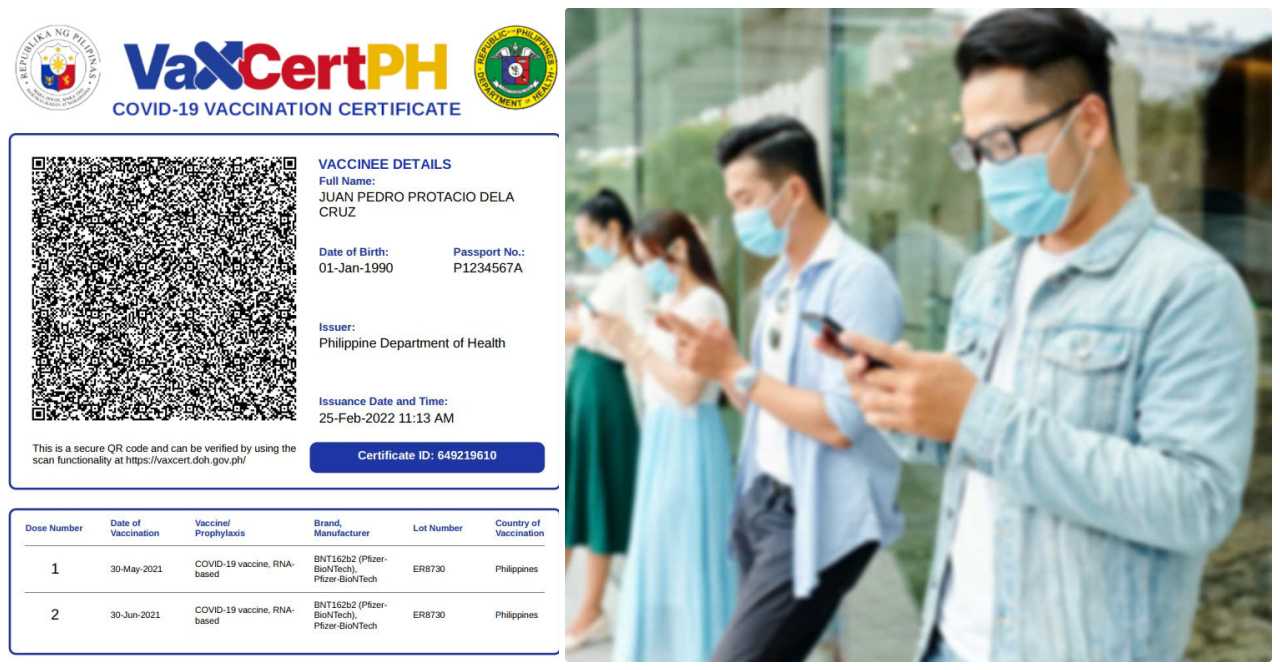 VaxCertPH: An Overview
The DICT and the Department of Health (DOH) operate VaxCertPH, the national vaccine certificate system.
According to DICT Undersecretary Emmanuel Rey Caintic, the digital vaccine certificates match the World Health Organization (WHO)'s digital requirements.
It seeks to show the immunization status of the certificate holder. Currently, the procedure only applies to those who have been adequately immunized.
It is freely accessible via the VaxCertPH portal. VaxCertPH employs both private and public-key encryption for security.
The program also aims to give Filipinos traveling abroad an internationally recognized vaccine passport.
Caintic revealed that VaxCertPH would be released concurrently with the Yellow Card.
"While the new WHO Digital Certificate standard is being accepted globally, the Bureau of Quarantine's Yellow Card is suitable as an interim COVID-19 Vaccination Status mechanism for international travel," Caintic noted.
"It is essential for overseas travelers to confirm which immunization documents will be requested and accepted at the port of entry to their destination," he said.
Caintic did note that the VaxCertPH vaccination certificate is not a passport for immunizations.
Moreover, this does not prove one's identity, which means it cannot be used to replace the Philsys ID issued by the government.
Furthermore, it is not a substitute for the Yellow Card "for other sorts of vaccines (e.g., yellow fever, cholera, typhoid, and so on)."
What to check in your Vaccination Certificate
Quick Response (QR) code for vaccination certificate — which according to Caintic must match data in the Vaccination Information Management System (VIMS).
Personal details include the vaccine recipient's full name, date of birth, and sexual orientation.
Issuance details — such as the name of issuing office as well as the date and time of issuance.
Certificate ID number — a unique nine-digit number.
The certificate should also provide information regarding the vaccine the certificate holder had. These are as follows:
Dose number represents the number of doses administered to the certificate holder.
Vaccination date shows when the certificate holder received his or her first and / or second dose of vaccine against COVID-19.
Vaccine or Prophylaxis type — which details the type of vaccine administered to the certificate holder (COVID-19 vaccine, RNA-based, viral vector-based).
Brand and manufacturer refers to information that includes the brand or trade name used to refer to the vaccine (BNT162b2, mRNA-1273, JNJ-78436735) and the name of the vaccine's manufacturer (Pfizer-BioNTech, Moderna, Johnson & Johnson, Sinovac, Sinopharm).
Lot number for vaccination shows the batch number or lot number of the vaccine administered.
The country of vaccination represents the country where the certificate holder received his or her vaccine doses.
Who can get it?
Those who have been fully immunized against SARS-Cov2, the virus that causes COVID-19, can receive their digital vaccination certificates via the VaxCertPH portal.
However, it is not yet available to the general public.
Vaccination certificates were provided to overseas Filipino employees and Metro Manila residents who will travel abroad during a soft launch in Metro Manila and Baguio City.
According to DILG spokesperson Jonathan Malaya, the government will implement it in Central Luzon, CALABARZON (Cavite, Laguna, Batangas, Rizal, and Quezon), MIMAROPA (Marinduque, Occidental Mindoro, Oriental Mindoro, Romblon, and Palawan), Metro Cebu, and Metro Davao, as well.
Step-by-Step Procedure to Register VaxCertPH Online
You can now download your VAxCERT or vaccine certificate by using the QR code found on the website of the Department of Health. This will allow you to show proof of your COVID-19 vaccination status when traveling abroad or in the Philippines. Here's how:
Step 1: Visit the official VaxCertPH website.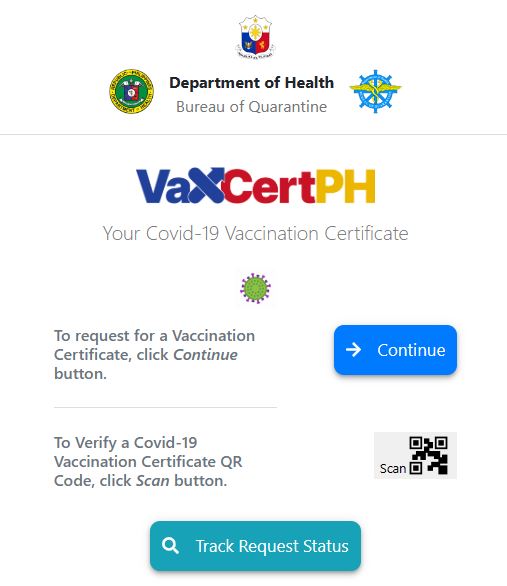 Go to www.VaxCert.doh.gov.ph. Here is how the website appears. To request a vaccination certificate, click the "Continue" button.
Step 2: Read and Accept the Data Privacy Statement

After clicking the "continue" button, you'll be asked to confirm the privacy statement. You must have your government-issued ID and vaccination card to complete the process.
Step 3: Fill out the information required.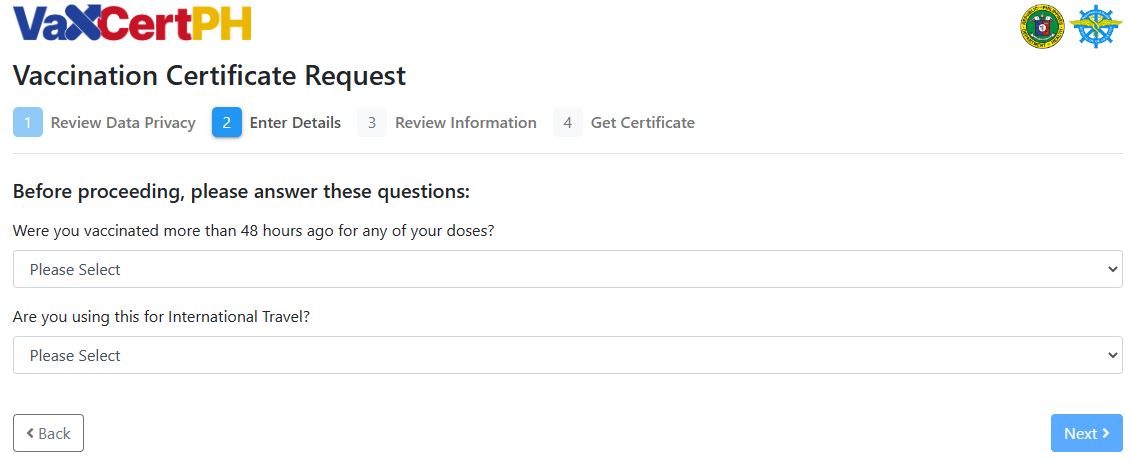 You will then be asked the following questions. Use the drop-down menu to select your answer. Click "Next" then.
• What is your immunization history?
• Were you vaccinated for any of your doses more than 48 hours ago?
Step 4: Proceed to provide your personal details.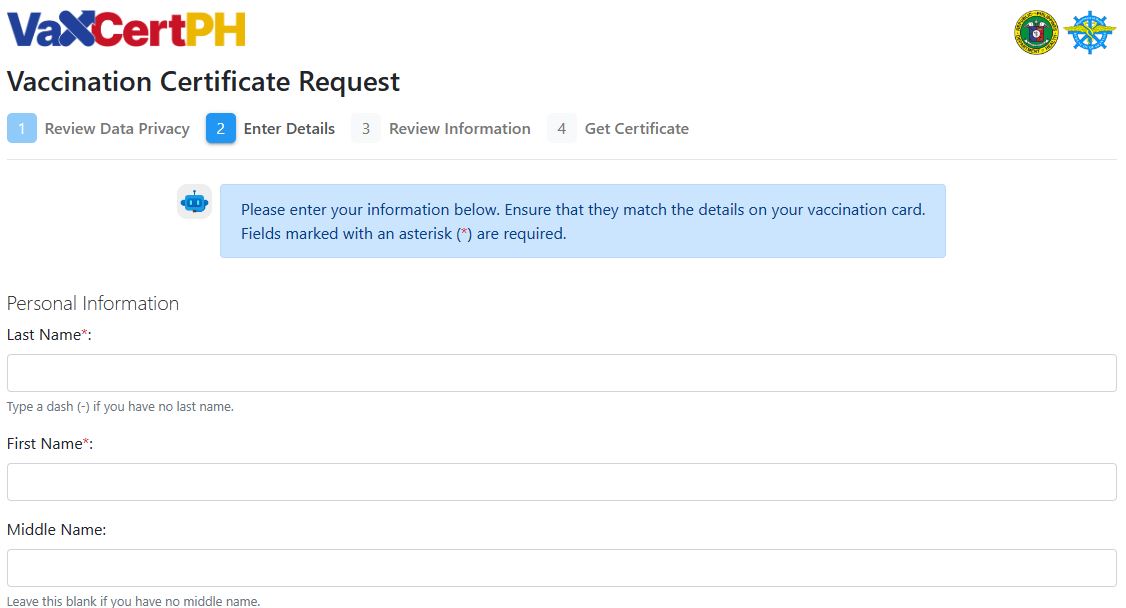 Read through the fields requiring your information. Those marked with red asterisks (*) cannot be left blank or skipped.
Step 5: Review the information you provided.

For this step, you will be provided a summary of what you answered in the form. Go through all the pertinent parts, particularly your vaccination information, and ensure that your form is free from errors. After doing so, click Continue.
The system will then verify your information and confirm whether or not they have your record. If it doesn't, you may redo the process once more or submit a Not Found Request by clicking Next.
Step 6: Save a copy of your digital vaccine certificate.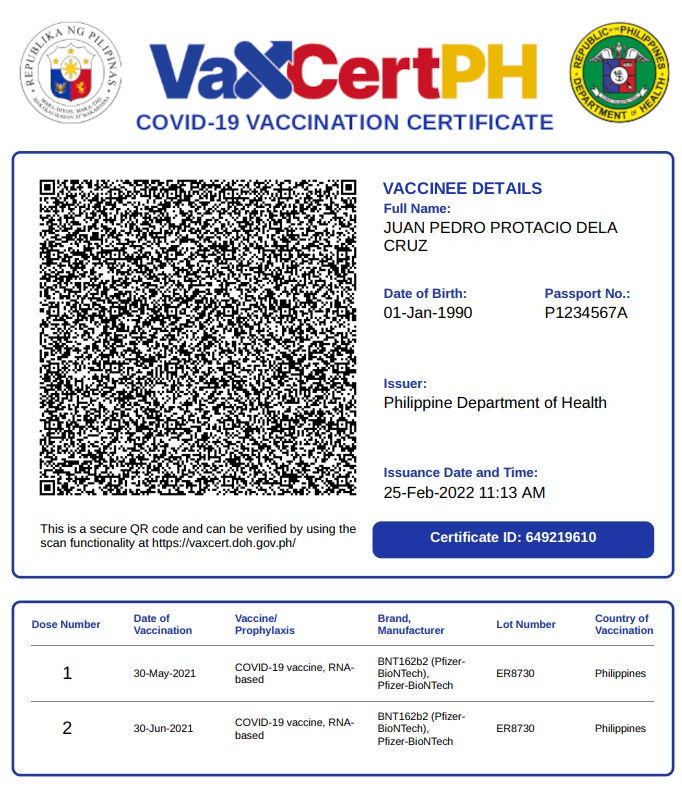 Assuming you've reached this step, the system has found and confirmed your record, so you can download a copy of your digital vaccine certificate.
Notes:
Once your record has been found on the system, you may simply access your account and update your vaccination status.
The generated vaccination certificate is only valid for two weeks after the last immunization date.
If you have any questions or issues about VaxCertPH, please email vaxcertsupport@doh.gov.ph.
Video: PAANO KUMUHA NG VAXCERTPH | COVID-19 VACCINATION CERTIFICATE | COMPLETE EASY GUIDE
How many vaccine shots have you received since the pandemic began? Is this information required from you, especially for your travels, whether locally or internationally? Here's a helpful video on how to get your VaxCertPH! This video will show you how to acquire a vaccination certificate online through the DOH website. It's very simple, easy and fast! You don't need to visit any clinic or health center just to get this document. Everything can be done conveniently online!
Frequently Asked Questions
1. What is the difference between BOQ yellow card and VaxCertPH?
The BOQ yellow card and/or the VaxCertPH app can be used as an identification document for entry into the Philippines. The requirements for a BOQ yellow card and VaxCertPH may differ from destination to destination, so be sure to check the requirements of your destination country before leaving.
2. Is it a requirement to have my VaxCertPH? What if I don't have it yet?
Although a VaxCertPH is not yet required for travel, school enrollment, employment or any other transactions in the Philippines, you may need to present proof of your COVID-19 vaccination status when traveling domestically. If your VaxCertPH is not yet available, physical vaccination cards issued by the LGU or any proof of vaccination issued by the foreign country (if vaccinated abroad) can also be presented.
As of February 21, 2022, VaxCertPH has been recognized in various countries as the official digital version of the Philippines' vaccination card:
Albania
Argentina
Armenia
Australia
Azerbaijan
Bahrain
Bangladesh
Brazil
British Virgin Islands
Brunei Darussalam
Cambodia
Canada
Chile
Chinese Taipei
Colombia
Ecuador
Egypt
EU Austria
EU Belgium
EU Bulgaria
EU Croatia
EU Denmark
EU Estonia
EU France
EU Germany
EU Greece
EU Ireland
EU Italy
EU Malta
EU Netherlands
EU Nunciature Czech Republic
EU Portugal
EU Republic of Cyprus
EU Romania
EU Slovakia
EU Slovenia
EU Spain
Georgia
Hongkong
India
Indonesia
Iran
Iraq
Israel
Japan
Kazakhstan
Kenya
Kuwait
Lao PDR
Macau SR
Malaysia
Maldives
Mexico
Monaco
Morocco
Myanmar
Nepal
New Zealand
Oman
Pakistan
Palau
Panama
Papua New Guinea
Peru
Qatar
Rwanda
Samoa
Serbia
Singapore
South Korea
Sri Lanka
Switzerland
Syria
Thailand
Timor-Leste
Tunisia
Turkey
United Arab Emirates
United Kingdom
United States of America
Uruguay
Vatican City
Vietnam
The entry requirements and quarantine measures for vaccinated and unvaccinated tourists in the aforementioned countries/territories will remain in effect. Furthermore, the permissible vaccines for admission into the aforementioned countries vary, as determined by their respective regulatory agencies and/or the WHO:
Those who have been fully immunized in the Philippines must register their vaccine certificates at a public health institution upon arrival in the Republic of Korea so that the authorities can confirm immunization.
Tourists in the United Arab Emirates must upload their vaccination certificate to the "Arrival Registration and Vaccine Certificate Service" in order to acquire the certificate on the ALHOSN UAE App.
Tourists must upload their vaccination certificates to the "Registration of COVID-19 Vaccine Document issued Abroad" webpage, according to the Public Health Department of Kuwait. The COVID-19 vaccine certificate can be read using the Immune App after registration, if approved.
European Union, recognition offered by various European Union countries solely applies to the relevant country. Because of the global expansion of the COVID-19 scenario, travelers are recommended to collect vital information and additional requirements concerning their country or territory of destination's existing legislation and norms prior to departure.
3. How do I verify my QR code properly?
On your webcam-equipped smartphone, laptop, or desktop computer, navigate to https://vaxcert.doh.gov.ph.
Choose "Scan QR code." Allow the website to use your camera as necessary.
Scan the QR code on the issued certificate's upper left corner.
When scanning the QR code, please keep the following points in mind:
The QR code should take up at least 70% to 80% of the screen. On the camera frame, include a complete QR code.
The QR code must be parallel to the camera.
The camera should be held still for at least five seconds.
The red line must be placed in the center of the QR code.
Please ensure that the paper QR code for scanning is sufficiently lighted so the scanner can readily read it.
4. How do I request for my records to be updated?
Users may change their VaxCertPH data if they meet the following criteria:
The generated VaxCertPH contains incorrect information (name, vaccination site, etc.)
Booster/additional doses are not currently included in previously published VaxCertPH documentation.
To update your files, follow the steps below:
Click "Update record" to begin the updating procedure.
You must submit your email address and/or phone number, as well as a photo of your immunization card and government-issued identification.
Your request will be forwarded to the LGU where you had your vaccine so that they can confirm and amend your vaccination records.
After your request has been processed, you will be notified through email or phone, and you may resubmit a request for your DVC via the website.
5. I sent a request to the VaxCert team. Where can I track it?
Please follow these steps to track the status of your request:
Click "Track Request Status" on the site's landing page.
Choose email, phone number, or reference ID as your search criteria, then input your First Name.
When you click "Submit," the status of your request will be displayed, including the status description and any LGU comments.
Final Thoughts
Getting a digital vaccine certificate has become easier, but it's still important to ensure you send in your request for a digital vaccine certificate before leaving the country. If you don't, you may encounter some issues on your planned travel dates, and nobody wants that.
The VaxCert team has set up an easy-to-use online system that makes submitting a request quick and simple, so there's no more need to queue in lines or personally request it from any government agency.
We hope that you've learned something new about the digital vaccine certificate and how it can make your travel more convenient. If you have any questions or concerns, feel free to contact the BOQ and the DOH through the following contact details.
Contact Information:
Customer Hotline:
Tel: 88-7614-88
Email: vaxcertsupport@doh.gov.ph
READ NEXT: How to Process eTravel Registration Philippines