In case you're wondering if you cannot make calls through Skype, WhatsApp, Viber, FaceTime in countries in the Middle East like the UAE and Qatar, it is because the calling features of these apps are blocked or disabled by the telecom providers in the country. You can still use these apps in order to 'chat', but the VoIP (Voice Over Internet Protocol) service, which includes video calling and voice calling, is banned.
Although it is not unusual for a country to regulate the usage of internet for their citizens, The United Arab Emirates and Qatar now officially joins China, Egypt, Jordan, and Belize (to name a few) to have blocked Skype services in their regions.
Skype, the Microsoft acquired company in 2011, has just been added to the list of banned VoIPs in the UAE and Qatar. The two main Internet Service Providers in the United Arab Emirates, Etisalat and Du, reasoned out that the services provided by this application are classified as unlicensed Voice over Internet Protocol Services and should be disallowed per the regulations.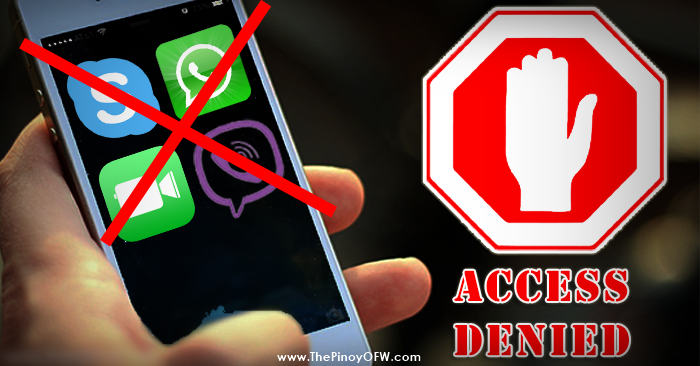 Skype Services Now Added to the Banned VoIP List in the UAE and Qatar
Despite the economical benefits (this allows you to communicate with someone who may as well be on the other side of the world for free) gained in using VoIP services, the UAE currently has rigid provisions in place for these which focuses on keeping the privacy and security related concerns of its internet users protected and safe.
Unfortunately just this weekend, most consumers only learned about this news due to the unpleasant experiences they had in using the application. One person mentioned that he could not hear anything from the earpiece while using the app despite having really good internet connection. While another said that his call would not connect at all when he tried calling a friend.
If you also visit the support page of Skype, it validates this direction and mentions that there isn't much that they can do about it. As well, users are advised that they should be contacting their internet service providers for the explanation and that they may ask to have the block on the these services lifted.
Etisalat and Du Telecoms in the UAE Offer Alternative Options
For people looking to still utilize VoIPs however, Etisalat and Du offer their own VoIP based applications namely, BOTIM and C'Me which currently go for 50 AED and 100 AED depending on the package that suits them.
Apparently, VoIP services may actually still be allowed to operate in the country as long as certain qualifications are satisfied; the Telecommunications Regulatory Authority (TRA) of the United Arab Emirates has issued a statement that their stand on VoIPs has not changed.