Working Filipinos who have unsettled loan payments with the Social Security System (SSS) were given at least six (6) months under the SSS Loan Restructuring Program to avail loan amnesty, which will soon end on October 1. Not sure how to check your SSS contributions and loan balances? Click here to find out.
(ALSO READ: How to Pay your SSS Contributions as an OFW Abroad)
In this post, we will also share some FAQs regarding the SSS Loan Restructuring Program.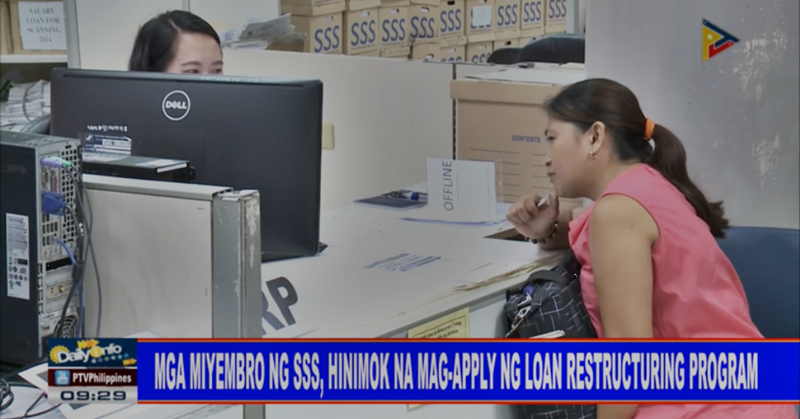 SSS Loan Amnesty to End on October 1
(Disclaimer: The purpose of this article is for information-sharing only. If you have any specific questions or concerns regarding the 2018 Loan Restructuring Program or the Loan Amnesty offered under this program, please seek assistance from an SSS representative or branch near you.)
Here are some frequently asked questions regarding the loan amnesty for delinquent SSS borrowers and the 2018 Loan Restructuring Program of SSS:
1. What is the Loan Restructuring Program of SSS?
The Loan Restructuring Program (LRP) offered by the SSS aims to reach out to delinquent member-borrowers to help them fix their status with the state pension fund by settling unpaid loans, minus the burden of paying the applicable penalties from the payment period elapsed.
2. Why is this being offered now?
This is actually not the first time the state pension fund has offered such a restructuring scheme for delinquent member-borrowers.
The goal of the six-month leniency period is to assist borrowers and to help them regularize their member status with the state fund, in order to maximize the benefits they can get from the agency.
Other than reasons such as target members not being able to avail of the LRP last time, new members who were affected by the more recent series of calamities, such as the Marawi and Zamboanga siege, victims of the Mayon volcano eruption, and then the flooding in Manila and parts of Central Luzon — have all been considered by the SSS board in offering the latest amnesty for delinquencies.
3. How does the LRP work? Am I allowed to make payment on an installment basis?
Yes, the LRP was designed to allow member-borrowers to completely pay their overdue loan principal with corresponding interest by installment, but on a restricted term, based on the member's capacity to pay.
Both payment schemes shall renounce existing loan penalties once a member has completed payment of restructured loan.
4. Until when am I allowed to pay?
This depends on the loan amount that you have received from SSS. Those who have acquired a loan amount of PHP 18,000 and below can settle their payment within a year, whereas those who have a maximum loan amount of PHP 72,000 under the restructured loan are allowed to complete payment for up to 5 years (60 months).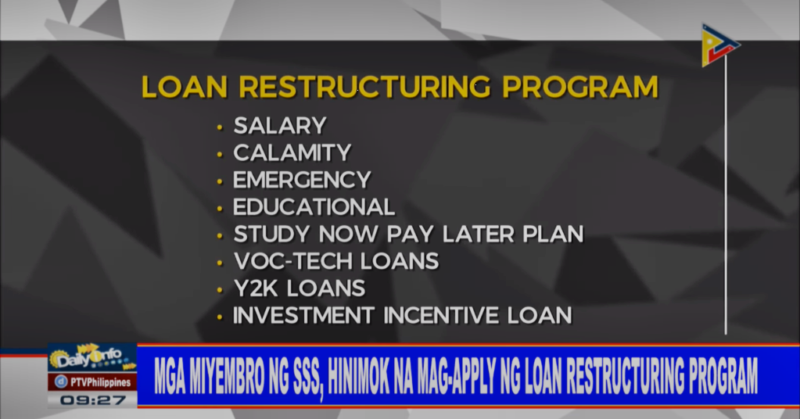 5. How do I qualify for this service? What loans are included?
The LRP covers all member-borrowers who have incurred past-due loans such as salary loans, emergency loans, the (old) educational plan, study-now-pay-later plan, voc-tech loans, Y2K loans, as well as investment incentive loans.
In order to qualify, delinquent member-borrowers must be living or working in an area at the time the disaster or calamity has struck and affected them, as declared by the National Disaster Risk Reduction and Management Council (NDRRMC).
6. How long does the LRP application take?
With the simplified LRP application process, filing and processing can be done in less than an hour. Moreover, the computation and processing will all be done online.
7. Where and how do I apply for SSS loan restructuring?
You may visit your nearest SSS branch and request assistance from the designated officer who handles this service to know more about the LRP application requirements.
But for starters, interested applicants may download a form to fill out here.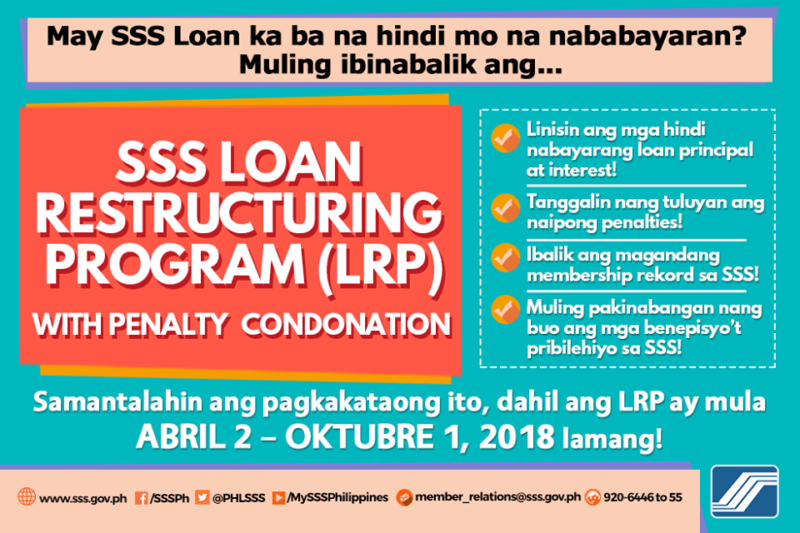 Remember, with the loan amnesty under the LRP, member-borrowers who have unsettled loan payments, whatever they may be, can save a lot from penalties which may have compounded over time due to lack of follow-up and one's personal accountability. Hopefully, these people will take advantage of this opportunity to clear their government-kept records with SSS until October 1. (ALSO READ: SSS Soft-launches Loan Program for Pensioners)