Who would've thought that a Filipina raised in the slums would ever become the first female president of one of the biggest public universities, and in the US nonetheless?
(ALSO READ: President Duterte Approves Free Education in Colleges & Universities)
That has been the inspirational journey of the Iloilo native, Dr. Astrid Tuminez, as she shared her story with students of the Utah Valley University while demonstrating her impeccable command of several languages – English, Spanish, French, Russian, Tagalog, and Ilonggo.
Watch Dr. Astrid Tuminez's welcome video here:
Inspiring Story: Filipina Born in the Slums Becomes University President
Dr. Tuminez shared that she and her family used to live in the slums after moving from their hometown in Pali, Tigbauan, Iloilo. One day, Catholic nuns paid them a visit in their house and offered her and her siblings free schooling at the Colegio del Sagrado Corazon de Jesus, Dr. Tuminez recounted.
Dr. Tuminez fondly recalls that back in the day, during their break time at school, she would always spend time at the library reading a lot of books since she couldn't afford to buy snacks at the time. It was in this manner that she was able to enhance her learning skills, she shared.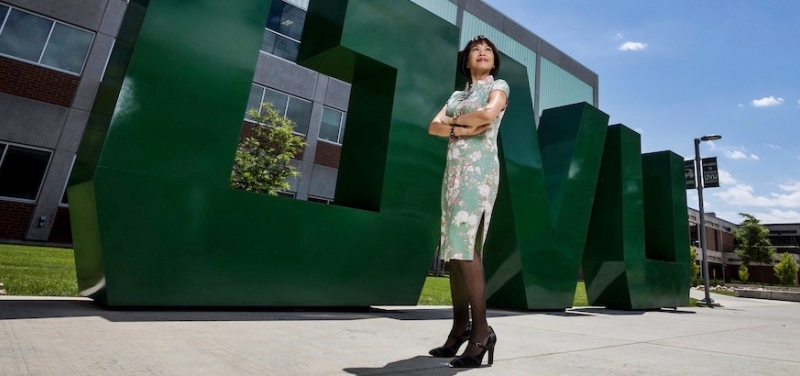 This was also the gem of advice that she gave students in her welcome message: "Work hard, study hard, and read a lot of books so you can finish what you set out to do at UVU."
Dr. Tuminez served as Regional Director for Corporate, External, and Legal Affairs in Southeast Asia for Microsoft before she succeeded Matthew S. Holland as University President last September 17, 2018, according to a report on the Utah Valley University (UVU) website.
UVU is known to be "the largest public university in the state of Utah and one of a few in the nation which offers a dual-mission educational framework that combines the discipline and standards of a first-rate teaching university with the openness and vocational programs of a community college."
Congratulations, Dr. Tuminez! Your achievements and inspirational story make all of us Filipinos all over the world very proud and honoured. We are also happy that your passion and influence will extend to more generations to come, as you now serve as a beacon of learning at the UVU.
(ALSO READ: 19 Year-Old Filipina Student Internationally Recognized for Inventing Revolutionary Air Conditioner)