A 29-year old Filipina got her second lease in life, after a hospital in Sharjah helped her undergo a life-changing heart surgery by covering half of the expenses needed for it to push through.
ALSO READ: Senate Approves Bill for Permanent Deployment of Social Welfare Attachés
For the first time in so many years, Jennifer Rose Diaz, a 29-year old Filipina accountant in the UAE, was able to sleep without worrying that she would wake up exasperated or tired because of a heart condition that had made her live a rather challenging life up until today, as shared in a report by the Gulf News.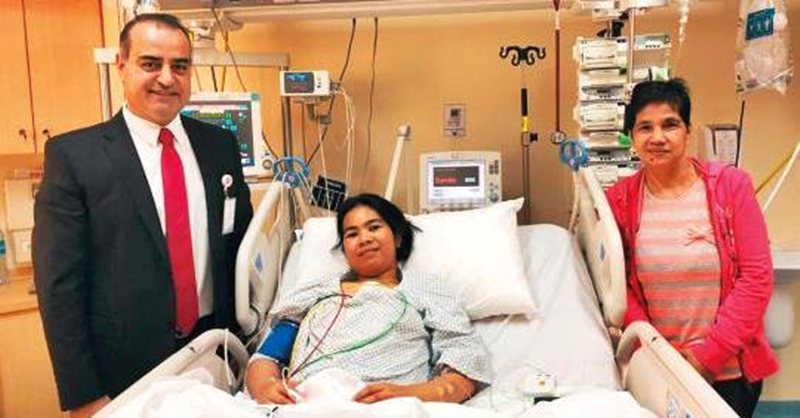 Sharjah Hospital Covers Half of Filipina's Surgery Expenses
Last October 4, after being rejected by a number of hospitals for her sensitive heart condition, Diaz was finally able to undergo a rare and complicated surgery at the Al Zahra Hospital in Sharjah, under the watch of Dr. Rafik Abu Samrah, consultant cardiologist at the said hospital.
Jennifer knew she has always had a "weak" heart, but was given a second chance to lead a normal life after a surgery has been completed to replace two of her heart valves and repair a third one that had been damaged due to a condition known as Rheumatic Heart Disease.
And while the cost for Diaz's surgery was very expensive (AED 260,000) as it was very risky due to pulmonary hypertension which she has also had, one doctor, Dr Abu Samrah. decided to take the risk to help her.
Everything had started rolling into Jennifer's favour after Dr. Samrah decided to take on her case. Diaz was able to secure AED 80,000 off her insurance and she was able to raise AED 50,000 through loans and with the help of her friends.  The Al Zahra management agreed to cover half or AED 130,000 of Jennifer's surgery costs.
Today, Jennifer is on her way to recovery, but what she's most thankful for is the fact that she will no longer have to worry about restless and sleepless nights due to her heart ailment. Truly, kindness can change a person's life. We wish you a complete and speedy recovery, Jennifer! And kudos to Dr. Samrah and the entire Al Zahra management for this extraordinary undertaking that you've done for our kababayan.
ALSO READ:  OFW in Singapore Survives Brain Aneurysm, Employer Stays & Spends for Hospital Bill (4 Million PHP)