The Russian head of state Vladimir Putin has recently presented the prestigious award of 'Order of Friendship' to Honorary Consul to Russia Armi Lopez-Garcia.
Garcia, who is a Cebuana entrepreneur and is the current chairperson of the Philippine-Russian Business Assembly, was awarded the distinction at the Grand Kremlin Palace in Russia last Monday (November 4).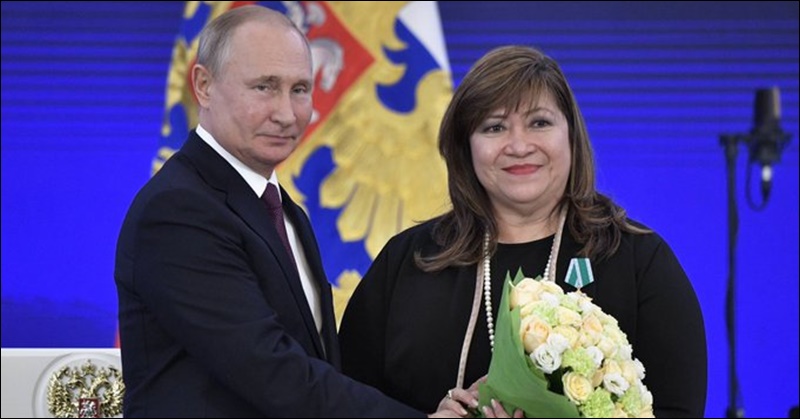 Russian President Awards Filipina with 'Order of Friendship' Distinction
The 'Order of Friendship' award is being given to outstanding foreigners and Russians who made efforts in strengthening the relationship between the two nations, as shared in a report by ABS-CBN News.
Philippine Ambassador to Russia Carlos Sorreta commended the Filipina's important role in forging stronger relations between the Philippines and Russia.
ALSO READ: PH, Russia to Discuss Possibility of Forging Labor Deal for OFW Employment
In a Facebook post, Sorreta shared: "Consul Armi is the Honorary Consul of Russia based in Cebu and has been instrumental in building closer relations between the Philippines and Russia. She is the founding chair of the Philippine-Russian Business Assembly." 
He added that Garcia was at the forefront in establishing the trade missions between the Philippines and Russia.
Sorreta shared: "Consul Armi has been a great partner of the Philippine Embassy in Moscow and has led many trade missions to Russia, as well as promoted closer people-to-people ties."
For her part, Garcia noted that Filipino hospitality attracts Russians to do more joint business in the Philippines.
In her acceptance speech, Garcia highlighted the similarities of Filipino and Russian culture on her 'Meet the Russians' program.
Garcia explained that the idea behind the program was to make her kababayans realize that the Russians are indeed warm and educated people with many similar cultural traits as Filipinos.
"..I would like to show this award to you and I have dedicated this to all the Filipino people as well as to our Russian brothers and sisters,"
said, Armi Lopez-Garcia, First Filipino conferred the prestigious Order of Friendship by Russian Pres. Putin@ABSCBNNews pic.twitter.com/px0yre0uAj

— ᑎIEᒪ ᑕᗩᗷᑌᖇᑎᗩY TEᖇO (@nieltheroux) November 5, 2019
Garcia also said that she dedicates her award to the Russian and Filipino community and that she is happy to become part of the improving relationship between the two countries.
In a statement, Garcia explained: "I humbly dedicate this award to both the Russian and Filipino people who are starting to discover each other, not only as friends but also as long lost brothers and sisters. I am glad to be part of this journey of discovery, and I know that this powerful bond of friendship will continue to grow ever faster in the years to come." 
ALSO READ: Filipino Tourists Warned: Russian E-Visas Exclusive to Certain Cities Only